Zen Garden series
---
 "Your vision will become clear only when you look into your heart.
Who looks outside, dreams. Who looks inside, awakens."
Carl Jung, 1865 – 1961
---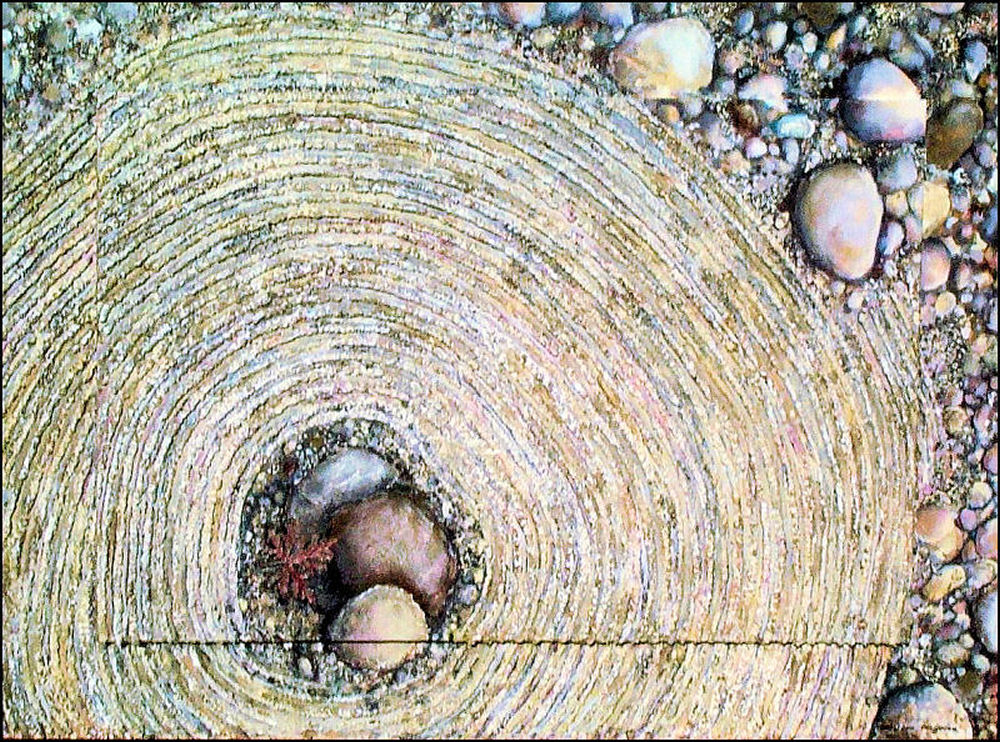 Zen Garden 01, 36H x 48W x 2D inches mixed media: acrylics, dried geranium leaf, modeling paste, texture medium on canvas, gallery-wrapped sides textured, main canvas inset, 4″ wide box-frame, gold and red crackle trim.
The very first Zen Garden that inspired the ongoing series was created in 2000 as part of a four-painting commission. The ideas established in that entire set encouraged new routes to trying methods I hadn't before, enhancing 2D work with 3D elements. That set also utilized the "box frame" idea used on several other paintings since then, where a main canvas is mounted on, and framed by, an extra 3 inch wide wood platform with narrow trim. Whereas some frames have the effect of abruptly ending a composition, the box-frame enables space for the subject to continue, softens the edges, and adds a unique overall impression. When related items are placed in that area, it adds dimension not just in the physical sense, but also in conveying any abstract or symbolic stories beyond the presentation of the main painting inside. Gluing smaller canvases on larger ones, as in Northern Delights 02 is a perfect example of this.
In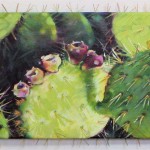 Prickly Pear Cactus, part of the commissioned set above, pins were applied around the main central frame, then painted. The smaller canvas painting done in 2005, left, borrowed this technique. In Alpine Meadows, all the qualities acrylic paints offer were applied, like watering down the consistency for the distant mountains, then sculpting the flowers and grasses with a palette knife on the lower portion. The theme of The Evolution of Communication has intrigued me ever since, and with old keyboards and computer parts among my supplies for over 10 years, I still haven't fully pursued the possibilities.
---
| | | |
| --- | --- | --- |
| | | |
| $300.00 special order | | |
Zen Garden 02, 24H x 57W x 1D inches mixed media on canvas, wrapped sides also textured, 4 different orientations. Sold, but a new piece can be replicated in any size upon request, priced accordingly, allowing 7 days to create special orders before shipping.
---
Process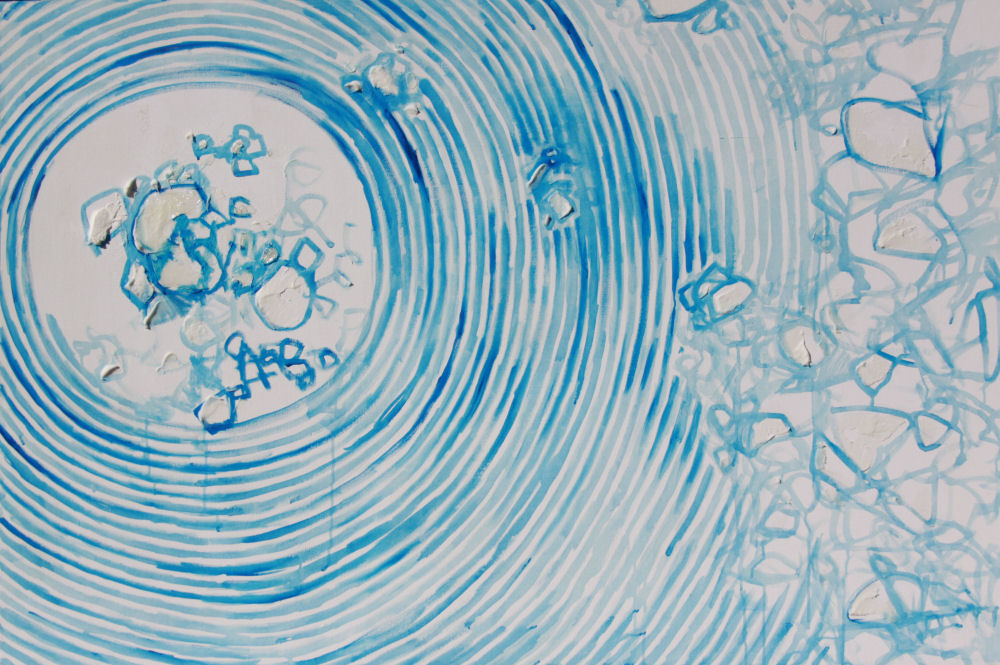 After creating the first few pieces in the Zen Garden series, with commercial texture mediums being so expensive even in large quantities, I began experimenting with other materials to reduce costs. In addition to the mediums and gel pastes available at art stores, Zen Gardens since 2004 are composed of acrylics paint, white glue, plaster, sand, and even kitty litter – new, of course! – on canvas, finished with layers of varnish. Different brands of kitty litters have varying absorbency, so I found some that stays course in texture with water added. It is also light in weight, which is a factor to consider, I learned after creating Zen Gardens 09 and 10 because they probably weigh more than 50 lbs, set on the home-built frames. The frames my husband and I build are much heavier than store-bought frames, making them nice and sturdy for the small Zen Gardens and regular large acrylics paintings, but I will rebuild lightweight frames for those two pieces and any in the future larger than 12 x 12 inches.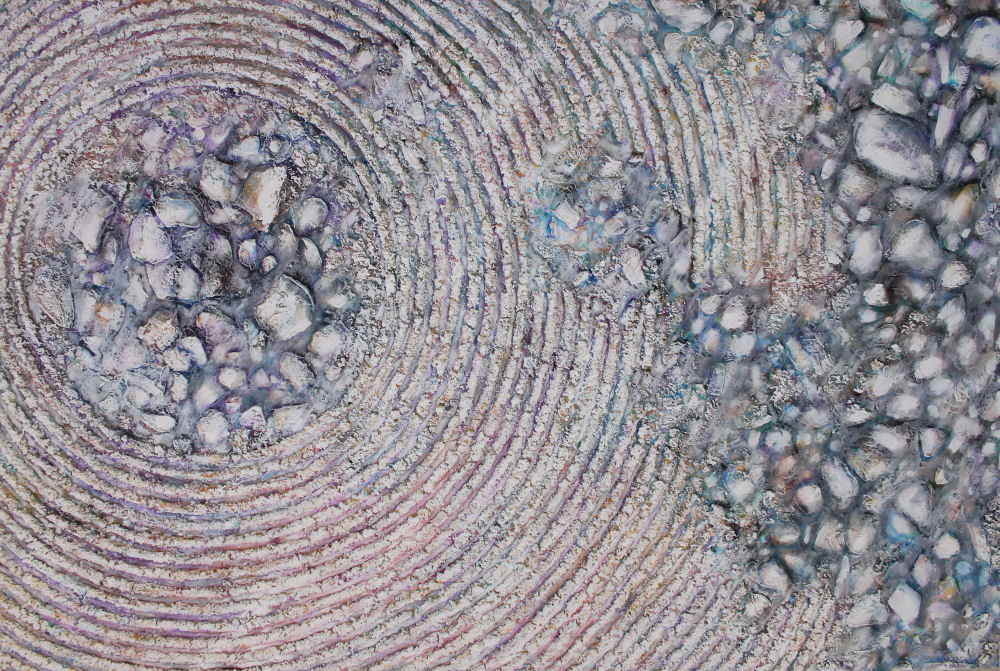 In the traditional zen garden style, first a general pattern is painted with acrylics. The plaster/glue/litter blend is put in a strong plastic bag with a cut corner. The mixture is squeezed out onto the surface like icing from a pastry bag, also is hand-guided and sculpted. Modeling paste is formed into rocks, drying in between applications. In most Zen Gardens, the texture continues around all edges, eliminating the need for a formal frame. When completely dry, alternating layers of color and white-washes are brushed over entire surface until the desired effect is obtained. As with most other types of paintings, final stages are often finished as they hang on a wall. As seen in a realistic room setting,  it's easier to spot whatever might make the composition more interesting.
---
| | | |
| --- | --- | --- |
| | | |
| $150.00 | | |
Zen Garden 03, 16H x 20W x 1D inch canvas and smaller incorporated canvas
---
| | | |
| --- | --- | --- |
| | | |
| $150.00 | | |

Zen Garden 04, 12H x 12W x 1D inches with inner smaller canvas, mixed media on Masonite, with wood frame with crackle finish
---
Zen Garden 05, 18H x 30W x 1D inches. Many paintings in the series are wired to hang vertically, horizontally, or can be flipped upside down for a choice of different orientation hanging-options. Sold, but a new piece can be replicated; please allow 7 days to create special order.
---

Zen Garden 06 – Pebbles Mosaics – Set of four 8 x 10 x 1 inches hand-made tiles on canvas. Acrylics, several coats of varnish, sides painted to continue the mosaic look. Frames unnecessary – a variety of hanging arrangement options: turned sideways or upside down, in any order, vertically, horizontally, or in a square formation.
---
| | | |
| --- | --- | --- |
| | | |
| $250.00 special order | | |
Zen Garden 07, 17H x 19W x 1D mixed media and handmade tiles on masonite, crackle-finished wood frame. Original sold, but a similar, unique piece can be replicated upon request, $250. Please allow 7 days to create before shipping.
---
Part of the fun of this series is experimenting and changing the format. Zen Garden 08, 24 x 24 x 1 inches is created with woven canvas strips, acrylics on canvas, string of lights in the back, hung as square or diagonal. Needs a better lighting solution…back to the drawing board!
---
| | | |
| --- | --- | --- |
| | | |
| $150.00 | | |

The piece Four Corners, 16 x 20 inches mixed media on canvas, integrates the iron-rich sandy soil from the Four Corners region of United States. I've collected quite a few samples of sands and soils while travelling and plan to use them in traditional style paintings as well.
---
| | | |
| --- | --- | --- |
| | | |
| $750.00 | | |

Zen Garden 09, 48 x 21 x 3 inches mixed media on canvas, wrapped sides also textured
---
| | | |
| --- | --- | --- |
| | | |
| $950.00 | | |

Zen Garden 10, 40H x 60W x 3D inches mixed media on canvas, wrapped sides also textured
---
| | | |
| --- | --- | --- |
| | | |
| $250.00 special order | | |

Zen Garden 11, 30H x 15W x 1D inches mixed media on canvas
---
A viewer at one of my exhibitions once commented, "You're all over the place, aren'tcha?". I get it; each artist's work ought to be identifiable, especially if exhibiting in galleries, but creatively speaking, things work themselves out in a non-linear fashion. The fact is, the only true way to learn is through experience, and a certain amount of pushing boundaries is necessary in order to keep learning and improving. This is how I work, and how my work works!
Artists have a strong sense of mission. There are so many different paths one could take, long and short term; opportunities every day. There are endless kinds of subjects, always something to start or finish, new methods to explore using traditional or unconventional materials, and an overabundance of ideas to attempt in one lifetime. Self discipline is the order of every day, either to start working or to know when to stop.
Periodically our mission and statements need reevaluation, so with that bigger picture clear, we fall back on intuition, resuming to create the way as it unfolds before us. If we are serious about selling, we first need to become familiar with what we are best at, what we love, what works and what doesn't. We need hands-on experience in order to learn, which takes time, and there's no getting around it. Experimentation is fundamental to this profession. At the same time, if it's intended to be sold to others, and by others, simplifying the look enough, and clarifying its purpose is crucial.
There are doubts about what the right path is when much of the time is spent trying to find it, but that's a career in Art for you! Every so often, a body of work encompasses all that's been learned, earning a peek into potential. With an open mind to trying new things, and following a hunch even if it diverts from what you think defines you – maybe especially then – breakthroughs occur that may point to a solid new direction or validate an existing one. The commissioned paintings mentioned at the top of the page were pivotal, leading to Zen Gardens: a theme I will forever recreate The process is meditative, and is a restorative departure from traditional work-style and possibilities.
---
| | | |
| --- | --- | --- |
| | | |
| $150.00 | | |

Zen Garden 12, 18H x 24W x 1D inches mixed media on canvas
---
| | | |
| --- | --- | --- |
| | | |
| $150.00 | | |
Zen Garden 13, 18L x 24W x ID inches mixed media on wrapped canvas
---
| | | |
| --- | --- | --- |
| | | |
| sold | | |
Zen Garden 14, 15H x 30W x 1 inches
---