« City Mountains |Main | Crepe Myrtle »
August 28, 2007
---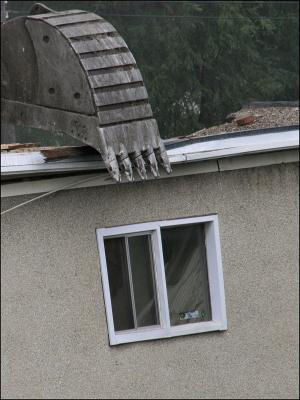 Three quaint old apartment buildings in the Strathcona District on Whyte Avenue in Edmonton, Alberta were demolished to make way for a large condominium complex — a shame, considering all the new windows that were just replaced a few years ago. To remove them beforehand would not be financially viable for the new builder, but it's not the way things are done in oil-rich Alberta these days. Everything: fridges, furnaces… someone's home the week before — smashed and crushed within 36 hours.
Individuals would gladly use these second-hand materials, even volunteer to take them out. China would kill for that wood. The trip to Mexico is still fresh in my mind, and of how they utilize everything, even wire frames of old mattresses as fence material. This destruction was wasteful, almost painful.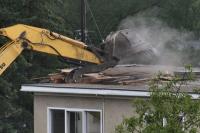 On the other hand, it was very interesting to watch! It's these sorts of extremes that conjure up perplexing conflicting emotions, and all the travel this year leaves me with so much revitalized energy to draw upon for a long time. I haven't been painting, but these kinds of experiences are where all worthwhile art originates.
Categories: Alberta, Canada, city streets, photography, series, travel | No Comments »
Comments
You must be logged in to post a comment.