« Fossils Chair, Homage to The Earth – finished |Main | The Dryer Elf »
April 25, 2009
---
At the end of each month Oxide Gallery and Carino's Italian Restaurant in Denton present an evening of Art, Dinner and Wine Tasting. Offering a new menu each month, an amazing four course dinner is complete with wine pairings for only $29.95.  The room is separate from the rest of the restaurant, so offers an intimate setting where, at some point during the evening, the artist discusses and answers questions about their work. A new artist's work is featured each month, and on Tuesday it's my turn.  Although this is a new idea it has been well received. Reservations are required, but  April 28th is now booked solid, so the Dinner and Show is extended to take place on April 29th as well.
The Interaction with Flowering Shavingbrush Tree
I reapplied masking fluid to the painting in order to continue working on it but still preserve all the great marks revealed after removing the first application. At Carino's on Tuesday others will participate and be a part of helping this painting come to life by removing the dried rubberized medium from the painting, and help unveil the finished piece.
Update, May 1st: Pulling off the rubberized medium was a hit! A few people kept going back to pull more off. If gallery owners are open to it, I'd like to continue doing this at future opening receptions too. Here are some photos of the fun.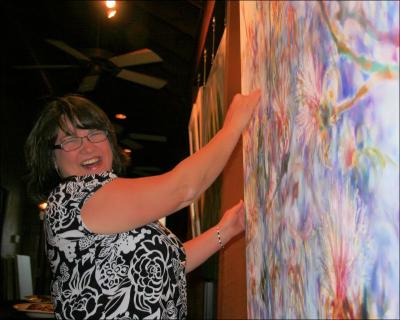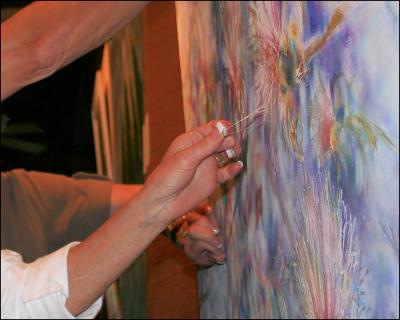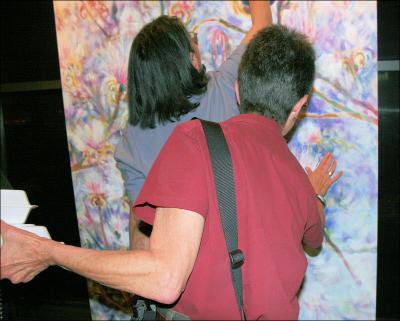 "One last peel before I go…"
Categories: acrylic painting, Art for sale, exhibitions, experimental, flowers, Mexico, Smile, The Majesty of Trees Collection | 2 Comments »
2 Responses to "Interactive"
Virginia Wieringa Says:
April 26th, 2009 at 11:06

clever! wish I could be there to do some of the peeling!

KarenXarchos Says:
May 2nd, 2009 at 11:06

Looks like it was a big hit….congratulations, Nik!
Comments
You must be logged in to post a comment.