watercolors
« Previous Entries
Friday, December 7th, 2012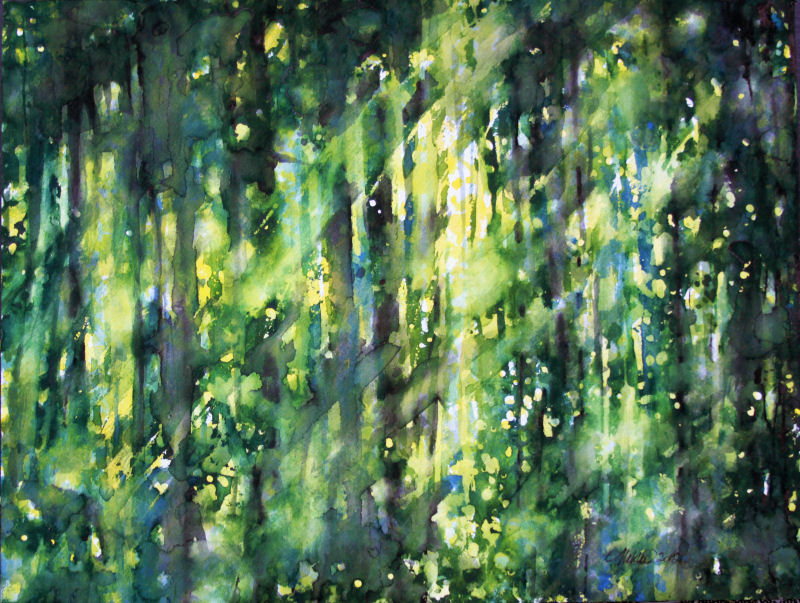 Deciduous Forest (Washington State USA), 12 x 16 inches watercolors on paper
Thumbnails 1. resist medium applied, dried and first paint application 2. peeling off the dried resist after painting dark hues of sap green 3. stage 02, after peeled off resist medium 4. before brushing  off the rubberized pieces of resist medium that bounced onto the paper, it occurred to me that they could be reattached as leaves, using  more medium as glue. I won't use this idea here, but may use it at some point in the future.
A while back, I had visitors attending a show of mine peel off the rubberized medium to reveal the flowers on "Flowering Shavingbrush Tree". (The painting has since been cropped to a smaller size). This could also be an interesting way to "wrap" a small paintings, either to surprise a client, or when giving as a gift…cover the entire surface or certain areas, and have them discover what's underneath!
Friday, November 30th, 2012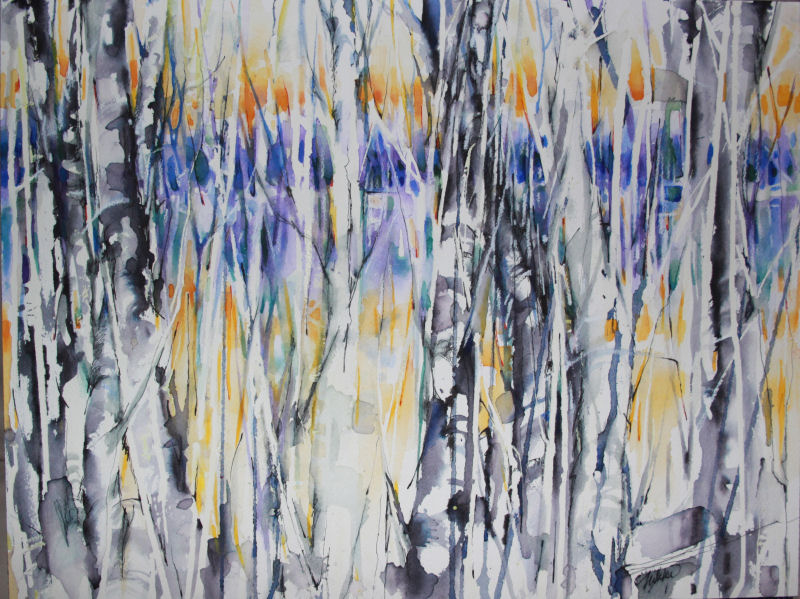 Northern Delights 04, 12 x 16 inches watercolors on 120 lb cold pressed 100% cotton paper
1. Applying resist medium 2. Watercolors, a limited palette, were also dripped down the page, and colored pens add more details
Monday, November 12th, 2012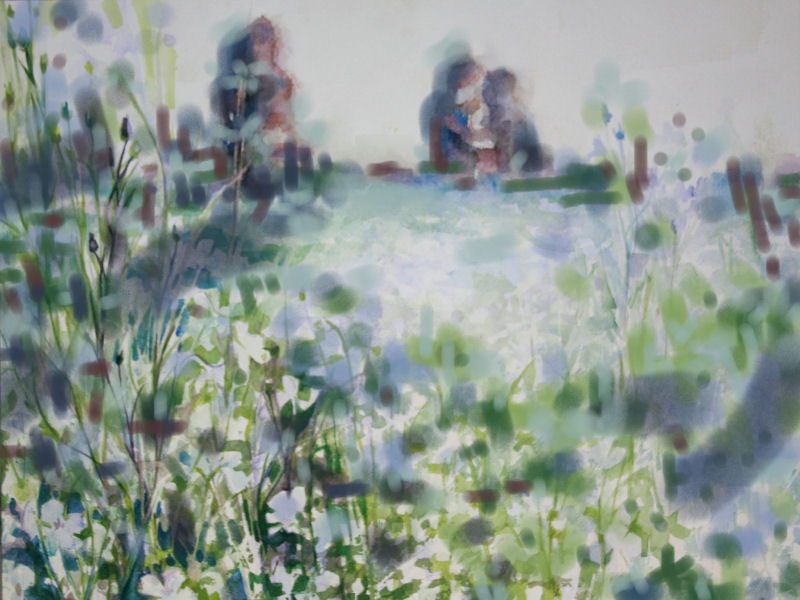 Fields of Flax
Rowley, Alberta Canada, 12 x 16 inches watercolors on paper and digital painting, preliminary study for larger acrylics painting
Monday, November 5th, 2012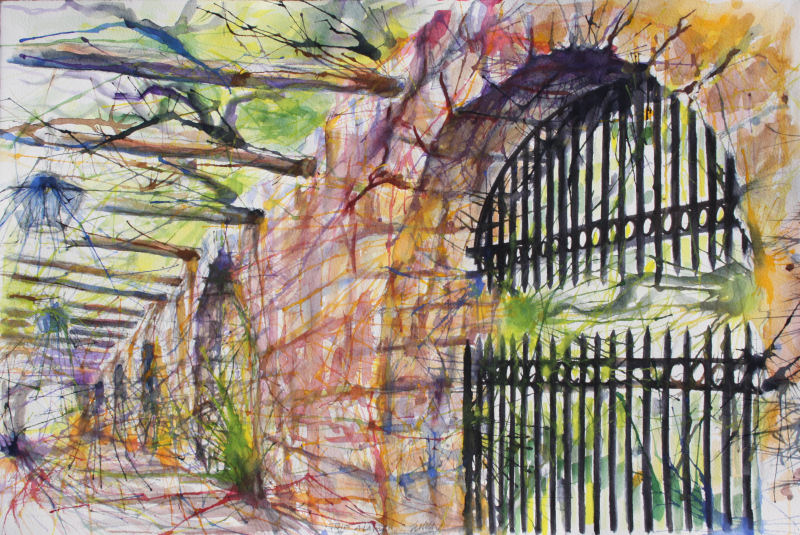 Stone walkway on the grounds of the Alamo, San Antonio, Texas
15 x 22 inches watercolors on 80 lb premium acid free paper
Sunday, November 4th, 2012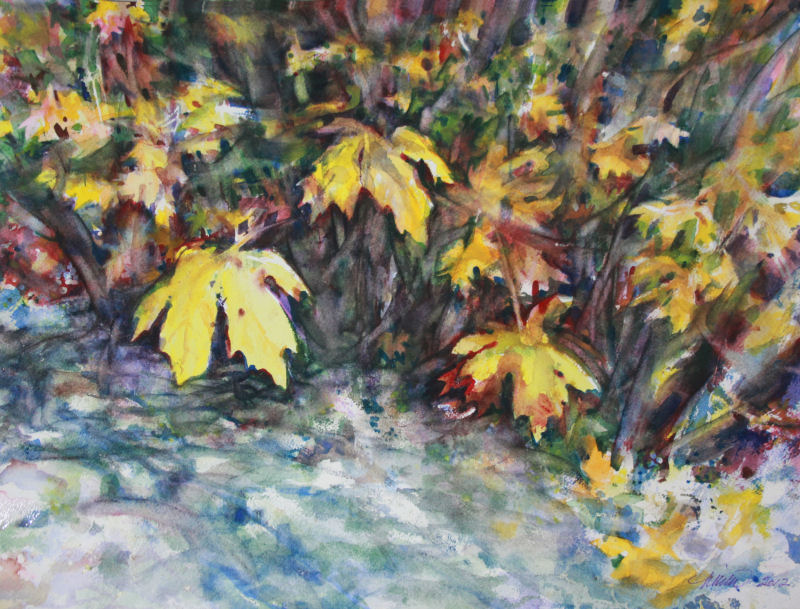 Big Leaf Maple, near Port Renfrew, Vancouver Island, BC (Canada) 12Hx 16W inches watercolors on 140 lb 100% cotton paper
Thursday, October 11th, 2012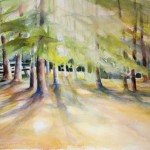 The Campsite, watercolors, 24 x 30 inches watercolors on 140 lb cold pressed paper
I finally brought my watercolor paints back from my son's place in Canada, where I left them so they wouldn't freeze on the 5-day drive back west last November. Driving again, I've just returned from this year's visit, when I gave my grandson a one-of-a-kind fabric book hand-made for his first birthday (details posted next). I plan to make him something special every year.
So, a couple of new brushes and 12 x 16″ paper block, and now with the rainy season upon us back in Oregon, I look forward to establishing a routine of painting again. Invigorated by a summer full of gardening and flowers, the stunning scenery across America this time of year, plus reviewing archives of work I haven't seen for ages, I'm all set to splash out some new watercolors. Our Portland house is a renovator's dream (nightmare?), and we're not out of the woods yet, so to speak. Attempting to gain back the focus more on art than house, smaller paintings are more manageable, and less of a production than my typically large canvas paintings…however, I'm curious to see how watercolors dis-behave on primed canvas at some point!
Wednesday, June 2nd, 2010
Dragonfruit, 9 x 12 inches watercolor pencils, graphite on paper
I've discovered a strange and wonderful new fruit here: Pitaya, commonly called Dragonfruit, is cultivated in Vietnam, but apparently is native to Mexico and South America. Possibly then, it's imported to the U.S. and hopefully is sold in Texas. I've seen it in the markets here but thought it was some sort of artichoke. Rarely do you find a fruit that is so large and fleshy where you don't have to deal with removal of seeds or pits or cores to get to the yummy part. This one's all yum, about 6″ long, and tastes much like a kiwi, but more sweet than tangy.
Saturday, November 21st, 2009
The Fourth of July 02 - Orange Milkweed, Kentucky (sold) 15 x 22 inches watercolors Above: finished, below: Nov. 19th almost finished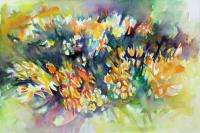 Driving from Texas to Ontario one summer I had to pull over to take photos and a closer study of the vivid orange bouquets growing beside the highway in southern Kentucky. The colors are irresistible, and this is not the first or last time I'll portray this subject. All plants and trees contain medicinal and useful chemical properties in their leaves, stems, roots and flowers. I looked up  Orange Milkweed in the most informative books about plants, The Encyclopedia of Herbs and Herbalism edited by Malcom Stuart, which contains details about every plant I have ever sought to find information for.  According to it, Appalachian Indians made a tea from the leaves to use during religious ceremonies. One common name for this plant is Pleuracy Root, as it is still useful to treat infections of the respiratory tract including pleurisy It is used as a diaphoretic, antispasmodic, carminative, expectorant… Whatever! Color also has enchanting, supernatural energizing  properties!
See also: The Fourth of July progress as painted with acrylics, and this link seen as it is finished, The 4th of July Oil Pastel version, and Orange Milkweed photography
Tuesday, November 17th, 2009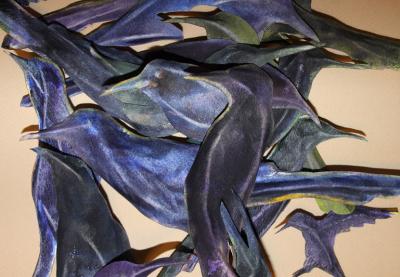 Bird Party, Watercolors on molded 140 lb watercolor paper – in progress.
I'm not exactly sure where this is headed, but shapes were cut out of the painting, the paper drenched , folded , stretched and sculpted. Every evening just before sunset in the Dallas-Fort Worth area Grackles, blackbirds, Starlings and pigeons gather on lawns, parking lots, overhead wires and cables, rooves and trees. The event is unique to this area as far as I know, and exciting beyond words to be amongst the thousands and thousands of birds. Here is a previous piece on the subject.  
Tuesday, November 10th, 2009
Angels Trumpet (Brugmansias) San Antonio Riverwalk, Texas - 14 x 22 inches Watercolors in progress Nov.7, 8, 9th: 1) Upper left detail  2) Upper right detail  3) Lower right detail 4) below, today's work
I definitely pushed the work too far and am not pleased with today's results, but on this blog I think it's really important to show that failures are part of the learning process.  Sometimes things turn out to be purely study. I didn't trust my intuition this time and leave the painting when it was bright and fresh with lots of white paper showing through. While attempting to be bolder than usual with color – recognizing that as a positive step forward here - reworking the surface just made it muddier. I'm more familiar with acrylics properties and having a longer window of time to fix things. Now onto another version of this painting, or another subject, but still in watercolors because it's time for a success after learning so much with this one.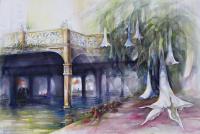 « Previous Entries