watercolors
« Previous Entries
Monday, February 20th, 2017
Snow day, Poppy buds, Day Lily – 4 x 6 inch watercolor gestures, no longer than 30 minutes each.
Sunday, February 19th, 2017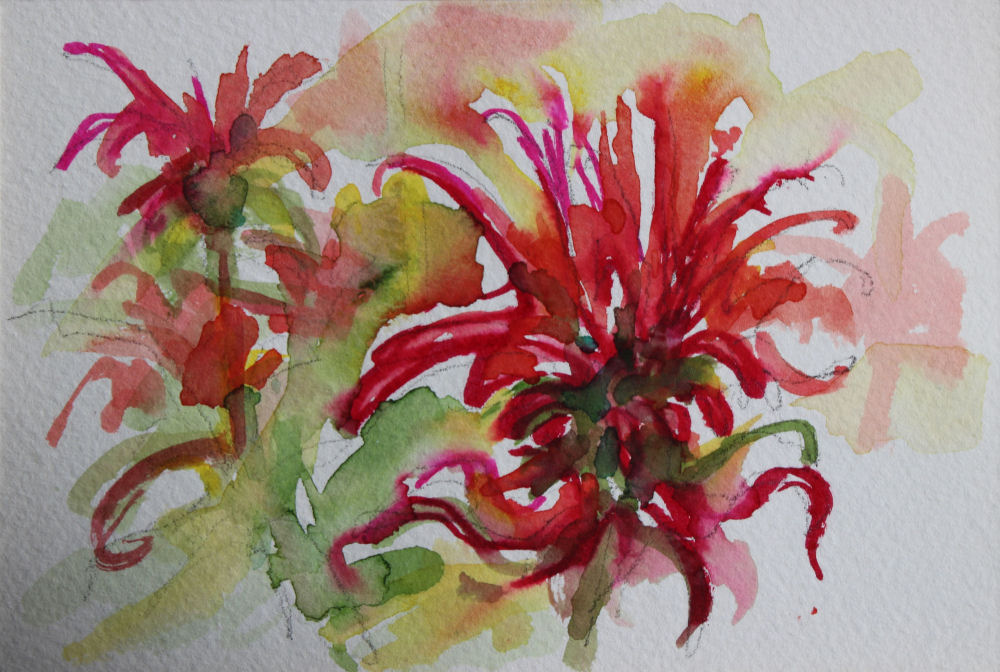 Bee Balm, Hydrangeas, and Tiger Lilies 4 x 6 inch watercolor gestures, working no longer than 30 minutes each.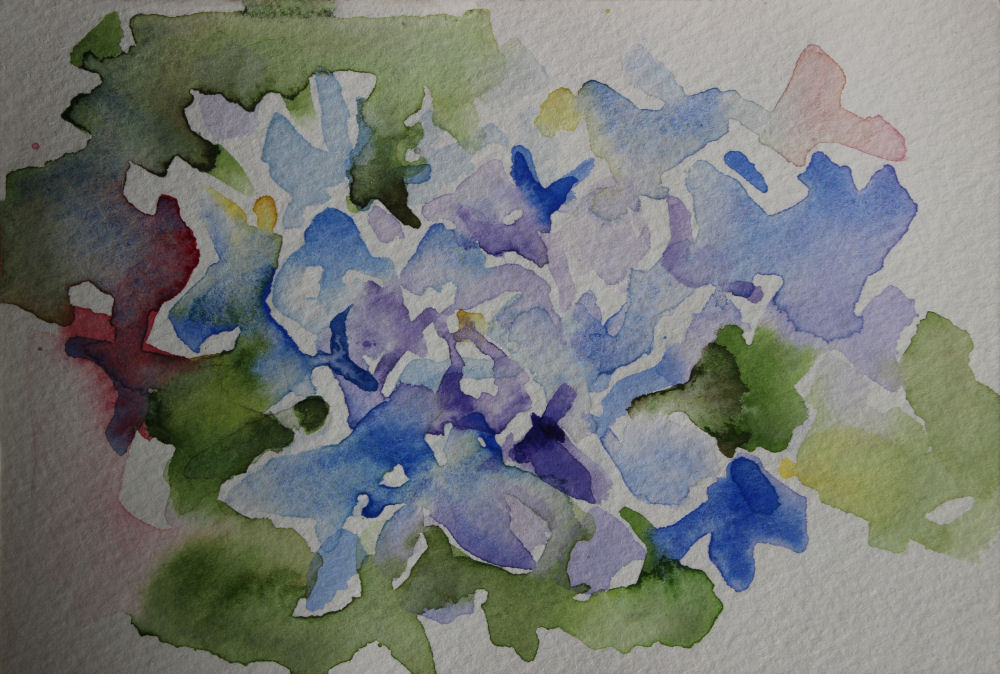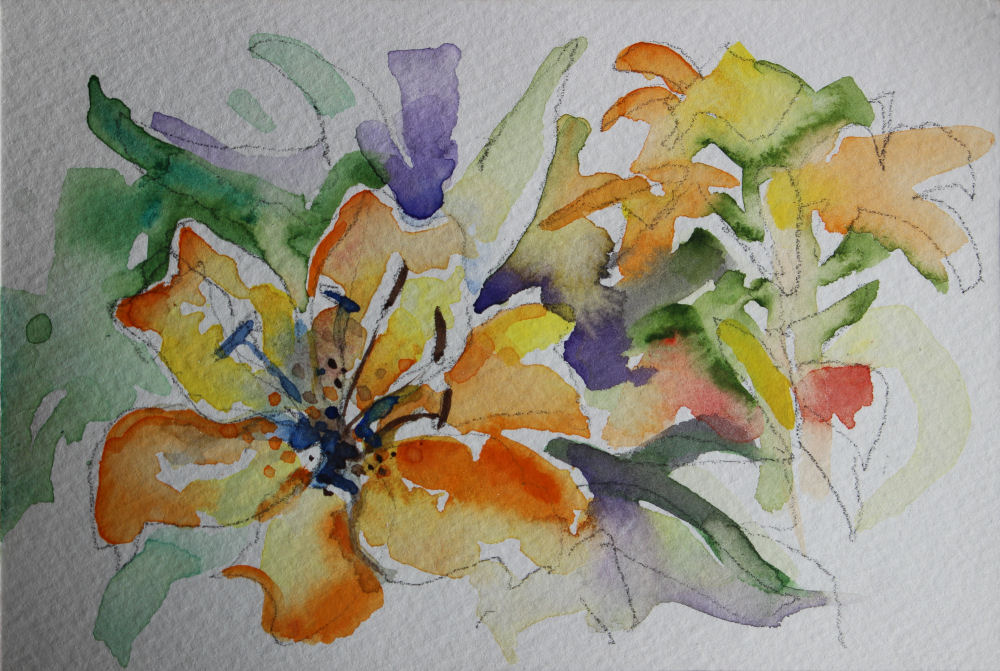 Friday, February 17th, 2017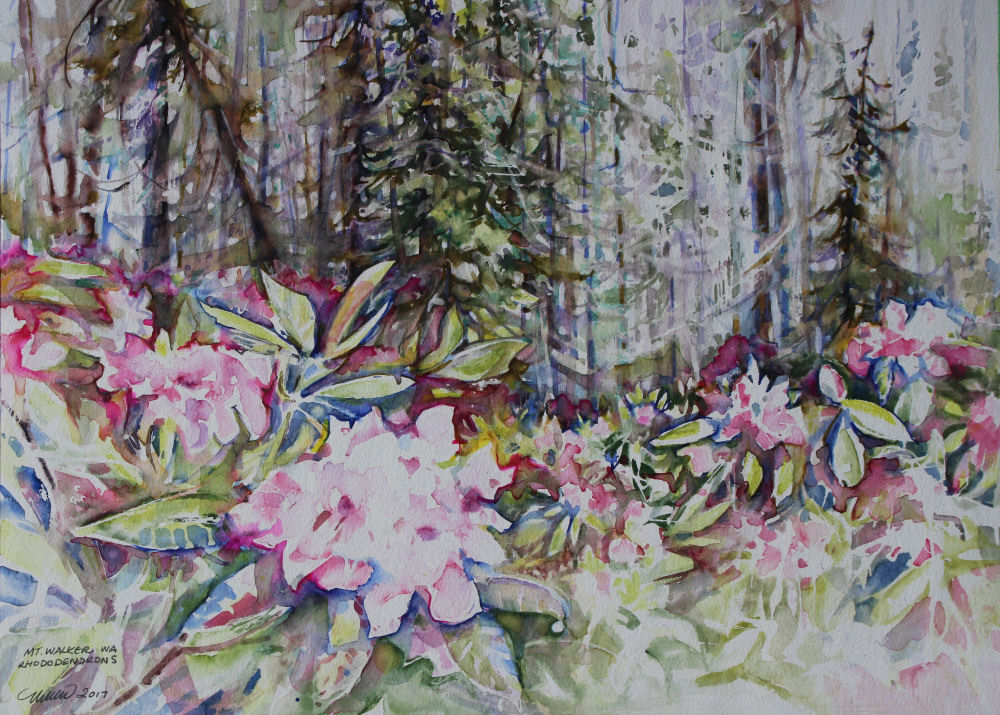 Mt. Walker, WA wild Rhododendrons
22W x 15H inches WC on 140 lb cold pressed premium. Details:
Saturday, February 11th, 2017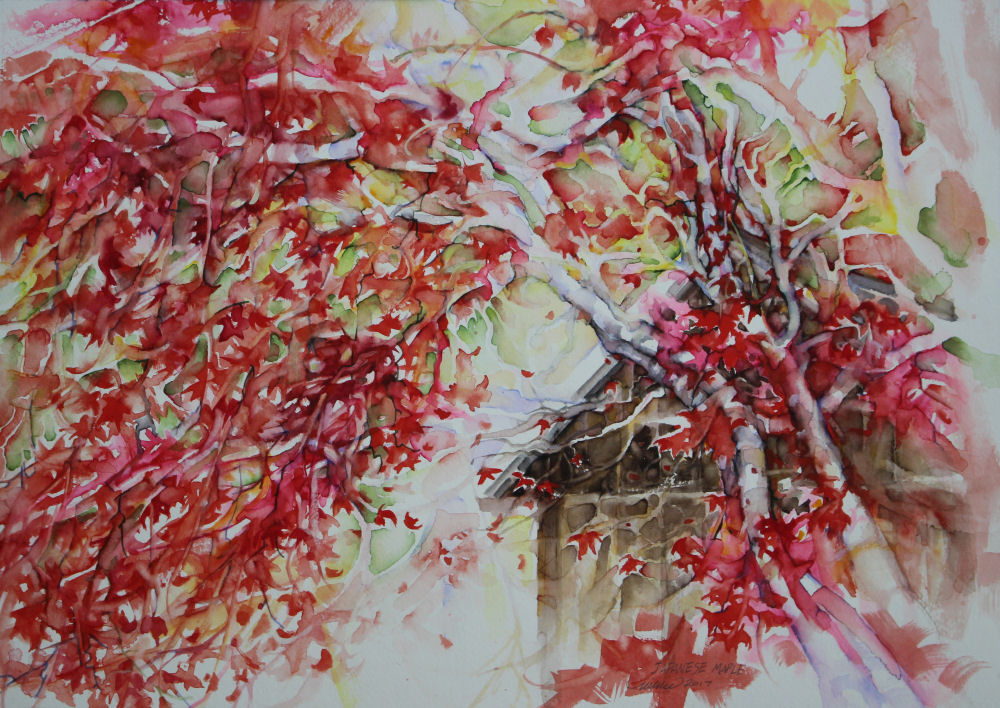 Japanese Maple, 20W x 15H inches watercolors on 140 lb. cold pressed premium. Details:
Saturday, April 19th, 2014
---
---
---
 April 2014: Cameron Can Count to 30
8 x 8 inches markers, watercolors and fixative on canvas. Thinking that acrylics paint would make pages stick together even when dry, I chose watercolors on primed canvas instead, barely diluting the paint so the colors are dense. Krylon workable fixative works best to protect the work, as it brings out the colors very nicely and it doesn't hold the caustic smell that regular varnish does.


Each page has a hole peeking through to the next page and the one before, where colors match up in such a way that the hole may only be noticed when the page is turned. The holes were filled in for the sake of aesthetics in the images shown here. This peek-hole detail was an afterthought, and since I had already painted most of the pages I was committed to using certain colors, which made the process take longer than it had to. When using this idea next time, the peek-holes will be larger and be the main focus of the book. Large binder rings through grommets on each page hold the book together, so the pages are fairly easy to turn and the book can start anywhere.

---
---
Friday, December 7th, 2012
---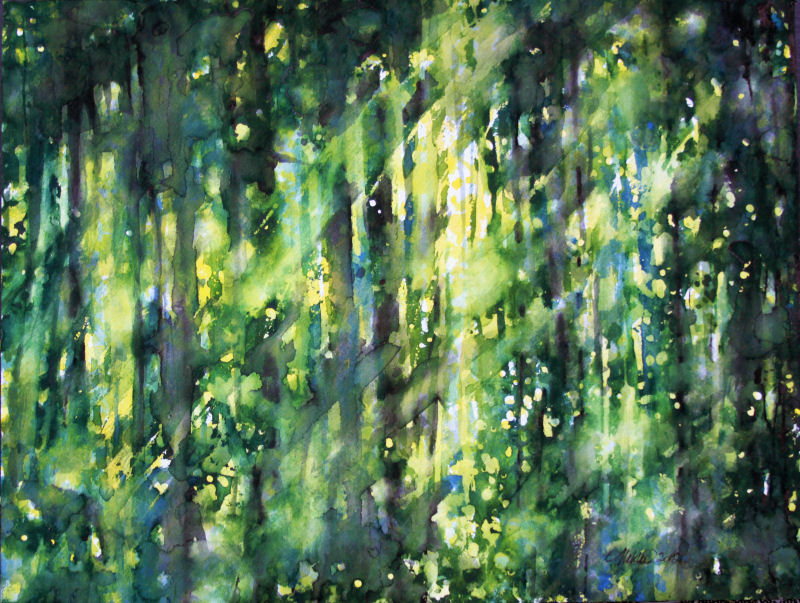 Deciduous Forest – Washington State USA – 12H x 16W inches watercolors on paper, sage green mat
Thumbnails below: 1. resist medium applied, dried and first paint application 2. peeling off the dried resist after painting dark hues of sap green 3. stage 02, after peeled off resist medium, before more paint 4. an idea occurred to use the pulled off rubber pieces as 3D effects in future paintings, probably best on canvas.
A while back, I had visitors attending a show of mine peel off the rubberized medium in the same fashion, revealing the flowers on "Flowering Shavingbrush Tree".
---
$150.00          

---
Friday, November 30th, 2012
---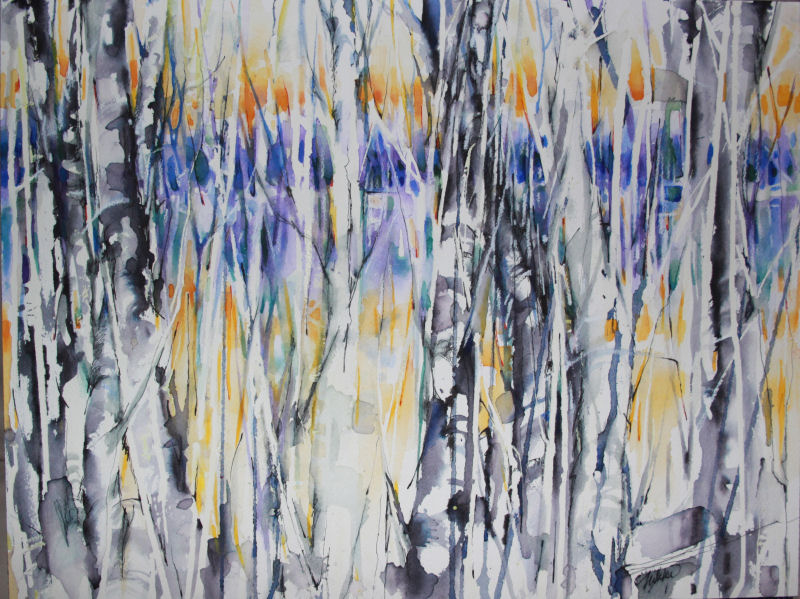 Work details: 1. applying resist medium 2. deliberately working with the challenge of a limited palette, watercolors were also dripped down the page. Tomball watercolor pen adds more details.
Birch, 12H x 16W inches watercolors on 120 lb cold pressed 100% cotton paper, white mat and frame.
---
$550.00         

---
Monday, November 12th, 2012
---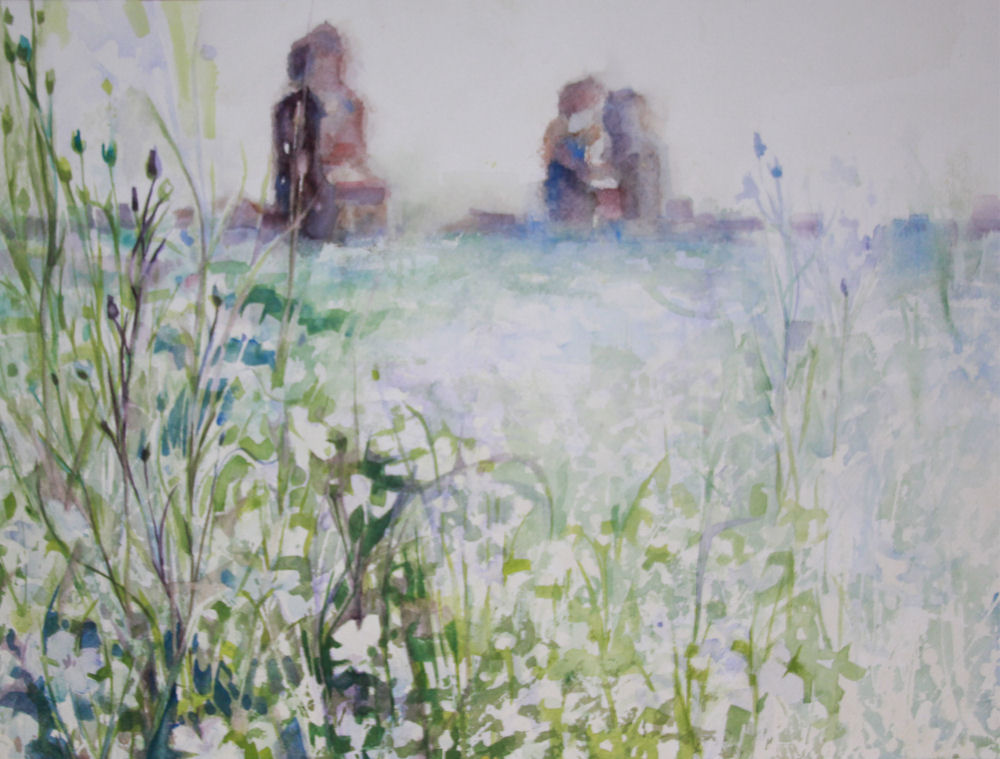 Fields of Flax, Rowley, Alberta Canada,  12H x 16W inches watercolors on paperpreliminary study for larger acrylics painting
Monday, November 5th, 2012
---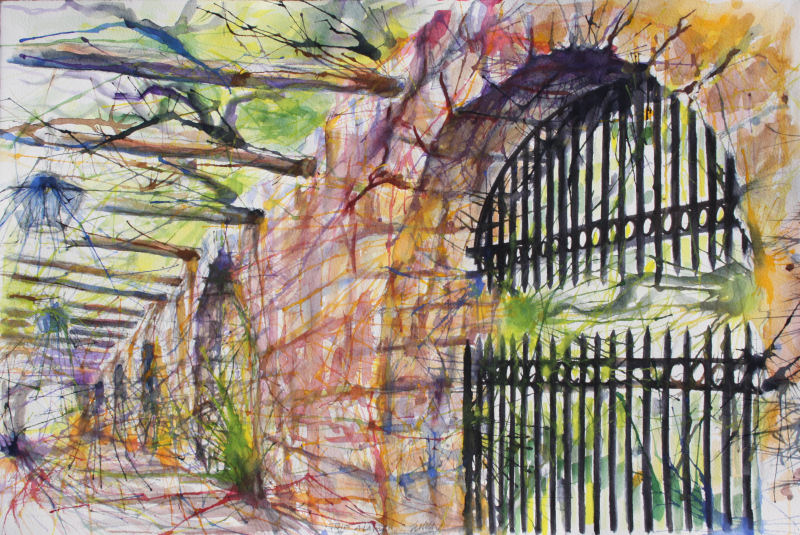 The Alamo, San Antonio, Texas, Stone walkway on the grounds, 15H x 22W inches watercolors on 80 lb premium acid free paper, white mat
---
$250.00          

---
Sunday, November 4th, 2012
---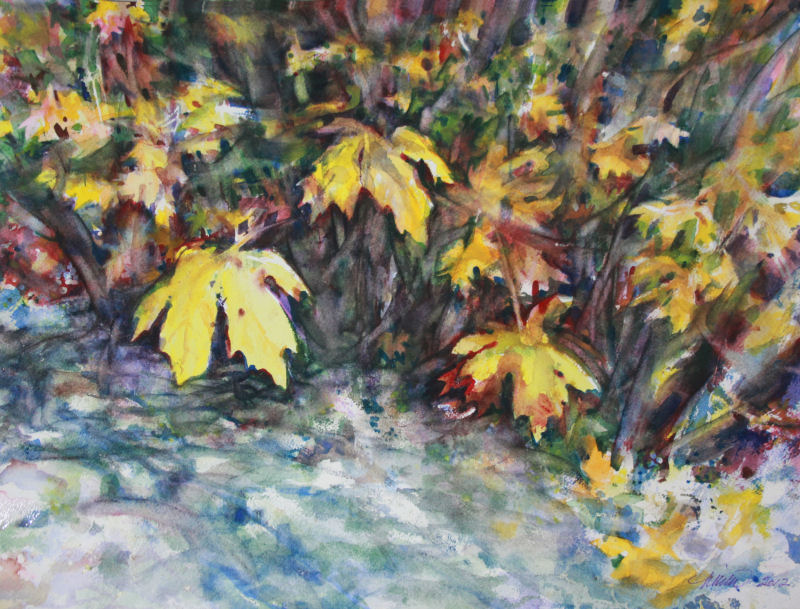 Big Leaf Maple near Port Renfrew, Vancouver Island, BC Canada, 12H x 16W inches watercolors on 140 lb 100% cotton paper
---
$250.00 mat             

$550.00 framed        

---
« Previous Entries