series
« Previous Entries
Next Entries »
Wednesday, June 2nd, 2010
Dragonfruit, 9 x 12 inches watercolor pencils, graphite on paper
I've discovered a strange and wonderful new fruit here: Pitaya, commonly called Dragonfruit, is cultivated in Vietnam, but apparently is native to Mexico and South America. Possibly then, it's imported to the U.S. and hopefully is sold in Texas. I've seen it in the markets here but thought it was some sort of artichoke. Rarely do you find a fruit that is so large and fleshy where you don't have to deal with removal of seeds or pits or cores to get to the yummy part. This one's all yum, about 6″ long, and tastes much like a kiwi, but more sweet than tangy.
Tuesday, June 1st, 2010
Treasures 01, 9 x 12 graphite on paper
I walked by a store the other day where there was a woman bargaining with the owner for one of the items inside, but she was only able to peek in and point because it's crammed full to the entrance door. No customers can even get in to browse! It's a store like one I remember on an old, old '60′s episode of Outer Limits, where odd items just like these had mysterious powers over those who purchased them.
So if you're looking for a Beta-Max video camera or a spooky-cool outdated deep sea diving outfit, I know where you can go… it's a store  that would inspire any artist, any writer… and any hoarder! I took a lot of photos through the glass and this sketch is the first of a few that are planned.
Monday, May 31st, 2010
May 31st, a different view of the Masjid Sultan mosque (also May 27th) showing also a detail image of the ancient Islamic symbol of the Crescent and Star on top of the golden dome.
Saturday, May 29th, 2010
Bonsai Garden, Chinese and Japanese Gardens, Singapore  9H x 12W inches graphite on paper, white double mat and white frame with subtle crackle finish, 16 x 20 inches total
Thursday, May 27th, 2010
Masjid Sultan,  (Malay for Sultan Mosque), Kampong Glam district, Singapore, 9 x 12 inches graphite on paper. 
When I get back home, all these studies will be scanned to reveal the true tones and details. For now they are being photographed and digitally manipulated, which explains the noise on some of the images.
Wednesday, May 26th, 2010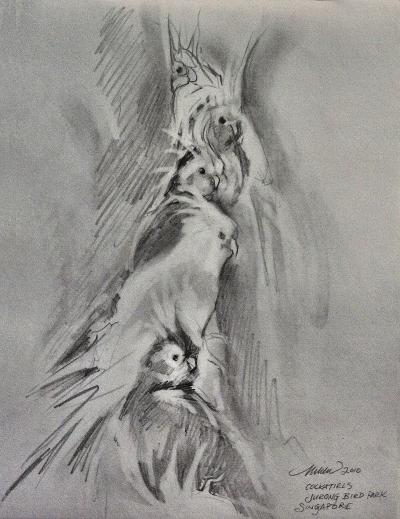 Cockatiels, Jurong Bird Park, Singapore 9 x 12 inches graphite on paper
Check out the Jurong Bird Park website.
Tuesday, May 25th, 2010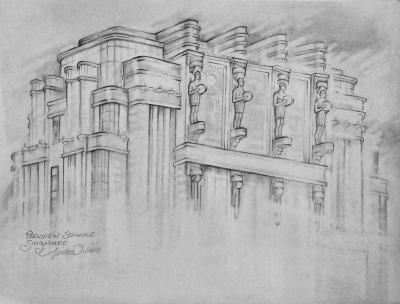 Parkview Square, Singapore  11 x 14 inches graphite on paper
The opportunity to travel to Singapore popped up at a few days notice. While I'm here the plan is to do at least one sketch per day. The new series is called "Twenty-five Days in Singapore". I drew the upper portion of the very unique Parkview Square building from my hotel room over the course of two days while recooperating after the 28 hour flight from Dallas. At a cost of $87 million, the Art Deco style building was completed in 2002. The eight fiberglass figures each holding a light-ball gaurd the buillding, only hint at the sort of art and design to expect on the grounds and the gorgeous interior.
Thursday, February 25th, 2010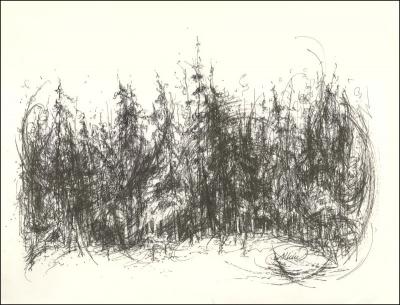 Marie Lake campsite, Alberta, 8 x 10 inches pen on paper
I'm trying to get a painting started that's all planned in my mind's eye, but have been finishing written articles and upgrading/updating the websites, so these little pen sketches are all I can manage lately; maybe a series is borne?
Friday, February 5th, 2010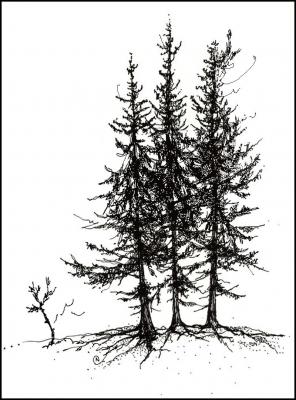 …there are too many other things to do, but I wandered off anyway, missing the Alberta Spruce, so brought some back to Texas with a few ink-pen and digital pen scribbles.
Most websites require that you register before leaving comments, but I was hoping not to have to resort to those kind of restrictions. Are the days of trust completely gone? I sure hope not in our daily life, but on the internet it's only wise to be careful. I deleted 348 spam comments the other day, so if you wish to leave comments you must now fill out your name and email.  Thanks!
Sunday, January 17th, 2010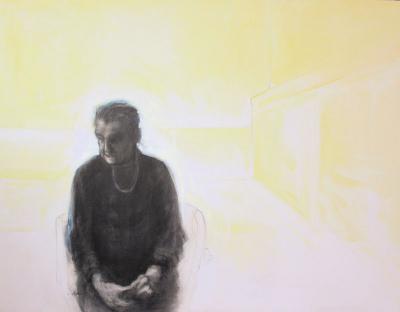 Above: finished final details yesterday. Started Aug.7th: A Heart Filled to the Brim, 36 x 48 x 2 inches, Water soluble graphite, acrylics on canvas. On exhibit along with Polypore Fungi February through May at the Oxide Gallery, Denton, Texas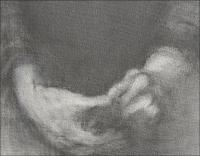 An excerpt from the song, I Don't Believe by Paul Simon on the CD, Surprise:
I don't believe a heart can be filled to the brim
then vanish like mist as though life were a whim.
Maybe the heart is part of the mist
And that's all that there is and could ever exist.
A portrait of Alzheimer's honoring my Grandmother, my Mother-in-law (whose portrait this is, and whose 80th birthday is in two days), and now recently my own Mother who is in the earliest stages; and with empathy for all those afflicted, including the families dealing with the awful emotional reverberations caused by this disease.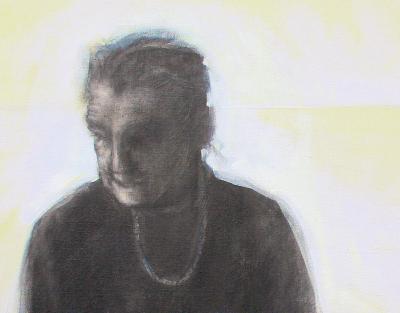 Here are a few websites providing information about Alzheimer's Disease
http://www.alz.org/index.asp
http://www.alzheimersrxtreatment.com/learnaboutalz.html
http://www.alzheimers.org/
« Previous Entries
Next Entries »