seascape
Wednesday, January 10th, 2018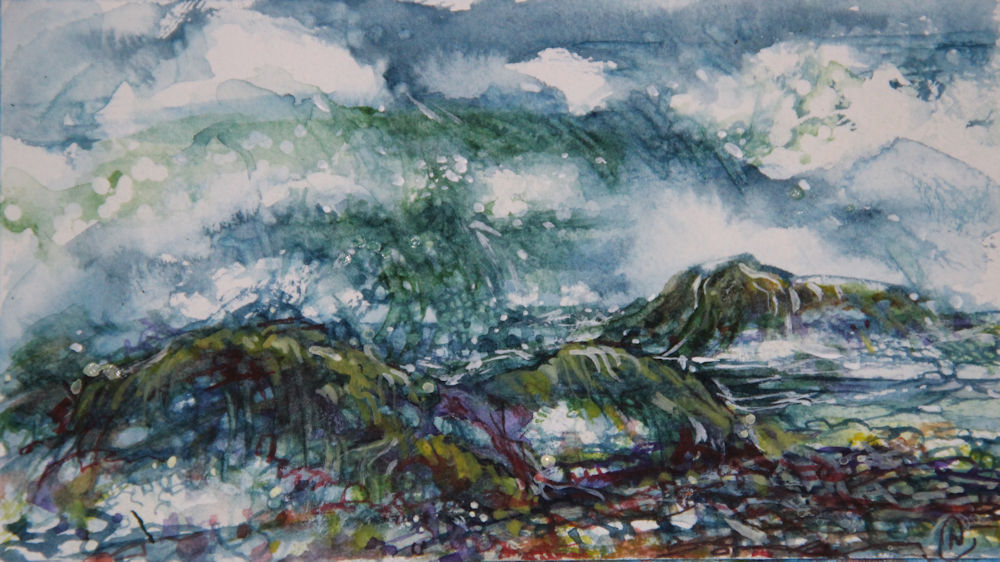 Stormy Oregon Coast 01, 6W x 4H inches watercolors
Monday, February 27th, 2017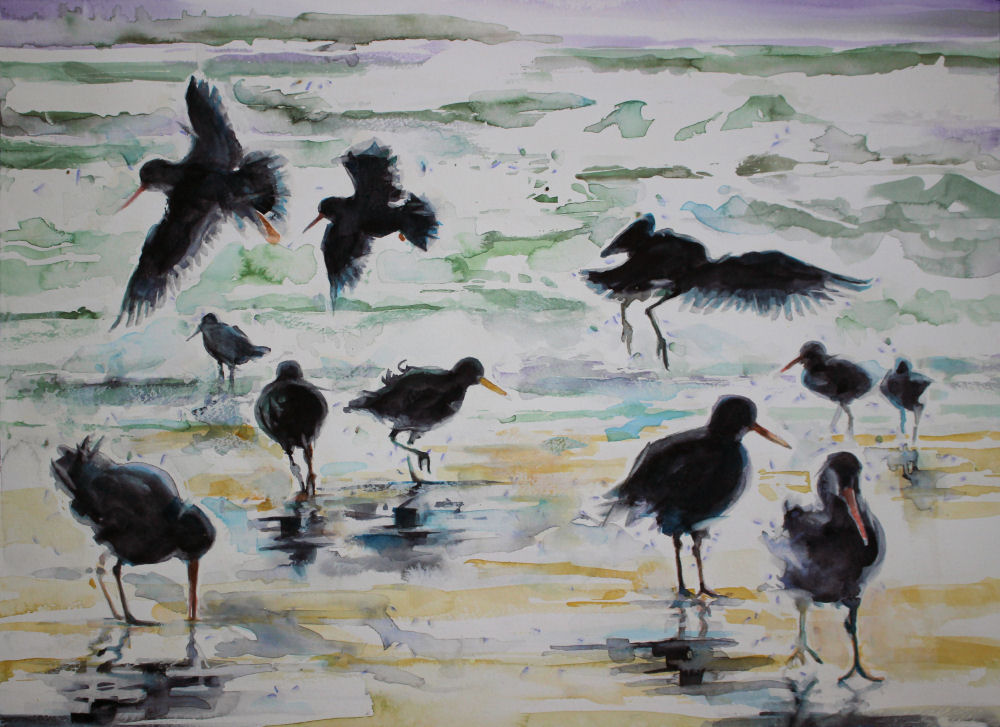 Oystercatchers, 18 x 24 inches watercolors on 140 lb cold press
________________________________________________________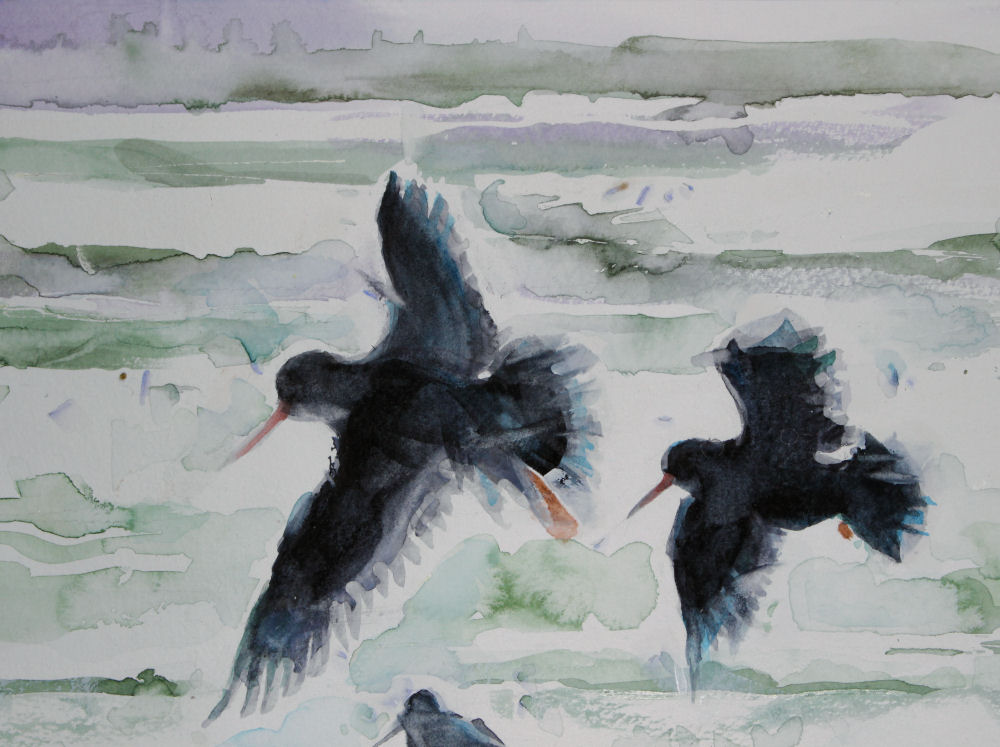 This is finished, although I'd love to merge the contrasts somehow. I don't want to mess up the implied light though, or the initial spontaneous brush strokes, like in the background waves. Every new mark at this stage makes a difference too, and in context to the whole, even small changes affect other areas that need to adjust accordingly.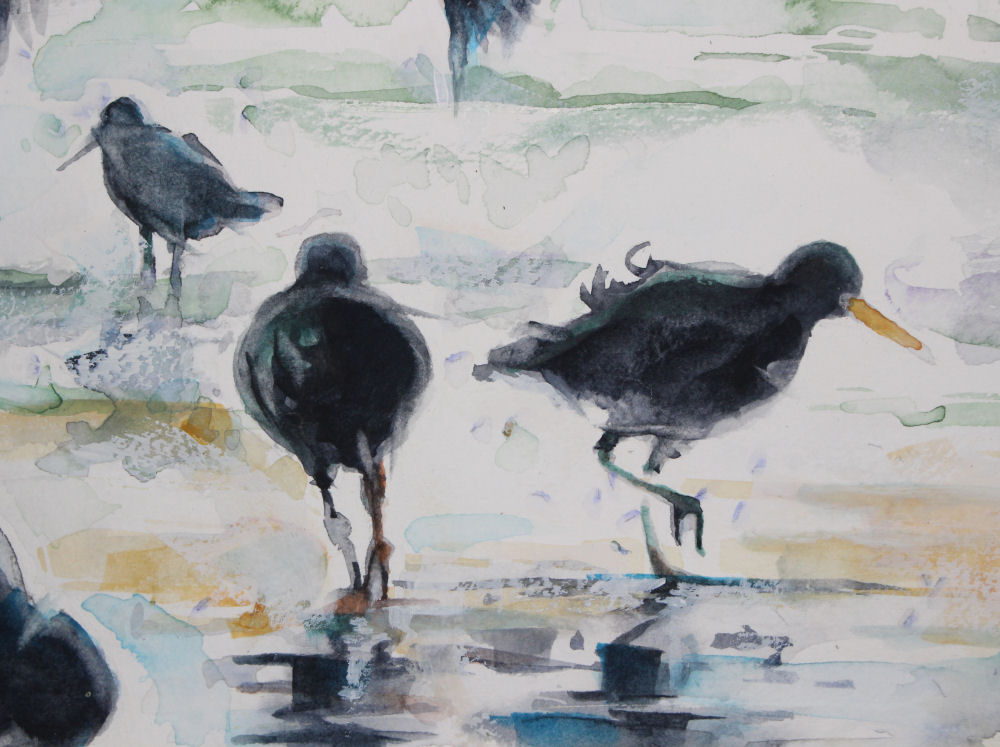 Before you know it, colors mud together and beautiful open spaces disappear. I'm going to take direction from my most recent pieces, which I feel were over-worked, and quit while I'm ahead.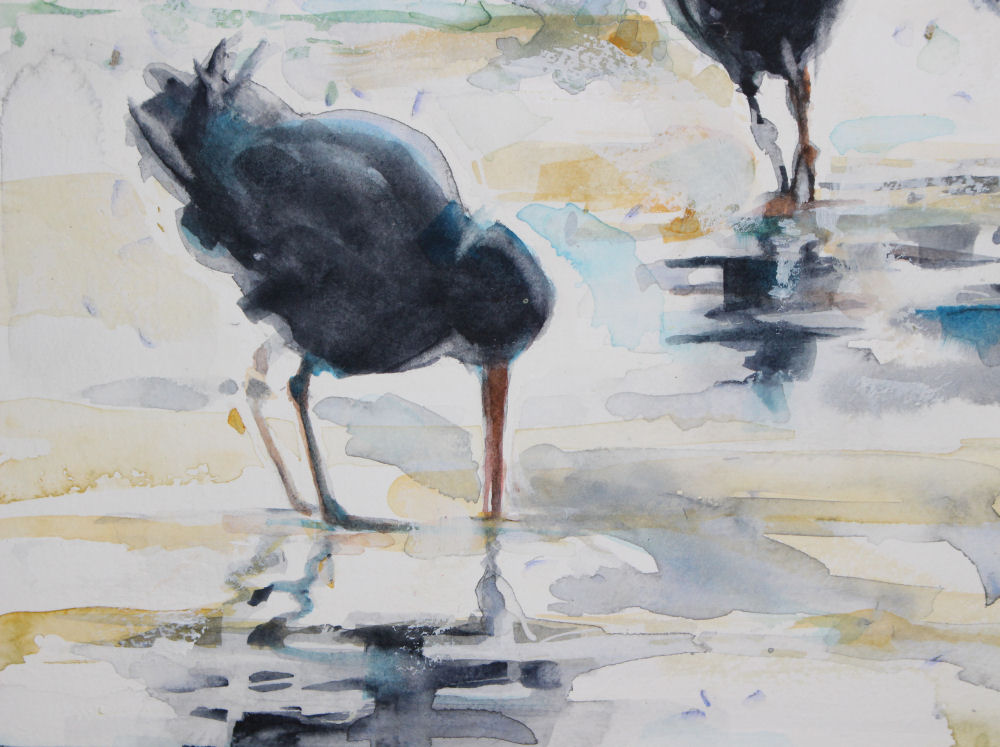 Challenge is exciting…particularly with watercolors. Whereas with other media mistakes can be erased or covered easily and change can occur throughout the process without much hesitation, with watercolors a person needs to know a subject well – or at least be able to fake it with confidence!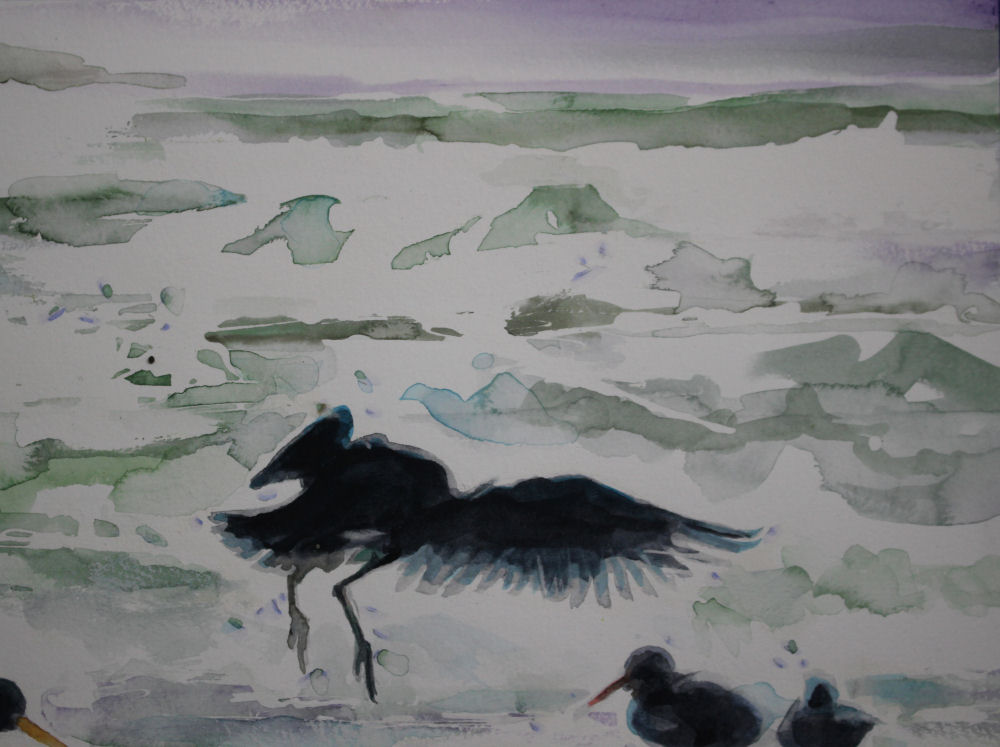 Finding a way to make each painting unique means following cues happening within the work itself. In this painting, the most remarkable thing occurred after the the first phase of production.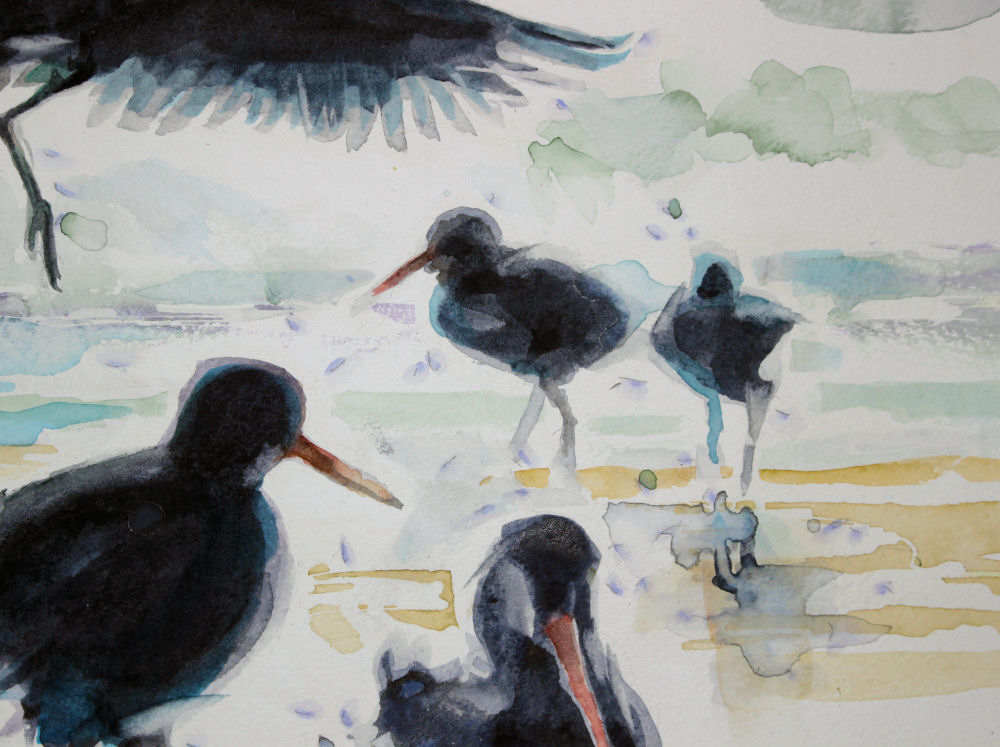 Because this subject was unfamiliar, I started by first penciling in the shapes, wondering what I could do to make this less boring – you know, not just be a picture of Oystercatchers. When erasing the pencil marks in order to see what the paint had established, little rolls of eraser pieces scattered here and there. Sprinkled impromptu around the birds, those tiny eraser shreds added a pronounced and unexpected zing of life to the composition.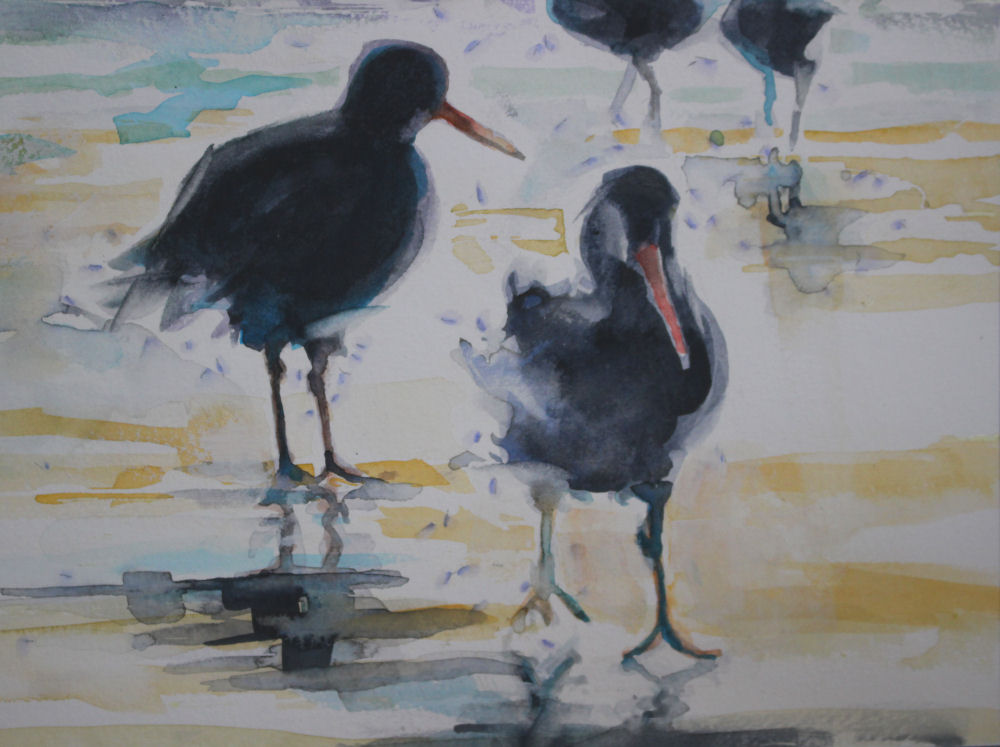 First thinking "what have I got to lose?", the eraser-pieces were mimicked in paint around the birds. I'm tempted to make those strokes more prominent, but a small success is in order, so will use this fun technique in another painting.
Sunday, February 24th, 2008
---
The Great Ocean Road, east coast Victoria, Australia, 11H x 14W inches oil pastels on paper, framed with 3 inch white double mat, brass title plate, and white wood frame with crackle finish, 22H x 26W inches total size
Thursday, January 31st, 2008
---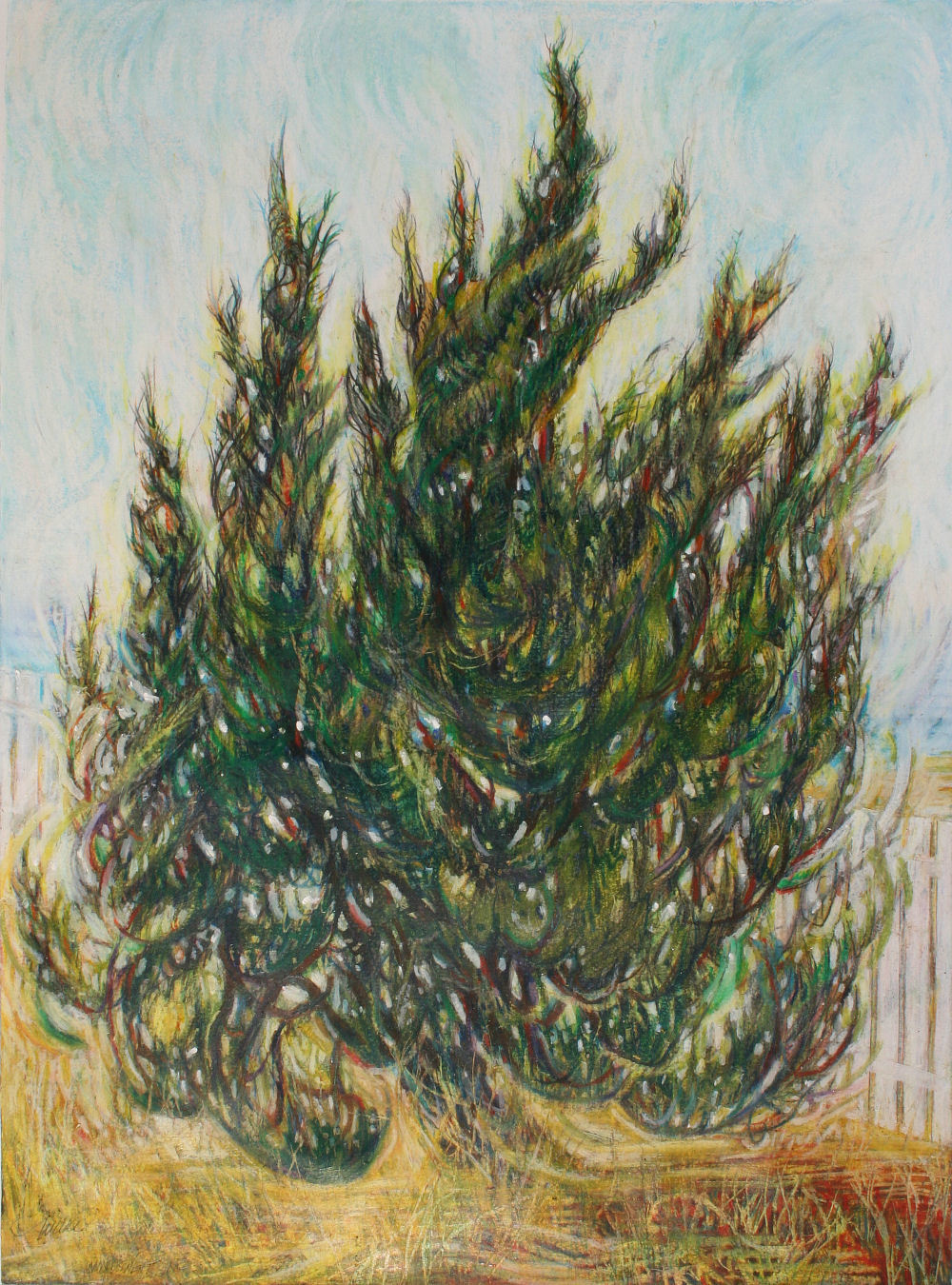 Windswept Cypress, Kitty Hawk, Outer Banks, North Carolina – 24H x 18W inches  mainly oil pastel on paper, graphite, watercolor pencils, white mat. Detail images:
---
$350.00            

---
Sunday, January 20th, 2008
---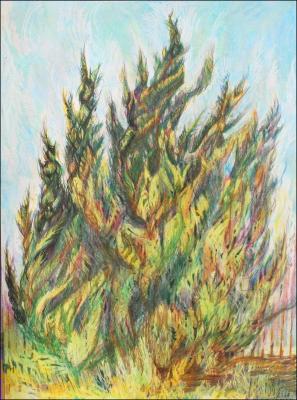 Windswept Cypress, Outer Banks, NC, USA, 24H x 18W inches on paper, work in progress: Sculptural, windswept cypress are common ornamentals in yards along the Outer Banks, North Carolina. This started as a graphite drawing, then added some energy with the use of oil pastels, which were mostly scraped away before continuing with watercolor pencils. Hoping to see the effects created by mixing oil and water mediums.
Monday, October 1st, 2007
---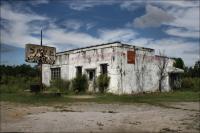 Alain and I flew to North Carolina for three days ( a little business trip and I tagged along—he threatened to take my camera with him and I was sure I could not manage without it!) We drove around the eastern countryside between Raleigh and Washington (NC) through old, old towns (it takes a looong time for wooden doors to shred, and a looong time for conditions to be just right for vines to sprout then twirl round and round, entwined and squished between panes of glass!) …old, old farms: tobacco, cotton, peanuts.. and an interesting gas station.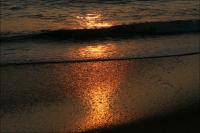 There is a lot of history in NC – fossil, human/settlers and Civil War history. We stayed at Kitty Hawk (first flight – Wright bros.) and walked the shores at various places along the narrow coast of the Outer Banks. We watched the sun rise and dolphins feed – too far away for good photos, even with the telephoto. As soon as the sun rose they swam away.
Along Cape Hatteras, groups of Grackles ate ripe grass seeds, bouncing up and down on the stems, their bodies too heavy for the tall grasses.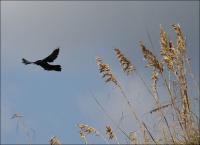 On Pony Island a large sand crab tried to buff up and look tough, but it was quite vulnerable there out in the open; all the other crabs scurried into holes but this one stayed, trying to hide in footprints, which offered no protection if we had been birds looking for a hearty meal.
Great fun to watch the behavior for a while. It's clearly outlined crab-shaped shadow following it everywhere, creating a few graphic photos that are perfect resource material for drawings and paintings but do not stand alone as good photography because it was moving so fast.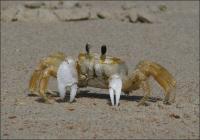 Just off the 2 1/2 hr. long ferry at Swan Quarter, and sunset with a short, wide rainbow after a storm that we managed to escape and watch from the better side.
NO OLF – we were curious about this sign in many people's yards. The following website shows a video describing how the U.S. Navy has purchased over 30,000 acres of land near the eastern North Carolina coast, planning to move their pilot training program from Virginia.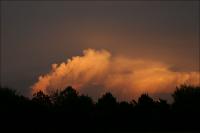 Part of the huge controversy is that over 75 families would be forced to leave their homes, many of them farming that land for generations. The human issues are enough, but the cause and effect on the wildlife and ecology would be drastic and irreparable. Thousands of ducks and large flocks of snow geese that feed in the area annually would no longer have sanctuary. The large birds would also be a danger to the jets.