pencil
« Previous Entries
Wednesday, September 6th, 2017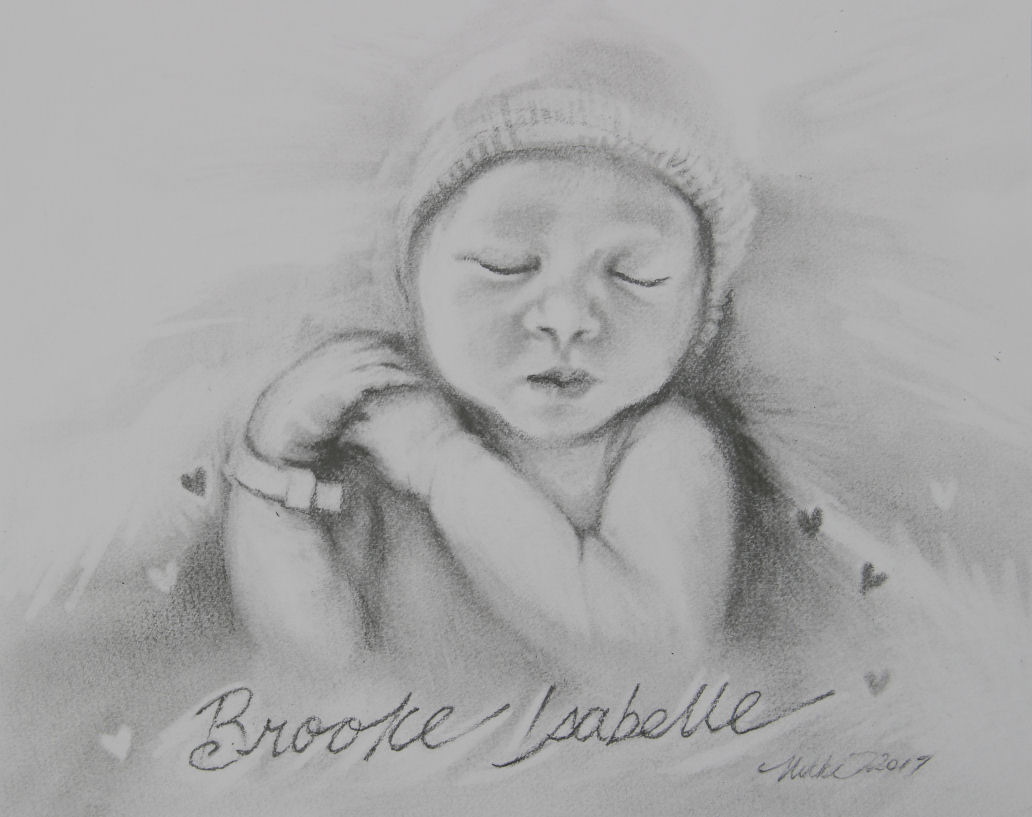 Brooke Isabelle, my neice's daughter born last week, 11 x 14 inches graphite on paper. She looks like a cherub in the photo used as reference, so I subtly impled wings in the background.
Thursday, June 1st, 2017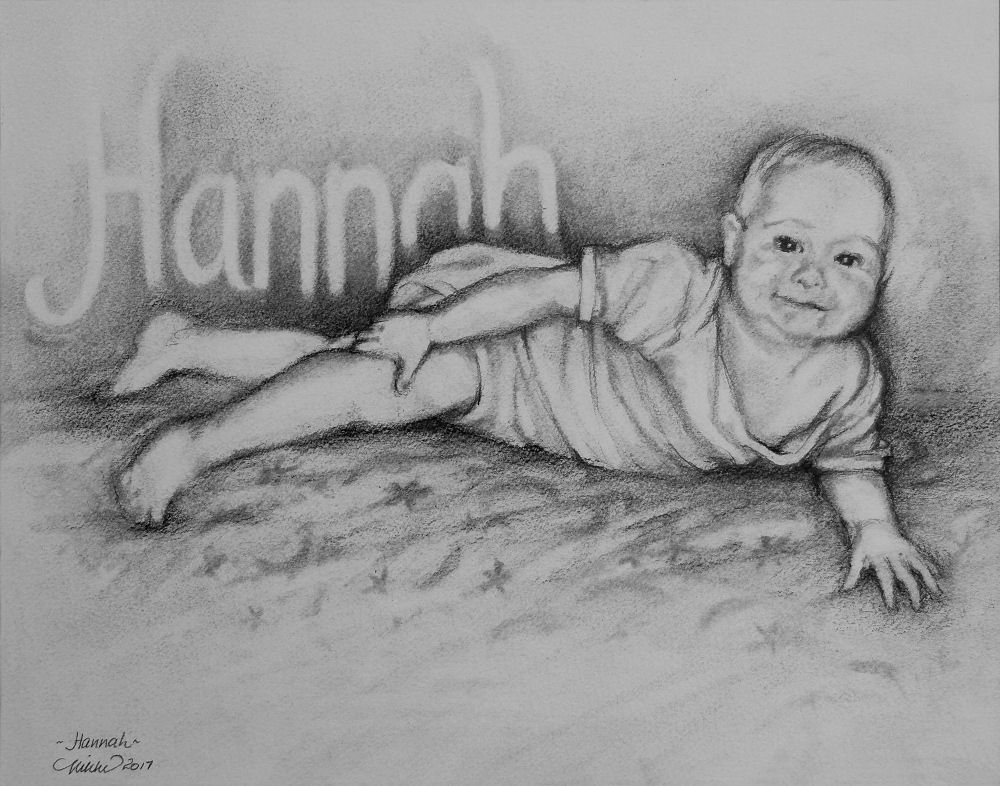 Hannah, 11 x 14 inches graphite on paper. This was a special commission for a good friend. I no longer offer to do portraits – pets, absolutely – but while I love drawing people, the work and long periods of in-between study I require take too long to warrant what I'd need to charge. There are other artists who specialize in only portraits and do nothing else.
The photo was a very small file, only 500 pixels wide, plus the feet were not in the frame, so initially I thought it impossible to work from, but started anyway. All works on paper begin with taped edges, leaving an inch of border which helps when it comes to framing, especially if composition is off a bit. I scribble in the main shapes lightly, gradually building up areas with lines and then shading as confidence grows. As marks, once placed, are difficult to erase, the face details are drawn in more gradually than the rest of the composition.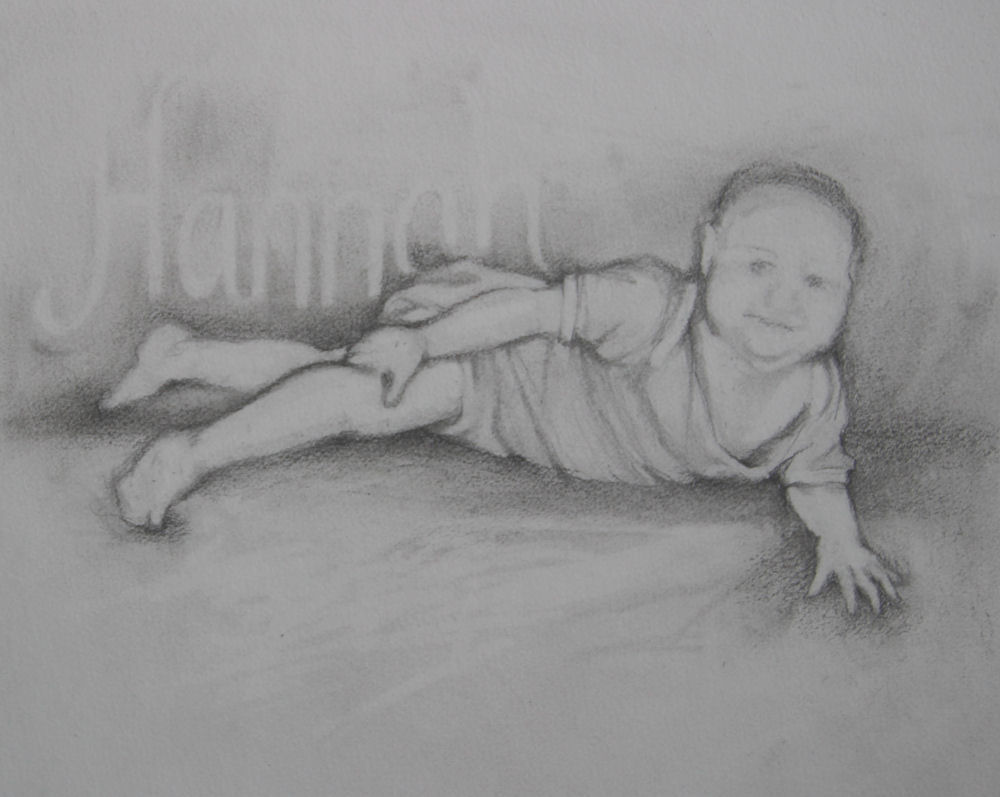 I remember that my friend used to call her grand-daughter Hannah Banana, so I snuck some banana shapes onto the blanket  – that will be a surprise for her when she sees this. I smudge the graphite and use erasers quite a bit, a good technique for subtler details like the background and blanket pattern.  Eraser sticks, 2 different sizes, are perfect because they are held and used like a pencil.
Tuesday, August 6th, 2013
---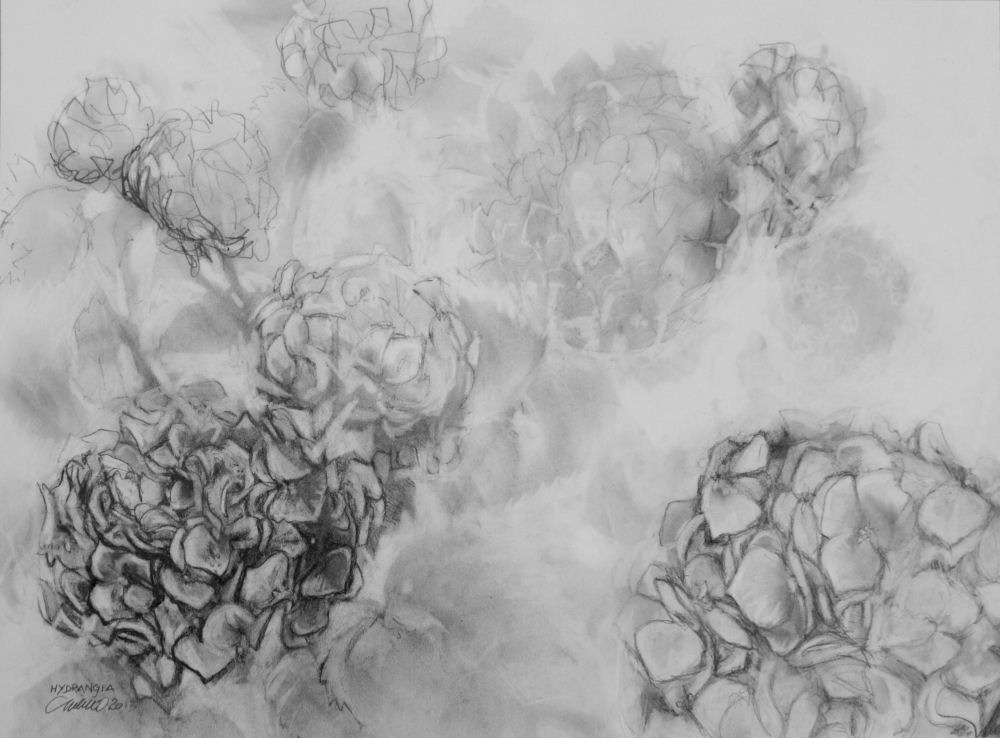 Blue Hydrangea, 18H x 24W inches graphite on 80 lb premium, white mat
---
$250.00         

---
Tuesday, July 2nd, 2013
---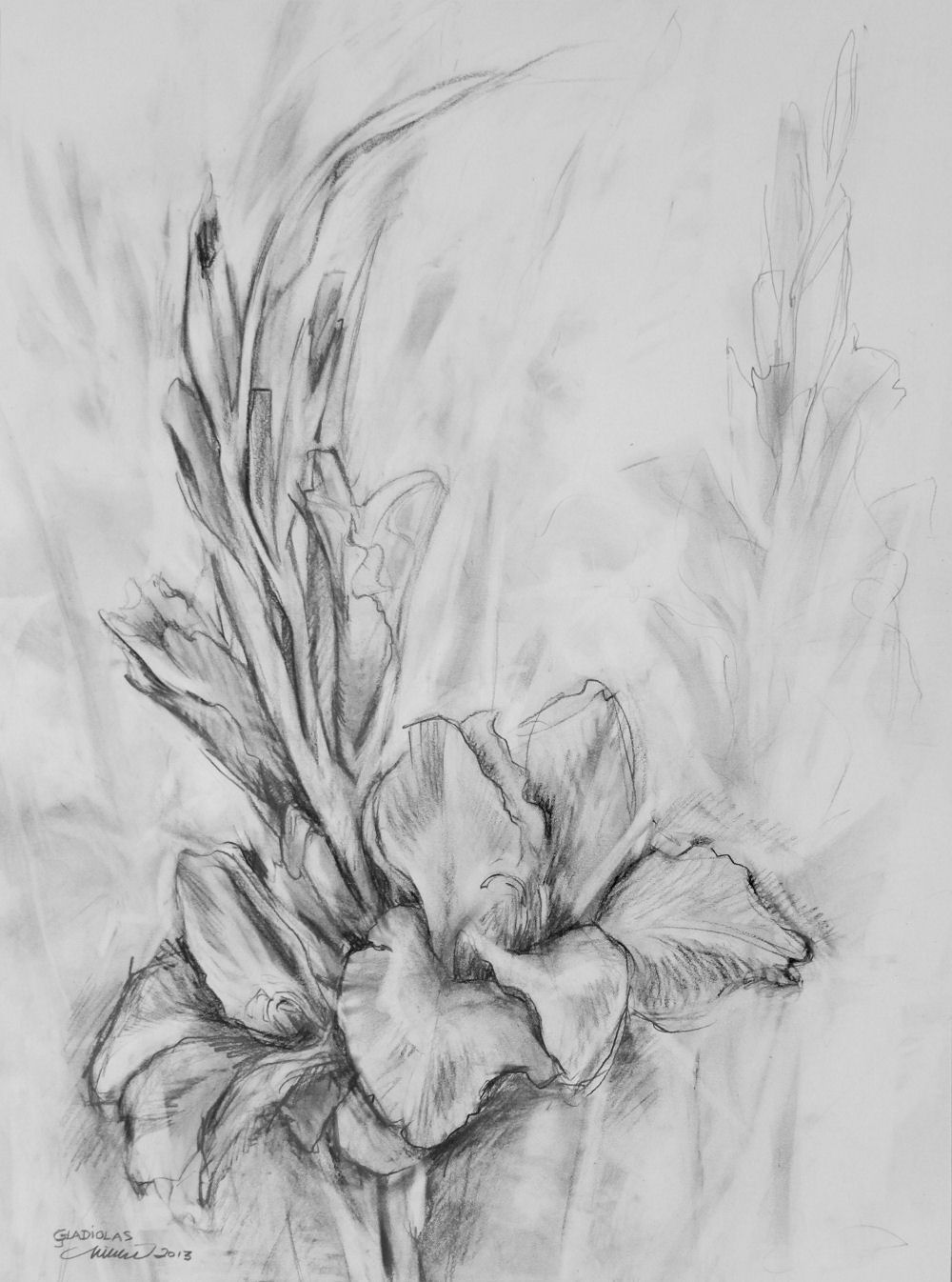 Gladiolas, 24H x 18W inches graphite on paper, white mat
---
$200.00          

---
Thursday, December 20th, 2012
---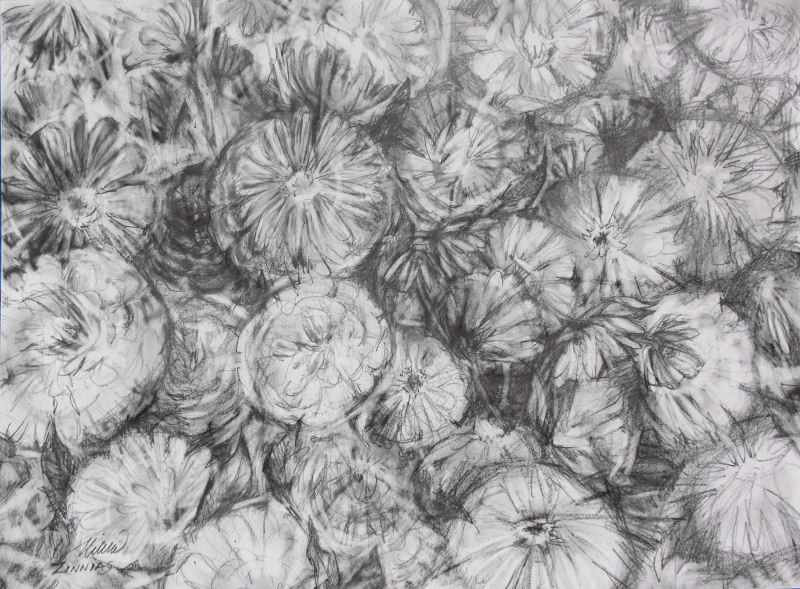 Zinnias
, 24 x 36 inches graphite on paper. Using an eraser just as much as the graphite, marks are roughed in to fill the page with enough smudges and dark tones to work with some removed, some detailed. Initial plans were to create a drawing with about 4 inches of grey tones bleeding into a colorful central square to be drawn and painted with watercolor pencils, similar to
Chrysanthemums
, with borders more defined. However, I got lost in the fun of drawing, and too much graphite would muddle colors, so this one is best without colors. Plans always need to change according to what the results are dictating.
---
$200.00          

---
Wednesday, October 20th, 2010
---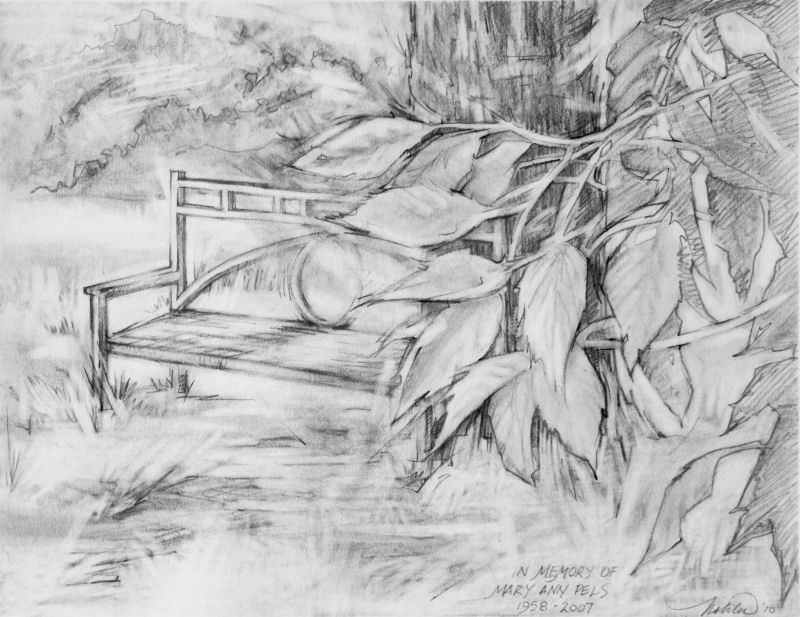 Mary Ann's Bench, 11 x 14 inches graphite on paper
Illustration of a bench dedicated to a client's sister by the staff at the University Arboretum, Madison, Wisconsin
Saturday, June 5th, 2010
---
Treasures 03: Time, 9 x 12 inches graphite on paper
Just for fun, find the clocks and watches set to these times 10:40, 8:05, 7:10, 8:20, 9:00, 2:25, 1:25, and 7:50!
Thursday, June 3rd, 2010
---
Treasures 02, 9H x 12W inches graphite on paper
…and where does one begin such a drawing? With Aladdin's lamp of course.Listed in no particular order, here are the treasures in the above illustration: 1. Spiral-Horned Antelope statue, 2. monkey statue, 3. Woman golfing tropie, 4. Water Buffalo statue, 5. outdated video camera or equiptment – three of, 6. horse head statues – heads only – there are two, 7. what I fondly refer to as "Aladdin's lamp", 8. log-stemmed pipe, 9. duck head statue, 10. Coca Cola alarm clock , 11. statue of three elephants, 12. case of watches, 13. Fish statue, 14. Chinese lantern, 15. ship in a bottle, 16. three vases displayed together, 17. large horse statue, 18. smaller (glass) horse on a glass ball statue, 19. hour glass, 20. out-dated camera
Wednesday, June 2nd, 2010
---
Dragon Fruit, 9H x 12W inches watercolor pencils, graphite on paper, white mat and 15H x 18W inch frame
I've discovered a strange and wonderful new fruit here in Singapore: Pitaya, commonly called Dragon fruit, is cultivated in Vietnam, but apparently is native to Mexico and South America. Possibly then, it's imported to the U.S. and hopefully is sold in Texas. I've seen it in the markets here but thought it was some sort of artichoke. Rarely do you find a fruit that is so large and fleshy where you don't have to deal with removal of seeds or pits or cores to get to the yummy part. This one's all yum, about 6″ long, and tastes much like a kiwi, but more sweet than tangy.
---
$200.00          

---
Tuesday, June 1st, 2010
---
Treasures 01, 9H x 12W inches graphite on paper
I walked by a store the other day where there was a woman bargaining with the owner for one of the items inside, but she was only able to peek in and point because it's crammed full to the entrance door. No customers can even get in to browse! It's a store like one I remember on an old, old '60's episode of Outer Limits, where odd items just like these had mysterious powers over those who purchased them.
So if you're looking for a Beta-Max video camera or a spooky-cool outdated deep sea diving outfit, I know where you can go… it's a store  that would inspire any artist, any writer… and any hoarder! I took a lot of photos through the glass and this sketch is the first of a few that are planned.
« Previous Entries