Magic Square Series
« Previous Entries
Tuesday, October 6th, 2009
October 10 – 31st, 2009   500X Gallery  Open Show: Landscape, 500 Exposition Ave. Dallas, TX
Opening Reception Saturday, October 10th, 7:00 p.m. - 10:00 p.m. 
| | | |
| --- | --- | --- |
| | Saint Catherine's Sunset, 11 x 11 x 3 acrylics on canvas, gallery wrapped sides painted | |
| $350.00 | | |
______________________________  more news: ________________________________
Oxide Gallery 1st Year Anniversary celebration today, Tuesday October 6th,  6:00 p.m. – 9:00 p.m. Happy Anniversary Oxide Gallery!
I'll be giving a demo on the use of Masking Fluid in acrylics paintings, so come and reveal one painting by helping to peel off the rubberized mask – I don't even know what it looks like underneath, so it will be a surprise for all of us. Techniques on applying the fluid will be demonstrated on another painting already in progress. Three pieces accepted in the current show at Oxide Gallery are:
To purchase these and of this work please visit the Exhibitions Page.
Saturday, May 23rd, 2009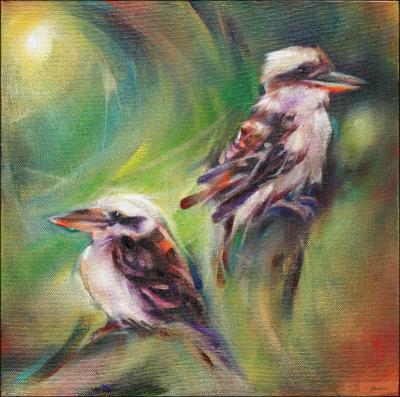 Kookaburrahs, 11 x11 x 3 inches acrylics on canvas, gallery wrapped sides painted – finished today
March 13th, 2009 Blog post: Kookaburrahs, work in progress.  This painting could have been left at phase 3, but the decision to give the birds more definition and sense of realism created a whole new set of problems. For example, the composition which was unbalanced from the start, is now exaggerated and more noticable, so a third element needs to be added in the upper left corner..not necessarily another object but color or shape that would shift the weight and attention away from the lower left areas.
Thursday, March 26th, 2009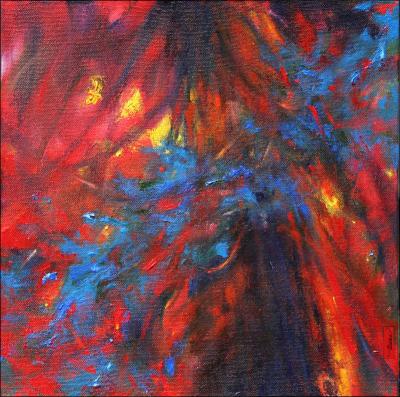 Paint Arson, 11H x 11W x 3D inches acrylics on canvas, gallery wrapped sides painted: finished, and phases 1 and 2.  Most of the Magic Square series are signed on the side, so the signature seen here is superimposed.
Buying a new jar of Cadmium Red medium hue was just the thing to reboot, then re-route some old habits I was falling back into, like over-working paintings. Here I began with a lush Redwood forest in mind, thinking I could safely stir up some inspiration with the hot scarlet under my usual cool green palette… I did not intend to start a fire!
A new color invigorates the work process like nothing else can, and adds renewed life to your results as well. Incorporated as a base, straight out of the tube or mixed with your usual palette, a new color changes everything. Here now, as the painting is seen in the second thumbnail, there's nothing I can do except follow it and see where it leads. The strength and intensity of this color as a base is dictating a whole other unintended but interesting direction, and it's in charge for a while. I hope I can manage it.
Painting, whatever the subject may be, is a journey through all kinds of unanticipated thoughts and associations; some are short and sweet, ending within 1 - 6 hours and not much more than a visual, but some are packed full of adventure that isn't even realized until surfacing from a few hours of work.
The forest fires were still-smoldering when we walked through the Californian Redwood and Sequoia forests last November, and my memory lapses into romanticized imagery of smoky rays of light in the sunset. It's perplexing that the effects of forest devastation could be so pretty when the fact is that just the week before, a raging fire was the cause of all that beauty, and not just the smoky sunset, but fire enables the entire forest to flourish. As I'm painting this I'm thinking about all kinds of  how fire is a naturally occurring event like rain and snow, and is an essential part of forest cycles…and of how fire is destructive but supports renewal and re-creation as well.
Fire opens pine cones to disperse their seeds, controls pests and disease. By burning weeds and weaker trees that rob sunlight and nutrients from healthier trees and plants, it also clears the way for new seeds to sprout. Ash aerates, and contains properties that determine the quality of soil and what is able to grow there. Realizing that certain trees only regenerate with the aid of fire, like the giant Sequoia cones only release seeds through fire, today's standard fire management practice is to allow naturally occurring forest fires to burn, still with a mind to sensibly control it.
So what element does it take to spark motivation, opening  a painter's eyes to new possibilities? A jar of Cadmium Red medium hue!
Thursday, March 19th, 2009
Neighborhood Heron, 11 x 11 x 3 inches acrylics on canvas started with a base coat of very watered down pthalos green (translucent) mixed with cerulean blue (opaque). Spraying rubbing alcohol over a damp painted water-based surface then allowing it to dry without moving it will create starry, spotty textures. Salt shaken over wet paint allowed to dry, then wiped off with a dry cloth will produce similar effects.
The drama I hoped for by spritzing the surface with rubbing alcohol isn't there because I sprayed too much and moved it too soon. Impatience may also be a virtue?…the alcohol puddled and did something else instead: it loosened up the entire surface of paint, so using fingernails under a damp smooth t-shirt cloth, I rubbed off areas to shape the heron and winter trees. This was not planned initially, but a super argument for the "wingin' it" methods!
In less an hour I knew that it was complete, but took a while to shake the thought that an hour was surely not enough time to validate asking a decent price for it. There's the discrepancy though; some paintings are successfully short and sweet, and others seem to go on forever until they're finished. It's all coming from the same place: experience, and how long it takes to bring the message across is not always a factor in price.
In college I took a pottery course for one semester, and the thing I remember most is the instructor saying how it's a good idea to allow some of the raw characters of the materials we work with to remain and "speak" without trying to smooth over and perfect everything. She was of course referring to clay, but over the years I've found that it applies to many other mediums also. In Heron, the branches extend into the body of the bird, connecting it to its environment. The effect also does a subtle play on the motion of its flight too.
| | | |
| --- | --- | --- |
| | Neighborhood Heron, Magic Square series, 11 x 11 x 3 acrylics on canvas, gallery wrapped sides painted | |
| $350.00 | | |
Wednesday, March 18th, 2009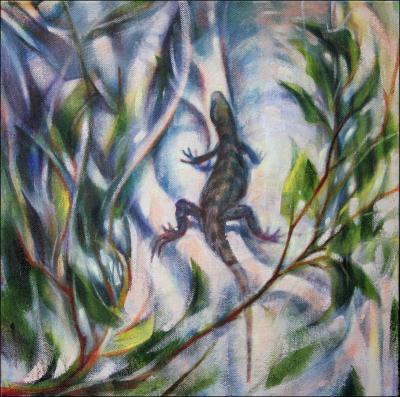 March 19th:  Work still in progress, earlier progress below. Today layering thin washes of pale yellow, placing the iguana more into the background. Some of the details of the Strangler Fig growth that are now covered up will be brought back into focus since this is more about the tree than the iguana. Posting the painting on the blog is helpful because it's viewed differently than while painting or studying it..it's somehow easier to see areas that still need change when looking at it on-screen. 
The Strangler Fig is a parasite. Seeds sprout in moss or decaying matter among the branches of rainforest canopies. Roots gradually extend downward and over time completely surround the host tree, which dies while nourishing the Strangler Fig growing in its place.

March 14th, March 13: above thumbnails, Phases 1, 2 and 3
March 18: searching for a way to help this not look so mediocre; I may do as in Myrtle At The Zoo and define some Strangling Fig leaves in the foreground then blur the Iguana and other background details.
Tuesday, March 10th, 2009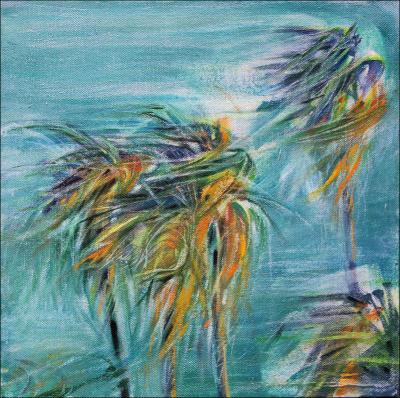 Chapala Wind – Lake Chapala, Mexico, 11 x 11 x 3 inches acrylics on canvas, gallery wrapped sides painted. Top: almost finished..needs a little more green maybe.  Thumbnails: phase 1 and 2 in progress.
I have seen paintings where artists have sprayed alcohol and acheived a mottled effect, kind of like what happens when salt is sprinkle on wet watercolors. It didn't work for me, however it did loosen the paint and I was able to scratch it, at first with my nails and then a pottery tool.  Does anyone have any tips about what alcohol can do on acrylics or how to use it?
Thanks to Karen Xarchos for all the feedback and additional information. We worked together painting murals in Ottawa for a couple of years. Karen has done extensive work in restaurants and homes in the Ottawa area.
Monday, March 9th, 2009
Myrtle At The Zoo - Crepe Myrtle branches and seedpods before pruning, February at the Fort Worth Zoo, Texas. 11 x 11 x 3 inches acrylics on canvas, gallery wrapped sides painted.  Top: finished, center: bottom side detail, two thumbnails below: phases 1 and 2 in progress. The signature on most of these 'magic squares'  is on the side so it is digitally added here – see how much a signature can intrude on the front of the work?
Many of the issues were worked through on the previous larger version, and I'm pleased with this boxy little painting…still not completely satisfied that I'm finished with this subject because it's so complex, it's like a puzzle that's nagging at me to figure out, so will probably attempt this same painting at least one more time.
Sunday, March 8th, 2009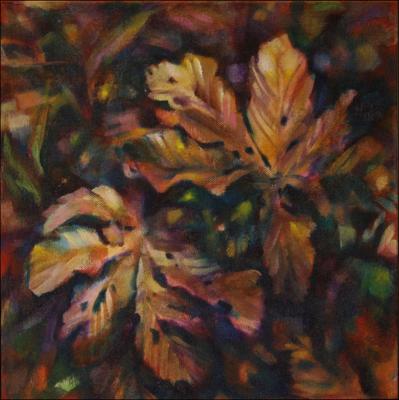 Decaying Ceiba Leaves, Lake Cote Cloud Forest Reserve, Costa Rica, 11 x 11 x 3 inches acrylics on canvas.
Friday, March 6th, 2009
Howler Monkey, 11 x 11 x 3 inches acrylics on canvas. Work in progress…a few more details left…scrubbing and scratching away more paint than adding it.
Thursday, March 5th, 2009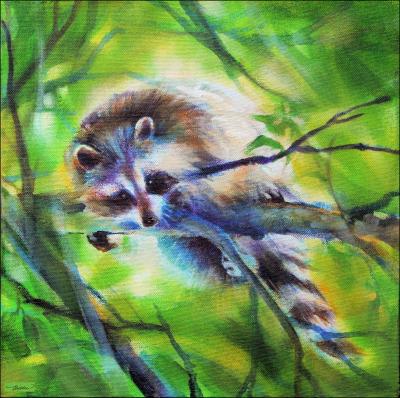 Raccoon, 11 x 11 x 3 inches acrylics on canvas, sides painted. I think I'll quit while I'm ahead on this one..it has a watercolor airiness to it.
« Previous Entries