Forests
« Previous Entries
Monday, November 20th, 2017
Autumn Forest Scene 13, about 6H x 2W inches watercolors on 140 lb cold pressed

Autumn Forest Scene 10, about 6H x 2W inches watercolors on 140 lb cold pressed

Autumn Forest Scene 11, about 6H x 2W inches watercolors on 140 lb cold pressed

Autumn Forest Scene 12, about 6H x 2W inches watercolors on 140 lb cold pressed
Sunday, November 19th, 2017

Autumn Forest Scene 07, about 6H x 2W inches watercolors on 140 lb cold pressed

Autumn Forest Scene 08, about 6H x 2W inches watercolors on 140 lb cold pressed

Autumn Forest Scene 09, about 6H x 2W inches watercolors on 140 lb cold pressed
Saturday, November 18th, 2017

Autumn Forest Scene 06, about 6H x 2W inches watercolors on 140 lb cold pressed

Autumn Forest Scene 05, about 6H x 2W inches watercolors on 140 lb cold pressed. This one is my favorite.

Autumn Forest Scene 04, about 6H x 2W inches watercolors on 140 lb cold pressed
Thursday, June 22nd, 2017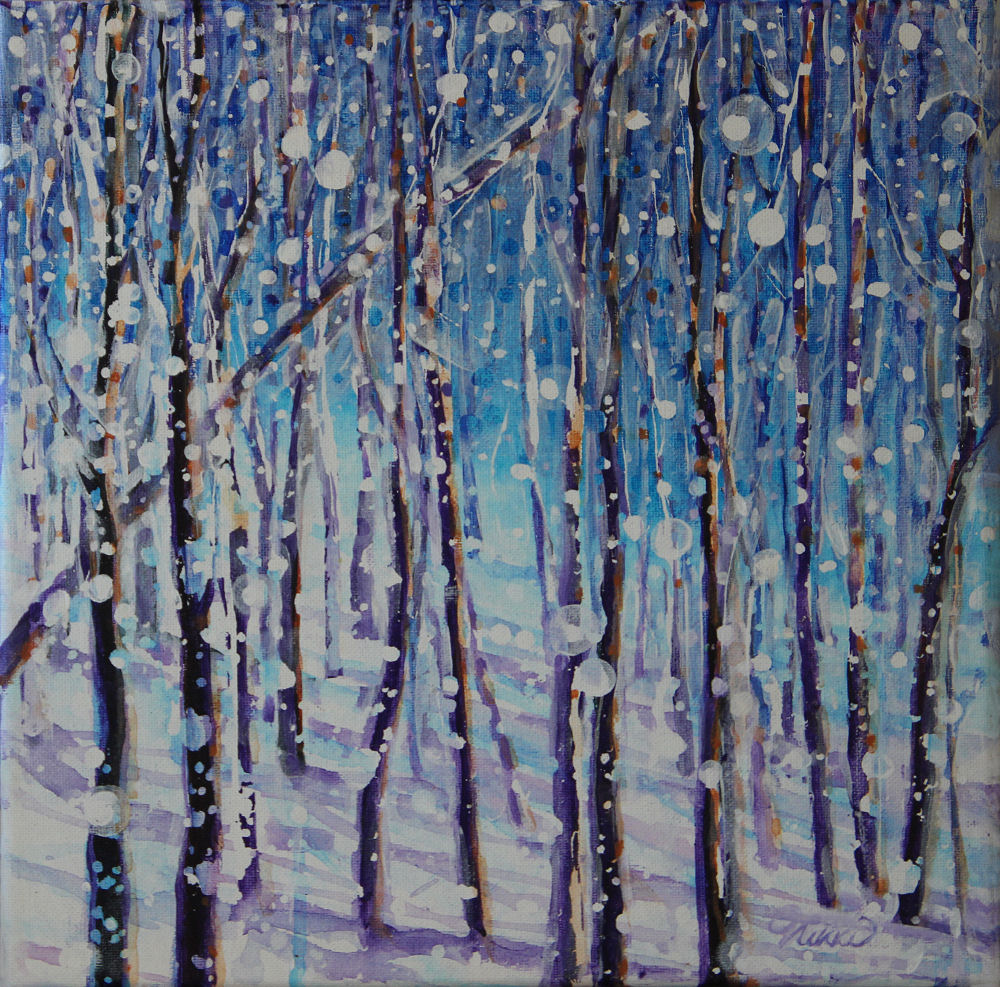 Hypnoflakes, 12 x 12 inches acrylics on canvas
Thursday, April 27th, 2017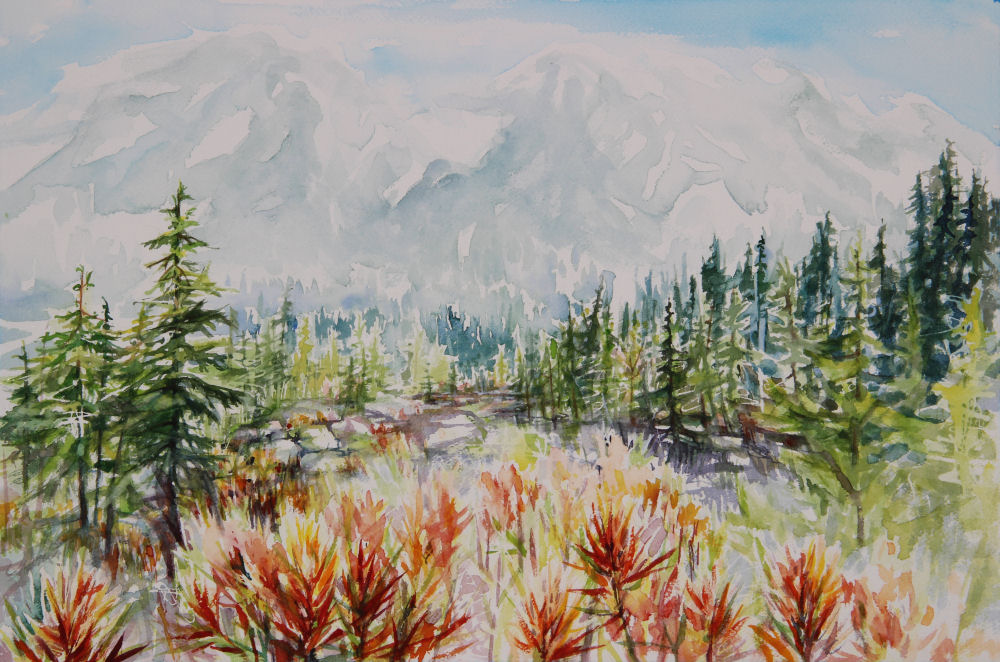 Mt. St. Helen's Indian Paintbrush (Washington), 14 x 20 inches watercolors in progress. The mountain and central areas may need to be darker, but I'm going to set this aside for a few days and come back to it.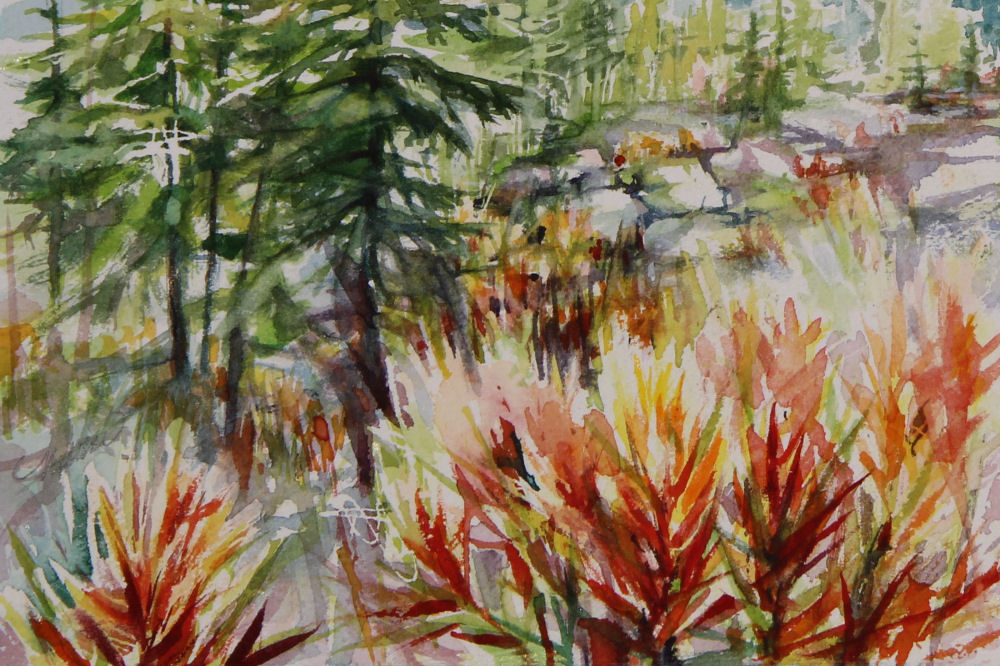 Monday, April 17th, 2017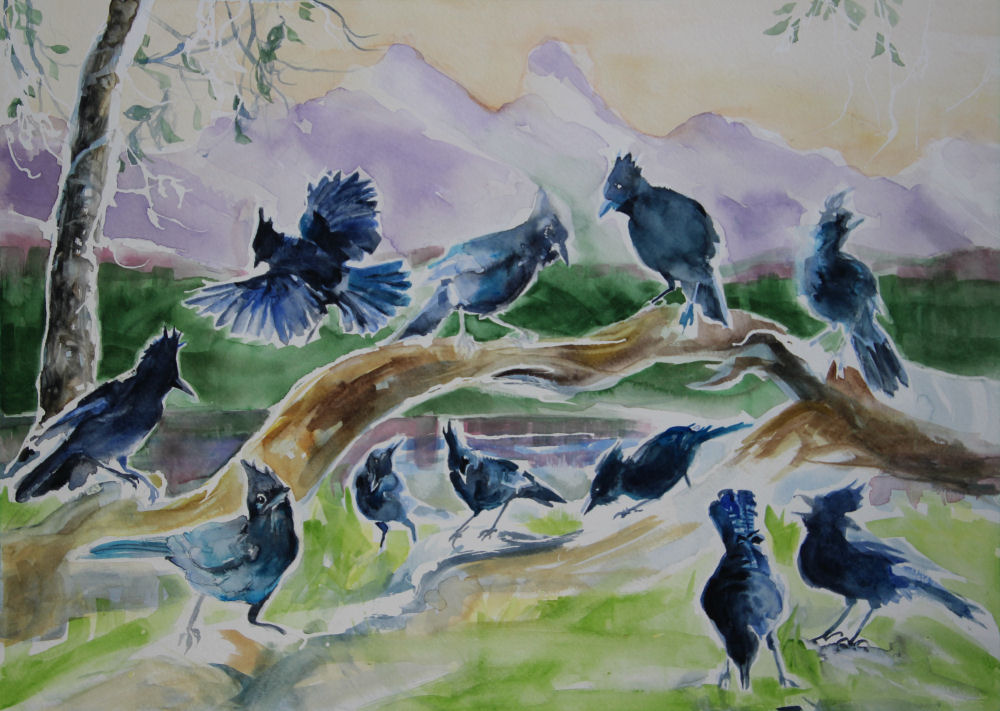 Work in progress, Stellar's Jays at Nimkish Lake, Vancouver Island BC, 18 x 24 inches watercolors on 140 lb. cold press. For years I've been visualizing a painting that portrays the Stellar's Jay in various poses, representing general character. My Dad pointed out that Stellar's Jays don't usually group this way, which is an accurate view of the broader behaviour that didn't even occur to me. Interesting! Phase 02 below and detail image – the yellow is masking medium:
Normally I don't outline anything when starting a painting, which works fine with acrylics because it's easy to change things throughout the process, but watercolors don't allow for much room for error, especially if you don't have much practice with them. Wingin' it usually works for me because I don't mind failure in exchange for experience, but mapping out the shapes and arrangement lightly in pencil really helps, and confidence is fundamental to painting well.
Wednesday, March 15th, 2017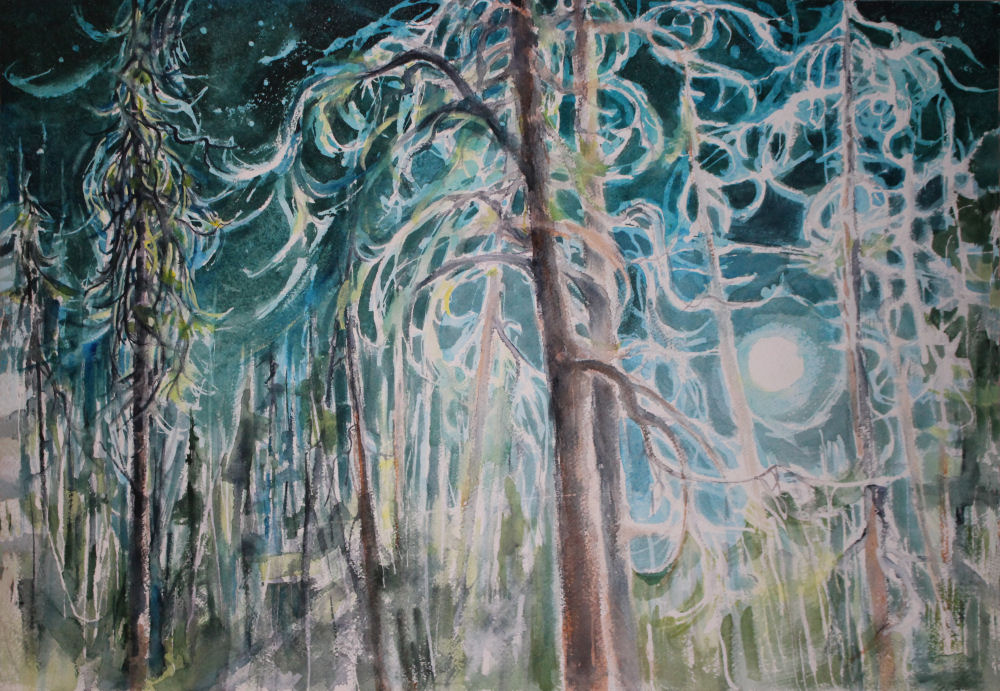 Diamond Lake Oregon – moonlight study – 14H x 20W inches watercolor on 140 lb cold pressed premium.
Tuesday, March 7th, 2017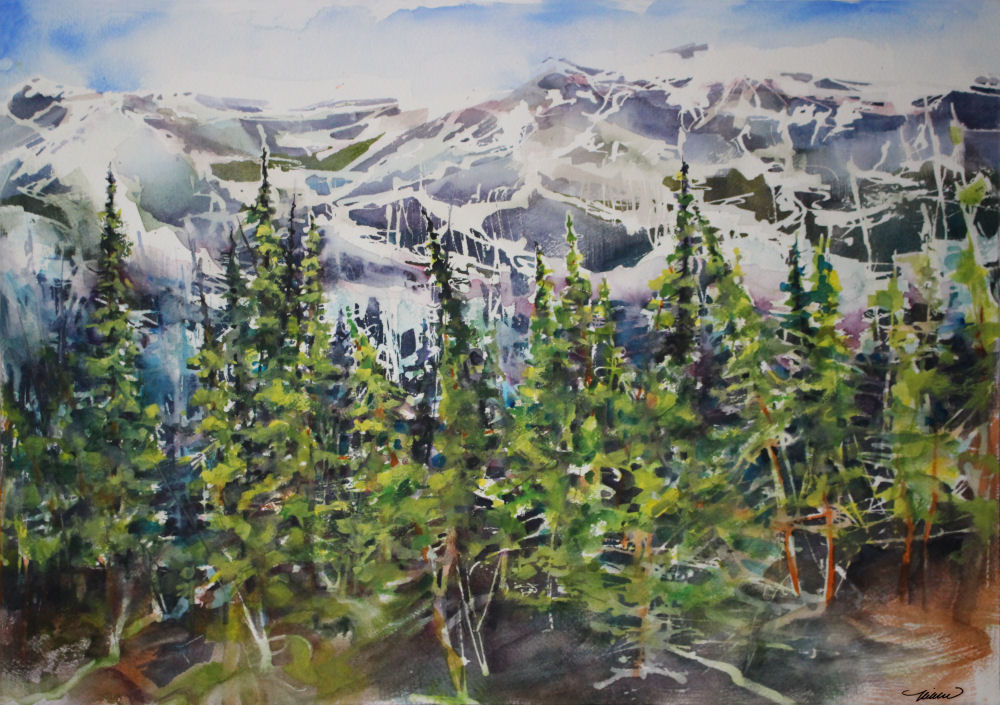 Kaniksu National Forest, Idaho – 14 x 20 inches watercolors on 140 lb cold press. Detail images:
Monday, March 6th, 2017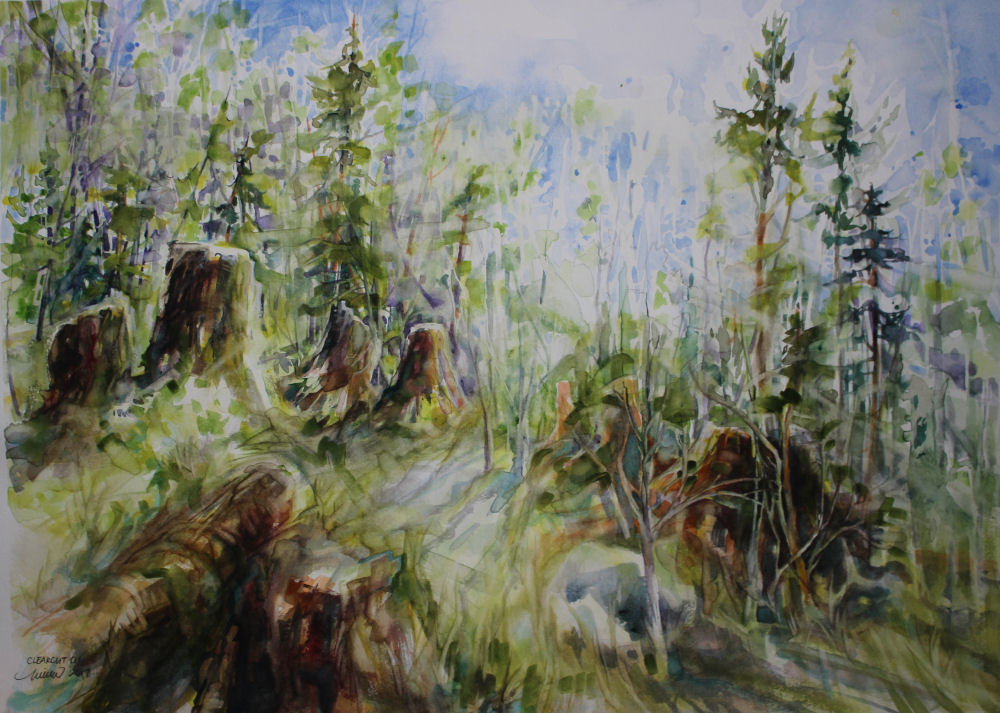 Clearcut, Tillimook OR – 18 x 24 inches watercolors on 140 lb cold press. $750 framed. Detail images:
Tuesday, February 28th, 2017
 Clearcut 01 details, watercolors – work in progress details
« Previous Entries