exhibitions
« Previous Entries
Saturday, June 3rd, 2017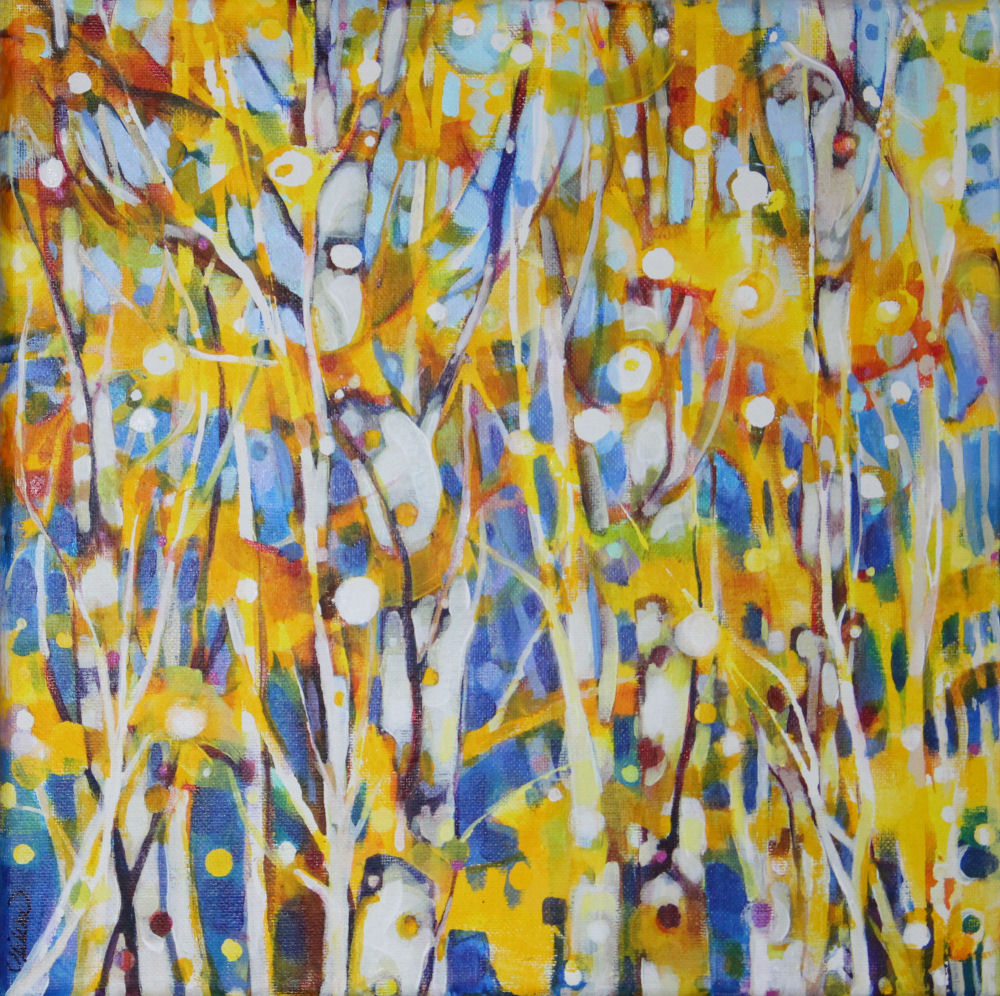 First Snow 02, 12 x 12 inches acrylics on canvas
Entry for The Square Foot Show in Bismark, ND on August 1st – 25th, 2017
~ Sold ~
Monday, September 20th, 2010
---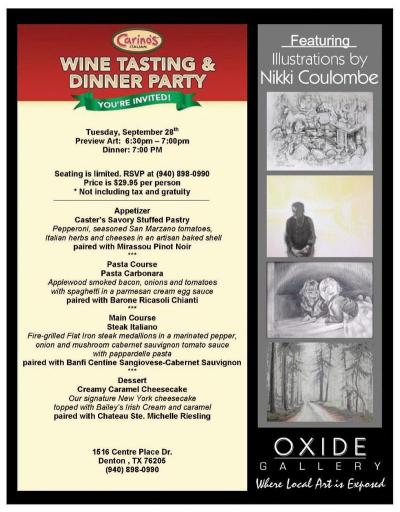 Wine, Art 'n' Dine at Carino's Italian Restaurant in Denton, TX Sept. 28th, 2010
Friday, July 9th, 2010
---
On exhibit at Oxide Gallery, Denton, TX
Dandelions among the Tulips, 16 x 20 acrylics on canvas, dark brown wood frame with red trim design. Total size 22 x 28 inches, Bonsai Garden, Chinese Gardens, Singapore  9 x 12 inches graphite on paper  Milkweed Melody, 27H x 33W inches framed Oil Pastels on 140 lb cold pressed premium watercolor paper, Seasonal, 36 x 24 x 2 inches acrylics on canvas, gallery wrapped sides painted, narrow frame
Friday, April 16th, 2010
---
Paintings as shown are not to scale in comparison to one another
The Dancing With Trees Art Exhibition celebrates the importance of trees and forests throughout history, portraying their diversity and relationships through a variety of creative associations. Twenty three of the paintings in this collection are on exhibit in the Steinhauer Trust Gallery at the University of Wisconsin-Madison Arboretum, May 1st through June 30th, 2010. Opening Reception Saturday May 1st, 12:45 – 4:00 p.m.
All life forms on this planet proliferated, continue to flourish, and ultimately depend on the existence of trees. While the message is urgent, I consider humanity's role on the planet as positive, with the statement that creativity is our greatest asset; that "Our carbon footprint is worthy". Further, creative thinking is our most primal, yet highly advanced and ever-evolving contribution toward solutions to healing wrongs done and changing ingrained habits to ones that are more appreciative of the environment in general.
Purchase Art here                    
Friday, April 9th, 2010
---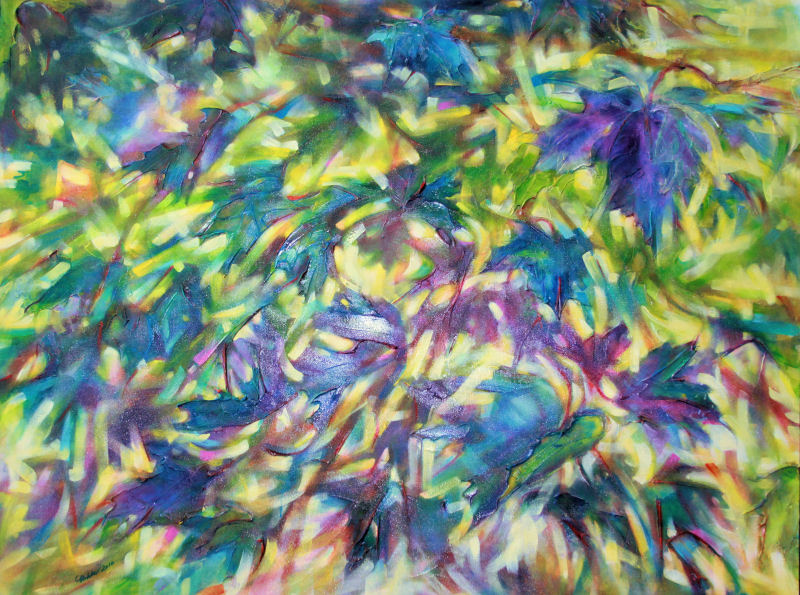 Norway Maple in Madison, Wisconsin, 36H x 48W x 2D inches acrylics and modeling gel on canvas, wrapped sides painted, narrow frame

March 9th: Subtle changes since last post…have been working more on tones in the background, which weren't planned initially; I had hoped to use only pure colors without the usual layering, but it's otherwise too hard to look at. Also am connecting a few shapes horizontally, and it's almost "there", but '2D Pinecone' was started in the meantime to avoid overworking this.
March 6th: Thanks, Virginia for taking the time to write and digitize a detailed, objective critique. I sure appreciate your opinion about what might improve this. Spotted Cow Syndrome eh? Yes, you're absolutely right. There needs to be one focus somewhere; left thumbnail shows another day of work..still in progress.
Feb. 28th, above right: detail of above, left Adding a solid patch of turquoise to lower left and some tiny details like that may ground the whole thing, but that's about it; am leaving it out of sight for a while. This really is a carnival of color, I love it!
Thumbnails: Combined, edited posts of progression between Dec. 8th, 2009 – Feb. 27th, 2010. Started December 8th, 2009: modeling gel is available in varied textures, finishes and viscosity. Acrylics paint can be mixed with the medium or when dry paint can be applied over top. 3) January 18th, 2010: applying modeling paste to the base painting, and sculpting with a small trowel. February 27th: lighter background colors were added in order to open up the space.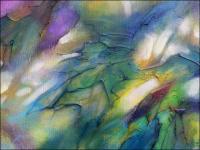 Left: Jan 28th, detail image – used  a dry brush so paint would catch mostly on the textures, and kept the feeling soft. Intentions are to maintain the fresh pure colors. Studied from a distance for about a week after this stage to contemplate what the next move will be.
All paintings and Art forms created from now until the end of April will be specifically toward the Dancing With Trees Exhibition to be held at the Steinhaur Trust Gallery, Wisconsin-Madison University Arboretum, scheduled May through June 2010.
---
$750.00          

---
Wednesday, February 10th, 2010
---
Cycad Fossil Chair, Salish NW Pacific culture wooden whorl replica Chair, and Ancient Mayan bowl replica refurbished vintage chair, 29 x 29 x 29 inches mixed media. Read the feature article.
On exhibit and available for purchase February 11th – 27th at Visual Image Fine Art Puiblishing and Gallery Juried Show, 14320 Midway Road, Suite 300, Dallas, Texas.  Come and meet all the Artists at the Opening Reception this coming Saturday, Feb. 13th, 3 – 9 p.m.
~
Good Artist Pals also come in threes
Some friendships will last forever, and how fortunate that three of mine also happen to be artists! Listed in no particular order of favoritism, each are miles apart geographically speaking and personality-wise, but they all have one thing in common: they'll tell it like it is if you ever need a good critique, and on the flip side of the coin: a smile, a boost of energy; encouragement. I've posted my favorite works created by each, and highly recommend browsing each of their websites..
a) Chris Bolmeier: Happy Pigs, Oil on canvas  I met Chris on the internet three years ago through Robert Genn's Painter's Keys newsletters. Formerly an actress and professional singer, she's not through yet with entertaining you through humour, song and paint. She often posts mini-videos of herself singing, and her artwork is pure, straight from the gut, and some of the funniest, most original material ever. I chose this piece to share as an absolute favorite, portraying fanatically goofy pigs because it makes me laugh…not just smile, but laugh Christerically every time I look at it. In my opinion her best work is of childhood memories, and some of the baffling stuff that originates from who knows where in the infinite canvas of her mind!
b) Karen Xarchos: Restaurant mural in Ottawa, Ontario, Canada  Karen and I were neighbors many years ago. We designed and painted murals together in the Ottawa area for a couple of years. Thank goodness for the internet, we're able to keep in touch when either of us needs a good eye and some honest advice. Karen's style and mine are vastly different; our pace, the style, the manner and we continue to learn so much from each other. She reminds me to slow down and smell the paint; her blending techniques are amazing.
Karen accepts commissions for canvas pieces like wall borders painted at home, then cleverly installs them with wallpaper paste so home owners can remove the work and take it with them when they relocate. My favorite work of Karen's are the murals depicting work of the Masters, which are enjoyed by customers dining in many of the Greek and Italian restaurants in the Ottawa area.
c) Virginia Wieringa: Prayer, mixed media collage  Virginia and I met about four years ago on an Artists' interactive website, wetcanvas.com, and I think she still participates there under the avatar name "Veedubya". I'm positive she'd love to meet you there too. Virginia has well-developed drawing and painting abilities and currently experiments intuitively with mixed media collage. Her work, no matter what the media, reflects her open-mindedness and strong sense of spirituality. Formerly an Art teacher, she's fun to write to because she puts up with my inner-most silly self and doesn't hold back her own. My favorite work of Virginia's are the subtly symbolic collages, and some of the more vivid, energetic paintings that are about two phases pre-Realism.
Wednesday, December 9th, 2009
---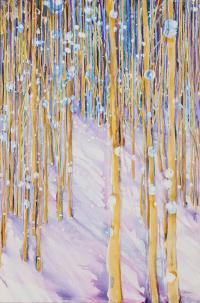 Creating Art and talking about are truly two different ways of seeing; the theory of right and left brain thinking is matter-of-fact. As an Artist it takes some effort to "switch brains" and reflect on the processes and progress of work in order to accompany my Art with writing on this blog, so I'm really impressed with the mature quality of the critiques given by students at  Olive Stevens Elementary School of paintings on their school Art blog every month.
In collaboration with Oxide Gallery, the Denton school has started a blog where students – or anyone else actually – can give a critique of a different work of Art each month. This month the comments regard the recently finished Sounds of Silence, which is also at the gallery.
Wednesday, November 25th, 2009
---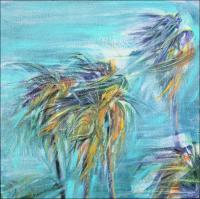 Upcoming exhibition: monthly featured artist at Oxide Gallery in Denton, TX. Among the items on exhibit: most of the Magic Square series, Dawn at Bell Rock, Sounds of Silence, Polypore Fungi, Shadows of Summer, Eastern White Pine, and three of the vintage chairs. Opening Reception Tuesday, December 1st, 6:00 p.m. – 8 p.m., and the show runs until December 31st.
http://oxidegallery.com/Flier-December.html
Left: Chapala Winds, Mexico, 11H x 11W x 3D inches acrylics on canvas, wrapped sides painted, part of the Magic Square series, all painted as various aspects of trees for the Dancing With Trees Exhibition collection..
Tuesday, October 6th, 2009
---
Saint Catherine's Sunset, Ontario, Canada – 11H x 11W x 3D acrylics on canvas, wrapped sides painted, showingOctober 1 0 – 31st, 2009   500X Gallery  Open Show: Landscape, 500 Exposition Ave. Dallas, TX. Opening Reception Saturday, October 10th, 7:00 p.m. – 10:00 p.m. 
Oxide Gallery 1st Year Anniversary celebration today, Tuesday October 6th,  6:00 p.m. – 9:00 p.m. Happy Anniversary Oxide Gallery!
I'll be giving a demo on the use of Masking Fluid in acrylics paintings, so come and reveal one painting by helping to peel off the rubberized mask – I don't even know what it looks like underneath, so it will be a surprise for all of us. Techniques on applying the fluid will be demonstrated on another painting already in progress. Three pieces accepted in the current show at Oxide Gallery are:
Saturday, April 25th, 2009
---
At the end of each month Oxide Gallery and Carino's Italian Restaurant in Denton present an evening of Art, Dinner and Wine Tasting. Offering a new menu each month, an amazing four course dinner is complete with wine pairings for only $29.95.  The room is separate from the rest of the restaurant, so offers an intimate setting where, at some point during the evening, the artist discusses and answers questions about their work. A new artist's work is featured each month, and on Tuesday it's my turn.  Although this is a new idea it has been well received. Reservations are required, but  April 28th is now booked solid, so the Dinner and Show is extended to take place on April 29th as well.
The Interaction with Flowering Shavingbrush Tree
I reapplied masking fluid to the painting in order to continue working on it but still preserve all the great marks revealed after removing the first application. At Carino's on Tuesday others will participate and be a part of helping this painting come to life by removing the dried rubberized medium from the painting, and help unveil the finished piece.
Update, May 1st: Pulling off the rubberized medium was a hit! A few people kept going back to pull more off. If gallery owners are open to it, I'd like to continue doing this at future opening receptions too. Here are some photos of the fun.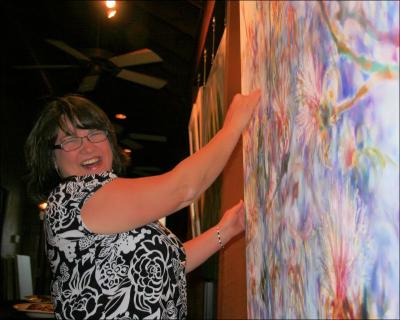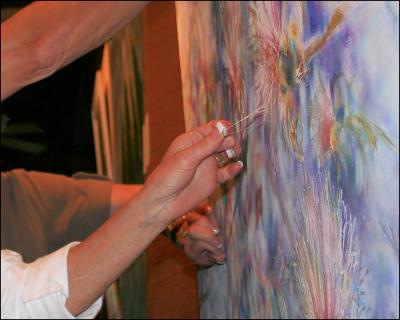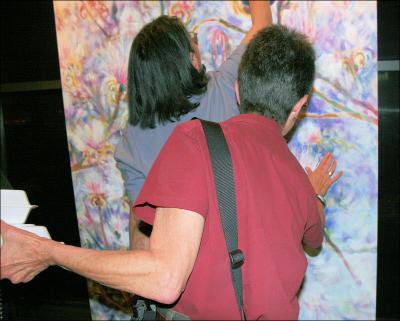 "One last peel before I go…"