city streets
« Previous Entries
Monday, November 5th, 2012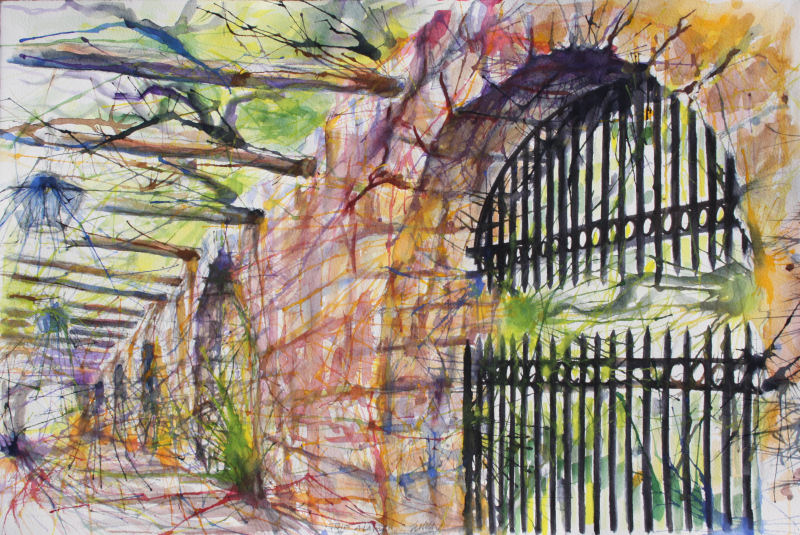 Stone walkway on the grounds of the Alamo, San Antonio, Texas 15 x 22 inches watercolors on paper
Thursday, May 26th, 2011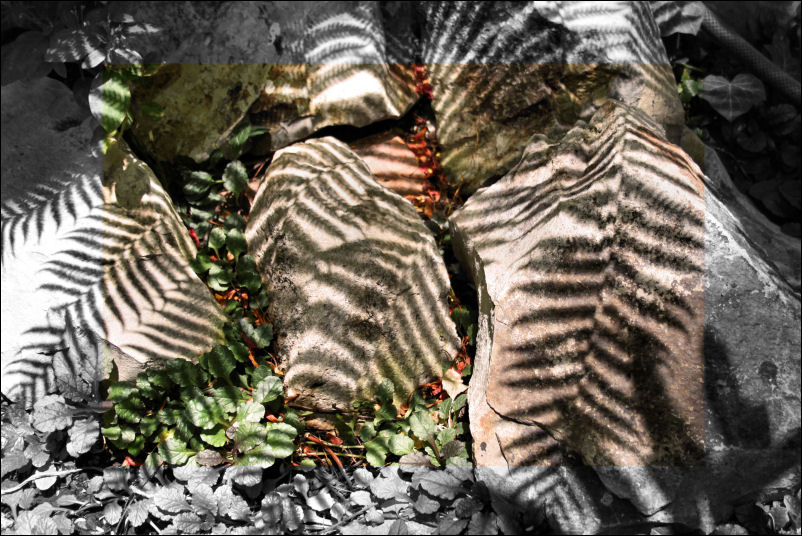 Tree fern shadows cast across garden rocks in Chapala, Mexico
"Your true colors are beautiful" - Cindy Lauper
I've been in Mexico for the past two weeks, so I'll be contributing more images to the True Colors website (www.trucolors.info), created in 2007 as tribute to the colorful landscapes and cultures here. Developed separately from the other chapters of nikkiartwork.com, True Colors is considered as one complete and independent project. I've posted a few more of the recent pieces in this series on nikkiphotography.com
Tuesday, June 1st, 2010
Treasures 01, 9 x 12 graphite on paper
I walked by a store the other day where there was a woman bargaining with the owner for one of the items inside, but she was only able to peek in and point because it's crammed full to the entrance door. No customers can even get in to browse! It's a store like one I remember on an old, old '60′s episode of Outer Limits, where odd items just like these had mysterious powers over those who purchased them.
So if you're looking for a Beta-Max video camera or a spooky-cool outdated deep sea diving outfit, I know where you can go… it's a store  that would inspire any artist, any writer… and any hoarder! I took a lot of photos through the glass and this sketch is the first of a few that are planned.
Monday, May 31st, 2010
May 31st, a different view of the Masjid Sultan mosque (also May 27th) showing also a detail image of the ancient Islamic symbol of the Crescent and Star on top of the golden dome.
Thursday, May 27th, 2010
Masjid Sultan,  (Malay for Sultan Mosque), Kampong Glam district, Singapore, 9 x 12 inches graphite on paper. 
When I get back home, all these studies will be scanned to reveal the true tones and details. For now they are being photographed and digitally manipulated, which explains the noise on some of the images.
Tuesday, November 17th, 2009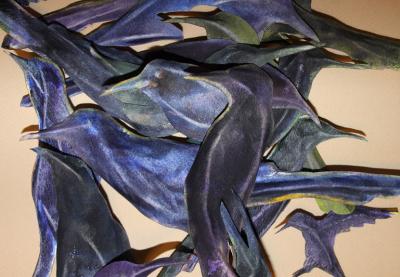 Bird Party, Watercolors on molded 140 lb watercolor paper – in progress.
I'm not exactly sure where this is headed, but shapes were cut out of the painting, the paper drenched , folded , stretched and sculpted. Every evening just before sunset in the Dallas-Fort Worth area Grackles, blackbirds, Starlings and pigeons gather on lawns, parking lots, overhead wires and cables, rooves and trees. The event is unique to this area as far as I know, and exciting beyond words to be amongst the thousands and thousands of birds. Here is a previous piece on the subject.  
Thursday, November 5th, 2009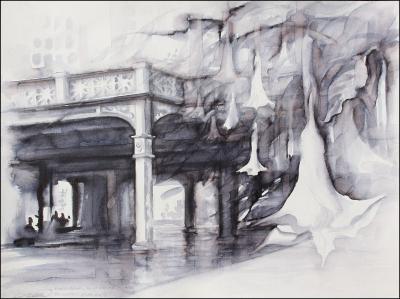 Trumpet Flowers, San Antonio Riverwalk, Texas -12 x 16 inches value study in progress, Tombo pen wash on 140 lb. WC paper.
The Tombo pen is a two-in-one water-soluble marker available in colors as well as black. One tip is medium-fine and the other looks and behaves like a Chinese paintbrush, where thickness of lines can be controlled. What's more difficult to control is that black once it's on the page! The edge of the ledges on the bridge here were much brighter, but I couldn't lighten them without making a mess of the surrounding areas, so they are OK. It's something to pay attention to when painting the colored version.
Thursday, October 29th, 2009
Buildings, San Antonio, Texas – 22H x 15W inches Watercolors on 140 lb. acid free, cold pressed premium paper
Friday, October 5th, 2007
Three Photos will be on exhibit and available for sale at the City Streets Exhibition at Studio 333, Sausalito, CA  October 25 – December 6, 2007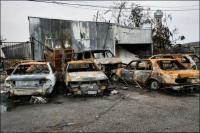 Burnt Offerings #1 – From Burnt Offerings the photographic series consisting of ten images of the devastating results after an explosion that rocked downtown Dallas on July 25, 2007, in an acetylene and propane warehouse. In the distance: the famous Reunion Tower.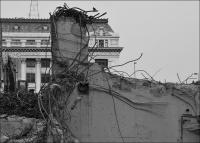 Phase to Grey - series pending. With a history and reputation for competing with Houston to attract visitors to stay in a beautiful, safe, and interesting downtown area, Dallas makes room for new buildings and upgrades existing ones. This photo: Demolition on the corner of Commerce and S. St. Paul Street, across from the infamous Dallas Grand Hotel which has been vacant and in a serious state of disrepair for many years, now planned to also receive extensive renovations.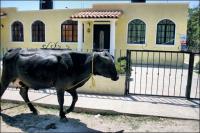 True Colors #63 – The original photo of one of the digitally manipulated images in the True Colors website series. This photo: A cow wanders the streets of San Antonio, Mexico. Nonchalantly meandering through the neighborhood, tether rope dragging on the road beside her, it's as if this cow has simply left for a short walk and no one, even the owner, ought to worry about her finding her way home.
All photographs printed on 11 x 17 100 lb. Satin finish cardstock high quality photographs are one of a kind, signed, most with white mat and a 3″ wide black frame. Please contact nikki_coulombe@hotmail.com for details about this or any Artwork you wish to purchase. (thanks!)
Tuesday, August 28th, 2007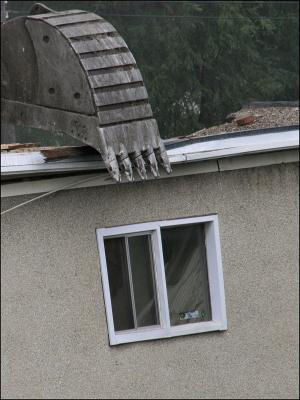 Three quaint old apartment buildings on Whyte Avenue in Edmonton were demolished to make way for a large condominium complex — a shame, considering all the new windows that were just replaced a few years ago. To remove them beforehand would not be financially viable for the new builder. (more…)
« Previous Entries