abstract
« Previous Entries
Thursday, May 9th, 2013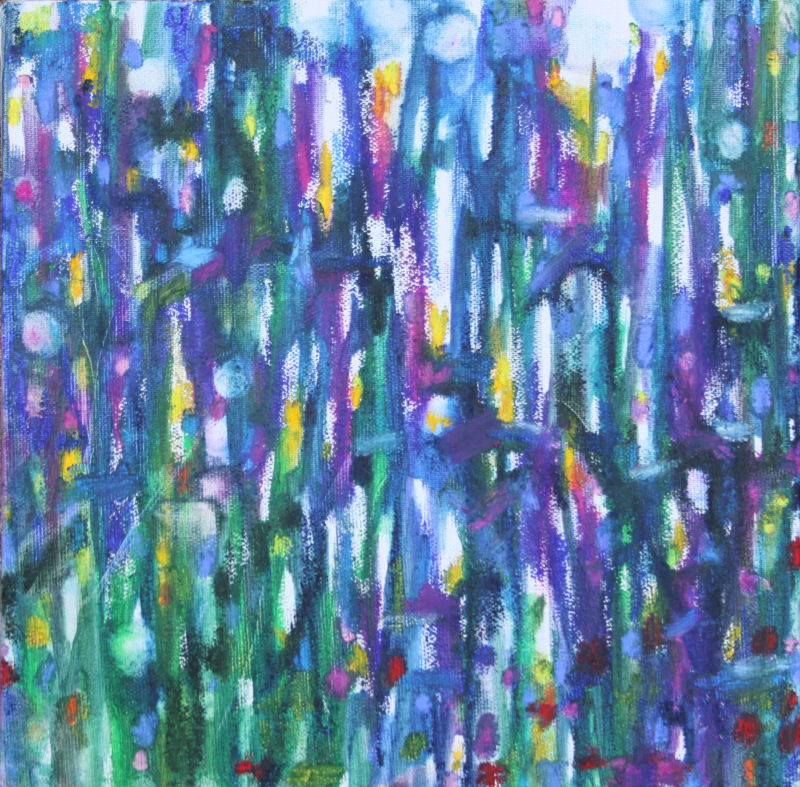 Blue Flag Iris, 10 x 10 x 1 inches  oil stick on canvas
Thursday, April 25th, 2013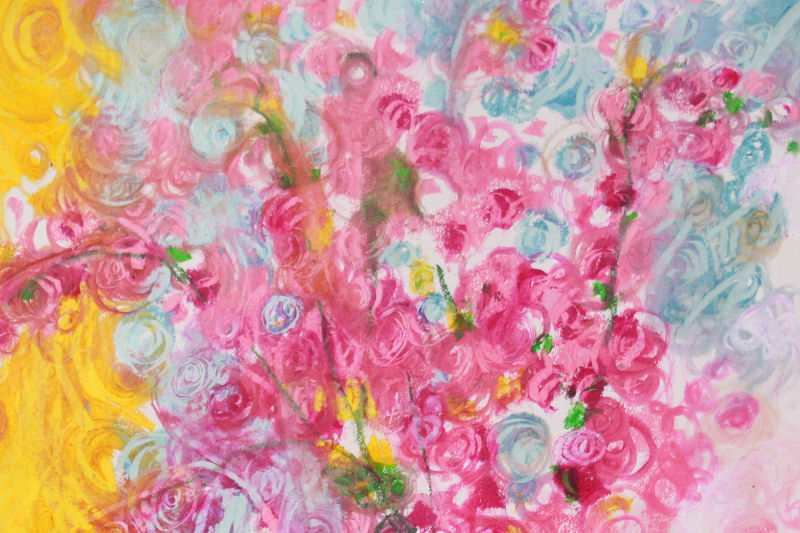 BlossoMania, 12H x 16W inches Oil Pastels on 80 lb acid free, painted with Oil Blending and Glazing Medium.
I've been admiring the round masses clumped on the Plum tree branches in our neighbor's back yard for a week or so now. Yesterday and today, pink swirls in the wind…
Petals are falling, the sky is blue
They cover everything, old and new
If I sit too long, I'll be covered too!
~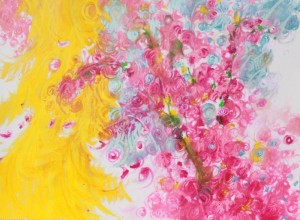 Above: the finished piece, which was cropped from the original size (left), 18H x 24 inches. Blogging always reveals a different perspective. If I had not cropped the original (left image)  in order to post details here, I might never have recognized that the cropped portion is quite complete, and I'm satisfied with it after only a few hours of work.
I still recommend taking work past  its prime once in a while, a decision best made when there's a lingering sense dissatisfaction with it. In order to  push a painting's boundaries and your own to see what's possible, honesty is key, and making the call is different each and every time. Have a look at work from afar or from photos or blogging, and take breaks often!
Friday, December 7th, 2012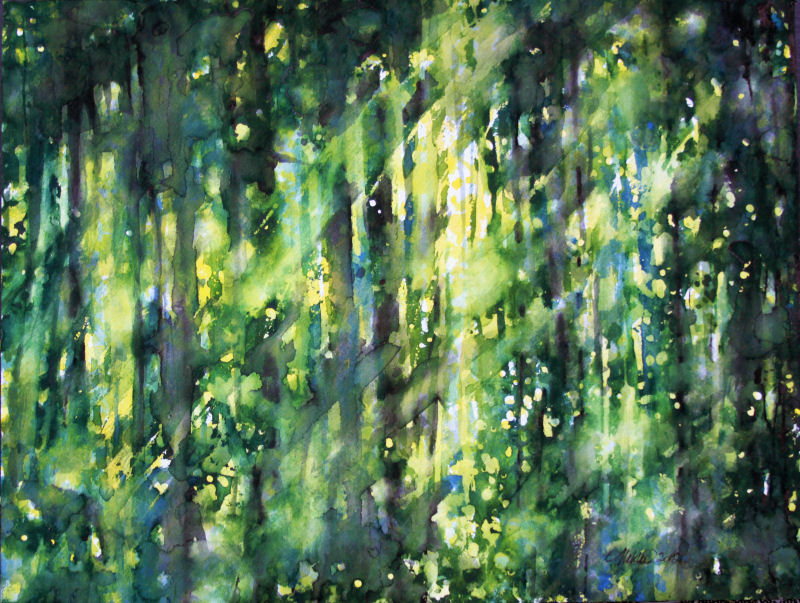 Deciduous Forest (Washington State USA), 12 x 16 inches watercolors on paper
Thumbnails 1. resist medium applied, dried and first paint application 2. peeling off the dried resist after painting dark hues of sap green 3. stage 02, after peeled off resist medium 4. before brushing  off the rubberized pieces of resist medium that bounced onto the paper, it occurred to me that they could be reattached as leaves, using  more medium as glue. I won't use this idea here, but may use it at some point in the future.
A while back, I had visitors attending a show of mine peel off the rubberized medium to reveal the flowers on "Flowering Shavingbrush Tree". (The painting has since been cropped to a smaller size). This could also be an interesting way to "wrap" a small paintings, either to surprise a client, or when giving as a gift…cover the entire surface or certain areas, and have them discover what's underneath!
Friday, November 30th, 2012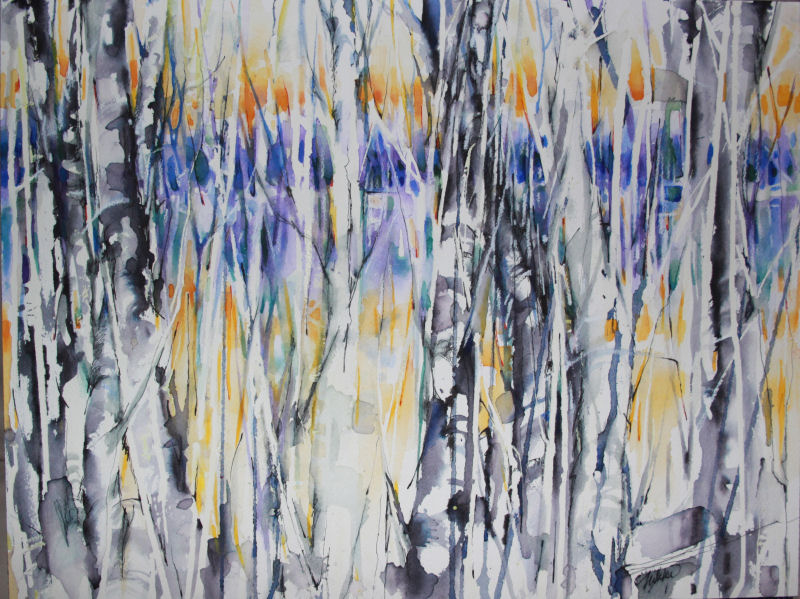 Birch, 12H x 16W inches watercolors on 120 lb cold pressed 100% cotton paper
1. Applying resist medium 2. Watercolors, a limited palette, were also dripped down the page, and colored pens add more details
Wednesday, May 30th, 2012
Chrysanthemums, work in progress; see previous post. Above: color details of 85W x 45L inches graphite, colored charcoal / dry pastels on white 100% cotton
When working with a large format, it's easy to overwork the smaller areas. They're like little compositions on their own. The trouble is, they may seem successful close up, but may not contribute to the overall balance and flow of the larger piece. Above are some examples, where I'm now reluctant to change what needs to be changed…but I will. Back to Art 101: It's absolutely necessary to stand back often and study the entire composition from afar.
When you throw in a factor like color, there's no turning back. I had a specific purpose for this drawing though; to fill a wall space in an otherwise fairly monotone, contemporary room. After much deliberation I kept with the original plan, which was to create a look similar to a black and white photo where one color highlights the main subject only. It was time to dive into the unknown.
It's obvious that introducing color has compromised some of the original spontaneity, so to recapture some of that energy, I carefully try not to disturb what's left of those livelier marks, and enhance some with little sparks of color. Isolating red, and only red to the central main flower sapped all the attention, so I've added more colors to it and the surrounding elements than initially planned. To continue risks ruining what is working, but there is no satisfaction in quitting, especially when the leaves on each side of the main flower look like wings! Back to the drawing board…(but not for much longer).
June 26th update: Hopefully those leaf-wings are no longer dominant! Now, after a period of study,  just a few more strokes of primer in the right places may bring out more depth around the main flower.
Friday, May 18th, 2012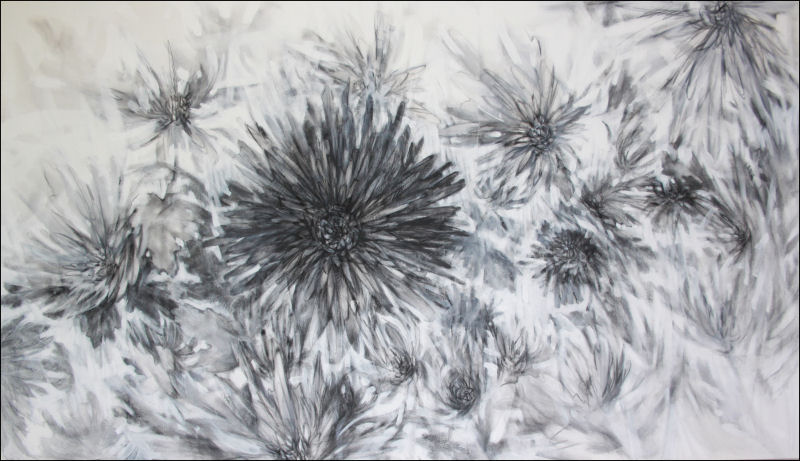 Chrysanthemums, 45L x 85W x 3D inches, graphite, charcoal and primer on 100% cotton, work in progress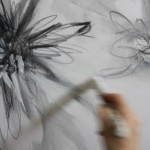 Rather than priming the fabric first as usual, water and primer are painted to enhance the graphite while the composition works itself out. It's been all about getting lost in the improvisation and surprise! Grass blades are implied by the buildup of thin streaks throughout, which also serve to balance and energize the work, plus add slight cubist effects.
This is will hang in a contemporary-style room. If color is used at all it will be limited to red, yellow and green areas near the large main flower. Parts of the surface may be left raw, so to set the finished piece, the entire back will be primed and the front will be sprayed with fixative.
~
The chaos of this past year, moving to Oregon from Texas, has truly put my artsy artist's statement to the test; that 'creativity is an attitude toward life'. I'm accustomed to creating chaos in my artwork, then resolving it. With too many move-related priorities and unfinished renovations, no wonder I've felt increasingly disoriented. The good thing is that observations never stop, even if the focus on art-work has to.
Friday, August 13th, 2010
When I'm back in Dallas blogging regularly again, these photos will be posted on the photography website. An unplanned extra trip from Alberta to Ottawa; in Ontario a second time, means I won't be back until the first week of Sept. Here are a few photos I took on the shores of Lake Superior just east of Wawa, ON.
Sunday, June 27th, 2010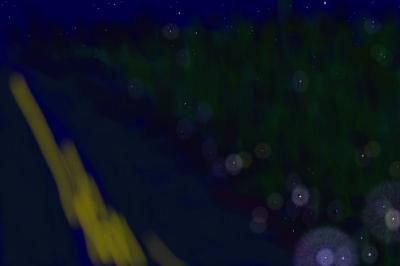 Home from Singapore for a few days, and having to go north to pack up the Dancing With Trees exhibition, I drove up to Ontario first so I could see my sons in Canada before Christmas. At night in the fields and trees from Tennessee to Michegan there are stars and fireflies in the trees – so magical! Until I can express it in paint (and I must!), here is a quick photoshop impression.
Thursday, May 6th, 2010
Artwork: Waiting For The Sun by Virginia Wieringa, 24 x 36 inches acrylics on canvas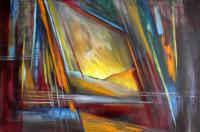 Fortune? sure, of course. Fame? mmeh! I could manage happily without. The pop group Pearl Jam has a recent song with a beautiful title, "Just Breathe" with a couple of lines that state, "I'm a lucky man to count on both hands the ones I love". While I'm not a man, I feel likewise as fortunate.
However, an extra hand is now required because I just met an artist-pen-pal whom I never expected to meet, and she's as intelligent and enthusiastic in person as she has been online for the past four years. Virginia is adventurous and open-minded, yet soundly rooted in her spiritual faith – and therefore so is her art . I especially enjoyed the little 4 x 6″ sketchbook that she shared with me, where a number of ideas for paintings originate as she draws in it during church sermons. I think it's really funny that she doesn't listen in church, and she doesn't preach, she works… and her work speaks volumes. I've mentioned Virginia in previous posts — she's been so supportive, even promoting my work on her own website. Thanks "VA"!
Thursday, October 15th, 2009
Sounds of Silence, 36H x 24W x 2D inches acrylics on canvas, wrapped sides painted, narrow frame – finished today. After  a second application of mask medium only on the snowflakes this time, some unbleached titanium and yellow ochre brought color back to the trunks. Snowflake mask was then removed.
 Oct 13th, above: Phase 01 and 02
Oct 14th, Phase 03 and 04: Mask medium removal, then highlighting snowflakes.
P.S. View Virginia Wieringa's coincidental blog entry: a relevant poem by Thomas Merton, and an icon painting entitled  Holy Silence.
« Previous Entries