abstract
« Previous Entries
Thursday, May 9th, 2013
---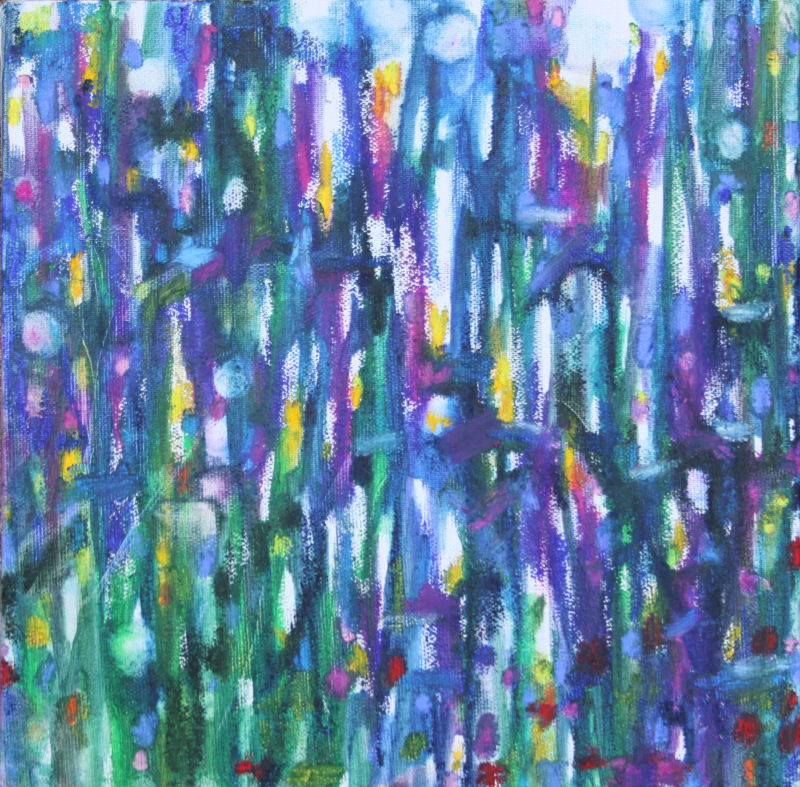 Blue Flag Iris, 10 x 10 x 1 inches  oil stick on canvas
Thursday, April 25th, 2013
---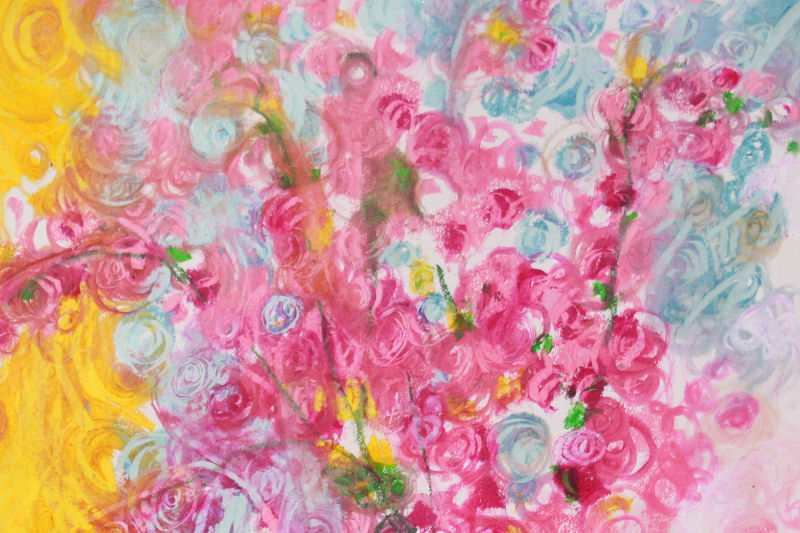 Blossomania, 12H x 16W inches oil pastels painted with oil blending and glazing medium on 80 lb acid free premium, white mat
I've been admiring the round masses clumped on the Plum tree branches in our neighbor's back yard for a week or so now. Yesterday and today, pink swirls in the wind…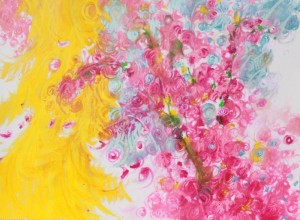 Petals are falling, the sky is blue
They cover everything, old and new
If I sit too long, I'll be covered too!
Larger image shows the finished piece, 12H x 16W inches, which was cropped from the original size, left thumbnail, 18H x 24 inches. Blogging always reveals a different perspective. If I had not re-sized the original  in order to post, I might never have recognized that the cropped portion has a more balanced composition…benefits of blogging!
---
$200.00          

---
Friday, December 7th, 2012
---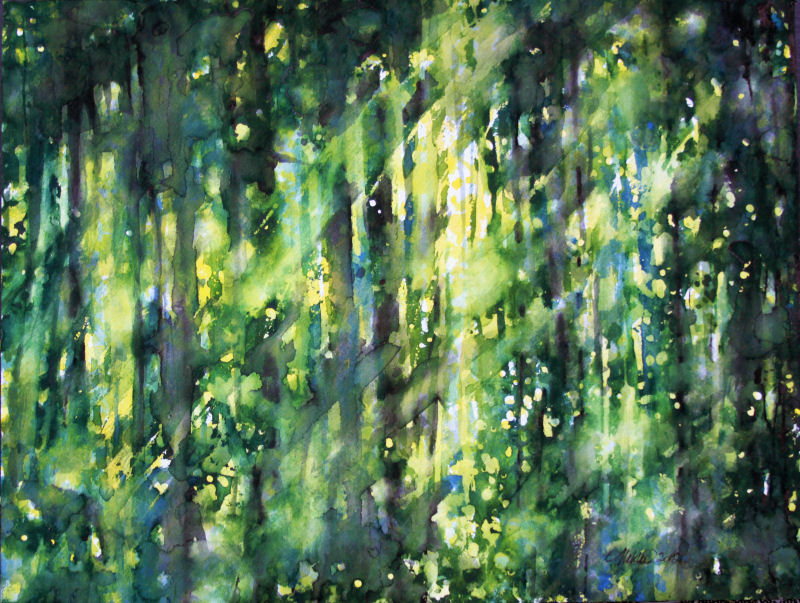 Deciduous Forest – Washington State USA – 12H x 16W inches watercolors on paper, sage green mat
Thumbnails below: 1. resist medium applied, dried and first paint application 2. peeling off the dried resist after painting dark hues of sap green 3. stage 02, after peeled off resist medium, before more paint 4. an idea occurred to use the pulled off rubber pieces as 3D effects in future paintings, probably best on canvas.
A while back, I had visitors attending a show of mine peel off the rubberized medium in the same fashion, revealing the flowers on "Flowering Shavingbrush Tree".
---
$150.00          

---
Friday, November 30th, 2012
---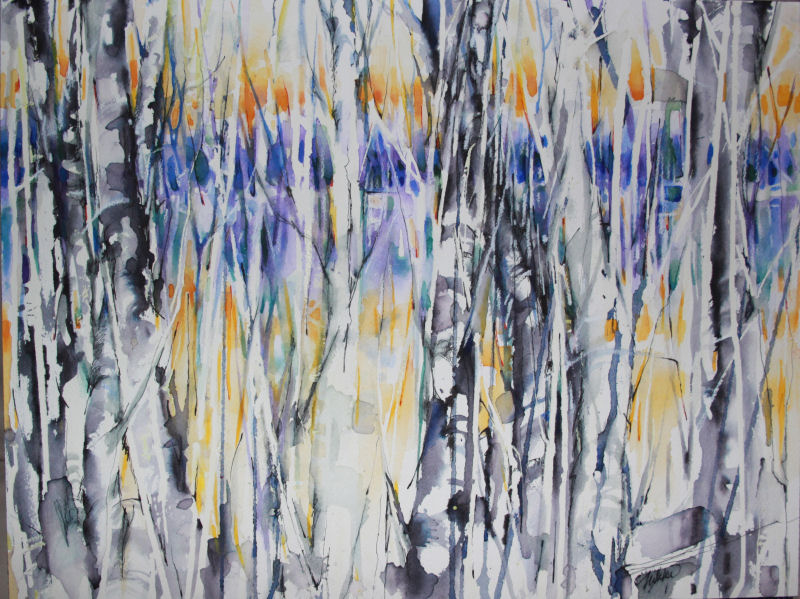 Work details: 1. applying resist medium 2. deliberately working with the challenge of a limited palette, watercolors were also dripped down the page. Tomball watercolor pen adds more details.
Birch, 12H x 16W inches watercolors on 120 lb cold pressed 100% cotton paper, white mat and frame.
---
$550.00         

---
Friday, May 18th, 2012
---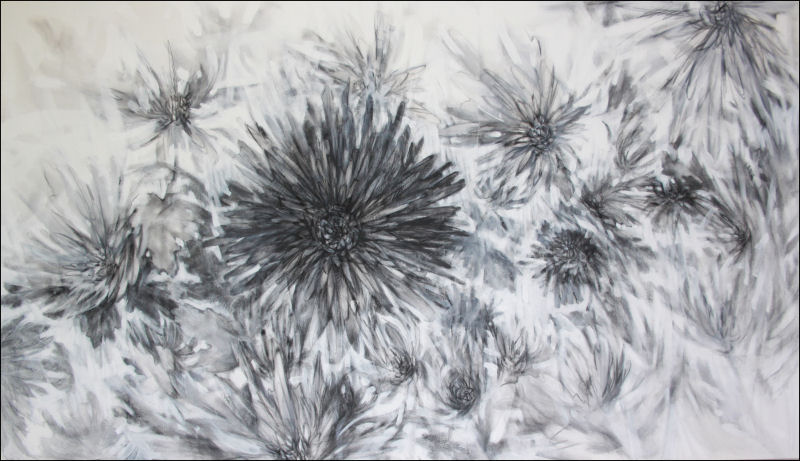 Chrysanthemums, 45L x 85W x 3D inches, graphite, charcoal and primer on 100% cotton, work in progress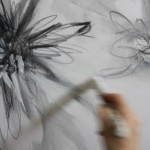 Rather than priming the fabric first as usual, water and primer are painted to enhance the graphite while the composition works itself out. It's been all about getting lost in the improvisation and surprise! Grass blades are implied by the buildup of thin streaks throughout, which also serve to balance and energize the work, plus add slight cubist effects.
This is will hang in a contemporary-style room. If color is used at all it will be limited to red, yellow and green areas near the large main flower. Parts of the surface may be left raw, so to set the finished piece, the entire back will be primed and the front will be sprayed with fixative.
~
The chaos of this past year, moving to Oregon from Texas, has truly put my artsy artist's statement to the test; that 'creativity is an attitude toward life'. I'm accustomed to creating chaos in my artwork, then resolving it. With too many move-related priorities and unfinished renovations, no wonder I've felt increasingly disoriented. The good thing is that observations never stop, even if the focus on art-work has to.
Friday, August 13th, 2010
When I'm back in Dallas blogging regularly again, these photos will be posted on the photography website. An unplanned extra trip from Alberta to Ottawa; in Ontario a second time, means I won't be back until the first week of Sept. Here are a few photos I took on the shores of Lake Superior just east of Wawa, ON.
Sunday, June 27th, 2010
---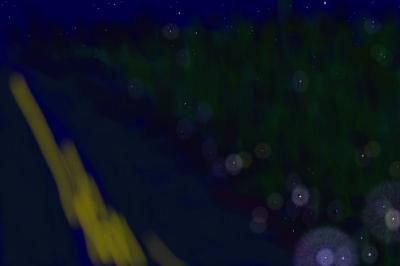 Home from Singapore for a few days, and having to go north to pack up the Dancing With Trees exhibition, I drove up to Ontario first so I could see my sons in Canada before Christmas. At night in the fields and trees from Tennessee to Michigan there are stars and fireflies in the trees – so magical! Until I can express it in paint, here is a quick photoshop impression.
Thursday, May 6th, 2010
---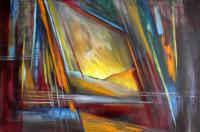 Artwork: Waiting For The Sun by Virginia Wieringa, 24 x 36 inches acrylics on canvas. I just met an artist-pen-pal whom I never expected to meet, and she's as intelligent and enthusiastic in person as she has been online for the past four years. Virginia is adventurous and open-minded, yet soundly rooted in her spiritual faith – and therefore so is her art. I especially enjoyed the little 4 x 6″ sketchbook that she shared with me, where a number of ideas for paintings originate as she draws in it during church sermons. I think it's really funny that she doesn't listen in church, and she doesn't preach, she works… and her work speaks volumes. I've mentioned Virginia in previous posts — she's been so supportive, even promoting my work on her own website. Thanks "VA"!
Thursday, October 15th, 2009
---
Sounds of Silence, 36H x 24W x 2D inches acrylics on canvas, wrapped sides painted, narrow frame – finished today. After  a second application of mask medium only on the snowflakes this time, some unbleached titanium and yellow ochre brought color back to the trunks. Snowflake mask was then removed.
 Oct 13th, above: Phase 01 and 02
Oct 14th, Phase 03 and 04: Mask medium removal, then highlighting snowflakes.
---
$550.00          

---
Thursday, October 1st, 2009
---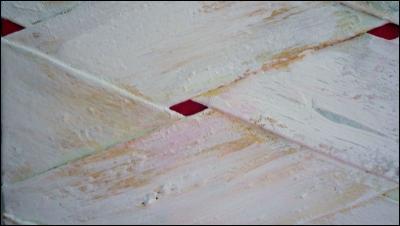 Breakthrough, left side detail of 2 vertical pieces, each 48 x 11 x 3 inches, canvas strips over a gallery wrapped stretcher frame. A number of things have been tried over the 4″ pieces of canvas woven across the frame; colors upon colors: scarlet, yellow, purple, blues, black… crackle glaze, burnt umber wash, sanding, peeling the paint, and an overall coat of white.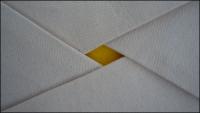 There are so many competitions and exhibitions to look forward to in the new year, and I'd much rather be painting all day, but there are deadlines to meet. I'm anxious to post something though, because it's been a while. I have been working, but in a non-linear habit, even more than usual. The results of about 5 projects are still unresolved, but I've learned to trust that plugging away at work continually, eventually it all comes together. Just try and aniticipate when!  With only a few minutes to spare now and then off the computer,  this two-part piece is the ideal thing to work on. Sometimes an idea goes off  in a direction of its own and it's not always agreeable to the initial plan, but I'm not as concerned about when it comes together. I only trust that it will.
« Previous Entries