« Comforters and Joy |Main | Practical design »
December 14, 2010
---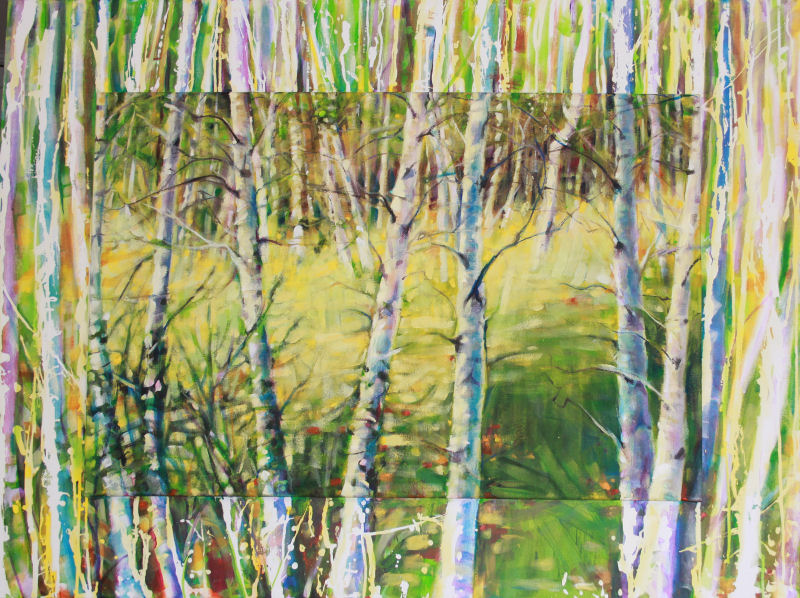 Northern Delights 02, 24H x 36W inches acrylics on canvas, adhered to a 36H x 48W x 1D inches canvas. Mask/resist medium was used to maintain white spaces and pure colors in both sections.
The central painting was started in 2006, with the framing resolved today – a perfect example where some paintings just need to hang around for a while before they are well and truly finished. The scene of the central painting is extended onto the larger canvas, initially intended to have the same style, but stopping for a coffee break, then coming back with fresh eyes, decided  I actually like the clash of styles. I always say that art is the best place to exhibit any rebellious tendencies! Besides, formal frames can sometimes cut off the energy of a composition too abruptly. Every painting does not need a frame, but finishing the edges should always be considered.
---
$550.00          

---
Categories: abstract/impressionist, acrylic painting, B.C., Canada, Dancing With Trees Collection, Forests, landscapes, Seasonal, semi-impressionist, summer, trees | No Comments »
Comments
You must be logged in to post a comment.