« Smoky Lake Canola |Main | Stellar's Jays »
April 17, 2017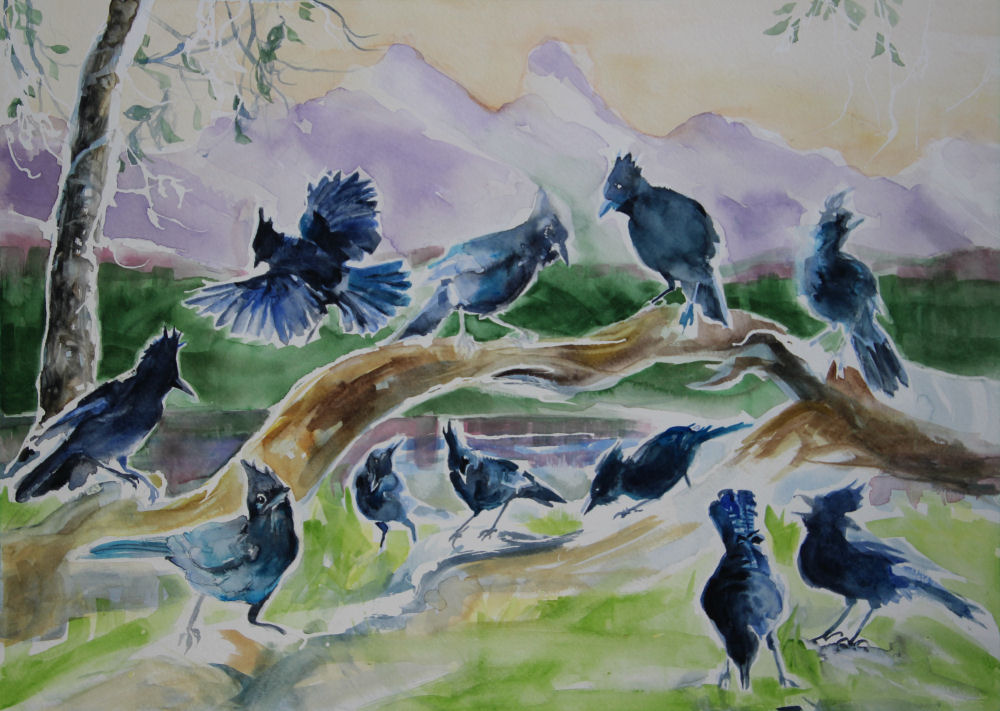 Work in progress, Stellar's Jays at Nimkish Lake, Vancouver Island BC, 18 x 24 inches watercolors on 140 lb. cold press. For years I've been visualizing a painting that portrays the Stellar's Jay in various poses, representing general character. My Dad pointed out that Stellar's Jays don't usually group this way, which is an accurate view of the broader behaviour that didn't even occur to me. Interesting! Phase 02 below and detail image – the yellow is masking medium:
Normally I don't outline anything when starting a painting, which works fine with acrylics because it's easy to change things throughout the process, but watercolors don't allow for much room for error, especially if you don't have much practice with them. Wingin' it usually works for me because I don't mind failure in exchange for experience, but mapping out the shapes and arrangement lightly in pencil really helps, and confidence is fundamental to painting well.
Categories: B.C., birds, Canada, expressionist, Forests, landscapes, mountains, Seasonal, summer, sunsets, trees, watercolors, work in progress | Comments Off on Stellar's Jays
Comments are closed.