« Magic Hour, progress |Main | Going for the magic every hour »
August 6, 2008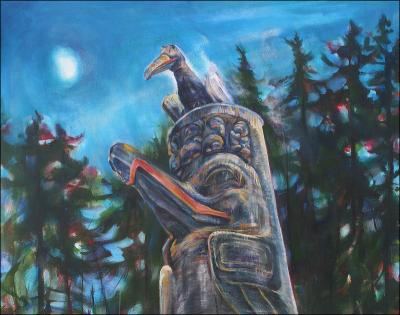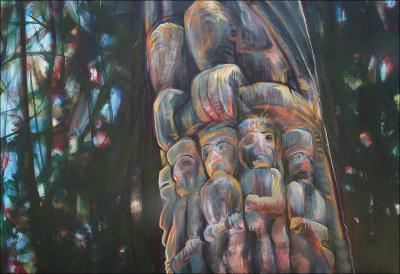 Started July 17th, I've tried various ways to have our eyes sweep up to the top half, like creating an abstract of wide brushstrokes of dark and light, plus scrubbing areas away that almost hide the bottom characters. It's covered up since with more paint, but I may return to that idea when the proportions are corrected.
A camera captures all the details, but when we look at something our eyes focus only on one area at a time. In a photo, with the bottom portion of the totem clear it makes sense, but not in the painting. Most of the detail will be toward the top of the statue, but the bottom deserves as much attention, just of a different kind. The colors are starting to come together in a way that will imply light from the sunset and moon glow coming from opposite directions.
A word here about Artists' appropriation of First nations or any other cultural/historic works: subjects are painted with due honor and respect, with purpose to study and draw interest to the importance of appreciating our multi-cultural world and the unique characteristics of each and every culture…this is what Artists do. Our differences as cultures are reconnected, as there are many common traits and themes expressed through Art through all of time, everywhere.
Robert Genn and readers of The Painters' Keys have some very interesting comments all around the board about this topic.
Categories: acrylic painting, B.C., Canada, history/multicultural theme, sunsets, trees, work in progress | No Comments »
Comments
You must be logged in to post a comment.