« A New Solar System |Main | What Bigleaf Maples Do At Night »
May 23, 2009
---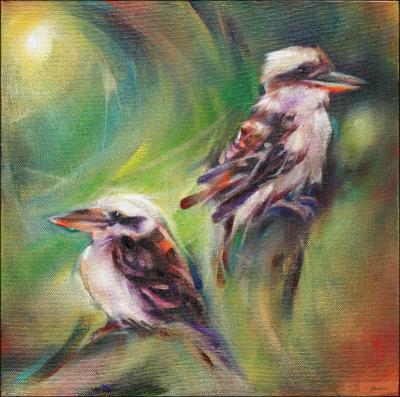 Kookaburras, 11H x 11W x 3D inches acrylics on canvas, wrapped sides painted – finished today
Kookaburras, work progress.  March 13th, 2009 blog post: This painting could have been left at phase 3, but the decision to give the birds more definition and sense of realism created a whole new set of problems. For example, the composition which was unbalanced from the start, is now exaggerated and more noticeable, so a third element needs to be added in the upper left corner..not necessarily another object but color or shape that would shift the weight and attention away from the lower left areas.
There is a stage where, once details are added or changes made to one area, every other thing in the picture needs to be brought to the same level of quality; quality meaning style and feeling of the features.  I don't regret proceeding but it does mean extra effort to solve all the  new challenges, and usually while attempting to solve those new ones arise.  Other professionals would say this is overworking, but it really depends on what your intentions are as an Artist, and what motivates the work. If risks are not taken sometimes, a painting may never be all that it could be. Phrases we tend to cling to like 'less is more' are not written in stone; sometimes more is more…learning is a good thing!
In landscapes details are best left for the imagination, whereas painting animals, birds or other creatures, a purpose needs to be clearer. Is the intention to portray character through shape and silhouette? other traits?  specific markings?  Is it the main focus or only a part of the whole? Computer tools are also useful in playing with colors and other possibilities.
Categories: acrylic painting, Art for sale, Australia, birds, Magic Square Series, series, The Majesty of Trees Collection, travel, trees, work in progress | 4 Comments »
4 Responses to "Kookaburrahs"
Comments
You must be logged in to post a comment.