« Five seconds of beauty |Main | Stepping Stones »
February 12, 2011
Adapt "1a: to make suitable or fit (as for a particular use, purpose, or situation) 2: to adjust oneself to particular conditions or ways: bring oneself or especially one's acts, behaviour, or mental state into harmony with changed conditions or environment."
Art "1b(1): skill in the adaptation of things in the natural world to the uses of human life … 2d: systematic application of knowledge or skill in effecting a desired result … and to production according to aesthetic principles…" (Webster's Third New International Dictionary).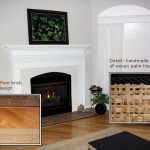 Art is all about adaptation – of materials to circumstances, to changes in initial plans and set expectations, and staying open to the serendipity of the inevitable unknown in order to recognize opportunities when they unfold as mistakes. A painting goes through alternating stages of chaos and resolve, of full-on confident energy intermittent with periods of reservation and study. One never knows when the process will be finished, and sometimes great efforts result in nothing great to show.
Adapting to life changes is very much like painting. The materials are different, but seeing it that way, moving personal and professional life to another part of the world does not seem so disruptive. That "life imitates art and art imitates life" never quite made sense to me until now. It's about seeing the picture as a whole while manipulating sections of it, without getting so involved in the details that, ironically, the focus is lost.
All the travel last year was rejuvenating. By the time Fall arrived I was good and ready to apply those experiences to some dedicated painting when, during September my husband accepted a job in Oregon. As folks who know us know, he moved there in October while I stayed behind. With all this attention to house-duty, I've been feeling anxious about not being able to maintain all my career commitments during this transition. After not posting any new art on this blog for about six weeks, it's important to my reputation as a professional that clients and associates (past, present and future) know that I have not stopped working; only have briefly been working on something else.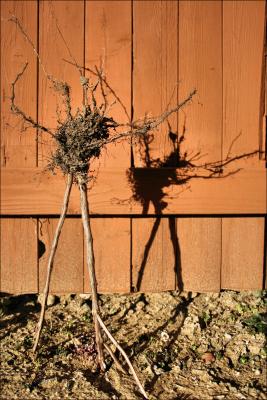 I'm looking forward to the drive from Texas to Oregon; one phase completed and another beginning. Regardless of location, ideas and inspirations are infinite, always available and uninterrupted in the grand scheme of things. Best of all, these things are portable! You can take the girl away from the art, but you can't take the art away from the girl!
Saying that change is good sounds cliche, but here's how I think it works: change pushes us into discomfort, which in turn pushes us to seek innovative ways out in order to regain comfort. In that sense, discomfort is motivating and progressive. Now that I think of it, too much comfort can be uncomfortable! When one set of dilemmas is resolved we instinctually go searching for more. Life and Art are a soul's song and dance. 
Above: Basil roots and stems garden sculpture entitled "Song and Dance"
Categories: design, garden, inspiration, interiors, travel | 2 Comments »
2 Responses to "Art and Adaptation"
Virginia Wieringa Says:
February 13th, 2011 at 12:50 pm

Blessings on you, Nik! Enjoy your travels!

Nikkico Says:
February 13th, 2011 at 3:08 pm

Thanks Virginia..I'm just leaving. I have a whole suitcase of good wishes and prayers, so am sure to have a good trip!
Comments
You must be logged in to post a comment.