« Frozen |Main | Windswept Cypress, NC – phase 2 »
January 20, 2008
---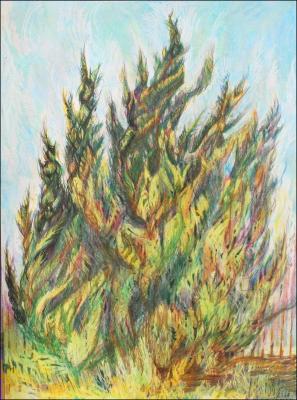 Windswept Cypress, Outer Banks, NC, USA, 24H x 18W inches on paper, work in progress: Sculptural, windswept cypress are common ornamentals in yards along the Outer Banks, North Carolina. This started as a graphite drawing, then added some energy with the use of oil pastels, which were mostly scraped away before continuing with watercolor pencils. Hoping to see the effects created by mixing oil and water mediums.
Categories: colored pencils, drawings, experimental, mixed media, North Carolina, oil pastels, pencil, seascape, trees, work in progress | No Comments »
Comments
You must be logged in to post a comment.