« Windswept Cypress, NC started |Main | Lizard Love »
January 22, 2008
---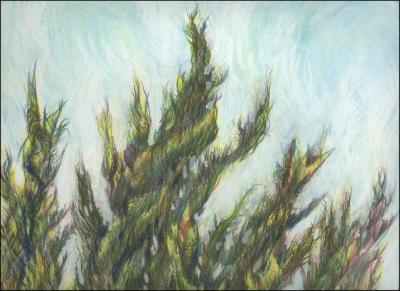 Windswept Cypress, Kitty Hawk, Outer Banks, NC  – partial image of 24 x 18 inches graphite, oil pastel, watercolor pencils, mixed media experimental, work in progress. Low light conditions today, so the photo below left, is a little dark. Plans now are to erase some of the color, then see what happens when painting lightly over some of the watercolor-penciled areas; there will be some resist because of the oil pastel base.
Categories: colored pencils, drawings, experimental, mixed media, North Carolina, oil pastels, pencil, trees, work in progress | No Comments »
Comments
You must be logged in to post a comment.