Original Earthbags TM 1989
---
---
 Necessity is the mother of invention
~ Aesop's Fables~
---
---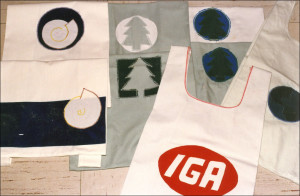 Transforming negative to positive
One day in February 1989, suddenly all too aware of excess plastic and packaging in the grocery store isles, feeling frustrated and powerless to change it, I went home and sewed a few fabric bags using flattened plastic grocery bags as a pattern. They hold twice as many groceries and are comfortable to carry, benefits I hadn't considered.
The name "Earthbags" came to mind, had a nice ring to it, and stuck. The trademark logo followed easily, just for fun I thought. The response to the product was immediate,  unexpected, and mostly positive. Earthbags were a conversation piece in store lineups, where my own bags for personal use were sold almost every time. I designed flyers, order forms and business cards to have on hand, which kept explanations to a minimum, and inadvertently starting something much larger than anticipated. Being a Mom is a full time job in itself, so when the first bags were sewn and used, starting a business was the farthest thing from my mind.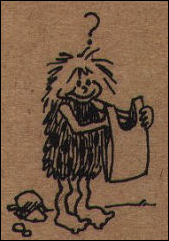 Timing
Now commonplace, fabric bags used for shopping back then were virtually unheard of in North America. Public awareness and an environmental issues media coverage explosion were about six months down the road. Unless people had been to Europe or other countries where plastic bags were not used, asking for groceries to be packed in other than what stores provided drew a lot of attention.
It took presence of mind to remember to bring them, and even courage to use them at first. The bags had to be on the counter ahead of the groceries so that cashiers would not start packing in plastic or paper. Many cashiers thought they were sleeveless t-shirts and searched for the price tag. Their use was even cause for a few annoyed glances from cashiers who were not happy about changing their packing routine.
A few people did not have a clue why I would want to use them,  and I didn't have a clue why they didn't have a clue. It was suggested by one person that I present this at a senior citizen's home as a craft project. Sure, good idea, but I was caught up on a whole other journey. Educating the public was necessary back then, so artwork painted on the bags encouraged their use and appealed to a broader market. As I became extremely busy, designing and painting also helped sustain joy in the process.
Environmental issues are emotional issues. Groups like Greenpeace work aggressively to protect the future of our planet. It's one way to get the point across, but if we're talking about changing the habits of the masses, I believe a gentle approach is more effective. As one who was assertively involved promoting care for the planet about 25 years ago when developing and selling the Original Earthbags, first-hand public reactions and feedback demonstrated that negativity does not inspire or motivate. Pictures speak volumes, and art is the perfect way to promote any cause or message.
There are small things each of us can contribute at any level, habit and practices which, by now most of us are aware of.  Zoos, city aquariums, botanical gardens and similar public spaces  naturally affect us in relation to Earth and her creatures in a way that permanently affects our perception of life in general.  We start incorporating more mindful habits because we want to, not because we are being told we should.
 An Original Earthbag (TM) Design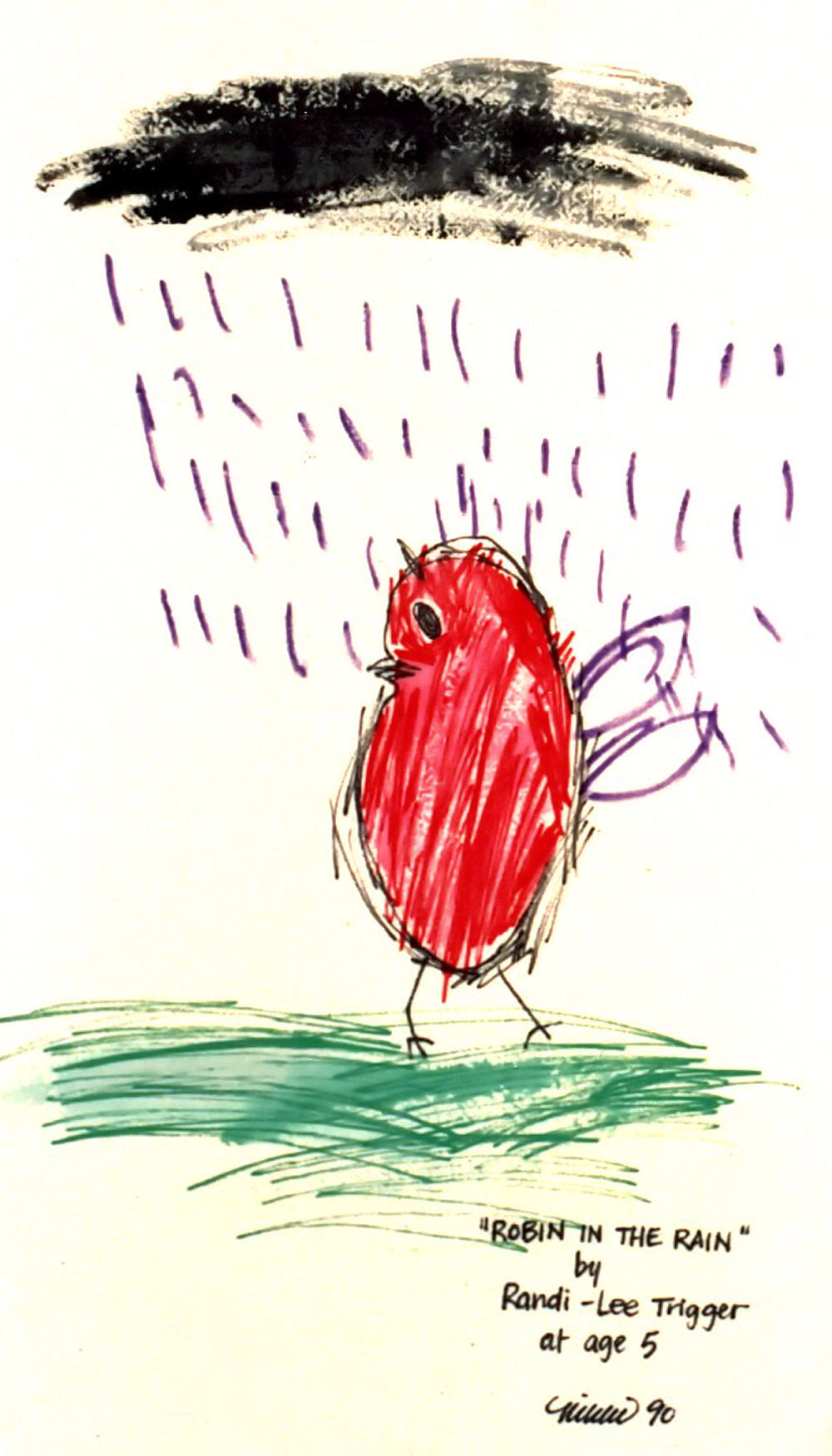 Sewn with pre-shrunk fabric so they do not change shape when washed, and hand-painted individually, Original Earthbags (TM 1990) are useful, attractive all-purpose bags, shoe bags and purses too, with prices starting at $10. Artwork included simplified nature motifs, original print designs made from handcrafted stencils of wood, plastic or cardboard, and over-all painted fabrics like the Lilac bag shown below.
Along with the not-pre-washed $6 version labeled Dirt Cheap (TM) Earthbags, in a short span of time the product line included heavier weight, colored 100% cotton bags with circular-shaped, more detailed paintings appliqued on the front. Animals, birds, fruit and cave paintings were among the themes. An additional service for high-end, customized and personalized artwork was offered, including customer's children's drawings duplicated on unbleached cotton…those were very popular. Orders were taken for longer handles and wider sizes, but the most comfortable and practical were the short-handled original grocery-size bags.
The Business and The Busy-ness
With self-employment there are continual parallels of personal growth alongside business growth. Because art work is so personal, business matters speed up the course and seem to double the challenges. Just as in each piece created, every choice affects every other choice. Earthbags marked a major turning point for me business-wise and everything-wise in 1989. With two young children aged four and five at the time, Earthbags launched… rather, catapulted… my art career. There was never enough product to fill demand. The entire experience opened doors and coaxed the best out of me in every direction.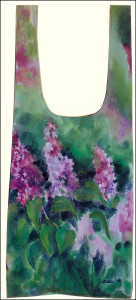 Between 1989 and 1993, Earthbags sold in art shows, trade shows and environmental events across Ontario. I'd attend an event every weekend, always selling out. Customers often bought from the supply before I could get the display set up. Letters and mail-orders poured in – snail-mail then – mostly from across Canada and parts of U.S., France, Spain and Australia. All replies were hand-written with an order form tucked into each. Magazines, newspapers and environmental groups' publications advertised without my knowledge. The phone rang a lot, pre-iphone era, when the attached phone cord was a bit of a restriction while trying to fulfill other duties like washing, ironing, sewing, painting, and packaging orders.
Environmental Fairs started popping up everywhere in 1990, when I also put together a large event at my children's school. 'Reduce, Reuse and Recycle' was the hottest topic – even controversial – and far from being organized or recognized as regular household practice. CBC radio interviewed all participants at a Carlton University, Ottawa event where I sat across the isle from the designer of the Canadian recycle logo, 3 birds forming a maple leaf. It was encouraging to be slightly ahead of the game. People liked the multi-purpose use of the bags, and within six months enough were sold to purchase a heavy duty industrial serger and an industrial straight-stitch, enabling overall higher quality and seam strength while increasing production time.
At one point I hired local small business seamstresses to do piece work, and also looked into bulk pre-washing fabric at dry cleaners, but eventually had to pull back on both those options because the quality just wasn't there. I was young, idealistic and attached to the philosophy behind what had then become a dynamic "Go Green" movement, and the Earthbags' quality had to represent. Every detail made a statement. Even printing all ad material was a big ordeal. First of all, who doesn't have a home computer printer now? Insisting on recycled paper, it all had to be purchased separately and brought in to a printing company. Costs were more than double because in 1989 there was only one business in all of Ontario selling recycled paper, but again, it was a necessary part of supporting the cause.

A year after I first suggested the idea to large chain stores they were finally interested, but by then I was already wearing too many hats, in too deep filling orders from individuals, with no time to switch pursuits. It was either commit to mass manufacturing, or more effectively keep selling an art form on a much smaller scale. Production costs were much higher in 1990 too, partly because the options and procedures in place today were not yet established. Companies now flog out $1 canvas totes that are available in every store, which was my goal back then, but in the early 1990's, it was next to impossible to respond with the large scale solution it would require. Computers and our current associations with China have changed everything. Online shopping is so mainstream now, and such a regular part of our daily lives in 2015. "E-commerce" has transformed world culture.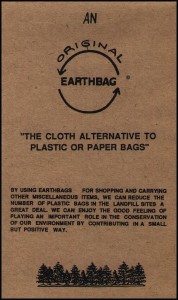 Trademarks
The area of patents, trademarks and copyrights is pretty tricky; lots of ins and outs and do's and don'ts that a person needs to know if they invent, design or develop something intended to profit from, and to protect. Fortunately I lived in the capital of Canada at the time, Ottawa, where all the major government offices and public records are, so it was reasonably easy for me to do my own research. A small business course sponsored by the government in 1990 helped tremendously with guidance, and offered the services of a trademark lawyer for half an hour free.
The two Registered Trademarks were "An Original Earthbag" and "Original Earthbags". They were the first fabric bags marketed in Canada as alternatives to plastic bags, as a way to decrease the amount of plastic in the landfill sites. It's notable that the present-day large paper lawn refuse bags were going to be called Earthbags, but use of that name was prohibited because I had just registered it.
In retrospect, there is a tinge of regret at letting that trademark registration slip away, just because I worked so hard to make it happen. However, I learned in due process that if an entity insists on contesting a trademark application, it all comes down to sales and dates. Trademarks are not a guarantee that your property will be protected. Patents are, but they require lawyers, cost a small fortune, and are only applicable to certain products. The incident described next lead me to determine that time, costs, and anxiety would not be worth fighting for a name in court when success of the product did not depend on it.
During 1991, I received a letter from school teacher in Nova Scotia, who contested my trademark applications. She was sewing bags with her high school classes and selling them as non-profit for school benefits. Her Earthbags were nothing like mine, and I was really puzzled as to why someone with the exact same intentions would challenge the trademark with a court situation. We were both driven to doing good things, in fact I had sacrificed profits in lieu of promoting fabric bags to catch on, so the struggle became: was I prepared to believe in something strongly enough to fight in court for it? After a few weeks of extreme distress over the issue, I decided no, there was no time or inclination for it. Business was successful enough and right enough, and if need be, the name would change to what they had become known as, Art-bags and Nikki-bags. It turns out that the teacher's brother was a trademark lawyer, and he was the one prompting her. She dropped the case.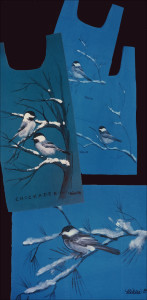 Sharing 
When the Earthbag company was on its feet, with everything paid for before anything else was purchased, I looked into sharing profits with an appropriate organization. There were not many choices, and surprisingly, many non-profit companies that I contacted did not believe my interest was genuine, since this also was not the norm in 1989 / early '90s. After a lot of research I finally decided to trust World Vision because they revealed where all funds were spent. For three years, a child and his community in Columbia received aid from the sale of Earthbags.
When you follow your heart and commit to an occupation you love, inevitably you'll discover exactly what you stand by, what you won't, and who you want to be as a human being. Everything is brought into question, particularly if you're the one manufacturing and promoting an unfamiliar product. What are reasonable wages for your time and efforts? What is the company's mission, and where do principals meet compromise?
By 1993 the stress of it all permeated every facet of my life. I felt my part was done and it was time to move on. Other companies or individuals were supplying fabric bags for the masses. I missed family-life. After four years of being a one-woman team, I was over-worked and overwhelmed. I had to decline a lot of interested individuals and major store chains' mass production requests. Around 1994 I started accepting freelance work with interior designers in the Ottawa area, which carried through to our move to the U.S. in 2002.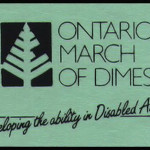 The Ontario March of Dimes
During 1992 I met with managers at The March of Dimes Ottawa branch, a non-profit organization locating employment for disabled adults. I spent the better part of that year helping them get set up to manufacture Earthbags and retain 100% of profits; royalty-free trademark usage, including designing logos and advertising flyers. They purchased all necessary materials and equipment , were all set to go when their branch headquarters pulled back funding. In the meantime I was already in way over my head sewing and selling the bags nationally through mail-order and at Environmental occasions, and Art Shows across Eastern Ontario, so it was a discouraging blow to learn that all that time spent with them was for naught. I felt deflated. My attitude had to change, that all labor is not lost, and something always comes out of our actions, just maybe not what we expect. I had to believe it, or crumble. While fully committed to every aspect of creating and promoting Earthbags for at least four years, the whole experience left me reeling. It was an unplanned, resounding success.
Statements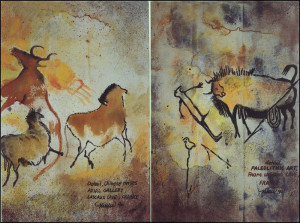 Often an idea is so far ahead of itself while it's still being developed that the creator of it can't even describe what it is, exactly. If the item is still in the in process of materializing, and is so new to the marketplace as to be fairly controversial and suspect to investment risks, then descriptions of all kinds are in order. If the spokesperson and marketing director are the advertising company, sales manager, shipper/receiver and the manufacturer, well, there's an issue. If that product is slightly ahead of its time, if it's sold before it's made, you see the challenge. In a nutshell, by mid-1993 I became the nut in the shell. Everyone was on board, but I wanted off.
I concluded through the entire experience that my role in the world is as an artist, not a mass marketing coordinator. Environmentalists, a new term at the time, were getting a negative reputation because they were human-bashing; pushing the new ideas and getting angry if others disagreed. It became a movement I was not wanting to be associated with. Although it was difficult to say no, eventually  Other fabric bag companies starting up around 1992 were not run by artists stubborn about details or principals, so they took the ball and ran with it. That was really the goal anyway; to persuade people to use fabric shopping bags more often than plastic.
I learned a great deal about business, and most important of all, priorities. Fast forward to 2016 in Oregon USA where, since moving, my industrial sewing machines need to be professionally reset, and I've been collecting fabrics, planning to create a new collection of Original Earthbags for a limited time.