Oil Pastels
---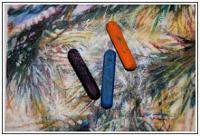 Until 2006, when I began a series of oil pastels on paper called Paper Places, I had the impression that oil pastels were great for color-play, but too messy and restrictive to create anything fine…how wrong I was. Most of my experience has been using water soluble media: fabric paints and acrylics, but as an Artist who likes to change of media every now and then to keep the creative spark burning, I snapped the elastic off of an old box of broken pastel bits, and freed their colorful little souls!  Surprisingly, this recent practice with pastels has renewed an interest in drawing, and I'm more aware of color and values now when painting. Skills change from year to year, and what I thought was difficult to work with a few years ago has unexpectedly become a perfect means of expression now.
Every medium has its qualities and limitations, and what I remembered about the properties of oil pastels was a heavy character, dense messy colors, and an inability to change the work once they were applied. Like oil paints, if darker colors are applied too soon they can take over and make every other color muddy. The effects aren't easily changed or covered up. That's all true, but the trick is to become familiar with what they can and can't do by experimenting and having fun before getting too serious about perfection.
A good rule of thumb using any media is to let go of expectations to produce certain results. I think that's our greatest obstacle, especially if the work is a commission or an assignment to finish by a certain deadline. Pretending that it's not "work", that it's fun, allows for surprising results. Even if you're a professional (especially if you're a professional!) there is so much value in taking time to experiment, discovering and rediscovering what other materials can do. A change in work habits and media brings a fresh outlook, and new life to our usual work when we return to it.
I still have my oil pastels from grade two in their original box, and try to use them a little in each drawing – just a little nostalgic magic. The thinking is that every little thing, if it helps motivate, is a good thing that adds a spark of life visible in the work.

Tricks of the trade
The waxiest, oiliest pastels are usually more expensive, but also better quality…you do get what you pay for when it comes to most Art supplies. They last a long time too, so are well worth the cost. Oilier pastels can be manipulated easier on the surface than drier ones, and they scrape off easier too, if you use that method.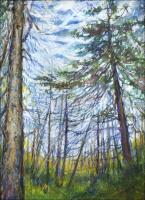 As I have been discovering in the series Paper Places, many styles are possible with oil pastels. That series is all about pushing the limits of the medium, and of myself. Color can be applied lightly in layers like you would use pencil crayons, or caked on heavily, molded, scraped off, smudged, or painted with a little mineral spirits. It's easy to cover large areas quickly with vibrant color (nice because white pages are scary sometimes!) and also be applied more cautiously, creating finer work. With a little foresight to planning the order that colors are placed on the page, there will be less possibility of mess and mistakes (although in my opinion, mess and mistakes can help us loosen up a little and try things we might not otherwise be inclined to try). It's best to start with light colors, then gradually layer darker ones as your vision for the drawing becomes clearer and you feel more confident.
Start with a good weight paper (I use 70 lb.), and if the paper is in a sketch pad, check in good light to ensure that it doesn't have lines impressed from a previous drawing done on top of it (that might seem minor or moot, but might be very noticeable, as in sky situations). Painter's tape applied to the outer edges of the paper creates a tidy border around the completed work when the tape is removed, and helps when framing too. Keep a moist cloth nearby to wipe smudges off your skin while working, and also wash hands at every work-break to keep from smudging colors onto the wrong places. A clean dry cloth or glove placed under your working hand also works well, especially toward completion when details and smudging are critical. Easy smudging is one of the properties of oil pastels that can either be a negative limitation, or be used to advantage.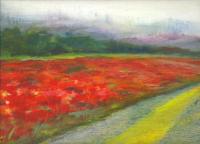 Plan to work in stages applying light colors first, with a light touch. As the composition comes together, while deciding placement of everything, gradually colors can be applied with heavier hand. The longer the work remains clean and light, the more time and chances there are to change things, covering unwanted areas or scraping off and start over. Coloring a thin layer of white as a base, or outlining/mapping out the main shapes lightly with white is one way to have more time to get familiar with the subject before placing color. Personally, I find the best way to work is to jump right in and start scribbling – but that's me; that tip is for those who are more cautious about how to proceed.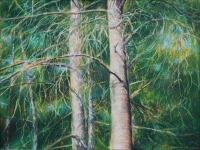 For pastels that have lost their paper coats, gently wiping off the sides with a damp rag  removes other colors that accumulate on the sides. T-shirt fabric is perfect because it's smooth. Pastels can also be sharpened with sandpaper or carved carefully with a sharp knife to get new edges back for creating thin lines… then wipe them with paper towels, kleenex, and/or rag, rolling and rubbing the sides gently to smooth out the surface again.
Use the fingertips for blending, and the compressed paper pencils that are normally used for graphite drawings work well too. A small amount of mineral spirits on Q-tips or on fingertips or on a paintbrush helps blend and soften the pastel for interesting effects. I tried mixing vegetable oils once to experiment, but the drawing never dried afterward, so is not recommended. Pastel erasers are available, but I haven't found them to be that helpful…they are black, sticky, and create muddy streaks unless you have already removed as much color as possible, so are not recommended as an eraser. They're good for pushing the material around though, to pile it up in areas, and just use as an extra tool, but a regular, less expensive eraser works fine for that.
Supplies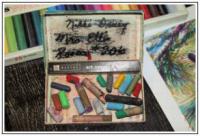 Reeves, Grumbacher, and Holbein are good brands, but my favorites for color and consistency are Cray-pas (Sakura Color Products, Japan). The pigment is rich and the consistency thick and sticky; good for build-up and scraping. I was given a set of 100 glorious colors, arranged beautifully in a wooden carrying case as a gift -the brand is Gallery™, and it's great to have such a range of colors to choose from but the consistency is too dry, so I use them alongside the others.
I own quite a large supply of pastels, some purchased at $5 per stick or more, and some bought for less than $5 per package, and I still have the box of pastels that I used in grade two, and some that were my sons when they were in grade school.  There is something about the nostalgia of using a pastel that is forty years old that contributes to the magic of the method, so occasionally I will use a few of the old colors in my new work because the quality is still perfect, even superior to some of the newer brands. The love I had as a child for drawing and coloring has not changed, and at times when I use pastels that feeling of the real "me" returns.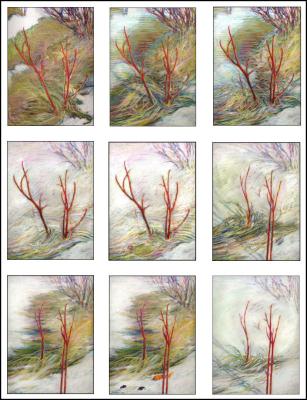 A word about mistakes: they happen, but more often than not they can be a good thing, no matter what the medium. They force us into a problem-solving thought process, which brings new ideas or an awareness of the material we would not otherwise learn, so trying to do something with the work that's already been accomplished, instead of trashing it, might actually create something grander. Experience is the best way to improve.
I think we get too serious about the expectations of continually providing perfection and success. If that's the cause of your next Artist's "writer's block", let go to enjoying the work process itself, rather than having a definite vision for it. You might be surprised with what comes out. At the very  least, having fun again feeds the fire for your very next piece.