« Color Study |Main | The Fourth of July 02 »
November 17, 2009
---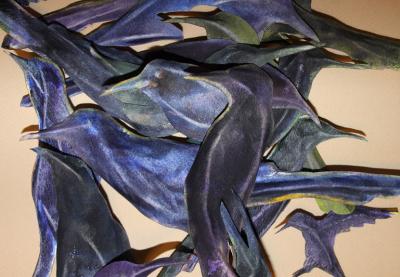 Bird Party, watercolors on molded 140 lb watercolor paper, work in progress.
I'm not exactly sure where this is headed, but shapes were cut out of the painting, the paper drenched , folded , stretched and sculpted. Every evening just before sunset in the Dallas-Fort Worth area Grackles, blackbirds, Starlings and pigeons gather on lawns, parking lots, overhead wires and cables, roofs and trees. The event is unique to this area as far as I know, and exciting beyond words to be amongst the thousands and thousands of birds. Here is a previous piece on the subject.
Categories: 3D, birds, city streets, design, experimental, mixed media, Texas, watercolors, work in progress | No Comments »
Comments
You must be logged in to post a comment.