« Influence |Main | Framing on Northern Delights 02 update »
December 13, 2010
---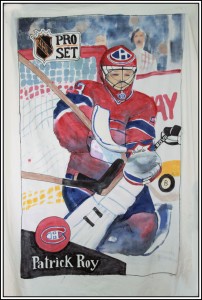 While organizing and packing for the big move to Oregon, I've been uncovering (so to speak!) things I haven't seen for a very long time.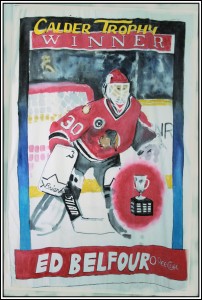 In 1992 our boys played hockey and collected hockey cards, so they each chose their favorite to be recreated on a comforter for their beds. My thinking was that if they had stuff they liked in their room, they would keep it tidy. Hey, it did work for a while! Pillow cases, lunch bags and toy bags were made from left-over fabric, and they painted on some too. I'm saving a few of these things to hand down to their children.
At the time these were made I was working freelance, mostly for interior designers. There were outside on-site jobs, but the work I enjoyed most was designing or matching and painting fabrics at home. I'd be given a fabric sample, a room theme, or sometimes only one word as inspiration, and a limited time to come up with an original idea, then produce it.
The standard business advice to keep professional and personal life separate might work great for companies buying and reselling someone else's products, but does not really apply to artists. For me at least, work and home life flow as one. Creativity is always there buzzing around, and when professional work is not switched to "on", it's looking for something else to do!
Categories: fabrics, inspiration, interiors, older work | No Comments »
Comments
You must be logged in to post a comment.