« Framing on Northern Delights 02 update |Main | Five seconds of beauty »
December 21, 2010
"Necessity is the mother of invention."
Aesop's Fables
Oak Leaf bedside tables, 24H x 12D with a 20 inch glass top, crinkled brown craft paper over heavy cardboard tubes. The tubes are available in a variety of dimensions, sold in hardware stores as use for cement-pouring re: fence building.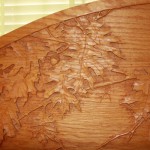 I've had this idea to make bedside tables for a few years now, and selling the house  has motivated me to finally make them.  I have not been able to find any in the stores that I like. Faux suede effects were the intention here, but whether or not that was successful, I'm pleased with the results. A brown circular woven mat was purchased for $2, finishing the look.
These bedside tables coordinate the oak leaves on the oak headboard that was carved and given to us by my Dad.
Categories: 3D, design, furniture, innovation, leaves, mixed media | 3 Comments »
3 Responses to "Practical design"
Virginia Wieringa Says:
December 22nd, 2010 at 12:13 pm

SOOO cool!

Jim Says:
December 27th, 2010 at 8:05 pm

Very nice Nikki. An irresistible combination craftmanship and artistic design.

Nikkico Says:
December 30th, 2010 at 3:58 pm

Thanks you guys!
Comments
You must be logged in to post a comment.