« Dr. Ip, the paint drip |Main | Adding Color: the point of no return »
May 18, 2012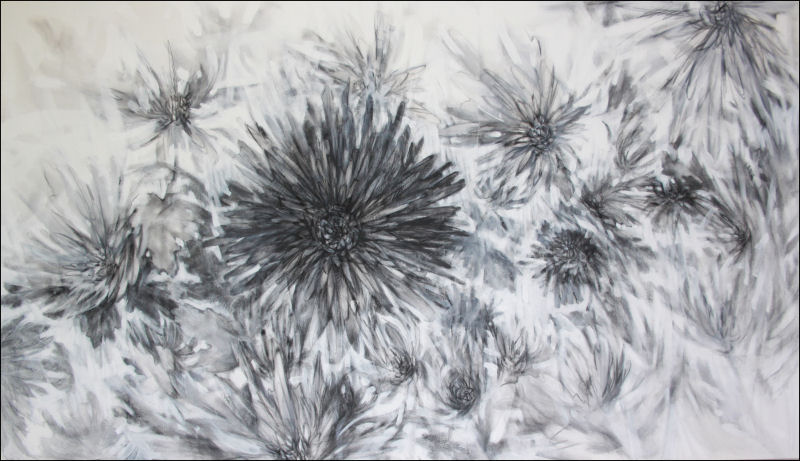 Chrysanthemums, 45L x 85W x 3D inches, graphite, charcoal and primer on 100% cotton, work in progress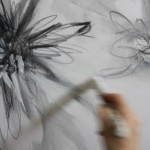 Rather than priming the fabric first as usual, water and primer are painted to enhance the graphite while the composition works itself out. It's been all about getting lost in the improvisation and surprise! Grass blades are implied by the buildup of thin streaks throughout, which also serve to balance and energize the work, plus add slight cubist effects.
This is will hang in a contemporary-style room. If color is used at all it will be limited to red, yellow and green areas near the large main flower. Parts of the surface may be left raw, so to set the finished piece, the entire back will be primed and the front will be sprayed with fixative.
~
The chaos of this past year, moving to Oregon from Texas, has truly put my artsy artist's statement to the test; that 'creativity is an attitude toward life'. I'm accustomed to creating chaos in my artwork, then resolving it. With too many move-related priorities and unfinished renovations, no wonder I've felt increasingly disoriented. The good thing is that observations never stop, even if the focus on art-work has to.
Categories: abstract, charcoal, design, drawings, experimental, flowers, graphite, Seasonal, Spring, work in progress | Comments Off
Comments are closed.