« Peace is Breaking Out Everywhere |Main | Try Frog Asana »
September 17, 2009
---
How do artists price their work? How do artists price their work honestly, consider themselves as legitimate business persons, still with equal regard to the buyer looking for quality and a fair deal? How do artists price their work reasonably while acknowledging the responsibility we have to our trade; that is, respecting that we, in many cases, base our prices on each other's? How do artists price their work while competing other artists, when for some, savvy marketing skills yield profits far higher than the quality of their art? (Subjective as art is, we all recognize quality…or do we?). How do artists price their work to sell in a dicey economy? How do artists price their work to sell in a dicey economy that's dependent on the moral and ethical whims of public spending, and the consequential extremes of society?

I have just reluctantly slashed the prices on my artwork. I'm not going to soften the announcement with a less violent description, because compromising what I feel are well-earned wages, whether adapting to economic conditions or sharing a percentage of it for any reason, is brutal. My canvases are not the only ones feeling the brush of reality these days though; I see, hear and read that a lot of artists are reevaluating how much they ask for their work. Still, I applaud those artists who continue to stand up for the principles of the unspoken "Artist's Code", as Homer Simpson might put it. I'm not fond of unsold art accumulating and spilling out into every room of my home though. The hope is that it will resonate with someone else besides me. It must be seen and it must be shared.
Andy Warhol said: "Art is what sells".
Maybe the average art enthusiast doesn't know how we derive prices for our work. Maybe many artists don't stop to dissect their decisions either. The prices of art in galleries worldwide are inconsistent, confusing and often irrational, and who is authorized to price artwork like that anyway? (Ideally it should be the artist). There are so many variables. I'm probably going to miss naming a few here because methods for pricing vary from artist to artist, hobby or career, and if their art is in the form of products or services. Costs of materials and time spent are considered, and price differences with regard those two factors have everything to do with the quality of time spent and quality of materials. Skill levels, concepts, originality, to some extent size, (ie. sculptures, murals), and if it's for sale in a home studio in Rocky Mount, North Carolina or a high-end gallery in New York City…and most artists will tell you that above all, the final price has to "feel" right. For some strictly structural Art-minds, feelings in art don't have a leg to stand on – but in actual fact they have two legs (the human thing). The most unpredictable, nonsensical thing is that even if the artist makes an impact while alive, their older work may be worth much less than the most recent, but when the artist dies, prices of their earliest works may increase.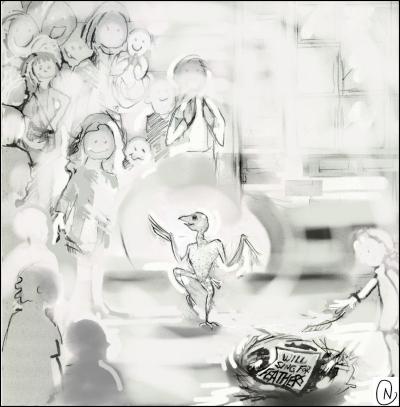 Will Sing For Feathers, 8 x 10 inches, traditional graphite drawing scanned, drawn digitally, printed, process repeated
As we gain experience, confidence toward change and experimentation, and progressively improve our development as Artists, theoretically we should be able to charge more, which is why "mature" artists naturally feel they deserve to be paid more. Case in point: me. The price I initially wanted to charge for "Dancing With Trees" was $7,500.
It seems like a lot to be asking for those unfamiliar with all that painting or other forms of artwork involves. Time seems to be the most accountable factor in producing it. After viewing the artwork and the price, the most common question is: How long did that take you? It's a fair question, because for most jobs, time input equals amount charged; a predictable amount of money is paid in exchange for a certain amount of labor within a set amount of time. If only it were that simple.
Using that system to price then, Dancing With Trees is my very best work to date, and it took almost 50 years to learn how to paint it. The price was reduced from $7,500.00 to $5,500.00. Assuming I don't have to share a percentage of that figure with a gallery, and assuming it sells in the next year, that works out to approximately .7638888888888889 cents per hour. I feel confident that it's worth that much. That's a wage about as kookoo as a bird dancing for its own feathers. One day someone will come along who has an extremely large wall and agrees that the painting is worth .7638888888888889 cents per hour, and they will buy it. Each year work hangs around with me though, I decrease the asking price as new pieces are created.
Sometimes I wish I was just a bird!
The vocation of Artist is a calling, and a journey of personal growth. Who doesn't want to do what they love, learn all the time, contribute the best they have to offer to the world, and earn a living as well? Creativity is not only what we love to do; it is a deeply-rooted habit, a compulsion and an addiction of the very best kind. Art is connected intimately with our lives so we continue to make "stuff" no matter what, and preferably, the artists' judgment of its' value will be trusted. In my revised Price List I've made a good effort to be fair to the buyer while at the same time remaining true to myself.
Post script, 2016: Well, such is life — due to the economy, and a taste of humble pie, I have since lowered the price of Dancing With Trees 03 to $1,100. It's still substantial enough to pay for my time and material costs, and perhaps more in tune with the reality of art sales expectations these days.
Categories: birds, digital manipulation, digital pen, drawings, graphite, inspiration, Issues, Smile | 3 Comments »
3 Responses to "Basic pricing strategies: Artists and the economy"
Virginia Wieringa Says:
September 18th, 2009 at 11:06

whew, you said a mouthful. I've got to read that again. You think things out so thoroughly and state them so well!! Good for you, Nikki!

Nikkico Says:
September 18th, 2009 at 11:06

Hi Virginia, the weirdest, unrelated things can inspire us, huh? I was going through an old book published in the early 1970's and saw an X-Ray of a bird. How the ol' brain connected that to finishing and essay about pricing art in today's economy is a mystery… but it sure was cathartic!!

Therese Says:
October 20th, 2009 at 11:06

Hello,
I'm writing to you to let you know about Arts Marketplace. As a means of introduction, Arts Marketplace is a non-profit membership-based program for individual artists and creative entrepreneurs providing training and tools for professional development, mentoring, networking and money management.
Arts Marketplace launched in April and programming started in September. I'm also actively looking for partners, champions and good folks to help me get this program off the ground. I'm writing to find out if you would give us permission to use "Basic pricing strategies: Artists and the economy" as a handout for our next meeting in November on Pricing.

If you are interested in lending your support for Arts Marketplace that'd be terrific. I look forward to hearing from you. When you have some time, I'd love to hear any feedback.

Cheers,
T
Comments
You must be logged in to post a comment.