Winter
« Previous Entries
Wednesday, November 29th, 2017

Snowfall Fantasy 02, about 6H x 2W inches watercolors
Tuesday, November 28th, 2017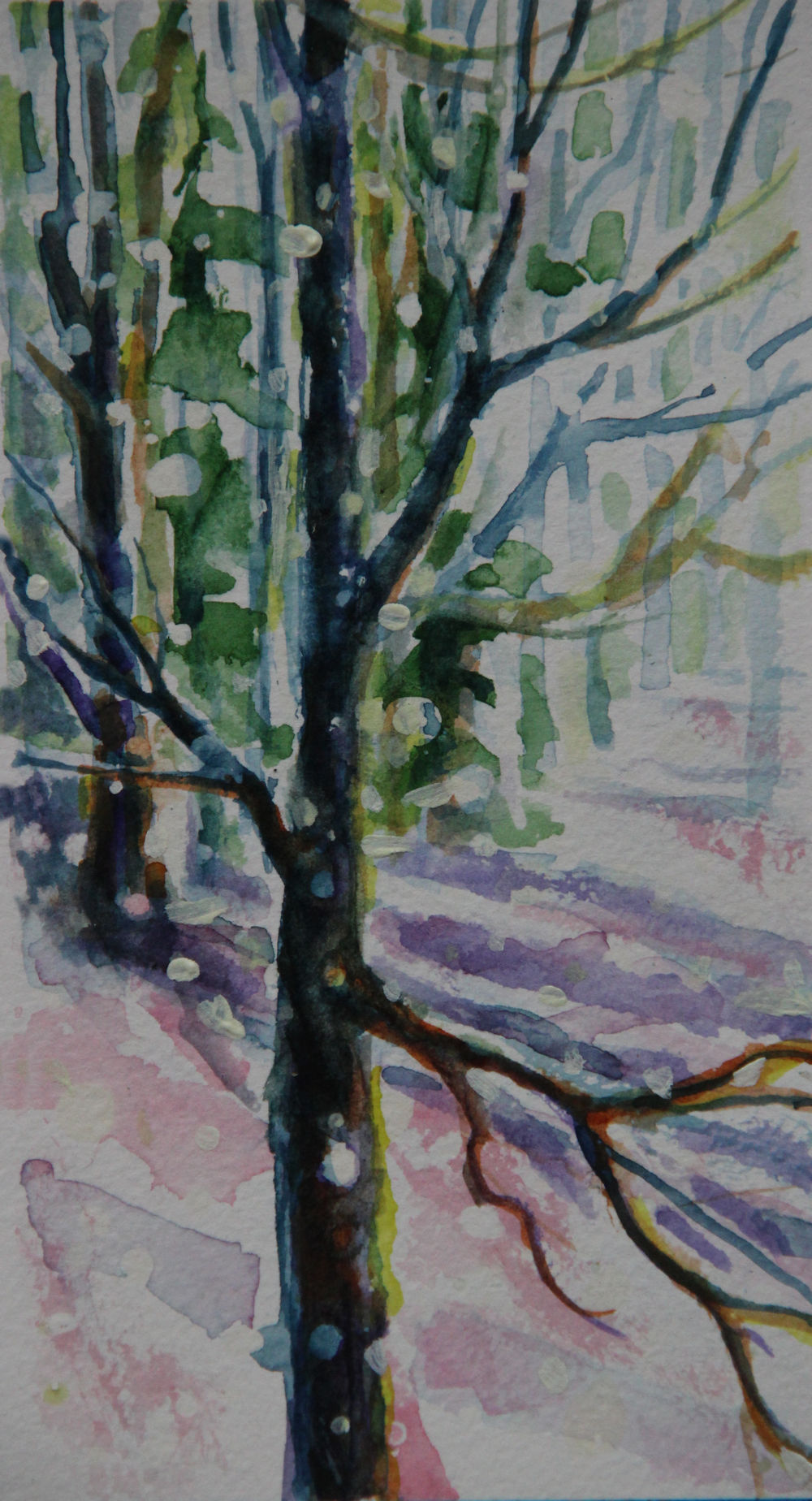 Snowfall Fantasy 03, about 6H x 3W inches watercolors
Thursday, June 22nd, 2017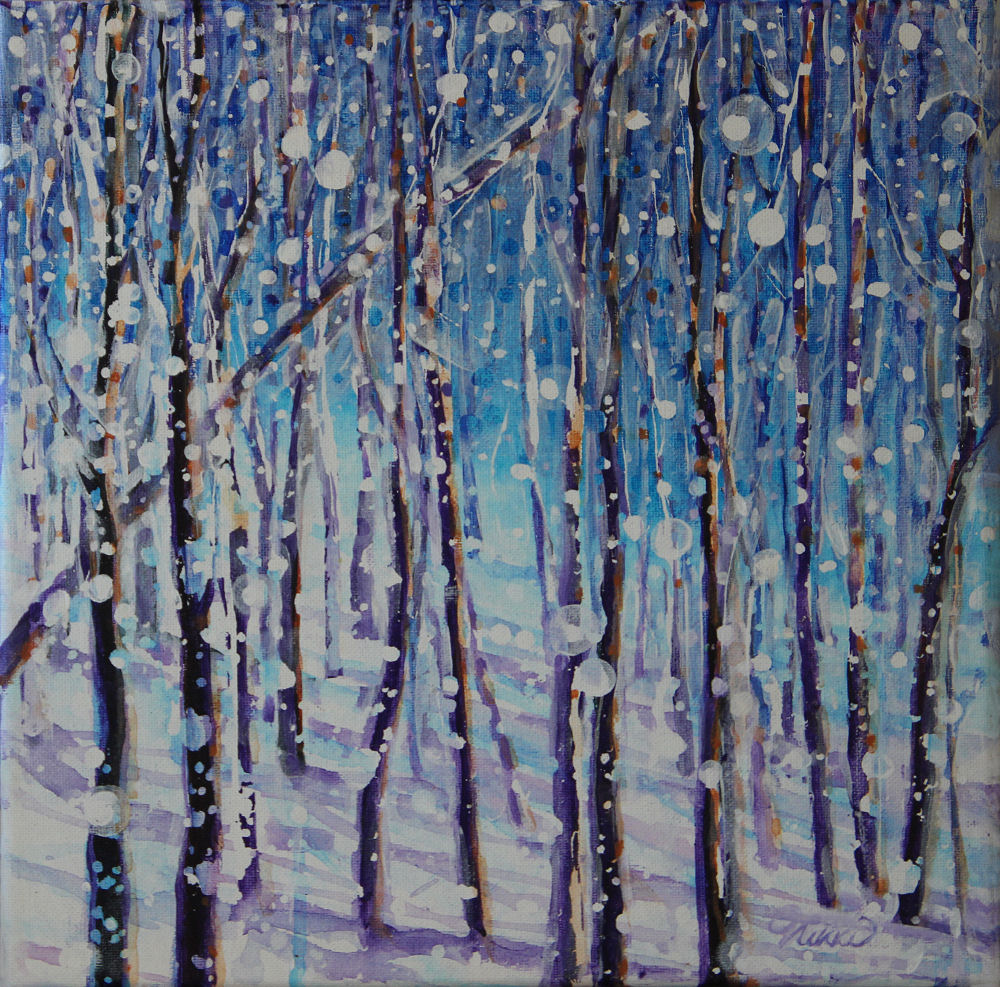 Hypnoflakes, 12 x 12 inches acrylics on canvas
Friday, November 30th, 2012
---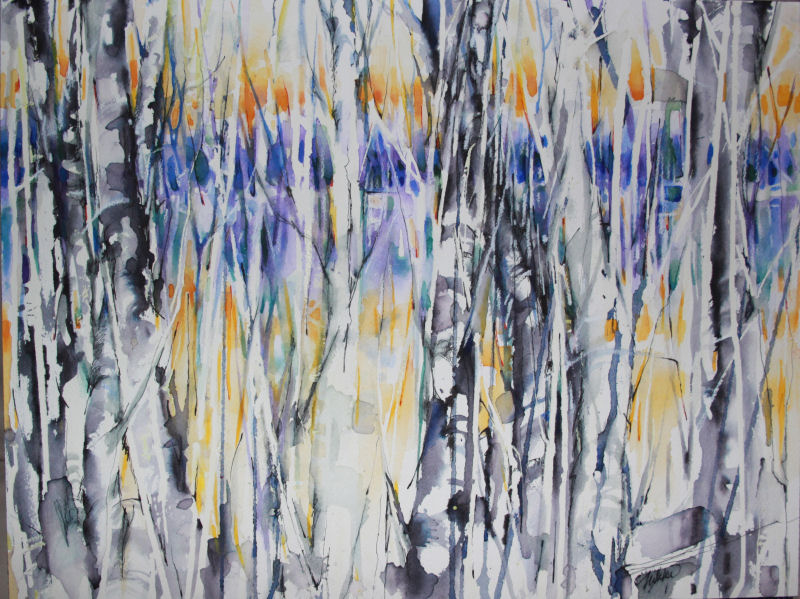 Work details: 1. applying resist medium 2. deliberately working with the challenge of a limited palette, watercolors were also dripped down the page. Tomball watercolor pen adds more details.
Birch, 12H x 16W inches watercolors on 120 lb cold pressed 100% cotton paper, white mat and frame.
---
$550.00         

---
Thursday, February 10th, 2011
---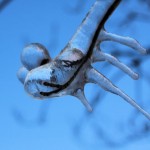 There are days when a falling leaf is just a falling leaf, but today one caught my eye as it floated down then caught an updraft, then flipping sideways and rolling over a few times, it seemed to be avoiding its final destination as long as it could. It was five seconds of beauty I will never forget!
I'm sure my friend and mentor, Jo Williams will not mind me passing along her note of a quote by Judith Hanson Lasater: "As many times a day as you can, find something to be grateful for because that will connect you with yourself, with others, and with the wider world. And we need to do this MOST when things are their most difficult in our lives. "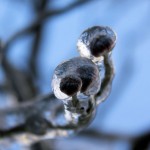 Maybe the leaves have fallen like that all season, but I was too busy grumbling about raking half of them from our neighbour's yard. I've been too busy detailing the house inside and out, trying to get it listed as soon as possible. There have been issues this winter of solid ice in the eves-troughs, and having to chip away and melt trails with boiling water so the roof run-off would flow properly. I was too annoyed to notice the incredible phenomena on the other side of the house that were created by the very same problem.
Left and above: alien-like forms were created when slow-melting ice dripped from the eaves-troughs onto shaded Dogwood branches.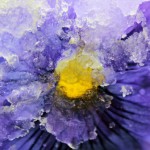 Before the snow and frigid temperatures last week, the pansies were finally filling in and gorgeous alongside the back yard fence. When winter came with a vengeance and would not let go, so did my view that, "Aww, the pansies are frozen!", but yesterday,it changed to: "Awe! The pansies are frozen!"
Thanks for sharing, Jo!
Thursday, February 11th, 2010
---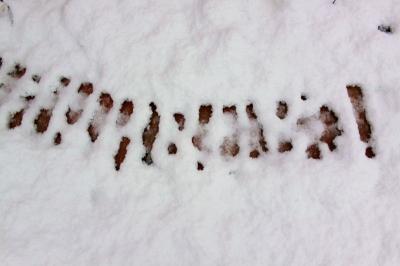 Translation: It's snowing in Dallas today!
It snowed all day, huge Texas-sized flakes. Here, the snow melts on the warmth of the brick-work in the garden.
Friday, December 25th, 2009
---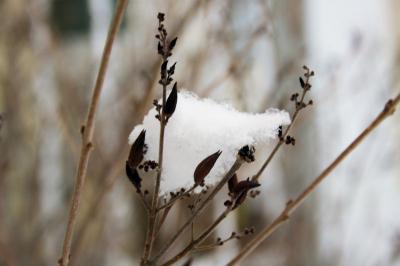 Merry Christmas from Airdrie, Alberta
Snow on French Lilac
Check out the Alberta/Texas phone interview for a pull-out feature in today's Denton Record Chronicle.
Wednesday, December 9th, 2009
---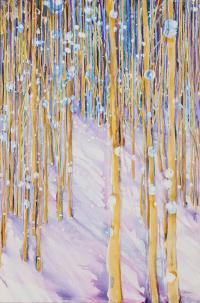 Creating Art and talking about are truly two different ways of seeing; the theory of right and left brain thinking is matter-of-fact. As an Artist it takes some effort to "switch brains" and reflect on the processes and progress of work in order to accompany my Art with writing on this blog, so I'm really impressed with the mature quality of the critiques given by students at  Olive Stevens Elementary School of paintings on their school Art blog every month.
In collaboration with Oxide Gallery, the Denton school has started a blog where students – or anyone else actually – can give a critique of a different work of Art each month. This month the comments regard the recently finished Sounds of Silence, which is also at the gallery.
Thursday, October 15th, 2009
---
The Sound of Silence, 36H x 24W x 2D inches acrylics on canvas, wrapped sides painted, narrow frame – finished today. After  a second application of mask medium only on the snowflakes this time, some unbleached titanium and yellow ochre brought color back to the trunks. Snowflake mask was then removed.
 Oct 13th, above: Phase 01 and 02
Oct 14th, Phase 03 and 04: Mask medium removal, then highlighting snowflakes.
---
$550.00          

---
Thursday, March 19th, 2009
---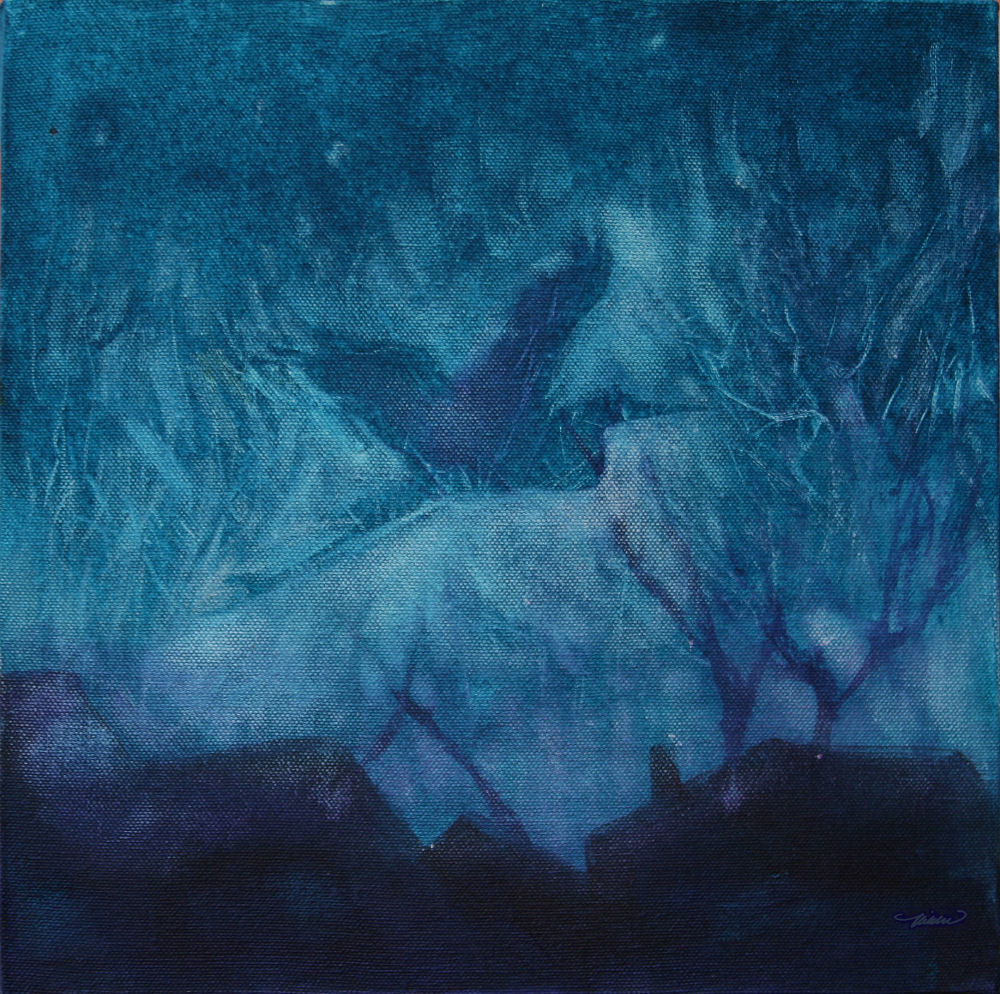 Neighborhood Heron, 11H x 11W x 3D inches acrylics on canvas started with a base coat of very watered down translucent pthalos green mixed with cerulean blue. Spraying rubbing alcohol over a damp painted water-based surface then allowing it to dry without moving it will create starry, spotty textures. Salt shaken over wet paint allowed to dry, then wiped off with a dry cloth will produce similar effects.
Alcohol loosened up the entire surface of paint, so using fingernails under a damp smooth t-shirt cloth, I rubbed off areas to shape the heron and winter trees. This represents a super argument for the wingin' it methods!
In college I took a pottery course for one semester, and the thing I remember most is the instructor saying how it's a good idea to allow some of the raw characters of the materials we work with to remain and "speak" without trying to smooth over and perfect everything. She was of course referring to clay, but over the years I've found that it applies to many other mediums also. In Heron, the branches extend into the body of the bird, connecting it to its environment. The effect also does a subtle play on the motion of its flight too.
---
$350.00           

---
« Previous Entries