waterwash pencils
Thursday, December 20th, 2012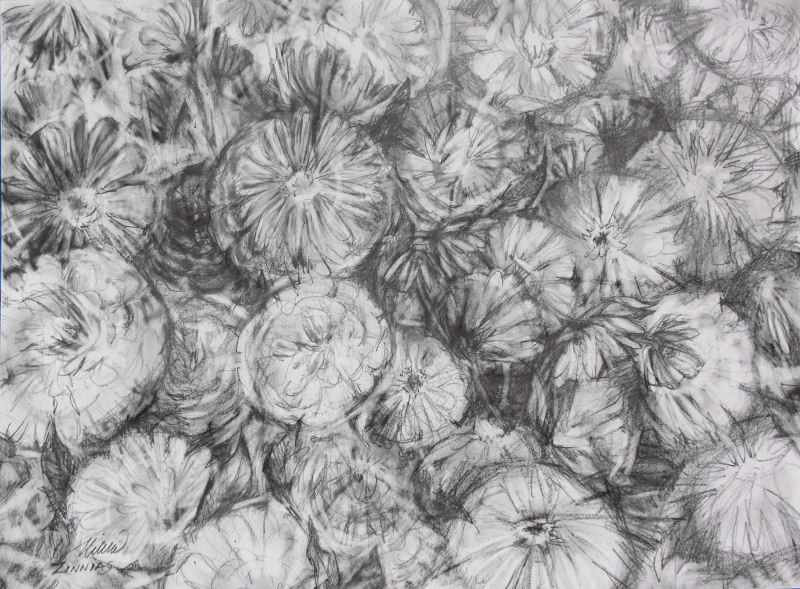 Zinnias, 24 x 36 inches graphite on paper. Using an eraser just as much as the graphite, marks are initially roughed in to fill the page with enough smudges and dark tones to work with; some removed, some detailed. Initial plans were to create a drawing with about 4 inches of grey tones bleeding into a colorful central square to be drawn and painted with watercolor pencils, similar to Chrysanthemums,with borders more defined. However, I got lost in the fun of drawing, and too much graphite would muddle colors. In future I would simply outline the subject lightly first, then add colors, gradually filling in tonal details afterward. Back to the drawing board!
Wednesday, June 2nd, 2010
Dragonfruit, 9 x 12 inches watercolor pencils, graphite on paper
I've discovered a strange and wonderful new fruit here: Pitaya, commonly called Dragonfruit, is cultivated in Vietnam, but apparently is native to Mexico and South America. Possibly then, it's imported to the U.S. and hopefully is sold in Texas. I've seen it in the markets here but thought it was some sort of artichoke. Rarely do you find a fruit that is so large and fleshy where you don't have to deal with removal of seeds or pits or cores to get to the yummy part. This one's all yum, about 6″ long, and tastes much like a kiwi, but more sweet than tangy.
Sunday, January 17th, 2010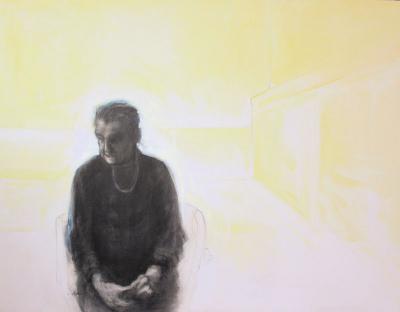 Above: finished final details yesterday. Started Aug.7th: A Heart Filled to the Brim, 36 x 48 x 2 inches, Water soluble graphite, acrylics on canvas. On exhibit along with Polypore Fungi February through May at the Oxide Gallery, Denton, Texas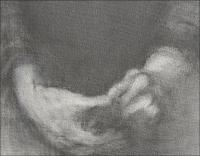 An excerpt from the song, I Don't Believe by Paul Simon on the CD, Surprise:
I don't believe a heart can be filled to the brim
then vanish like mist as though life were a whim.
Maybe the heart is part of the mist
And that's all that there is and could ever exist.
A portrait of Alzheimer's honoring my Grandmother, my Mother-in-law (whose portrait this is, and whose 80th birthday is in two days), and now recently my own Mother who is in the earliest stages; and with empathy for all those afflicted, including the families dealing with the awful emotional reverberations caused by this disease.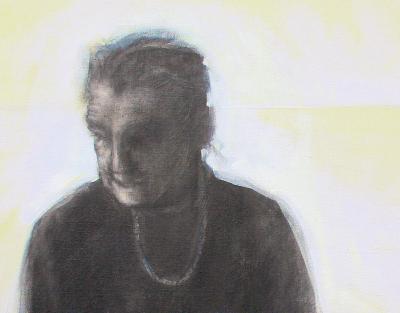 Here are a few websites providing information about Alzheimer's Disease
http://www.alz.org/index.asp
http://www.alzheimersrxtreatment.com/learnaboutalz.html
http://www.alzheimers.org/
Thursday, January 17th, 2008
Salt Spring Island, B.C. – 16 x 22 inches pencil, eraser, dry pastels, colored pencils. Stages1 and 2 in progress:
Friday, September 21st, 2007
Northern Delights 01, Poplar stanf in Banff, Alberta, Canada . Eastern Redbuds on a foggy Spring morning in Coppell, Texas. 14H x 11W and 11H x 14W Oil pastels on paper, pencil, water-wash graphite, colored pencils, eraser
Browsing for pieces to enter in a juried exhibition, I came across two drawings started in March. Not confident with either one the way they were, both were re-worked. Now, quite honestly, they each are samples where too much work causes ruin. Both endured lots of layering, scraping, redrawing, and using the eraser over pastels; both experimental re: oil pastels vs. paint-able water-wash graphite pencil…learned a lot with these two, because I overworked both past their peak success stages. That's the way it is: some drawings and paintings need to hang around for a while in order to know for sure they are finished.  Others are finished very quickly; no doubt. Some are finished, you may be itching to proceed, but have the foresight to leave them as is. Some just need to be pushed, even toward their demise, knowing it's the point of no return, in order to learn. This can work favorably, or not.
Thursday, March 22nd, 2007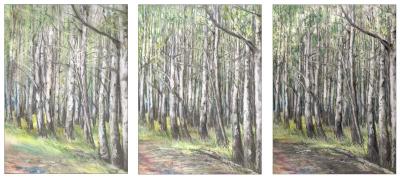 Mixed media: Water-wash pencils, Oil Pastels and eraser on 14 x 11 paper
Small drawings solve a lot of issues and make it easier to make decisions when doing larger work with more expensive materials. 1st day: There is a nice breezy feeling in the first image, at which point I had stopped drawing and considered it finished. Next day: I felt that the trees were not strong enough in character, because this species of Aspen have black areas of bark, particularly on the bottom half of the trunk. – also wanted to take advantage of my new water-wash pencils, experiment and see if oil and water might be able to cooperate for a change! Final day: I might have left well enough alone, but how do we expect to learn new things if we don't go out of our way and look for them? The final drawing has good traits as much as the first version, it's just darker. This piece has been taken to the max with these materials; the water-wash pencils do not take much "abuse", in fact hardly any. Once water has been applied, after the paper dries it becomes slippery. More drawing on top and more painting are less effective…not helped along by the eraser which actually uncovered a few secrets for future drawings. Erasers on top of oil pastels do neat things, and if pushed "beyond" will tear a top layer of paper off along with it. This can be used to advantage because it opened up some space in the treetops where it was getting too crowded and overworked. I'm happy with the end result.
Thursday, March 22nd, 2007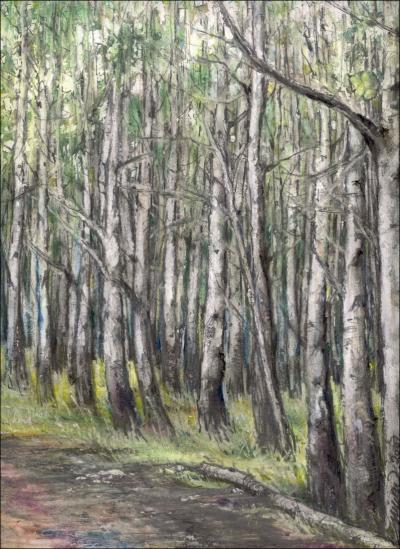 Protected Bison reserve, Banff National Park, Alberta – 14 x 11 Water-wash Pencils, Oil Pastels and eraser on paper
As with the Redbuds drawing before it, this was an attempt to see what oil and water could do in one place. One great thing I learned from trying this combination is how using the eraser to create  spaces between the leaves removed portions of paper. I like the effect, and will use it somewhere else in future works. As opposed to oil pastel alone, the paper cannot be reworked for long though, something I enjoy pushing; it warps and the texture changes unfavorably. Additional marks with the pencils do nothing to improve the slippery texture once water is brushed on, and they don't erase well then either.  Interesting!
Saturday, March 17th, 2007
The first image shows the drawing as I initially thought it to be finished. After hearing other Artists' opinions, their comments reflected my own suspicions that the tones weren't quite right. 
Second image: after attempts to correct the lighting, gone was the fresh look and brightness of Redbud  petals that I found admirable about the first one. Aquarell water wash graphite pencils were also used in this drawing, so additonal water and scraping off of the pastels to start over made the become warped, slippery in some parts, and difficult to work on.
During the third and final version I tried to bring back the brightness of the petals (as seen in the 1st) and the sun through the heavy blueish haze. There is something in each picture that ought to have been left alone, but this is what happens with exploring or striving for one thing: other things can disappear, and the medium being used has limitations. You can push those limitations, but in the end they still control the results. Only so much scraping off and starting over is possible, and the work can lose its fresh appeal.
Saturday, March 17th, 2007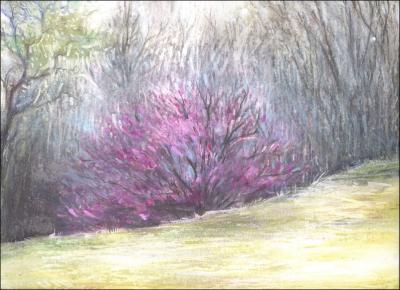 Redbuds, misty morning, 11 x 14 oil pastels, watercolor graphite pencils
This drawing was an experiment with oil pastels and water soluable graphite to see if the two could cooperate vin the same drawing. This post shows the final piece that dulled as improvements progressed, so here it is now, not as nice as a work on paper, butbegging to become a large acrylics painting.
It was about 8 A.M… the sun barely shone through the thick mist this early Spring morning. The surrounding forest was grey, and the brilliant pink blossoms of the Redbud bush pushed through it all, with the only other colors being patches of green grass starting to grow in the feild.
Friday, January 13th, 2006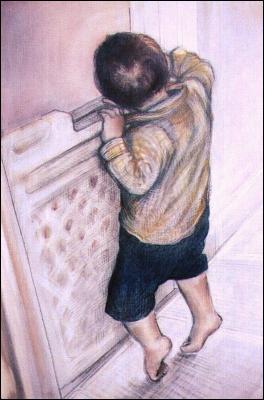 Alexander – 16 x 20 inches pencil, watercolor pencils on stretched canvas. Not for sale.