water
Tuesday, November 10th, 2009
Angel's Trumpet (Brugmansias) San Antonio Riverwalk, Texas – 14H x 22W inches watercolors in progress
Nov.7, 8, 9th: 1) Upper left detail  2) Upper right detail  3) Lower right detail 4) below, today's work
Thursday, November 5th, 2009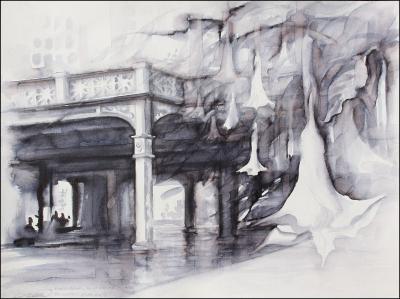 Trumpet Flowers, San Antonio Riverwalk, Texas –12 x 16 inches value study in progress, Tombo pen wash on 140 lb. WC paper.
The Tombo pen is a two-in-one water-soluble marker available in colors as well as black. One tip is medium-fine and the other looks and behaves like a Chinese paintbrush, where thickness of lines can be controlled. What's more difficult to control is that black once it's on the page! The edge of the ledges on the bridge here were much brighter, but could not be lightened without making a mess of the surrounding areas, so they are OK. It's something to pay attention to when painting the colored version.
Tuesday, March 10th, 2009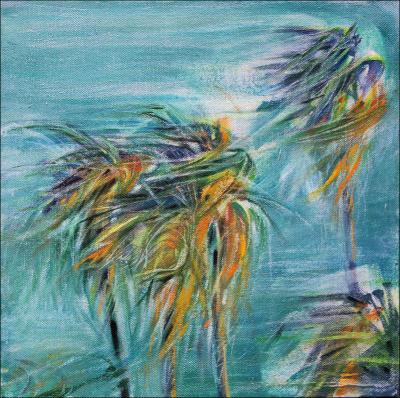 Chapala Wind – Lake Chapala, Mexico, 11 x 11 x 3 inches acrylics on canvas, gallery wrapped sides painted. Top: almost finished..needs a little more green maybe.  Thumbnails: phase 1 and 2 in progress.
I have seen paintings where artists have sprayed alcohol and acheived a mottled effect, kind of like what happens when salt is sprinkle on wet watercolors. It didn't work for me, however it did loosen the paint and I was able to scratch it, at first with my nails and then a pottery tool.  Does anyone have any tips about what alcohol can do on acrylics or how to use it?
Thanks to Karen Xarchos for all the feedback and additional information. We worked together painting murals in Ottawa for a couple of years. Karen has done extensive work in restaurants and homes in the Ottawa area.
Thursday, February 26th, 2009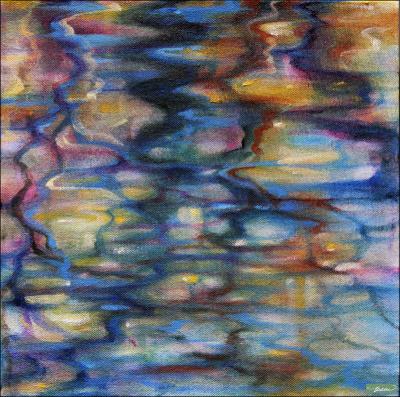 Reflections, winter in Coppell, TX, 11 x 11 x 3 inches, acrylics on canvas, wrapped sides painted.  Most of the Magic Square series paintings are signed on the side, so the images on the blog show a superimposed signature.
Sunday, June 15th, 2008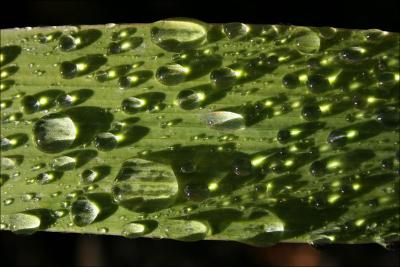 Sunday, October 21st, 2007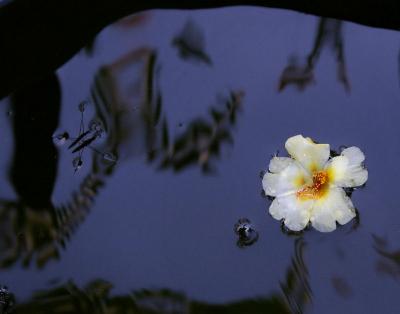 Watching the water striders in the pond in our back yard, and the perception changed a little, like it does seeing the expanse of the Grand Canyon or driving toward mountains. Interesting that something alive is so weightless, yet with enough mass to be able to walk on water. Click here to see more photography.