water
Tuesday, November 10th, 2009
---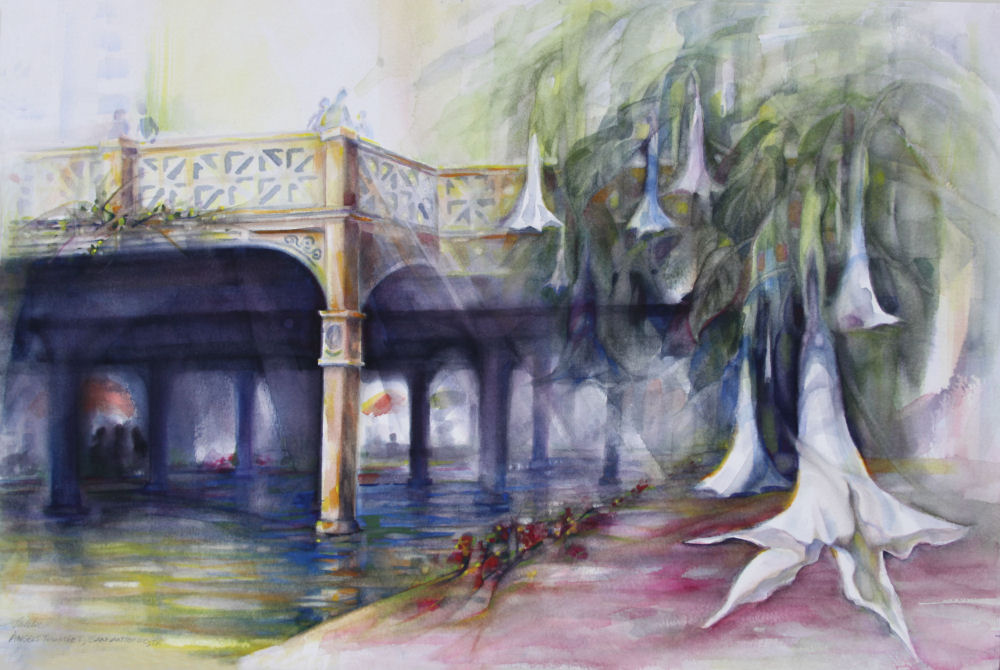 Angel's Trumpet (Brugmansias) San Antonio Riverwalk, Texas – 14H x 22W inches watercolors on 140 lb. cold pressed premium, white mat
---
$250.00          

---
Thursday, November 5th, 2009
---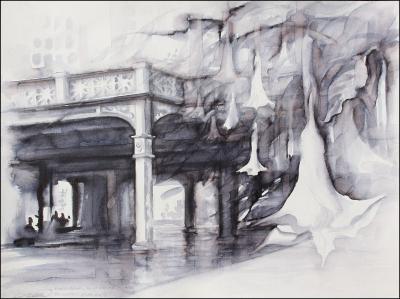 Angel's Trumpet value study, San Antonio Riverwalk, Texas –12 x 16 inches Tombo pen wash on 140 lb. WC paper.
The Tombo pen is a two-in-one water-soluble marker available in colors as well as black. One tip is medium-fine and the other looks and behaves like a Chinese paintbrush, where thickness of lines can be controlled. What's more difficult to control is that black once it's on the page! It's something to pay attention to when painting the colored version.
Preliminary studies are useful with watercolors because if, in trying to correct and re-work areas, the integrity of the paper is easily lost, especially on inexpensive papers. Still, on a traditional watercolor a lot can be done by adding water  to pull out the dark where it's not wanted, and push out areas of paint with dry brushes. Some places in this study have built-up 3D edges created by the paper bits because I pushed them around so much with a stiff brush to correct things, but traditionally this is not acceptable.
Actually, come to think of it, that might be interesting to deliberately sculpt the paper in strategic areas – like objects in the foreground – by saturating it with too much water, then while painting, brush the resulting paper bits into piles and mold them with a stiff  brush. I may try that in the final colored painting of this scene. This proves once more that every single painting is an experiment to find ways to turn disadvantages and  limitations into advantage and innovation.
Even though WC and Acrylics are water-friendly and watered-down acrylics is the method I use to start most canvas paintings, I'm noticing a few outstanding differences : 1) an off-balance composition seems to be more noticeable with WC, definitely not as correctable 2) improved attention to drawing, details and ultra-conscious 3) requires pre-planning and foresight to keep the work fresh and clean 4) commands enough confidence to swish the paint on quickly as if it was not planned.
Tuesday, March 10th, 2009
---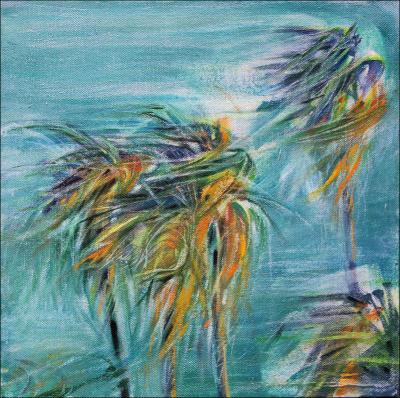 Chapala Wind – Lake Chapala, Mexico, 11H x 11W x 3D inches acrylics on canvas, wrapped sides painted. Thumbnails: phase 1 and 2 in progress.
Sprayed alcohol loosened the paint and I was able to scratch it, at first with my nails and then a pottery tool. Thanks to Karen Xarchos for all the feedback and additional information. We worked together painting murals in Ottawa for a couple of years. Karen has done extensive work in restaurants and homes in the Ottawa area.
Thursday, February 26th, 2009
---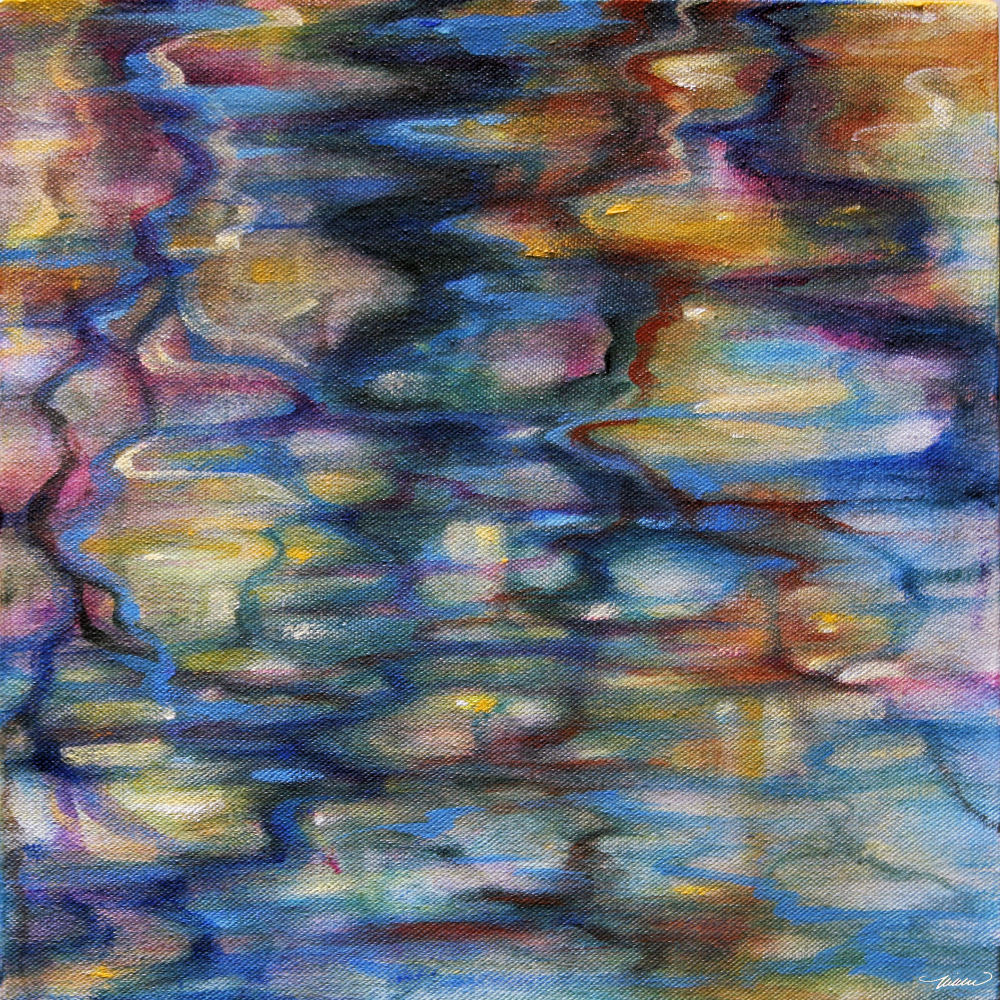 Winter Reflections, winter in Coppell, TX, 11 x 11 x 3 inches, acrylics on canvas, wrapped sides painted.  Most of the Magic Square series paintings are signed on the side, so the images on the blog show a superimposed signature.
---
$350.00           

---
Sunday, June 15th, 2008
---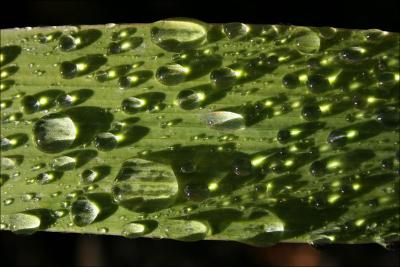 Sunday, October 21st, 2007
Polypore Fungi, 59H x 41W x 2D, acrylics on canvas, work in progress. Acrylics painting started in June, hung and studied in the loose-phase state; cautious about overworking it. Plans this week: most everything will stay out of focus, with details only on the fungi (starting that next), using a little modeling paste to sculpt the fungi.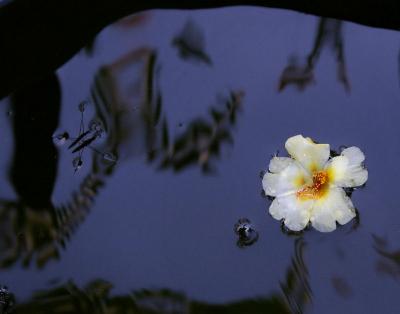 Watching the water-striders in the pond in our back yard pond.  Interesting that it is so weightless, yet with enough mass to be able to walk on water.