water
« Previous Entries
Friday, November 24th, 2017

Waterfall Fantasy 01, 6H x 2W inches watercolors
Thursday, November 23rd, 2017

Waterfall Fantasy 02, 6H x 2W inches watercolors
Wednesday, November 22nd, 2017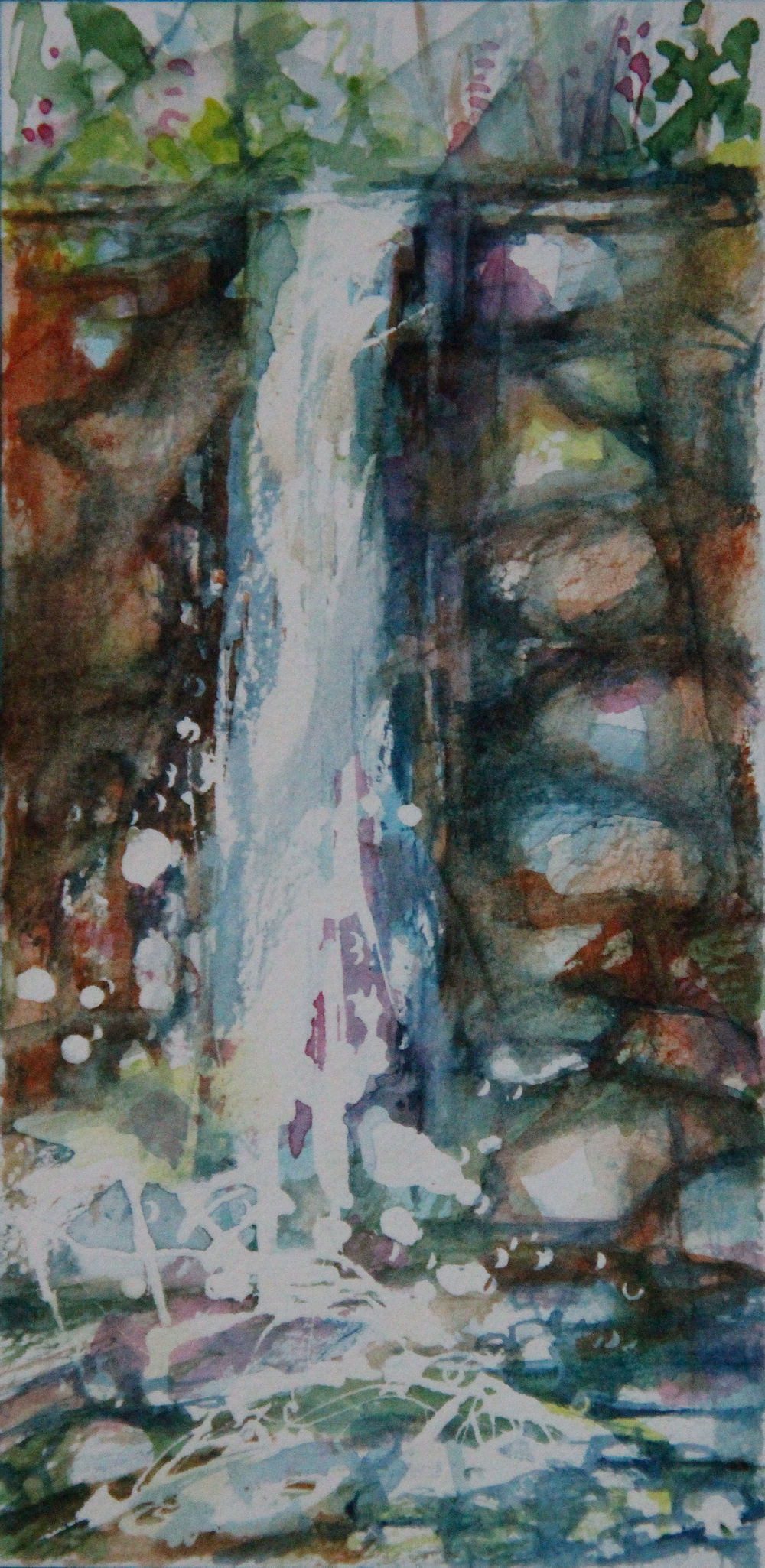 Waterfall Fantasy 03, 6H x 3W inches watercolors
Sunday, March 5th, 2017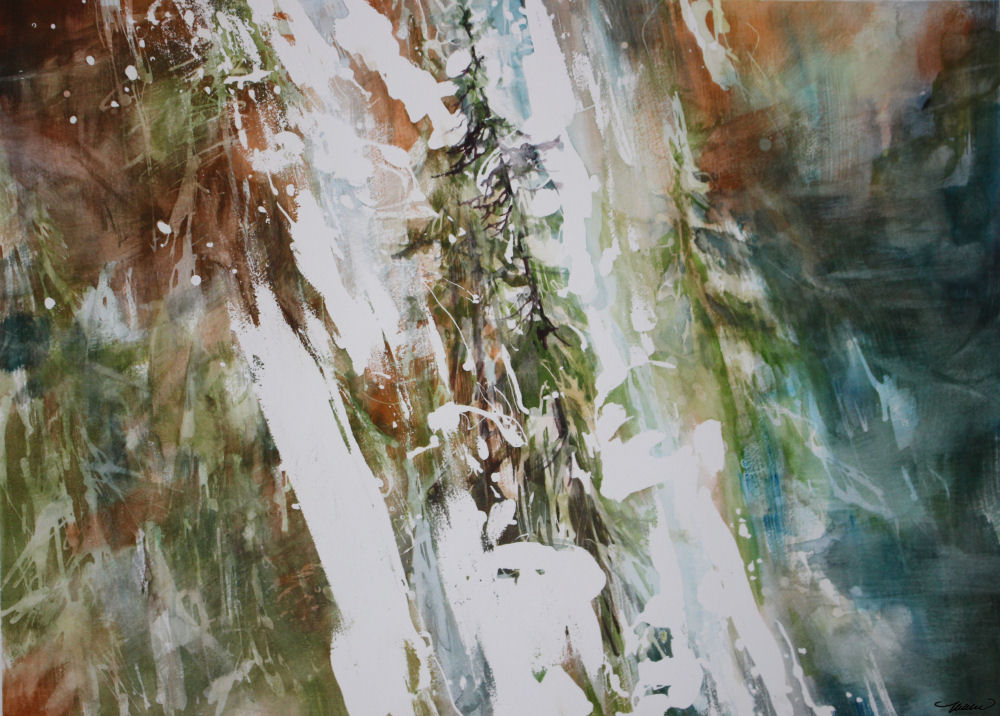 Multnomah Falls, Oregon – 18 x 24 inches watercolors on 140 lb cold press premium. This is a water study – am getting a lot of practice in every day, and am leaving this one alone after a few hours of work.
Monday, February 27th, 2017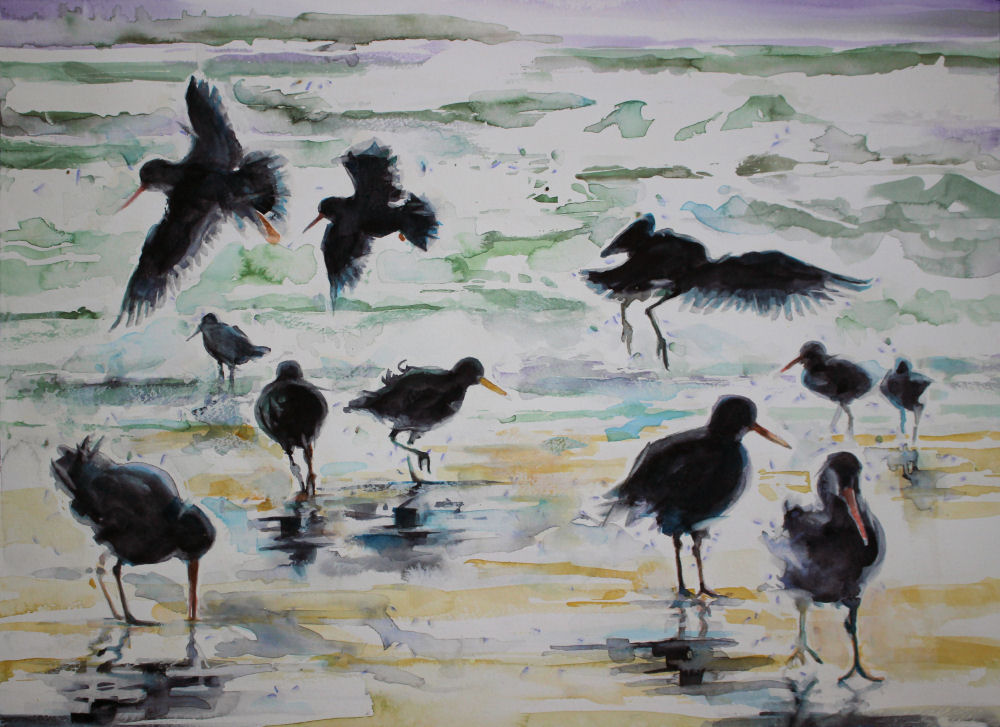 Oystercatchers, 18 x 24 inches watercolors on 140 lb cold press
________________________________________________________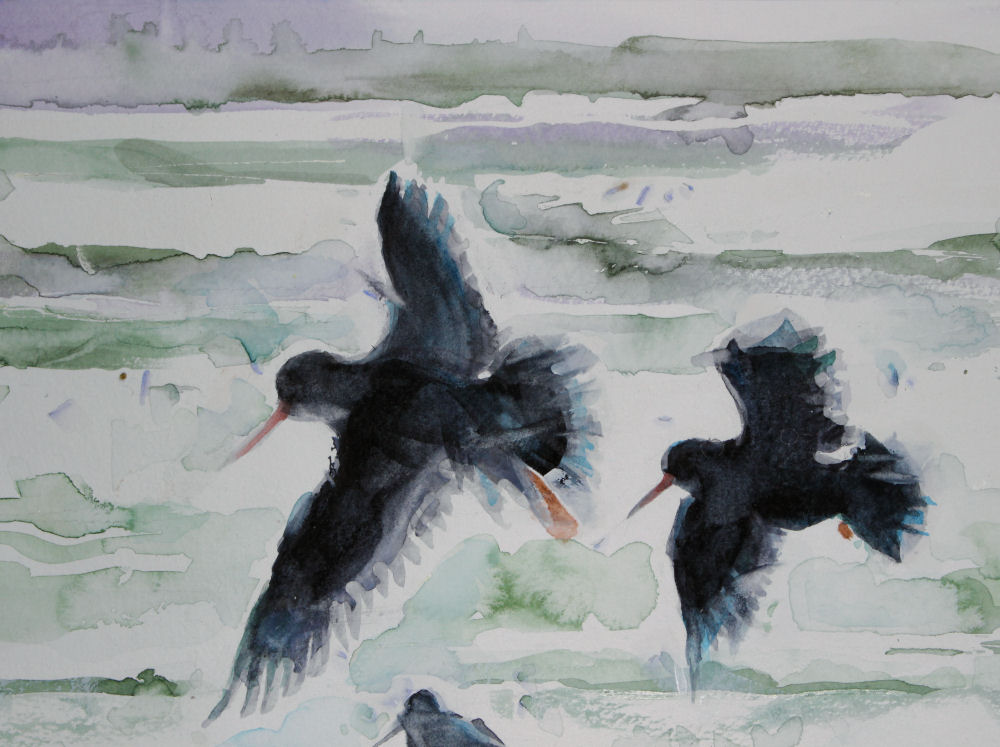 This is finished, although I'd love to merge the contrasts somehow. I don't want to mess up the implied light though, or the initial spontaneous brush strokes, like in the background waves. Every new mark at this stage makes a difference too, and in context to the whole, even small changes affect other areas that need to adjust accordingly.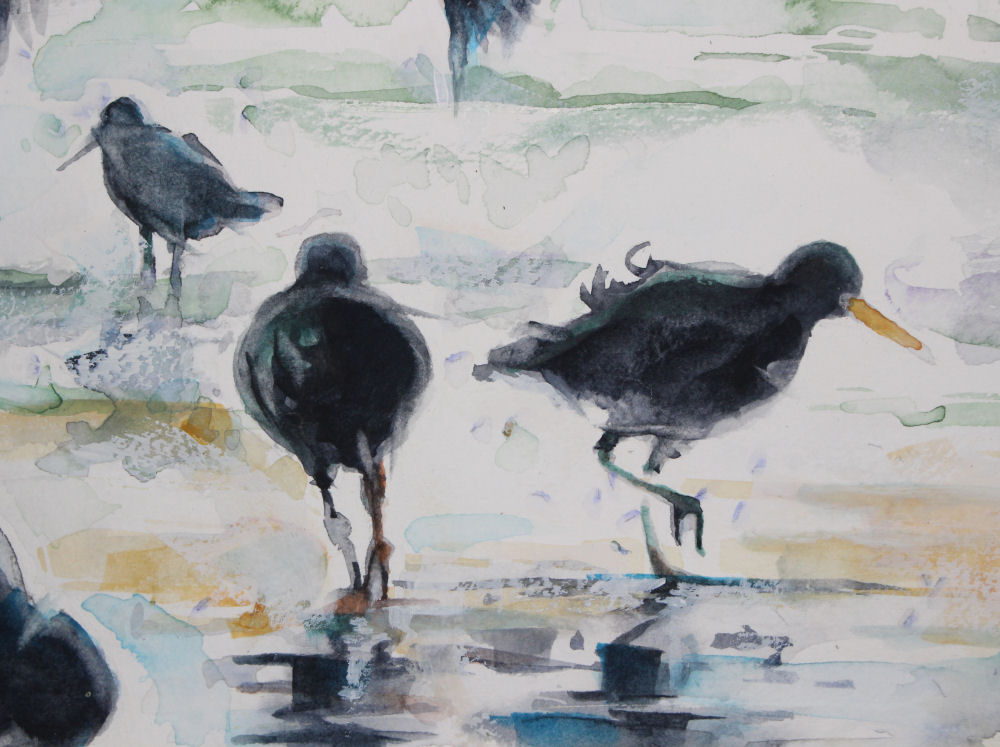 Before you know it, colors mud together and beautiful open spaces disappear. I'm going to take direction from my most recent pieces, which I feel were over-worked, and quit while I'm ahead.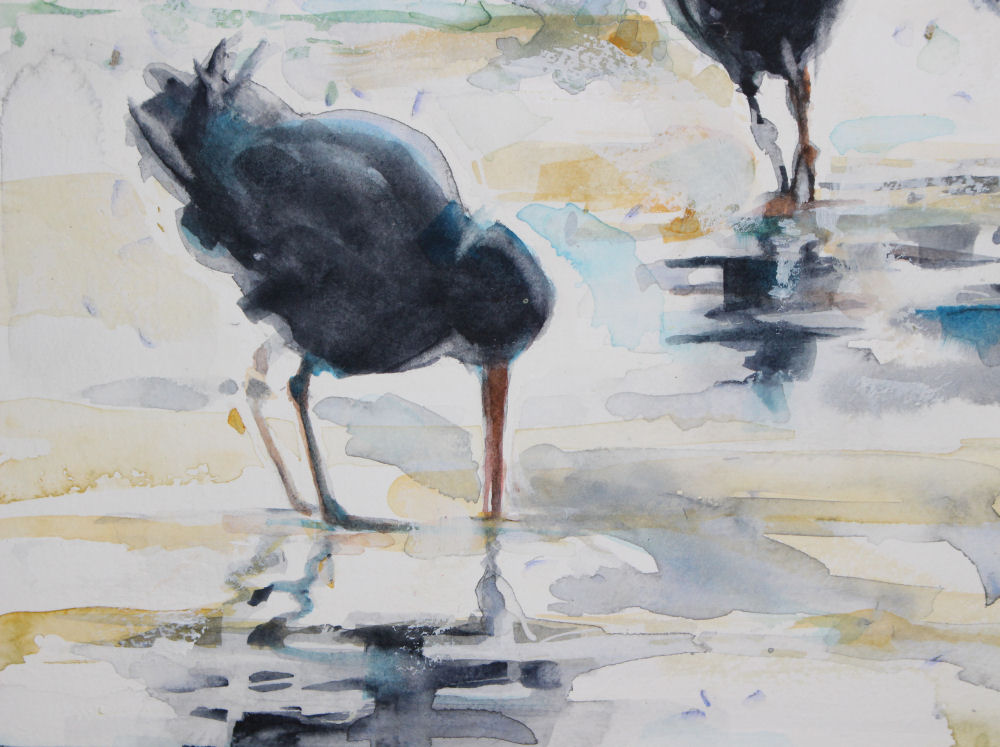 Challenge is exciting…particularly with watercolors. Whereas with other media mistakes can be erased or covered easily and change can occur throughout the process without much hesitation, with watercolors a person needs to know a subject well – or at least be able to fake it with confidence!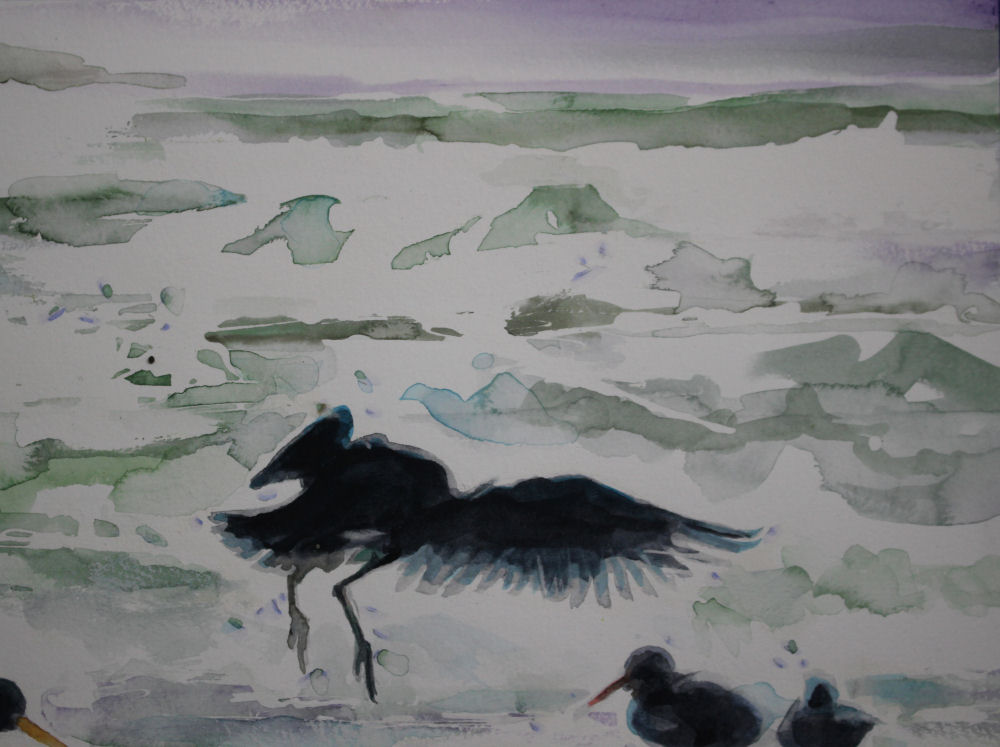 Finding a way to make each painting unique means following cues happening within the work itself. In this painting, the most remarkable thing occurred after the the first phase of production.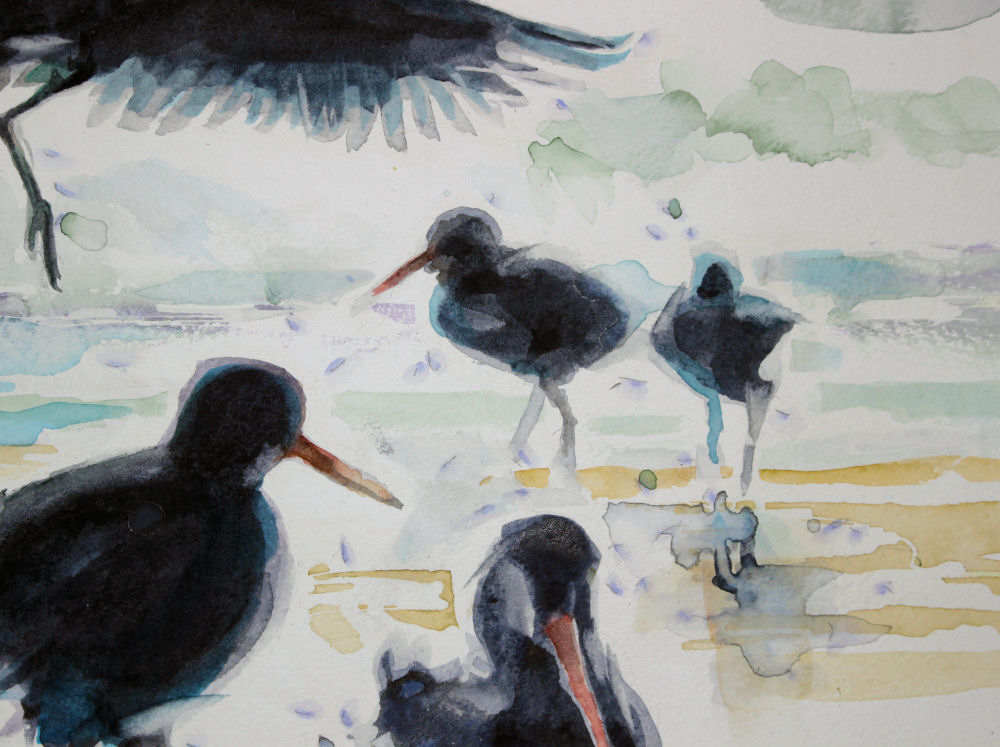 Because this subject was unfamiliar, I started by first penciling in the shapes, wondering what I could do to make this less boring – you know, not just be a picture of Oystercatchers. When erasing the pencil marks in order to see what the paint had established, little rolls of eraser pieces scattered here and there. Sprinkled impromptu around the birds, those tiny eraser shreds added a pronounced and unexpected zing of life to the composition.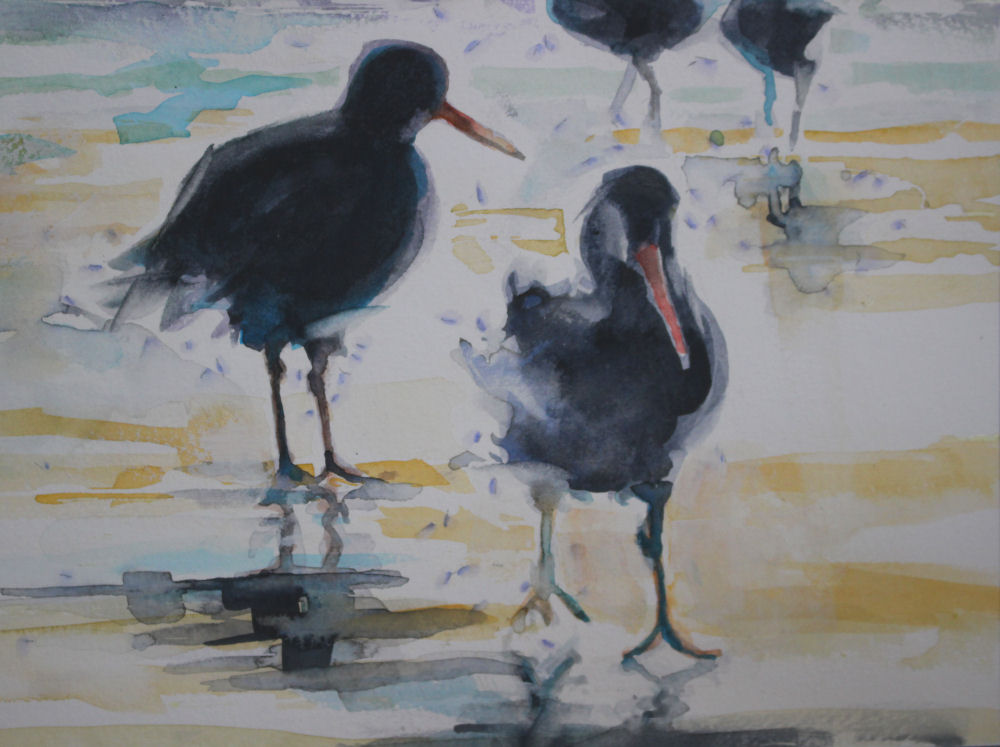 First thinking "what have I got to lose?", the eraser-pieces were mimicked in paint around the birds. I'm tempted to make those strokes more prominent, but a small success is in order, so will use this fun technique in another painting.
Tuesday, November 10th, 2009
---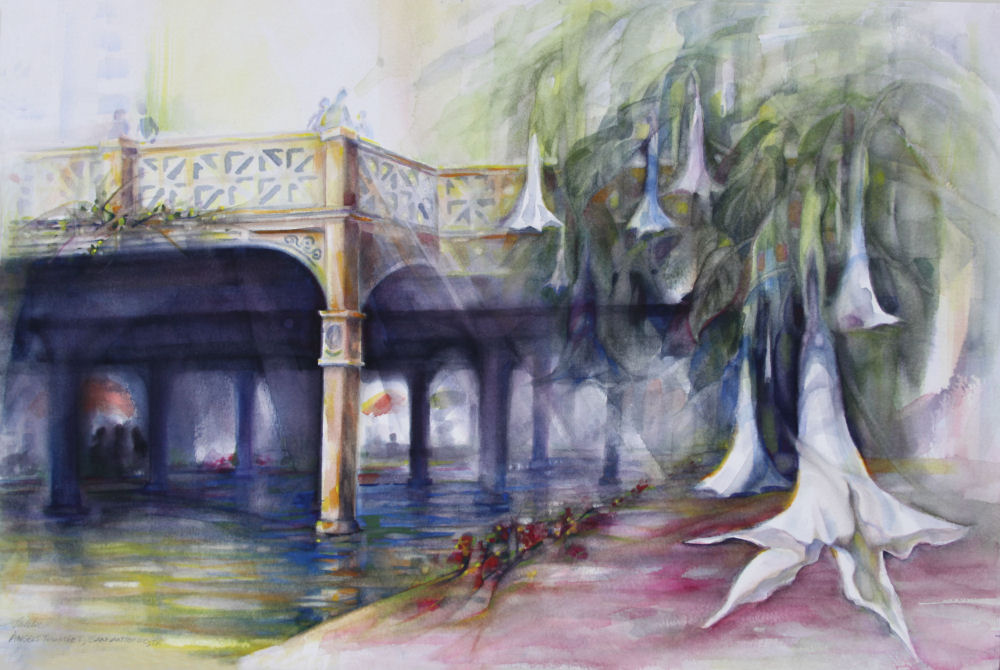 Angel's Trumpet (Brugmansias) San Antonio Riverwalk, Texas – 14H x 22W inches watercolors on 140 lb. cold pressed premium, white mat
---
$250.00          

---
Thursday, November 5th, 2009
---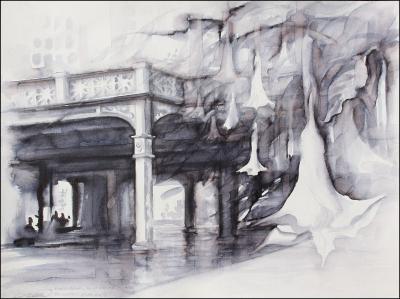 Angel's Trumpet value study, San Antonio Riverwalk, Texas –12 x 16 inches Tombo pen wash on 140 lb. WC paper.
The Tombo pen is a two-in-one water-soluble marker available in colors as well as black. One tip is medium-fine and the other looks and behaves like a Chinese paintbrush, where thickness of lines can be controlled. What's more difficult to control is that black once it's on the page! It's something to pay attention to when painting the colored version.
Preliminary studies are useful with watercolors because if, in trying to correct and re-work areas, the integrity of the paper is easily lost, especially on inexpensive papers. Still, on a traditional watercolor a lot can be done by adding water  to pull out the dark where it's not wanted, and push out areas of paint with dry brushes. Some places in this study have built-up 3D edges created by the paper bits because I pushed them around so much with a stiff brush to correct things, but traditionally this is not acceptable.
Actually, come to think of it, that might be interesting to deliberately sculpt the paper in strategic areas – like objects in the foreground – by saturating it with too much water, then while painting, brush the resulting paper bits into piles and mold them with a stiff  brush. I may try that in the final colored painting of this scene. This proves once more that every single painting is an experiment to find ways to turn disadvantages and  limitations into advantage and innovation.
Even though WC and Acrylics are water-friendly and watered-down acrylics is the method I use to start most canvas paintings, I'm noticing a few outstanding differences : 1) an off-balance composition seems to be more noticeable with WC, definitely not as correctable 2) improved attention to drawing, details and ultra-conscious 3) requires pre-planning and foresight to keep the work fresh and clean 4) commands enough confidence to swish the paint on quickly as if it was not planned.
Tuesday, March 10th, 2009
---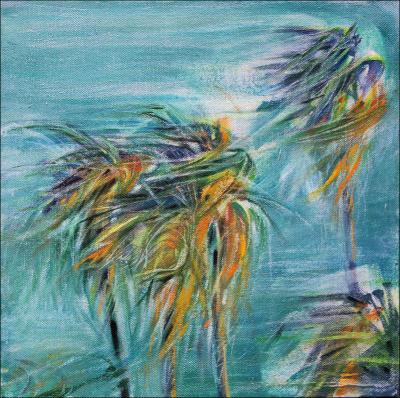 Chapala Wind – Lake Chapala, Mexico, 11H x 11W x 3D inches acrylics on canvas, wrapped sides painted. Thumbnails: phase 1 and 2 in progress.
Sprayed alcohol loosened the paint and I was able to scratch it, at first with my nails and then a pottery tool. Thanks to Karen Xarchos for all the feedback and additional information. We worked together painting murals in Ottawa for a couple of years. Karen has done extensive work in restaurants and homes in the Ottawa area.
Thursday, February 26th, 2009
---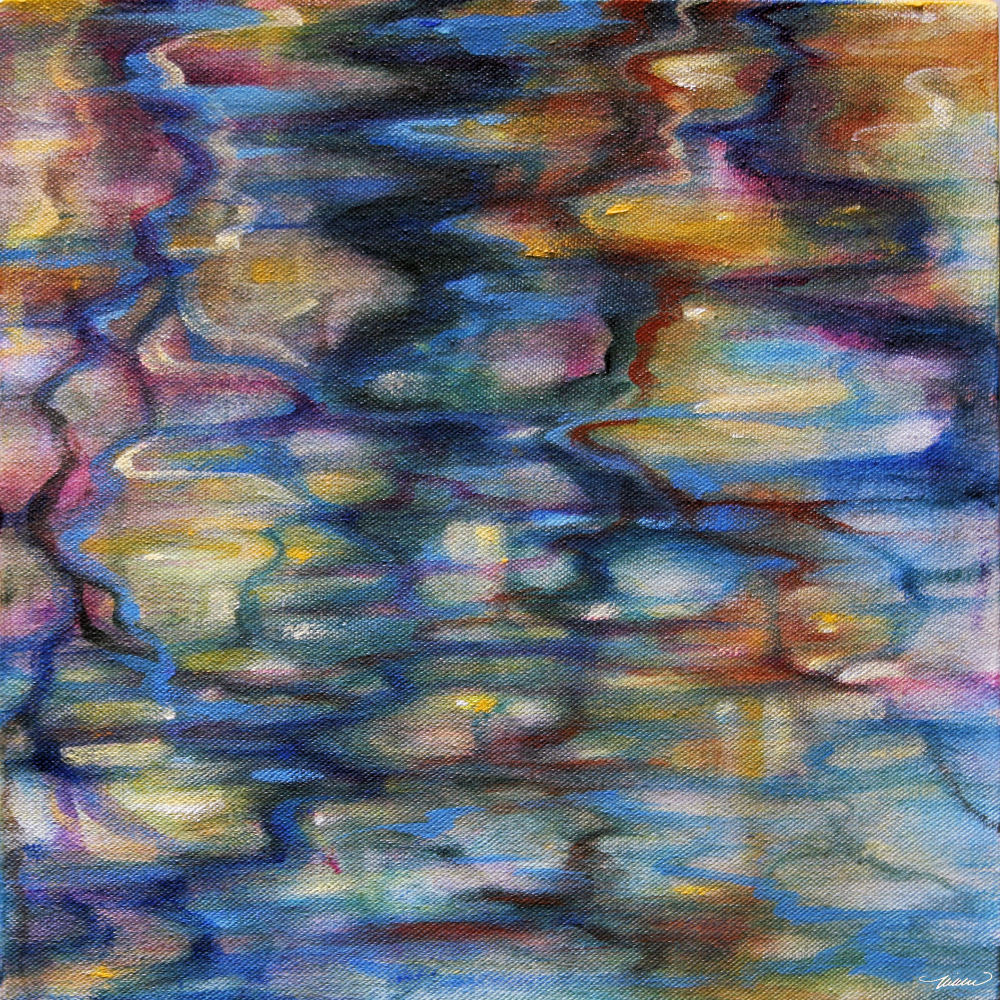 Winter Reflections, winter in Coppell, TX, 11 x 11 x 3 inches, acrylics on canvas, wrapped sides painted.  Most of the Magic Square series paintings are signed on the side, so the images on the blog show a superimposed signature.
---
$350.00           

---
Sunday, June 15th, 2008
---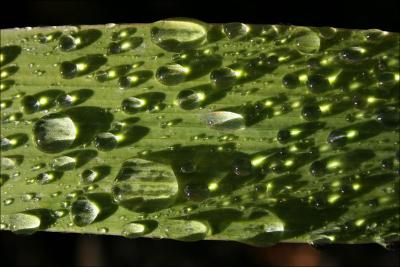 « Previous Entries