sunsets
« Previous Entries
Saturday, November 25th, 2017

Mountain Fantasy 01, 6W x 2H inches watercolors
Monday, April 17th, 2017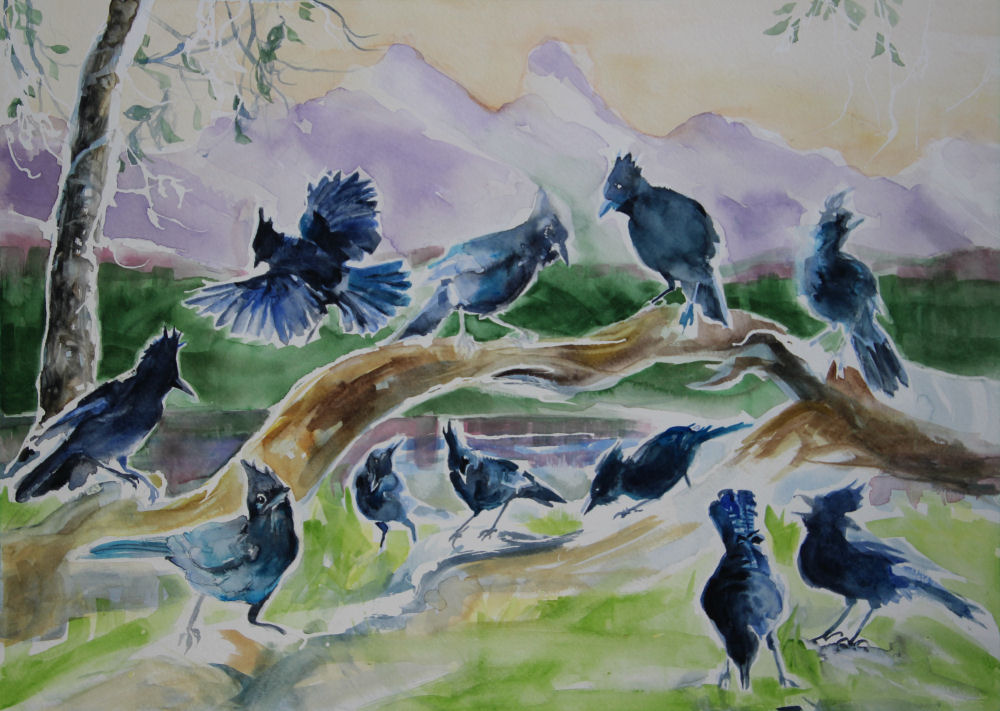 Work in progress, Stellar's Jays at Nimkish Lake, Vancouver Island BC, 18 x 24 inches watercolors on 140 lb. cold press. For years I've been visualizing a painting that portrays the Stellar's Jay in various poses, representing general character. My Dad pointed out that Stellar's Jays don't usually group this way, which is an accurate view of the broader behaviour that didn't even occur to me. Interesting! Phase 02 below and detail image – the yellow is masking medium:
Normally I don't outline anything when starting a painting, which works fine with acrylics because it's easy to change things throughout the process, but watercolors don't allow for much room for error, especially if you don't have much practice with them. Wingin' it usually works for me because I don't mind failure in exchange for experience, but mapping out the shapes and arrangement lightly in pencil really helps, and confidence is fundamental to painting well.
Saturday, February 7th, 2015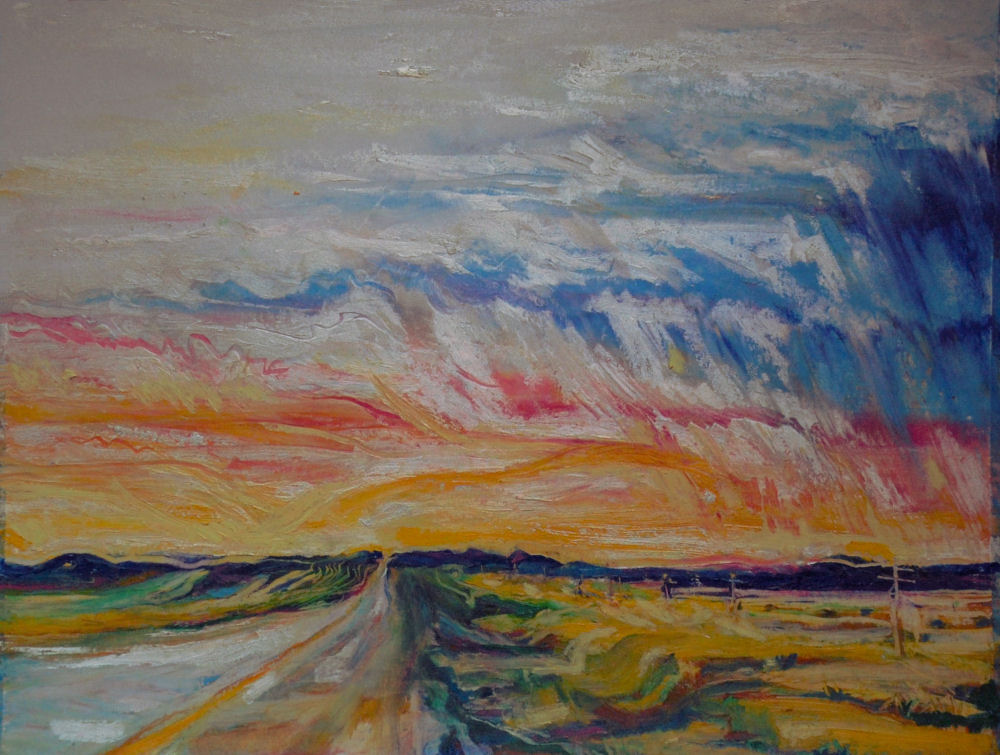 New Mexico Sunset, 11 x 14 inches oil pastels on paper
Tuesday, October 6th, 2009
---
Saint Catherine's Sunset, Ontario, Canada – 11H x 11W x 3D acrylics on canvas, wrapped sides painted, showingOctober 1 0 – 31st, 2009   500X Gallery  Open Show: Landscape, 500 Exposition Ave. Dallas, TX. Opening Reception Saturday, October 10th, 7:00 p.m. – 10:00 p.m. 
Oxide Gallery 1st Year Anniversary celebration today, Tuesday October 6th,  6:00 p.m. – 9:00 p.m. Happy Anniversary Oxide Gallery!
I'll be giving a demo on the use of Masking Fluid in acrylics paintings, so come and reveal one painting by helping to peel off the rubberized mask – I don't even know what it looks like underneath, so it will be a surprise for all of us. Techniques on applying the fluid will be demonstrated on another painting already in progress. Three pieces accepted in the current show at Oxide Gallery are:
Friday, February 27th, 2009
---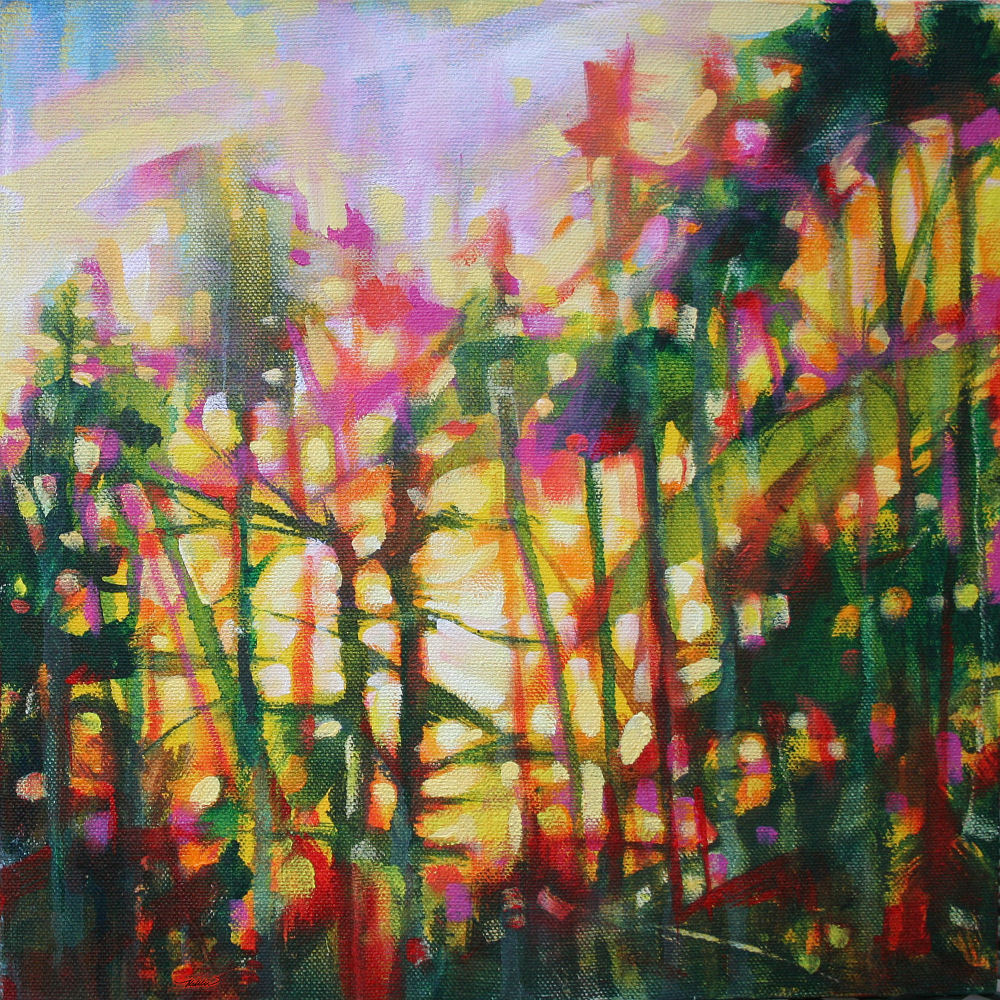 St. Catherine's Sunset Ontario, Canada just north of Niagara Falls, 11H x 11W x 3D inches acrylics on canvas, sides painted. The signature is on the side, so one has been superimposed here on the front.
There is no one method for starting a painting.  When faced with a blank white surface, sometimes our mind can go blank too. When that happens I use a base color that inspires energy. Here, water and paint were dripped down a wet surface of Hansa Yellow Deep. Painting intuitively with a wide raggedy old brush, the fraying bristles are used to advantage, and those marks direct how the painting proceeds.
This painting is dedicated to my Mom, born in St. Catherine's, Ontario, Canada whose birthday was two days ago.
---
$350.00           

---
Wednesday, August 6th, 2008
---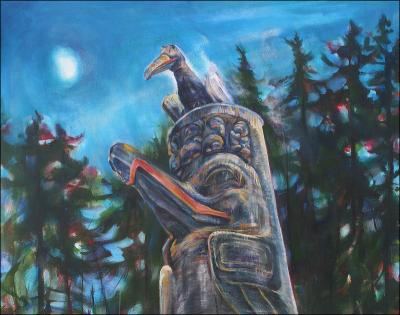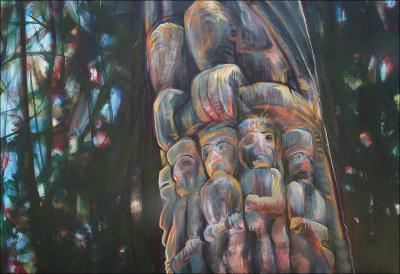 Started July 17th, I've tried various ways to have our eyes sweep up to the top half of 'Magic Hour', like creating an abstract of wide brushstrokes of dark and light,representing background trees, plus scrubbing areas away that almost hide the bottom characters. It's covered up now with more paint, but I may return to that idea when proportions are corrected.
A camera captures all the details, but when we look at something our eyes focus only on one area at a time. In a photo, with the bottom portion of the totem clear it makes sense, but not in the painting. Most of the detail here will be toward the top of the statue, but the bottom deserves as much attention, just have to resolve the illusion of detail without too much attention there. The colors are starting to come together in a way that will imply light from the sunset and moon glow coming from opposite directions.
A word here about artists' appropriation of First nations or any other cultural/historic works: subjects are painted with due honor and respect, with purpose to study and draw interest to the importance of appreciating our multi-cultural world and the unique characteristics of each and every culture…this is what artists do. Our differences as cultures are reconnected, as there are many common traits and themes expressed through Art through all of time, everywhere.
Robert Genn and readers of The Painters' Keys have some very interesting comments all around the board about this topic.
Sunday, August 3rd, 2008
---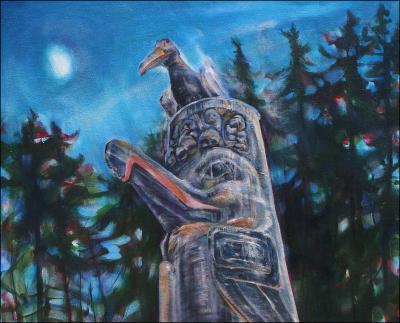 Magic Hour detail image, top half of 60H x 40W x 3D inches acrylics on canvas, sturdy home-built core stretcher frame, wrapped sides painted, work in progress. I decided not to lighten the background after all — am leaving the background as-is with loose brushwork in contrast to the totem pole which will be much clearer. To achieve the weathered look I'm using a dish-washing scratch pad to remove some of the paint.
Wednesday, July 30th, 2008
---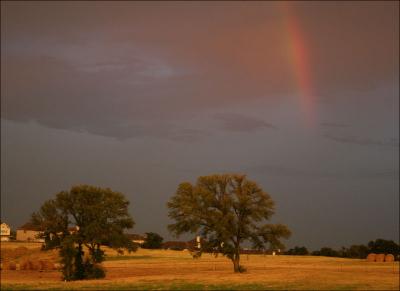 Rainbow at sunset and Oak trees, Lewisville Texas
Thursday, July 24th, 2008
---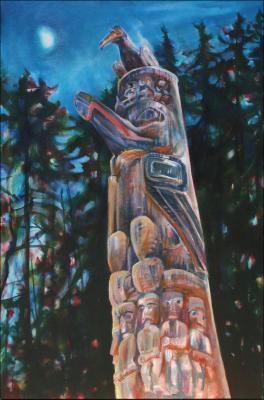 Magic Hour, 60H x 40W x 3D inches acrylics on canvas, work in progress.
Art history is human history. What we call Art is the expression of individuals finding connection with our humanity; who are we? How do we respond to our surroundings and who are we in relation the things we depend on for survival? Standing in front of the Totems I realized that the answers we sought long, long ago are the same, and the things we love now are the same things people have always loved. As Artists and Art Viewers we'll never  Museum venture far from subjects that speak to the heart.
The originals of all the totem poles erected in Thunderbird Park on the grounds of the Royal BC Museum in Victoria, Canada are now protected from the effects of weather inside the museum. The totem portrayed in this painting is a replica of the Gitxsan Pole that was moved in 1958 from Kitwankool, BC. This version of the pole is named Skim-sim and Will-a-daugh, belonging to Chief Wiha (Wee-kha, Ernest Smith), the chief of the Wolf Clan: only the top 3/4 of the totem is portrayed. Due to deterioration caused by weather, the originals of all the totems in Thunderbird Park are now erected inside the museum and are replaced with replicas carved by Mungo Martin, chief carver, Henry, Tony and Richard Hunt (this one 1960).
Symbols/crests: The bird at the crown is a giant woodpecker (wee-get-welku). Legend reads that a female ancestor kept a pet woodpecker, feeding it so much it grew to be a giant monster that ate everything made of wood until it was killed. It sits atop 5 human figures who stand on the head of the Mountain Eagle (Skim-sim),  who kidnapped and mated with a woman then devoured their offspring. The eleven small figures are humans fishing through holes in the ice. Under them and not pictured in the painting is Will-a-daugh, also known as "Person With a Large Nose", holding her child who was conceived from a wood grub.
Thursday, July 17th, 2008
Magic Hour, 60H x 40W x 3D inches acrylics on canvas, wrapped sides painted, work just started. This is the top half of the magnificent Gitxsan Totem pole, one of the Haida totems in Thunderbird Park near the Inner Harbor downtown Victoria, B.C.
The drawing is sketched with Alizarine Crimson and Red Oxide base. We were there a week ago just as the sun set, shining light on the right side of the totems and rising moon light lit the left side. I changed the tree silhouette to a typical B.C. horizon of tall Red Cedar, whereas the trees in that park are Maples.
« Previous Entries