sunrise
« Previous Entries
Sunday, November 22nd, 2009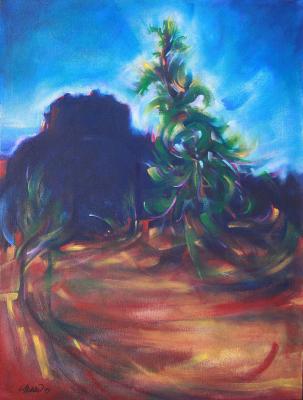 Dawn at Bell Rock, Arizona 24 x 18 x 2 inches acrylics on canvas, finished today. Below: phases 01, 02 and 07
Wednesday, May 21st, 2008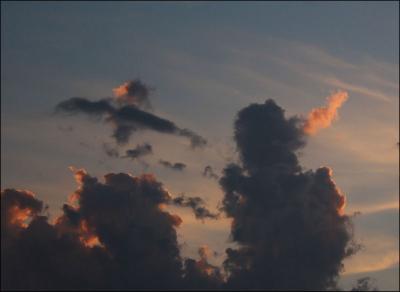 Saturday, March 1st, 2008
Diamonds In The Rough: Early morning melting frost, still slightly foggy, enough sun to make the water sparkle, and a Mayfly appearing at exactly the right moment… now these are my kind of diamonds!
Great White Egret, Andy Brown Jr. Park, Coppell, Texas
The photo it was digitally changed to black and white and the contrast was clarified, but the added Mayfly was Nature's idea.
Wednesday, January 16th, 2008
A New Day – 20 x 26 inches Dry Pastels, finished. Framed size approx. 23 x 29 inches. The above image was taken as a photo, and the colors are not quite accurate, so see details in the following thumbnails – scanned; colors accurate.
Tuesday, January 15th, 2008
A New Day 20 x 26 inches Dry Pastels on scarlet orange charcoal paper –  Day 1 and Day 2 (work in progress).
Using pure color has an incredible effect and change on the mood; mine, and in the work. Metaphorically, it feels like a brand new day!
Tuesday, December 18th, 2007
December17, 5:21 p.m.
November 17, 6:55 a.m.
Almost every evening year-round I'm drawn outdoors by the change in lighting, just before sunset. Called Mackeral Sky, stripes and mottled cloud formations like this precede a cold front, and occur during any time of day, but are most dramatic during sunrise and sunset.
Monday, October 1st, 2007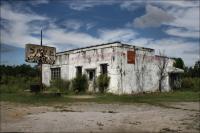 Alain and I flew to North Carolina for three days ( a little business trip and I tagged along—he threatened to take my camera with him and I was sure I could not manage without it!) We drove around the eastern countryside between Raleigh and Washington (NC) through old, old towns (it takes a looong time for wooden doors to shred, and a looong time for conditions to be just right for vines to sprout then twirl round and round, entwined and squished between panes of glass!) …old, old farms: tobacco, cotton, peanuts.. and an interesting gas station.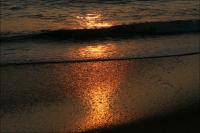 There is a lot of history in NC – fossil, human/settlers and Civil War history. We stayed at Kitty Hawk (first flight – Wright bros.) and walked the shores at various places along the narrow coast of the Outer Banks. We watched the sun rise and dolphins feed – too far away for good photos, even with the telephoto. As soon as the sun rose they swam away.
Along Cape Hatteras, groups of Grackles ate ripe grass seeds, bouncing up and down on the stems, their bodies too heavy for the tall grasses.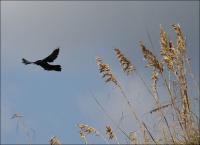 On Pony Island a large sand crab tried to buff up and look tough, but it was quite vulnerable there out in the open; all the other crabs scurried into holes but this one stayed, trying to hide in footprints, which offered no protection if we had been birds looking for a hearty meal.
Great fun to watch the behavior for a while. It's clearly outlined crab-shaped shadow following it everywhere, creating a few graphic photos that are perfect resource material for drawings and paintings but do not stand alone as good photography because it was moving so fast.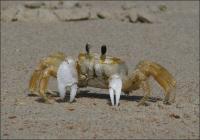 Just off the 2 1/2 hr. long ferry at Swan Quarter, and sunset with a short, wide rainbow after a storm that we managed to escape and watch from the better side.
NO OLF – we were curious about this sign in many people's yards. The following website shows a video describing how the U.S. Navy has purchased over 30,000 acres of land near the eastern North Carolina coast, planning to move their pilot training program from Virginia.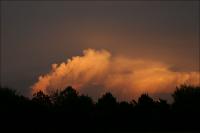 Part of the huge controversy is that over 75 families would be forced to leave their homes, many of them farming that land for generations. The human issues are enough, but the cause and effect on the wildlife and ecology would be drastic and irreparable. Thousands of ducks and large flocks of snow geese that feed in the area annually would no longer have sanctuary. The large birds would also be a danger to the jets.
http://www.youtube.com/watch?v=3XDmC1LD1Kc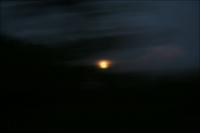 …and what Nikki-story is complete without a moon?
Friday, August 31st, 2007
         Beauty – the moon, the sun, and a routine of daily painting!
Monday, January 15th, 2007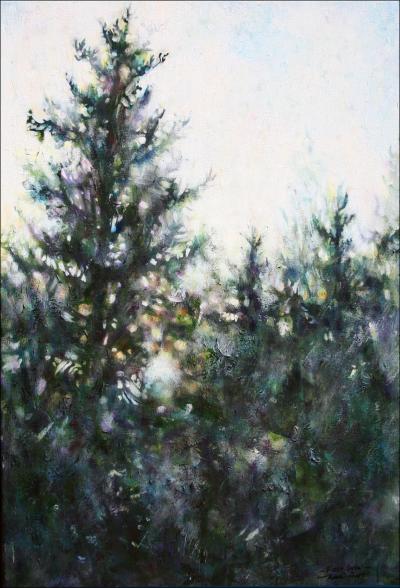 36 x 24 inches acrylics and crackle medium on wrapped canvas
First Snow has many layers and blobs of paint. A damp cloth dipped in white was wiped lightly across the textured surface to create the effect of snow powder. The scene is of tall Spruce trees in Calgary (Alberta) where on September 1st, the day I was to return to Dallas, I awoke to a gentle snowfall and powder on the trees.
This was an experiment to see if crackle medium could help give an impression of snowfall. The painting may need another layer to create more depth in the main large tree, but for now hanging it and studying once in a while is a good way to evaluate if work is finished or not.
Thursday, November 30th, 2006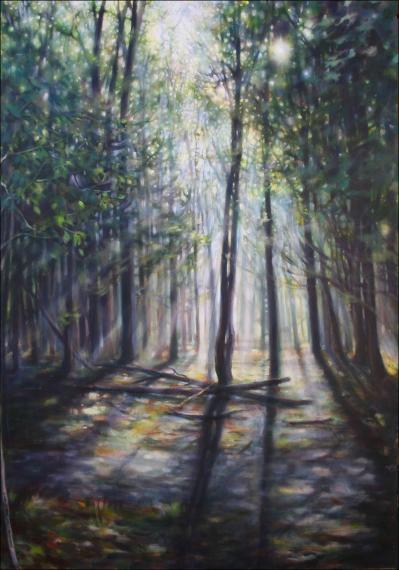 Morning Light – 59 x 40 x 2 inches Acrylics on stretched canvas, narrow frame stained dark brown
Post dated note: Morning Light was accepted into the 2007 American Juried Art Salon's Spring/Summer Juried Exhibition online, and Studio 2600 Light, Shine and Sparkle Dec. 2007 – Jan. 2008.
« Previous Entries