Smile
« Previous Entries
Wednesday, September 6th, 2017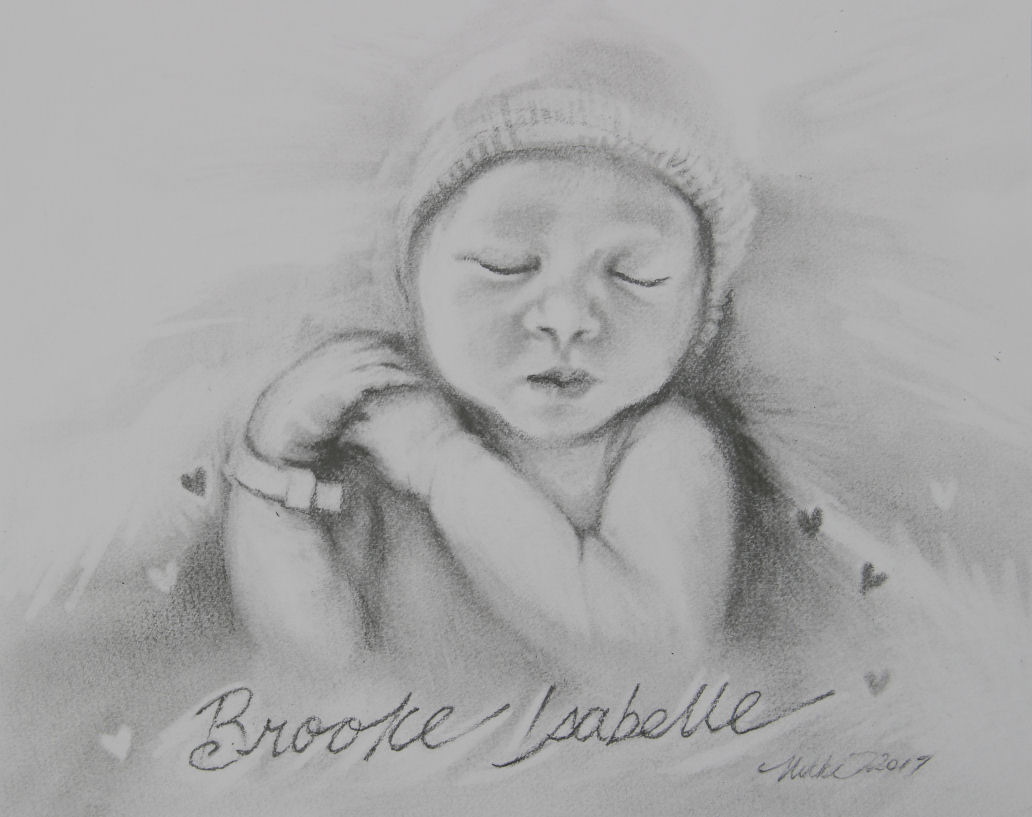 Brooke Isabelle, my neice's daughter born last week, 11 x 14 inches graphite on paper. She looks like a cherub in the photo used as reference, so I subtly impled wings in the background.
Friday, October 12th, 2012
---
Colours For Cameron, 24L x 8H x 6D inches, mixed media on quilted muslin over cardboard pages
"Colours For Cameron" (Canadian spelling!) is composed over five deconstructed heavy-duty cardboard children's books bought at a dollar store. The Monte head-templates were covered with inexpensive everyday items, so I splurged on unique notions like the $10 monkey button sewn on the 'Brown' page, and the cute little cars and tractors that Cameron loves. Some of the fabrics were fairly expensive, but there are enough remnants to make other similar-style projects in the future.
Each page is a quilted muslin sleeve pulled over the cardboard, and colored fabrics divide each page at the base, where they are all sewn and glued together. Rubber letters were covered with various fabrics, and each page has stuffed colored pockets on the outer edge, inviting chubby little fingers to open them..
Monday, June 25th, 2012
---
"It does not matter how much you see, it matters if you appreciate what you see"
Fintan Fox, 9 yrs old. Below, an angel fish drawn after snorkeling in Figi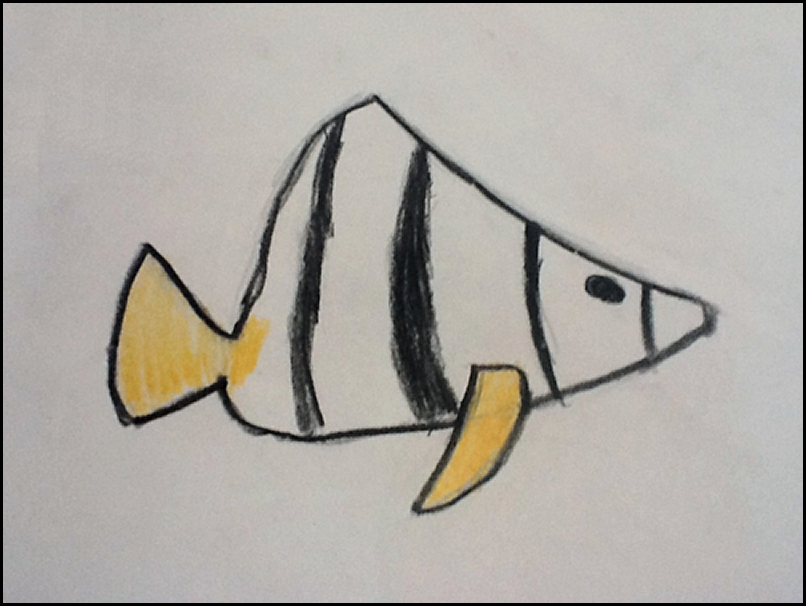 I recently had the pleasure of conversations with nine year old Fintan Fox, the son of a good friend whom I had not seen for over 35 years. My friend Julie and her son, Fintan, both created blogs about their extensive travels beginning in England where they live, to Russia last August, then through China, Thailand, Cambodia, to Australia, Figi, and now through western North America. They are on the last leg of their year-long trip around the world, stopping to visit us in Oregon on their way to Canada.
This drawing is one of Fintan's blog entries, an Angel fish drawn after seeing some while snorkeling in Figi. So impressive! With a minimum of information, the style is bold and confident… simple, yet accurate. Similarly, he writes with matter-of-fact wisdom, and surprisingly well-thought-through opinions. Wow, nine year-olds can be great sources of inspiration.
Friday, May 25th, 2012
---
---
---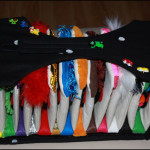 2012: Colors For Cameron
When my grandson was born in 2011, I had already decided to make him a book every year for his birthday. One-year-olds are receptive to colors and textures, so a soft book for Cameron at this age was perfect. Using Monte as my muse, the work evolved into a sort of stuffed toy-book hybrid that is much bigger than was initially planned, but it's quirky, fun to read, and Cameron likes it. Each 6 x 6 inch page is quilted unbleached cotton sewn over heavy cardboard from a disassembled book purchased at the dollar store. I bought a lot of the things there actually, like many of the textured materials, including a dog toy with the squeaker removed and incorporated into the last page. The savings were spent on tractor buttons and more costly embellishments I knew he would like.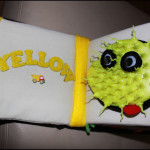 Each page has quilted appliques of Monte in different colors, with big googly eyes. The outer edges of each page have shallow pockets to grab the page, covered whatever textile corresponds to each Monte. The ten or so chubby pages are sewn together – 2 inches of fabric were left on the book's spine-side for that purpose. The combination was then attached to a sturdy cardboard spine with a glue gun. No turning back after that, because hot glue is permanent on fabric. The entire cover of black linen wraps around with straps that Velcro together, creating a handle. Little button-vehicles adorn the handle area – he loves tractors and cars. I'm happy with the finished piece, and so is Cameron. It's one of a kind, like him.
---
---
---
Friday, November 25th, 2011
---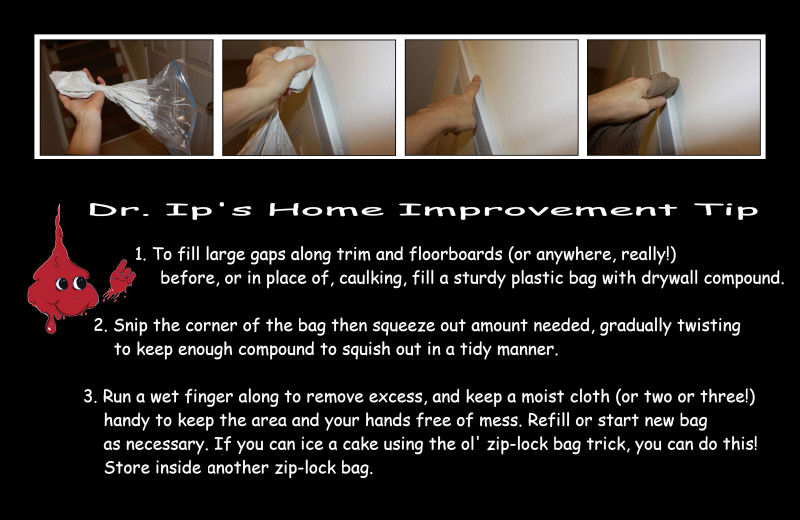 The move west, and renovating homes around that, has unfortunately thrown my career on the back burner. Hence the home improvement tip brought to you by Dr. Ip, another new character based on good ol' Monte, who has evolved since 1974 and still plays a part in my expressions today. He's getting a good work-out these days!
Wednesday, November 23rd, 2011
---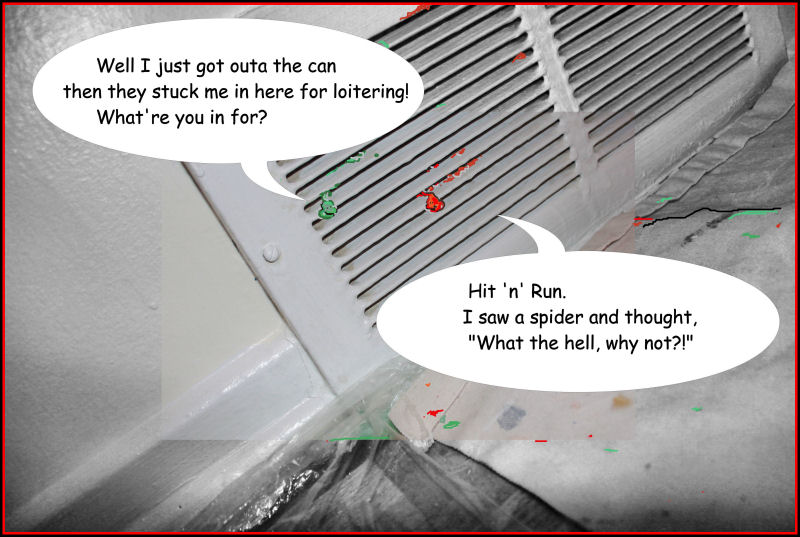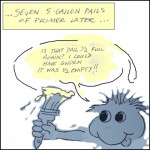 I have a whole new respect for all trades-people! All I've had time and inclination for art-wise are a few little cartoons using my laptop now and then. I'm going a little nutty with all the wall painting here in Ottawa (Canada), so am having some fun with the secrets revealed to me as I work. Monte is optimistic….
Tuesday, May 10th, 2011
---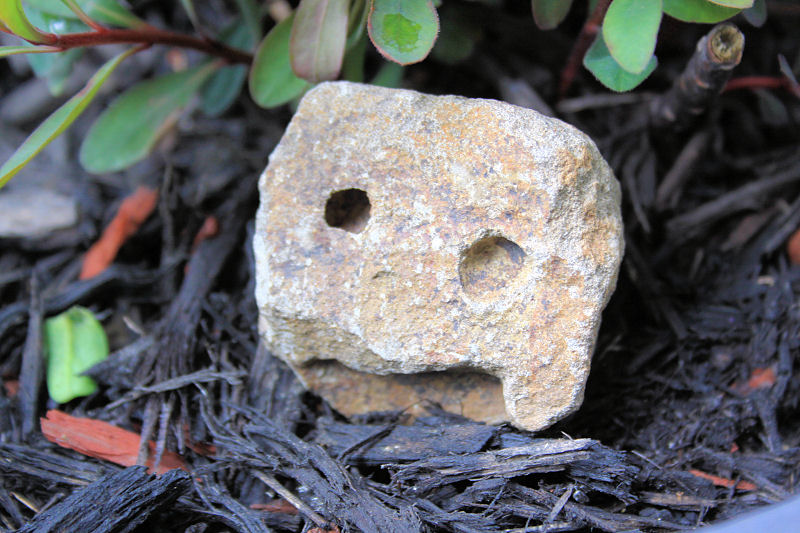 Monte rocks! Who is he?
Friday, October 22nd, 2010
---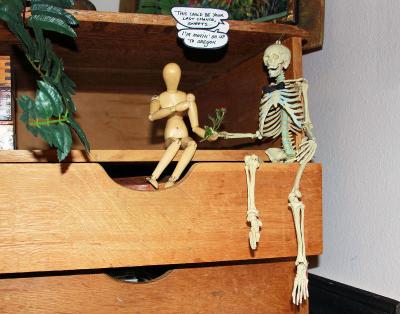 "This could be your last chance, Sweets. I'm moving on up to Oregon."
The Studio Affair saga on previous blog posts:  October 20th, 2009, October 28th, 2008 , October 30th, 2007
That's right, me and all the skeletons in my closet are moving to Oregon, so the painting now is all about walls. I've bought a small 4 x 6 sketchbook, hoping to sneak in some time to do a few thumbnail drawings of my travels this year.
The past six months: starting with driving up to Madison, Wisconsin at the end of April to set up the Dancing With Trees Exhibition, after the show opening, it was back to Dallas then shortly afterward to Singapore for 3 weeks. It was amazing! Two days after returning from Singapore I drove up to Ottawa, Ontario. At the end of June, the drive back down through Michigan.to meet my internet artist-friend, Virginia Wieringa (triple amazing!) then across to Wisconsin to pick up the DWT show, then down through Chicago to drop off Morning Light 01, through the U.S. midwest back to Dallas.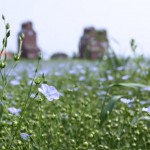 Two weeks later I drove up through Oklahoma and North Dakota into Saskatchewan, then into Alberta. I took so many photos on the drive across Canada two weeks laterthrough the prairies and the Great Lakes region back to Ontario, where I stayed for another 2 weeks. Then back down to Dallas again! During September we found out that my husband is transferred to Portland, Oregon for work. So here we go again. The first week of October we both drove west in separate cars, across the Continental Divide, the red rocks and incredible geography in Utah, finally reaching our future home just outside of the Columbia River Gorge, and on the other side: the Pacific Ocean shores and the Sequoia and Redwood forests. I drove back to Dallas with a truck and trailer to refill, and will make the trip across only one more time before winter – hopefully the weather holds up. I'm excited to get to work again after the move.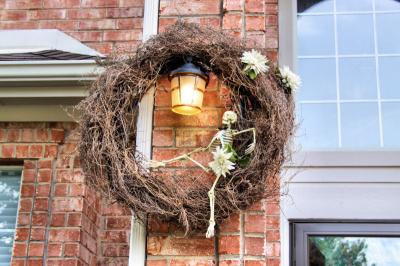 "Oh well, maybe Manequin still needs more time… guess I'll jus' hang around here for a while."
Thursday, June 3rd, 2010
---
Treasures 02, 9H x 12W inches graphite on paper
…and where does one begin such a drawing? With Aladdin's lamp of course.Listed in no particular order, here are the treasures in the above illustration: 1. Spiral-Horned Antelope statue, 2. monkey statue, 3. Woman golfing tropie, 4. Water Buffalo statue, 5. outdated video camera or equiptment – three of, 6. horse head statues – heads only – there are two, 7. what I fondly refer to as "Aladdin's lamp", 8. log-stemmed pipe, 9. duck head statue, 10. Coca Cola alarm clock , 11. statue of three elephants, 12. case of watches, 13. Fish statue, 14. Chinese lantern, 15. ship in a bottle, 16. three vases displayed together, 17. large horse statue, 18. smaller (glass) horse on a glass ball statue, 19. hour glass, 20. out-dated camera
Thursday, February 11th, 2010
---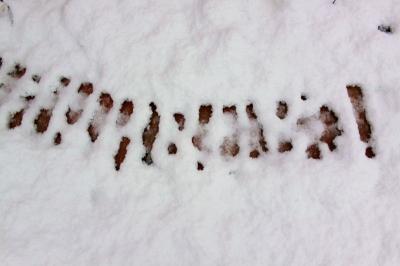 Translation: It's snowing in Dallas today!
It snowed all day, huge Texas-sized flakes. Here, the snow melts on the warmth of the brick-work in the garden.
« Previous Entries