sky
« Previous Entries
Wednesday, April 12th, 2017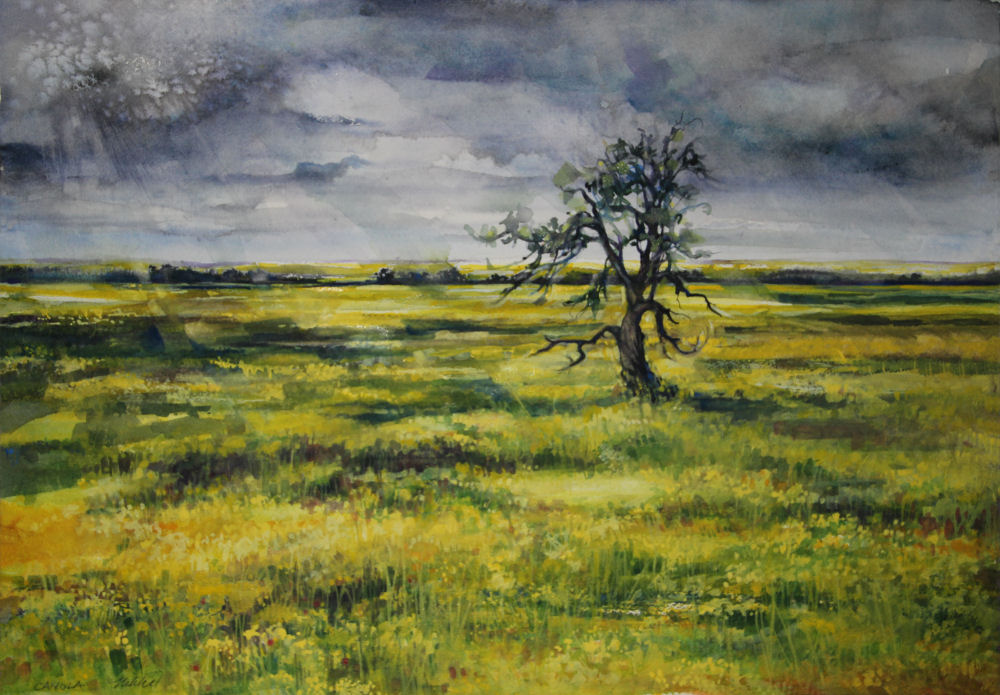 Smoky Lake Canola, Alberta, Canada – 14 x 20 inches watercolors on 140 lb. cold pressed. This is my favorite Summertime memory of Alberta… miles of Canola fields and open, moody skies. The painting started off without the tree but needed a focal point. Detail images:
Saturday, February 7th, 2015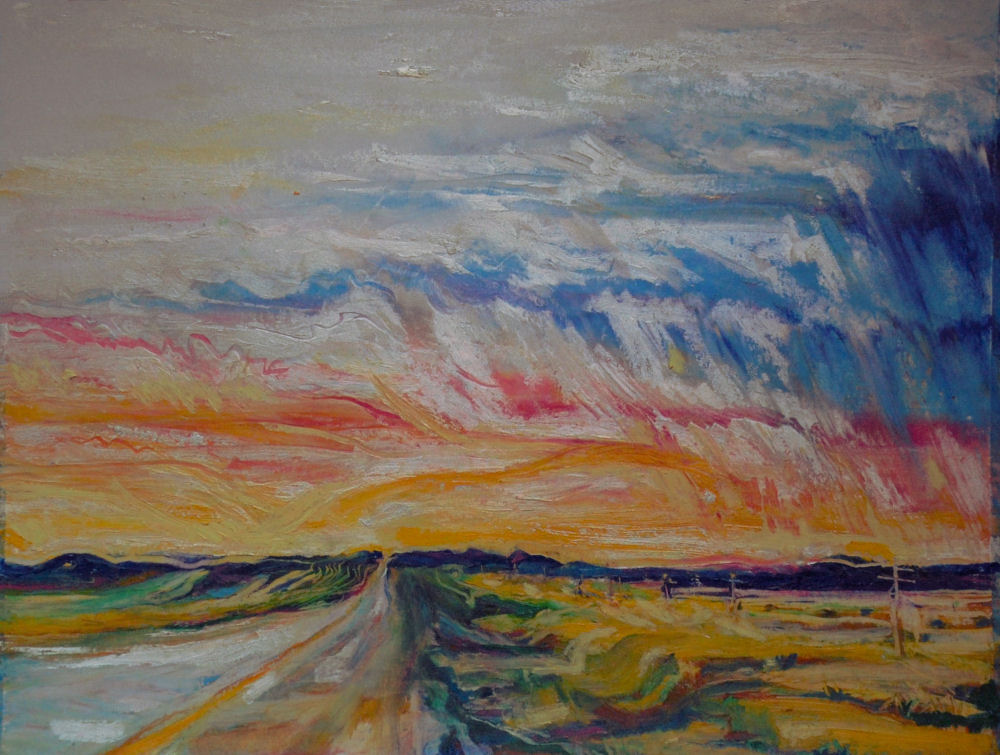 New Mexico Sunset, 11 x 14 inches oil pastels on paper
Sunday, November 22nd, 2009
---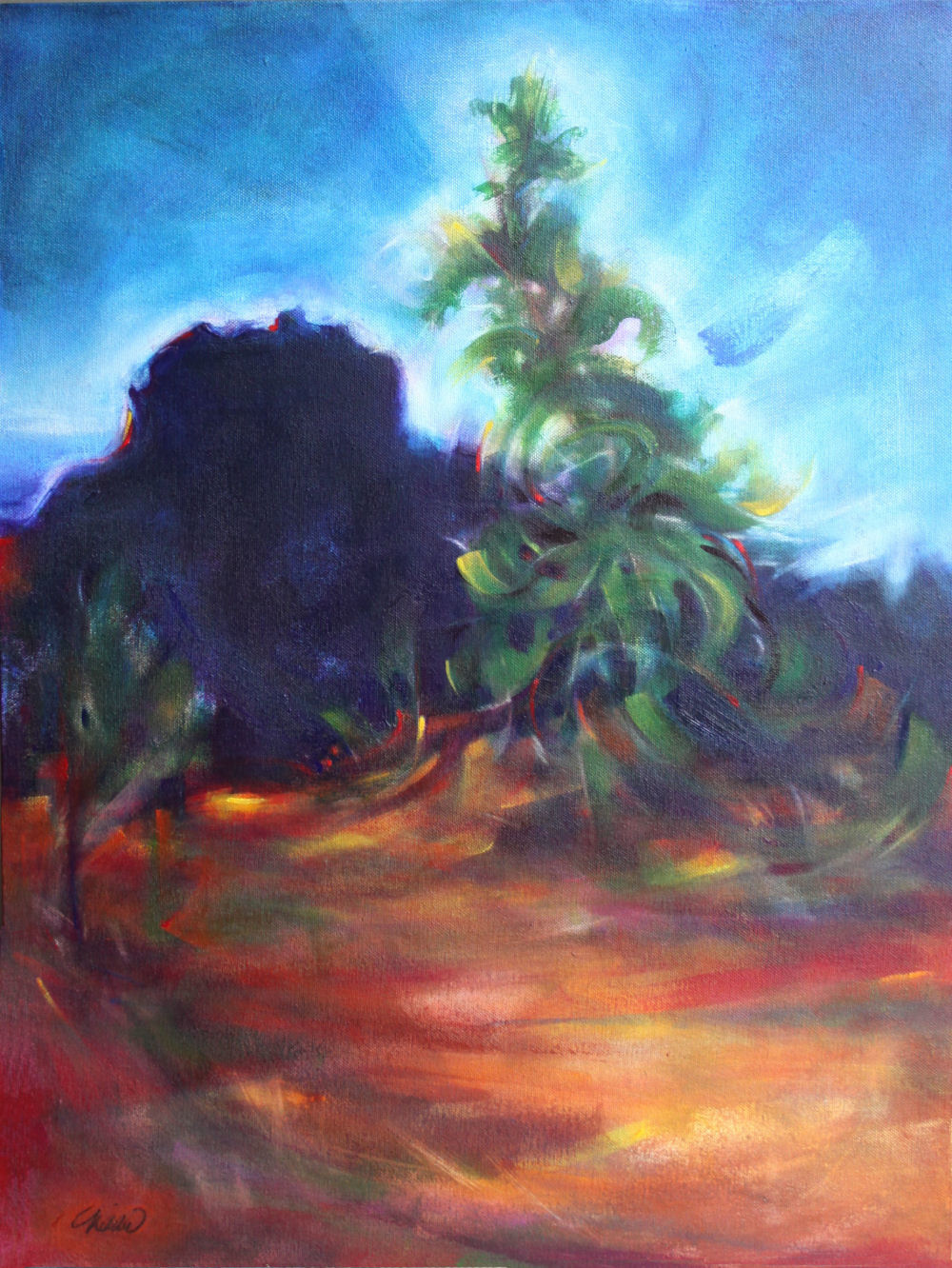 Dawn at Bell Rock, Arizona – 24H x 18W x 2D inches acrylics on canvas, wrapped sides painted, trim frame. Below: phases 01, 02 and 07
---
$350.00          

---
Thursday, March 19th, 2009
---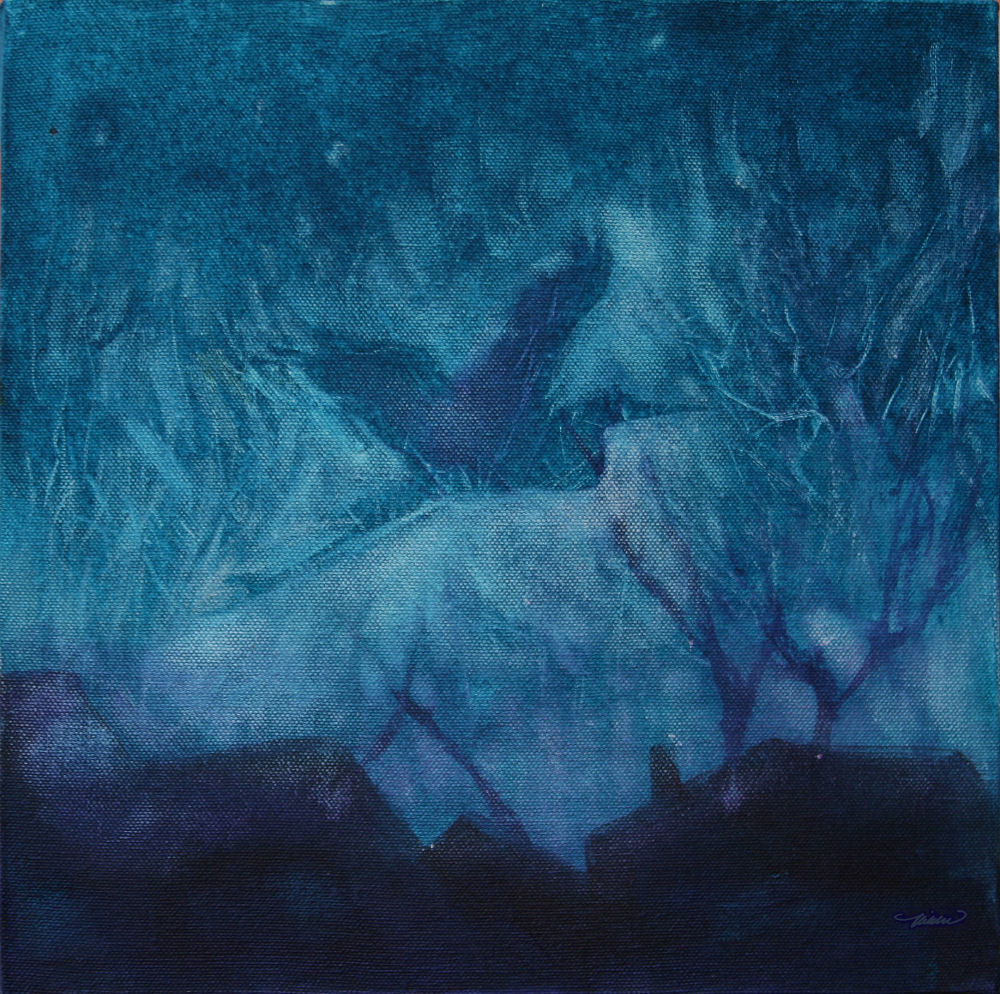 Neighborhood Heron, 11H x 11W x 3D inches acrylics on canvas started with a base coat of very watered down translucent pthalos green mixed with cerulean blue. Spraying rubbing alcohol over a damp painted water-based surface then allowing it to dry without moving it will create starry, spotty textures. Salt shaken over wet paint allowed to dry, then wiped off with a dry cloth will produce similar effects.
Alcohol loosened up the entire surface of paint, so using fingernails under a damp smooth t-shirt cloth, I rubbed off areas to shape the heron and winter trees. This represents a super argument for the wingin' it methods!
In college I took a pottery course for one semester, and the thing I remember most is the instructor saying how it's a good idea to allow some of the raw characters of the materials we work with to remain and "speak" without trying to smooth over and perfect everything. She was of course referring to clay, but over the years I've found that it applies to many other mediums also. In Heron, the branches extend into the body of the bird, connecting it to its environment. The effect also does a subtle play on the motion of its flight too.
---
$350.00           

---
Friday, February 27th, 2009
---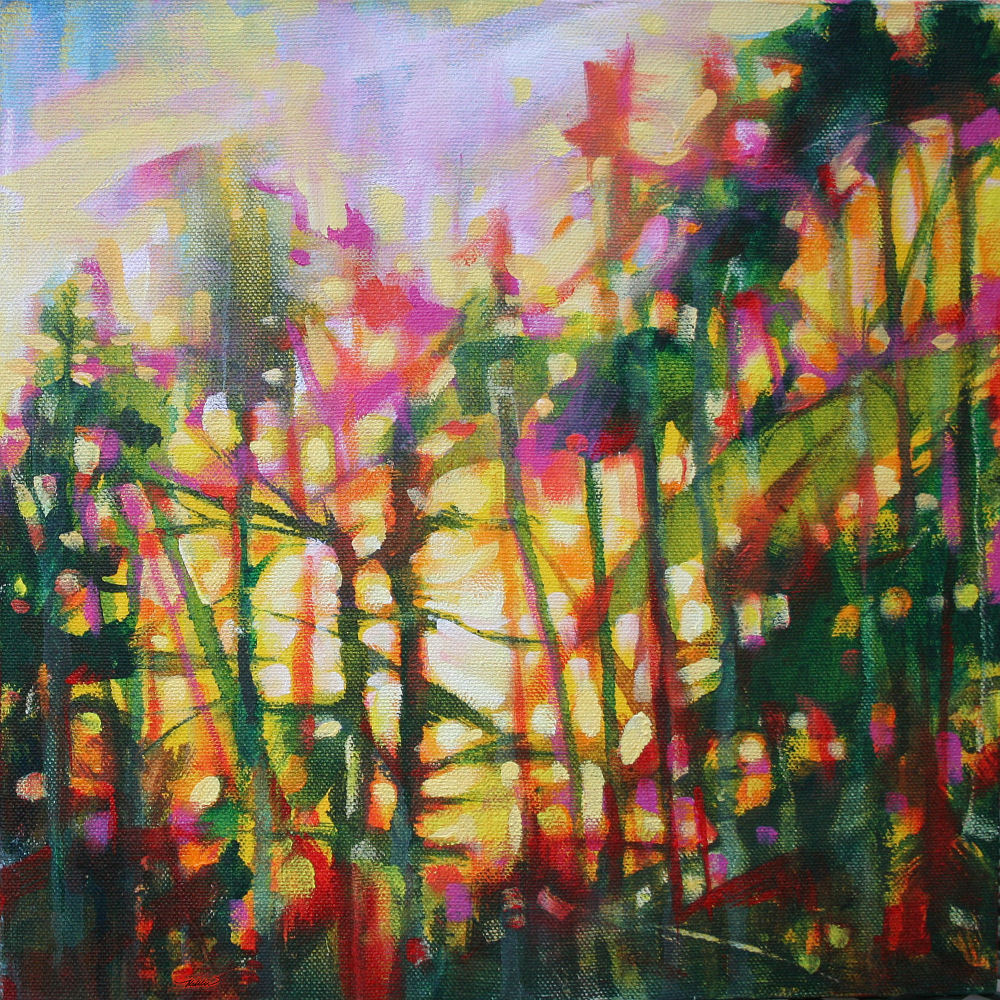 St. Catherine's Sunset Ontario, Canada just north of Niagara Falls, 11H x 11W x 3D inches acrylics on canvas, sides painted. The signature is on the side, so one has been superimposed here on the front.
There is no one method for starting a painting.  When faced with a blank white surface, sometimes our mind can go blank too. When that happens I use a base color that inspires energy. Here, water and paint were dripped down a wet surface of Hansa Yellow Deep. Painting intuitively with a wide raggedy old brush, the fraying bristles are used to advantage, and those marks direct how the painting proceeds.
This painting is dedicated to my Mom, born in St. Catherine's, Ontario, Canada whose birthday was two days ago.
---
$350.00           

---
Wednesday, February 25th, 2009
---
Jack Pine, 11H x 11W x 3D inches acrylics on canvas and detail of right side; all sides painted. Signature is on the side, so one is superimposed here on the front.
---
$350.00           

---
Wednesday, July 30th, 2008
---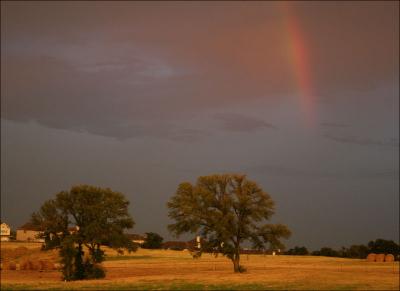 Rainbow at sunset and Oak trees, Lewisville Texas
Thursday, July 24th, 2008
---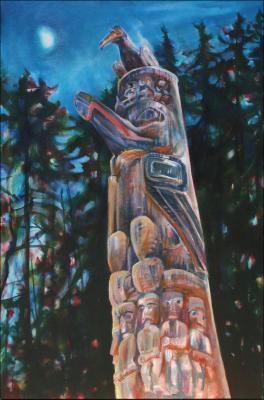 Magic Hour, 60H x 40W x 3D inches acrylics on canvas, work in progress.
Art history is human history. What we call Art is the expression of individuals finding connection with our humanity; who are we? How do we respond to our surroundings and who are we in relation the things we depend on for survival? Standing in front of the Totems I realized that the answers we sought long, long ago are the same, and the things we love now are the same things people have always loved. As Artists and Art Viewers we'll never  Museum venture far from subjects that speak to the heart.
The originals of all the totem poles erected in Thunderbird Park on the grounds of the Royal BC Museum in Victoria, Canada are now protected from the effects of weather inside the museum. The totem portrayed in this painting is a replica of the Gitxsan Pole that was moved in 1958 from Kitwankool, BC. This version of the pole is named Skim-sim and Will-a-daugh, belonging to Chief Wiha (Wee-kha, Ernest Smith), the chief of the Wolf Clan: only the top 3/4 of the totem is portrayed. Due to deterioration caused by weather, the originals of all the totems in Thunderbird Park are now erected inside the museum and are replaced with replicas carved by Mungo Martin, chief carver, Henry, Tony and Richard Hunt (this one 1960).
Symbols/crests: The bird at the crown is a giant woodpecker (wee-get-welku). Legend reads that a female ancestor kept a pet woodpecker, feeding it so much it grew to be a giant monster that ate everything made of wood until it was killed. It sits atop 5 human figures who stand on the head of the Mountain Eagle (Skim-sim),  who kidnapped and mated with a woman then devoured their offspring. The eleven small figures are humans fishing through holes in the ice. Under them and not pictured in the painting is Will-a-daugh, also known as "Person With a Large Nose", holding her child who was conceived from a wood grub.
Saturday, May 31st, 2008
---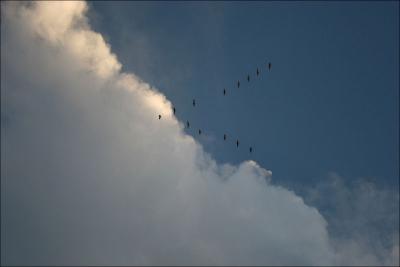 Three nights ago, I was out taking photos of storm clouds in the setting sun, and flock of herons crossed by.
Wednesday, May 21st, 2008
---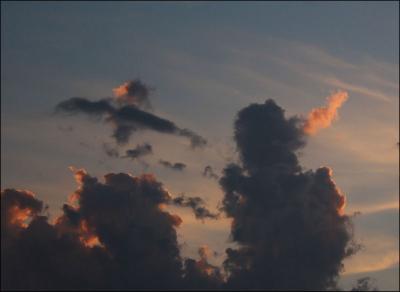 « Previous Entries