Seasonal
« Previous Entries
Tuesday, August 6th, 2013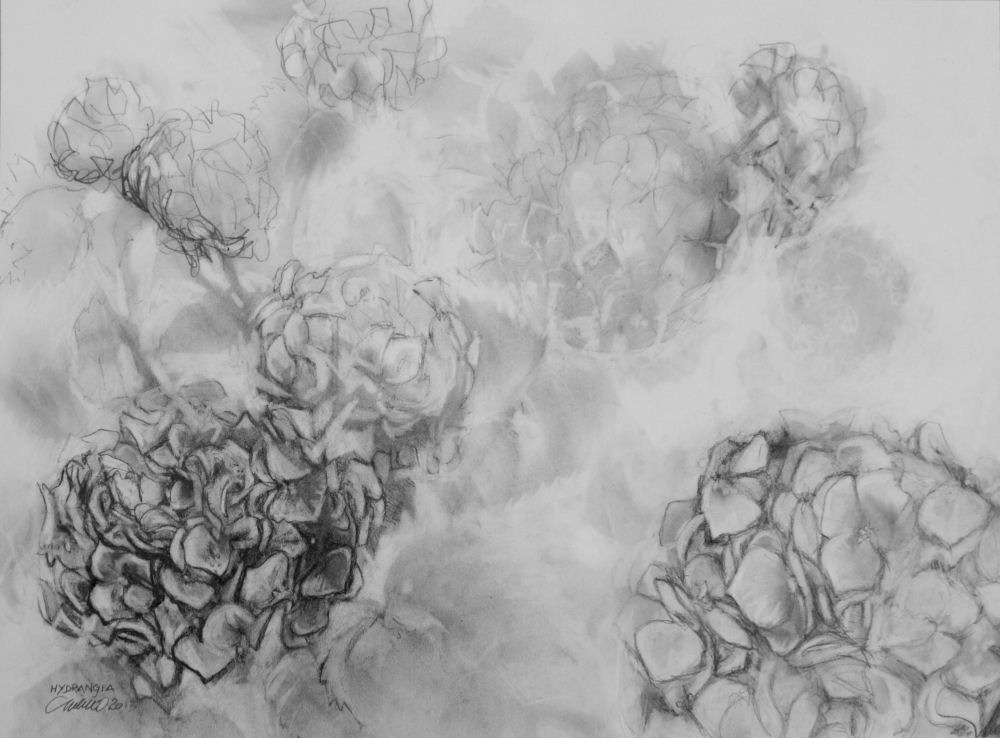 Blue Hydrangea, 18 x 24 inches graphite on 80 lb premium
Tuesday, July 30th, 2013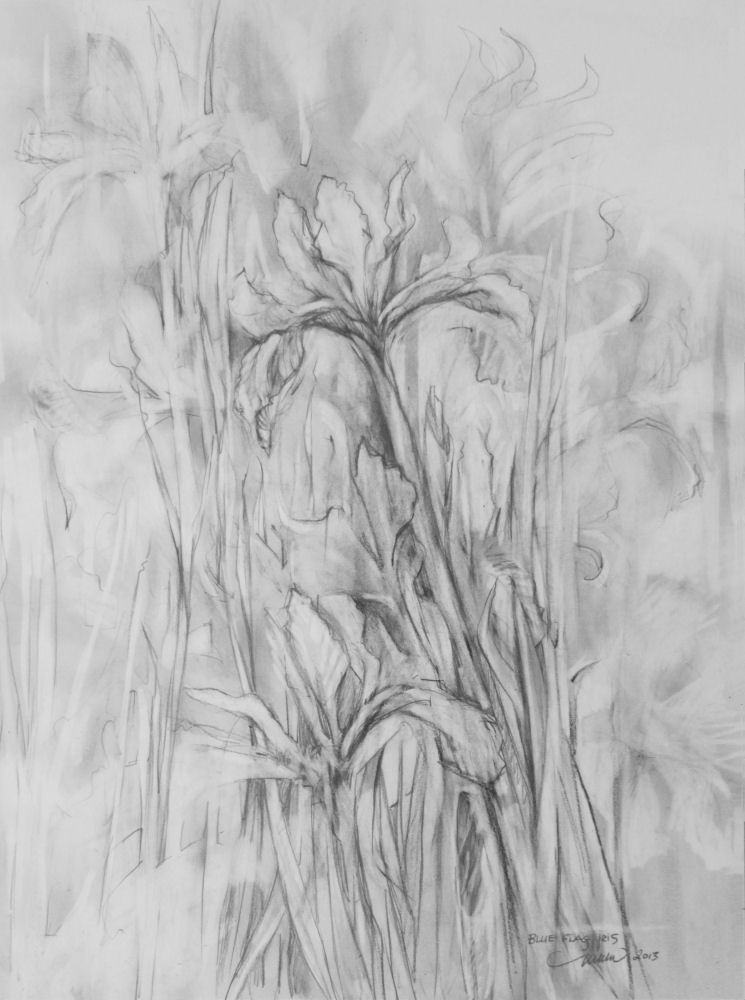 Blue Flag Iris, 24 x 18 inches graphite on paper
Tuesday, July 2nd, 2013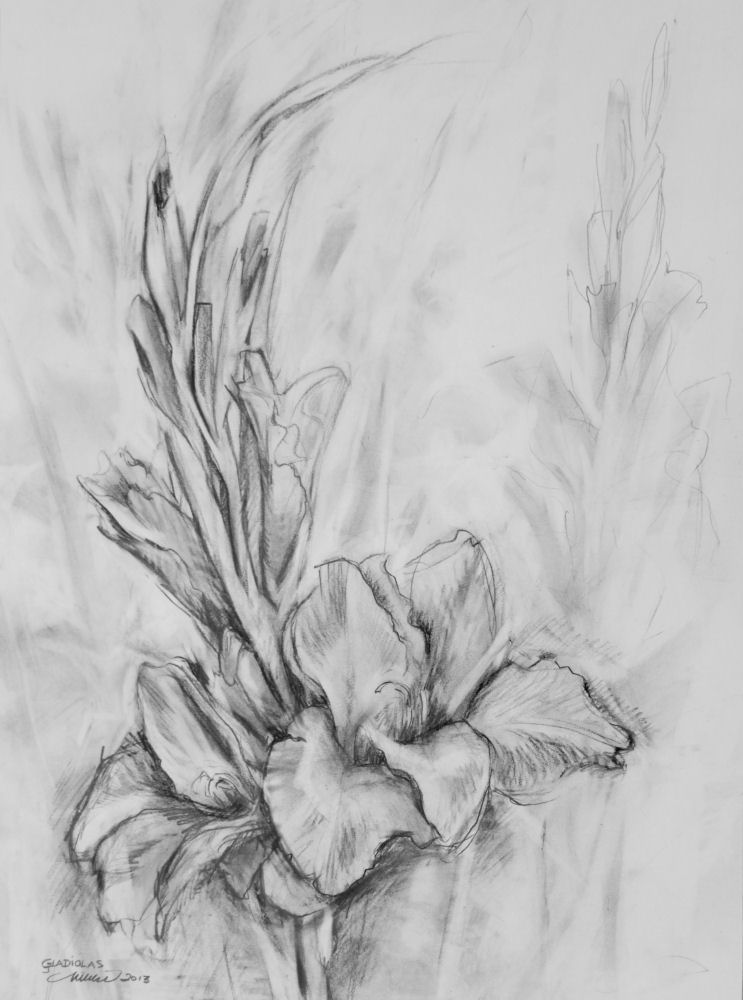 Gladiolas, 24 x 18 inches graphite on paper
Thursday, May 9th, 2013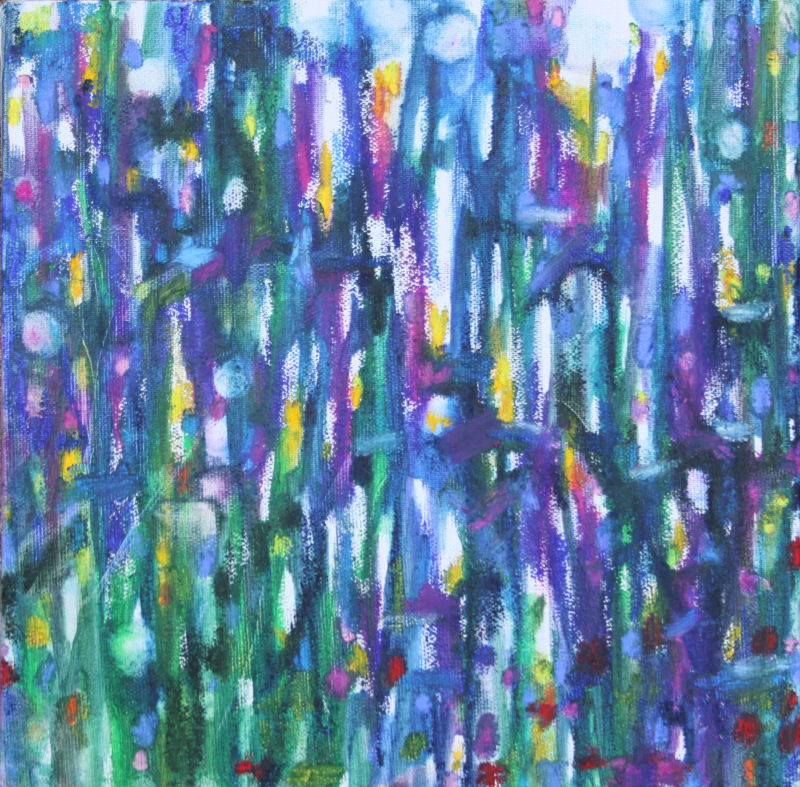 Blue Flag Iris, 10 x 10 x 1 inches  oil stick on canvas
Saturday, April 27th, 2013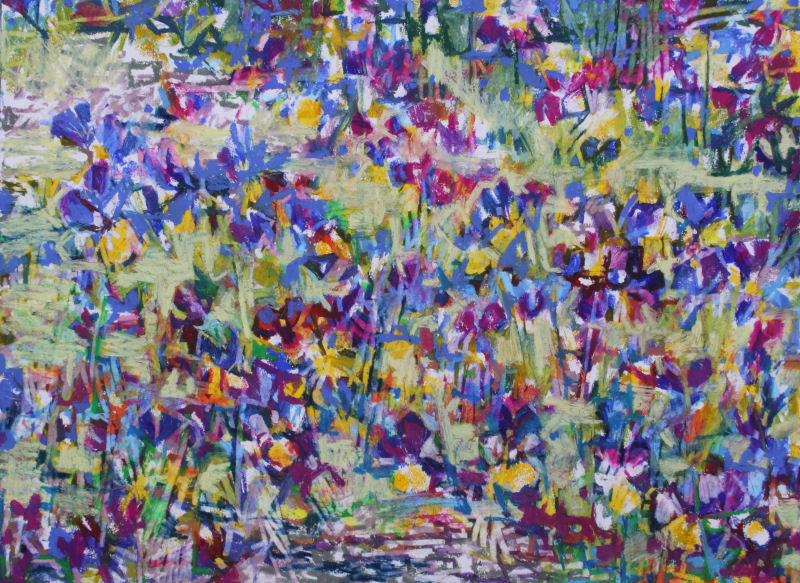 Spring Garden Mix, 18H x 24 inches Oil Pastels on 80 lb acid free
Thursday, April 25th, 2013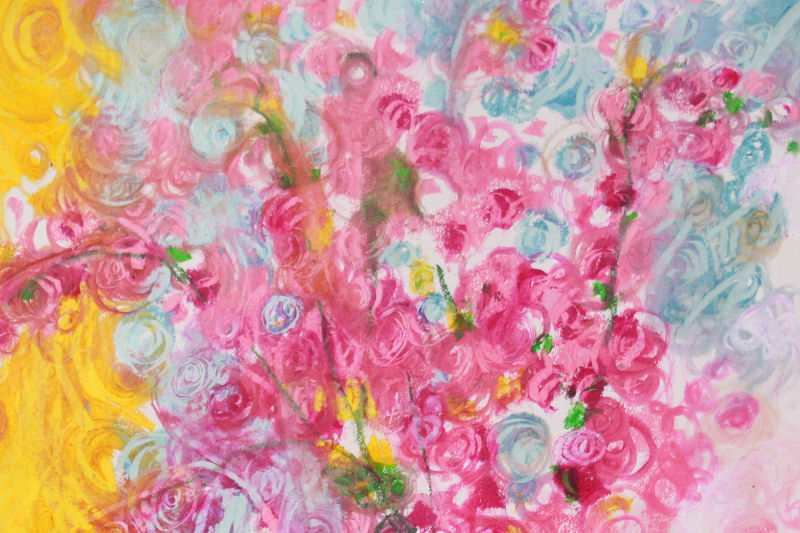 BlossoMania, 12H x 16W inches Oil Pastels on 80 lb acid free, painted with Oil Blending and Glazing Medium.
I've been admiring the round masses clumped on the Plum tree branches in our neighbor's back yard for a week or so now. Yesterday and today, pink swirls in the wind…
Petals are falling, the sky is blue
They cover everything, old and new
If I sit too long, I'll be covered too!
~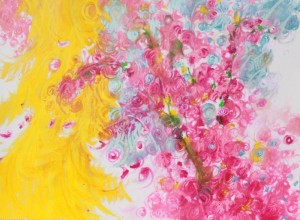 Above: the finished piece, which was cropped from the original size (left), 18H x 24 inches. Blogging always reveals a different perspective. If I had not cropped the original (left image)  in order to post details here, I might never have recognized that the cropped portion is quite complete, and I'm satisfied with it after only a few hours of work.
I still recommend taking work past  its prime once in a while, a decision best made when there's a lingering sense dissatisfaction with it. In order to  push a painting's boundaries and your own to see what's possible, honesty is key, and making the call is different each and every time. Have a look at work from afar or from photos or blogging, and take breaks often!
Thursday, April 18th, 2013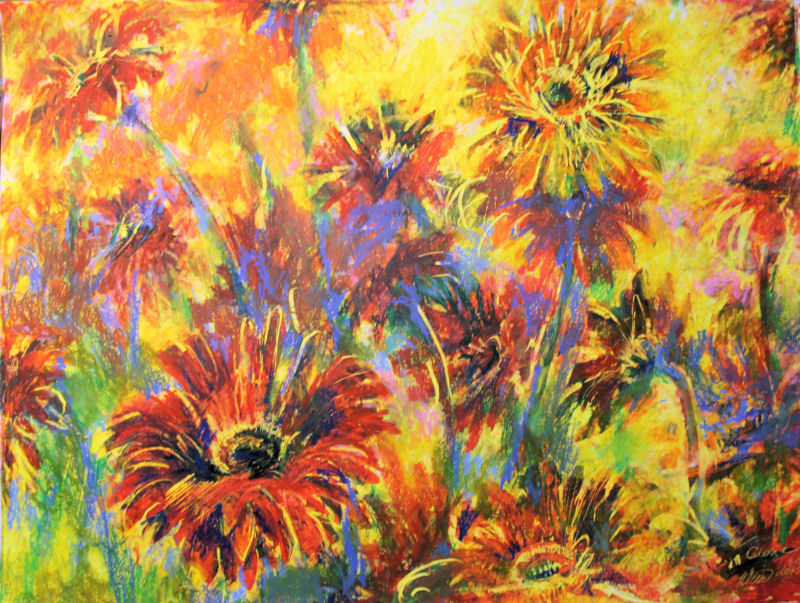 Celosia, April 19th in progress, 18H x 24W inches Oil pastels on 100% cotton paper
I felt as dissatisfied with this piece today as when it was tucked away a month ago, so with nothing to lose, I jumped back in and threw more color around. I splurged today and bought about 40 new oil sticks, and highly recommend the "Sennelier" brand. Wow, they are so intensely colorful and creamy-beautiful to work with! There is no contest as far as quality, compared to any of the other brands I've been using. Tomorrow: the plan is to continue building and removing colors, but not so much that they become muddled. I'm loving the colors – an unusual palette for me.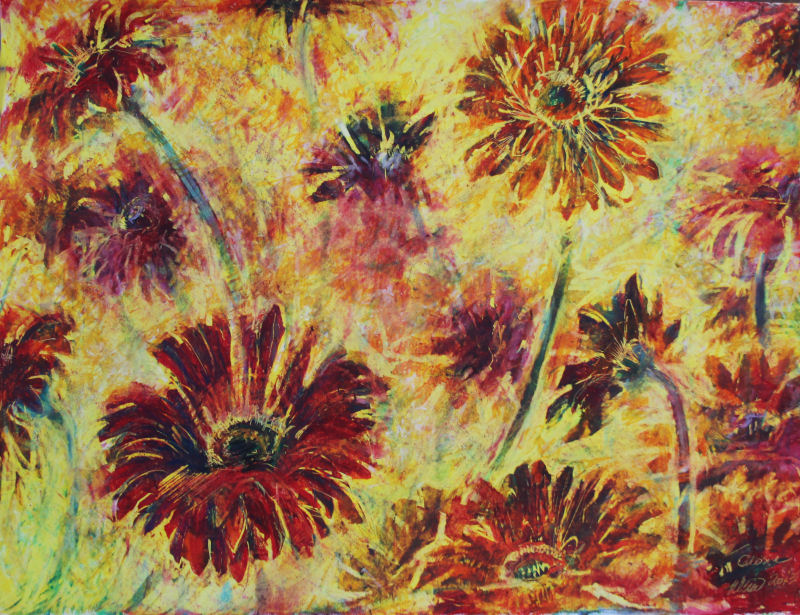 Left, March 22nd, 2013, Day 4 in progress
Reminiscent of retro sofa fabric, now that I see it on-screen! Usually leaving page space showing through to create light and brightness, this time I colored the entire page yellow before starting. Adding white did not help brighten areas much, but did muddle colors, helping some flowers recede. Much of the pure color as seen in the early versions has been covered up or removed, but will be re-added cautiously. The style has also gradually changed to more of a Representational/Impressionistic one. To finish, there will be more scrutiny, and fewer emotional responses before adding or removing anything else.
March 20th through 22nd; Days 1, 2, and 3
Thursday, December 20th, 2012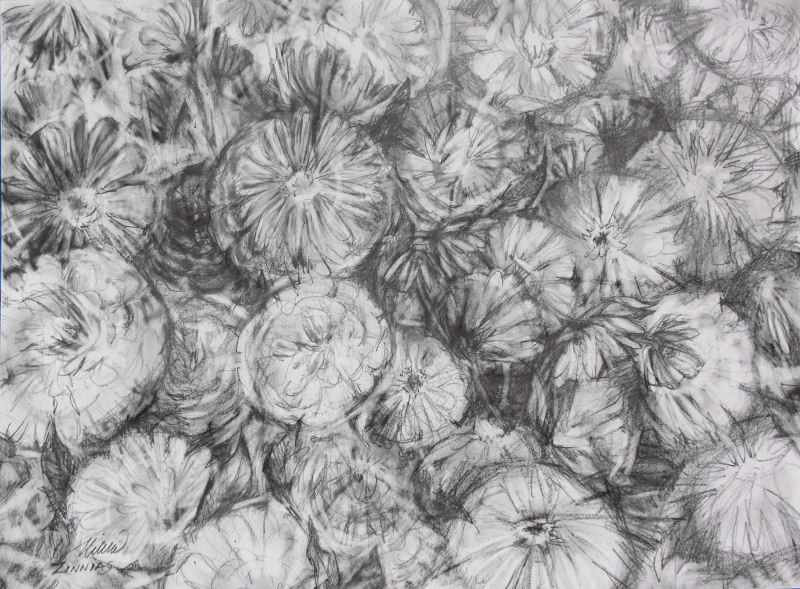 Zinnias, 24 x 36 inches graphite on paper. Using an eraser just as much as the graphite, marks are initially roughed in to fill the page with enough smudges and dark tones to work with; some removed, some detailed. Initial plans were to create a drawing with about 4 inches of grey tones bleeding into a colorful central square to be drawn and painted with watercolor pencils, similar to Chrysanthemums,with borders more defined. However, I got lost in the fun of drawing, and too much graphite would muddle colors. In future I would simply outline the subject lightly first, then add colors, gradually filling in tonal details afterward. Back to the drawing board!
Thursday, December 6th, 2012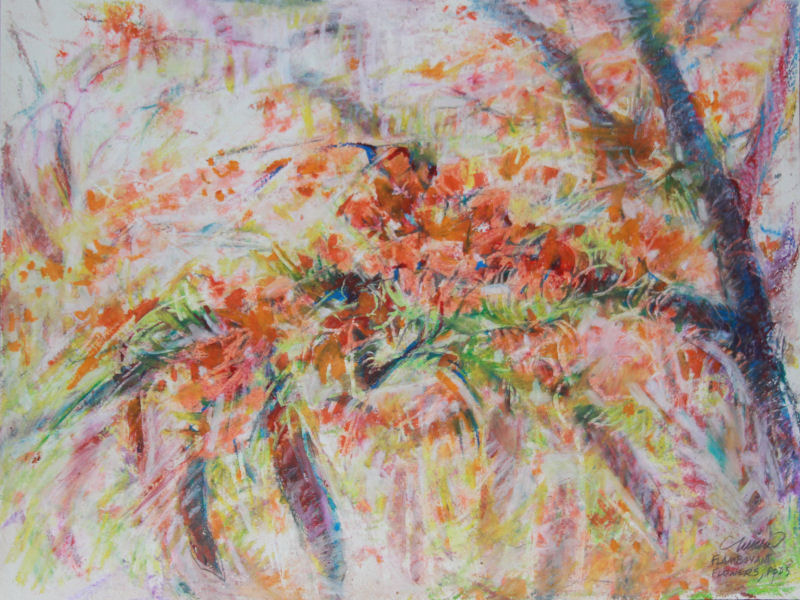 Flamboyant Tree flowers and seed pods (Chapala, Mexico), 9H x 12W inches oil pastels on paper. 

Friday, November 30th, 2012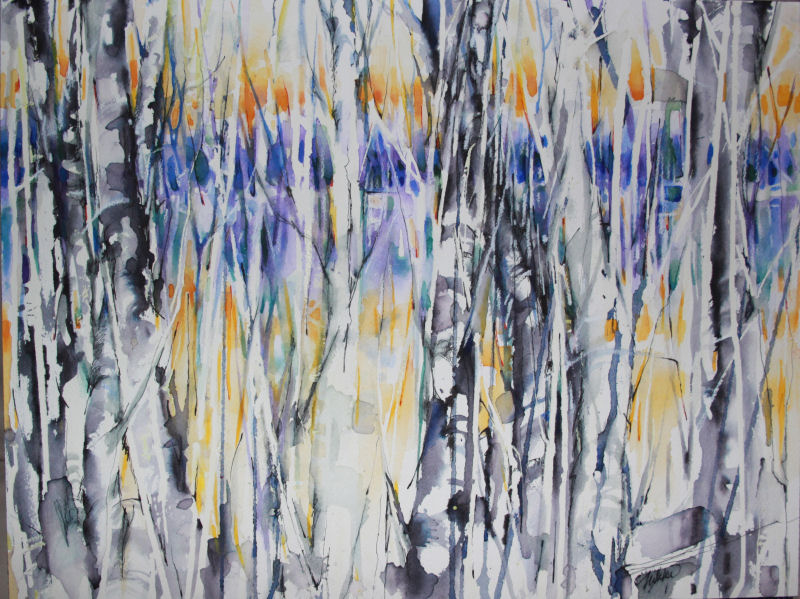 Birch, 12H x 16W inches watercolors on 120 lb cold pressed 100% cotton paper
1. Applying resist medium 2. Watercolors, a limited palette, were also dripped down the page, and colored pens add more details
« Previous Entries