portraits
« Previous Entries
Thursday, June 1st, 2017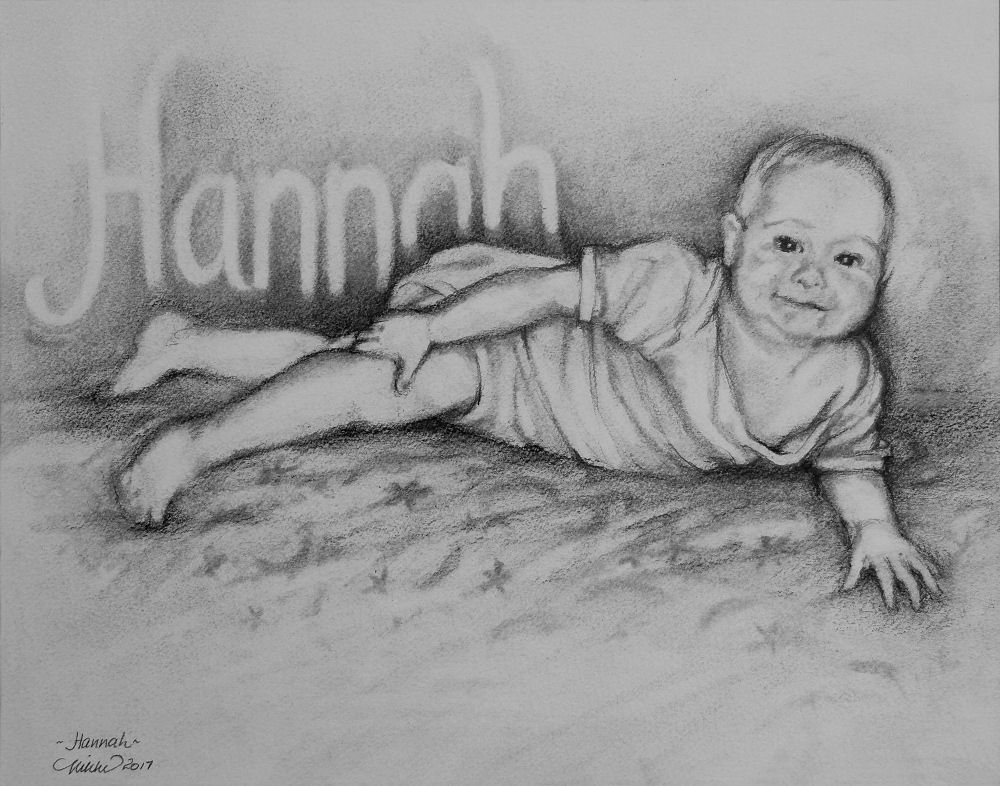 Hannah, 11 x 14 inches graphite on paper. This was a special commission for a good friend. I no longer offer to do portraits – pets, absolutely – but while I love drawing people, the work and long periods of in-between study I require take too long to warrant what I'd need to charge. There are other artists who specialize in only portraits and do nothing else.
The photo was a very small file, only 500 pixels wide, plus the feet were not in the frame, so initially I thought it impossible to work from, but started anyway. All works on paper begin with taped edges, leaving an inch of border which helps when it comes to framing, especially if composition is off a bit. I scribble in the main shapes lightly, gradually building up areas with lines and then shading as confidence grows. As marks, once placed, are difficult to erase, the face details are drawn in more gradually than the rest of the composition.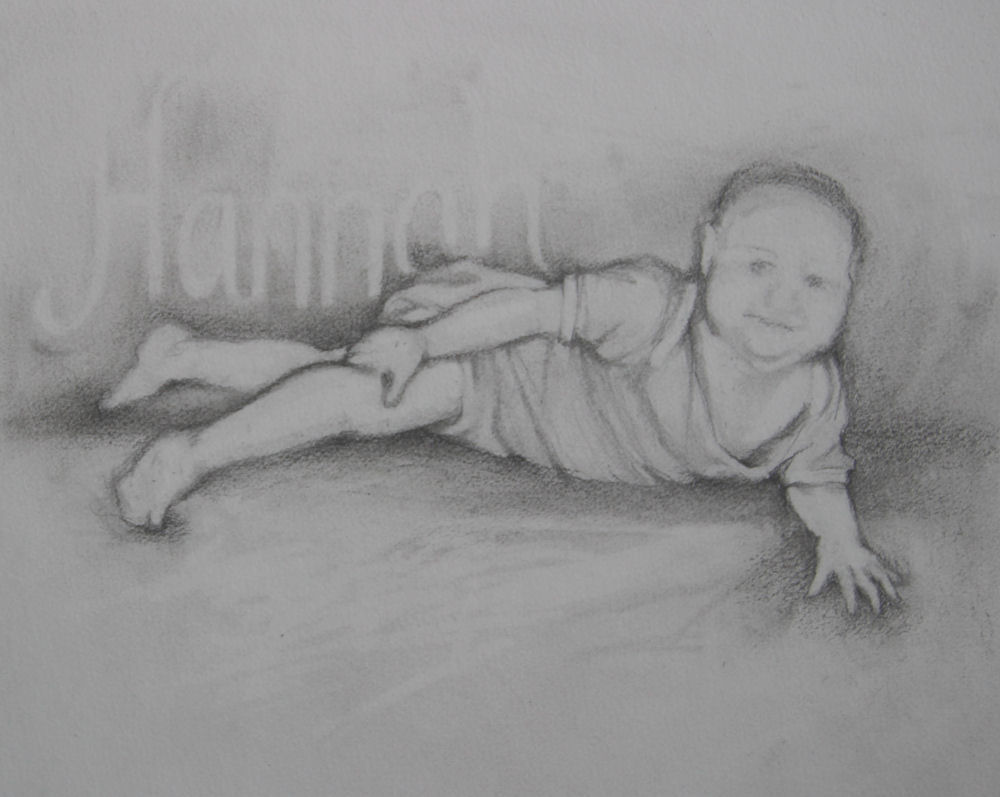 I remember that my friend used to call her grand-daughter Hannah Banana, so I snuck some banana shapes onto the blanket  – that will be a surprise for her when she sees this. I smudge the graphite and use erasers quite a bit, a good technique for subtler details like the background and blanket pattern.  Eraser sticks, 2 different sizes, are perfect because they are held and used like a pencil.
Sunday, January 17th, 2010
---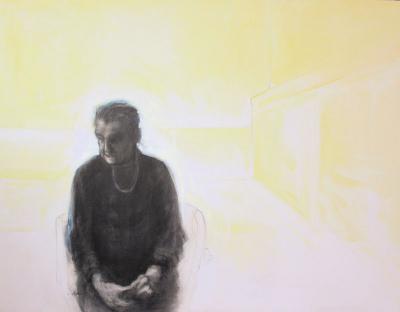 A Heart Filled to the Brim, 36H x 48W x 2D inches, water soluble graphite, acrylics on canvas. On exhibit along with Polypore Fungi February through May at the Oxide Gallery, Denton, Texas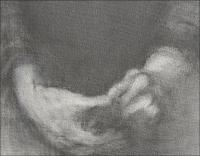 An excerpt from the song, I Don't Believe by Paul Simon on the CD, Surprise:
I don't believe a heart can be filled to the brim
then vanish like mist as though life were a whim.
Maybe the heart is part of the mist
And that's all that there is and could ever exist.
A portrait of Alzheimer's honoring my Grandmother, my Mother-in-law (whose portrait this is, and whose 80th birthday is in two days), and now recently my own Mother who is in the earliest stages; and with empathy for all those afflicted, including the families dealing with the awful emotional reverberations caused by this disease.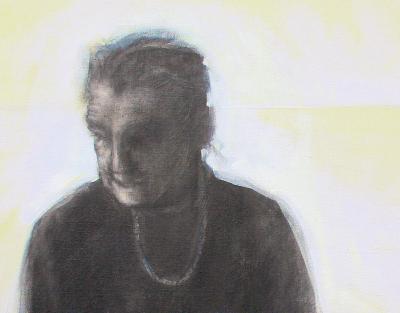 Here are a few websites providing information about Alzheimer's Disease
http://www.alz.org/index.asp
http://www.alzheimersrxtreatment.com/learnaboutalz.html
http://www.alzheimers.org/
Sunday, June 29th, 2008
---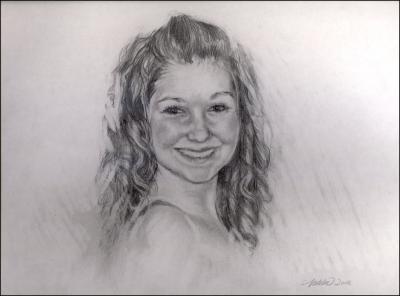 Josee, a portrait of one of my nieces. Gift, 11 x 14 inches graphite on paper. Drawing portraits is like brain surgery – one millimeter off, more or less, in any direction makes all the difference between success or failure!
Wednesday, September 19th, 2007
---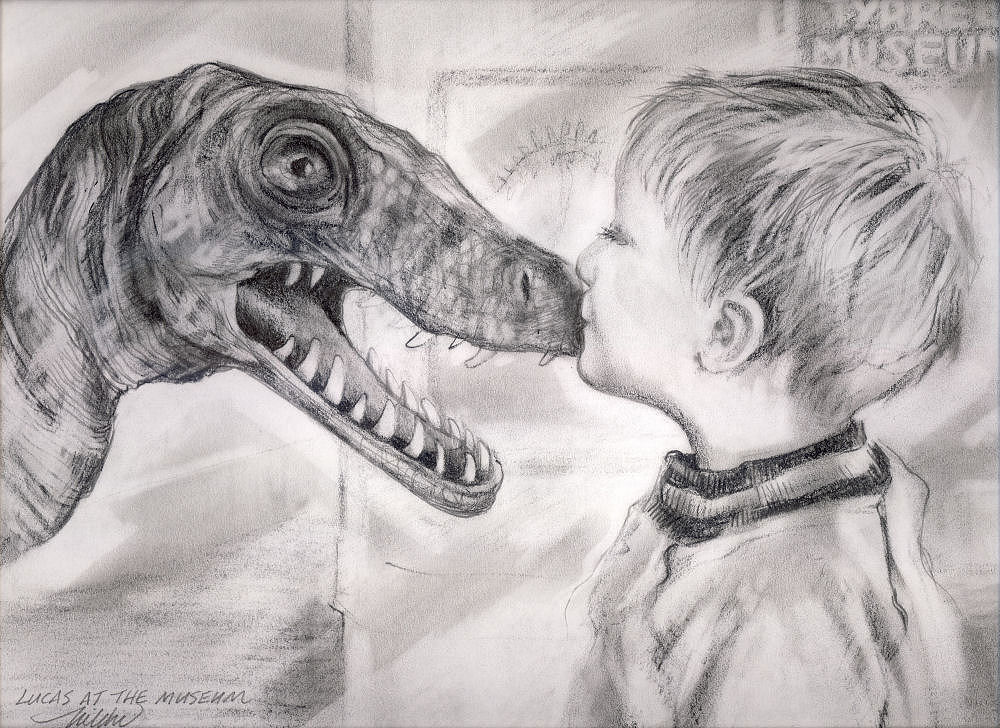 Lucas at the Museum, 11H x 14W inches graphite on paper, originally posted March 23, 2007 – today notified as part of the exhibition Growing Up and Looking Back – Reflecting on Childhood, Parenting, and Home at Gallery RFD in Swainsboro, GA October 12th – November 3rd, 2007.
See more of the Children Series, graphite illustrations available as cards, matted prints and framed prints.
Sunday, July 15th, 2007
---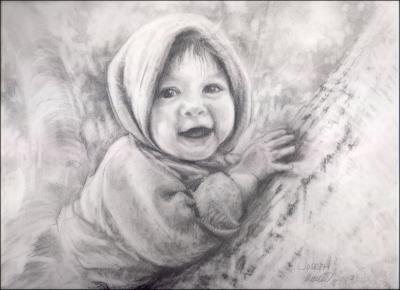 Joseph At The Park, 15 months old, 11H x 14W inches graphite on paper
Friday, June 8th, 2007
---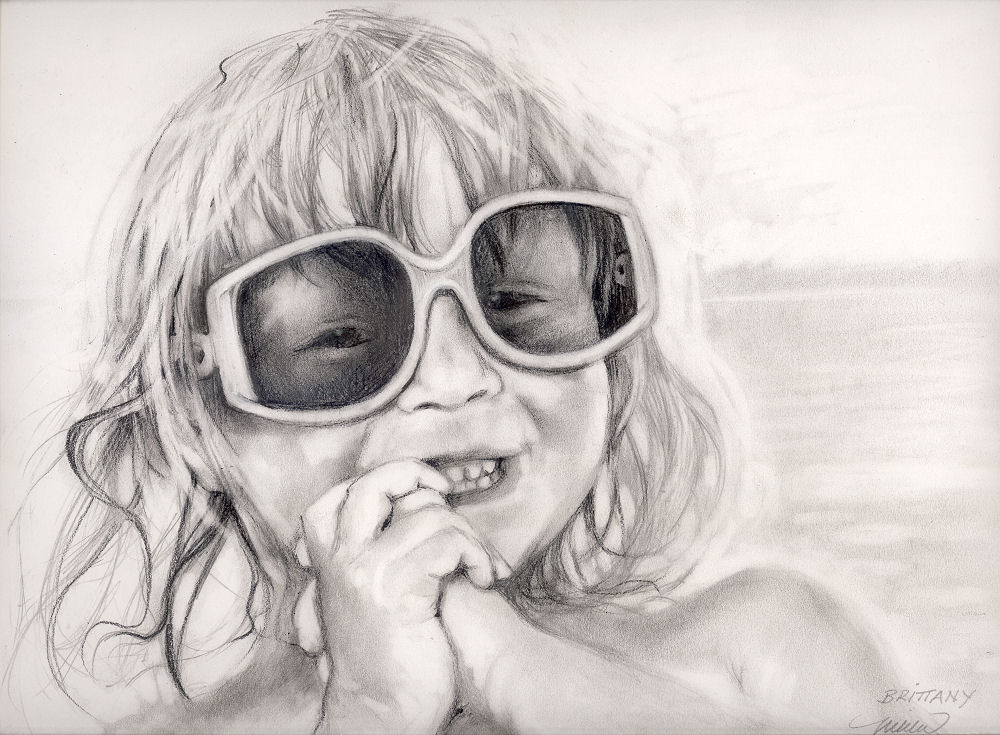 Brittany at the Beach, 11 x 14 inches graphite on paper
Thursday, June 7th, 2007
---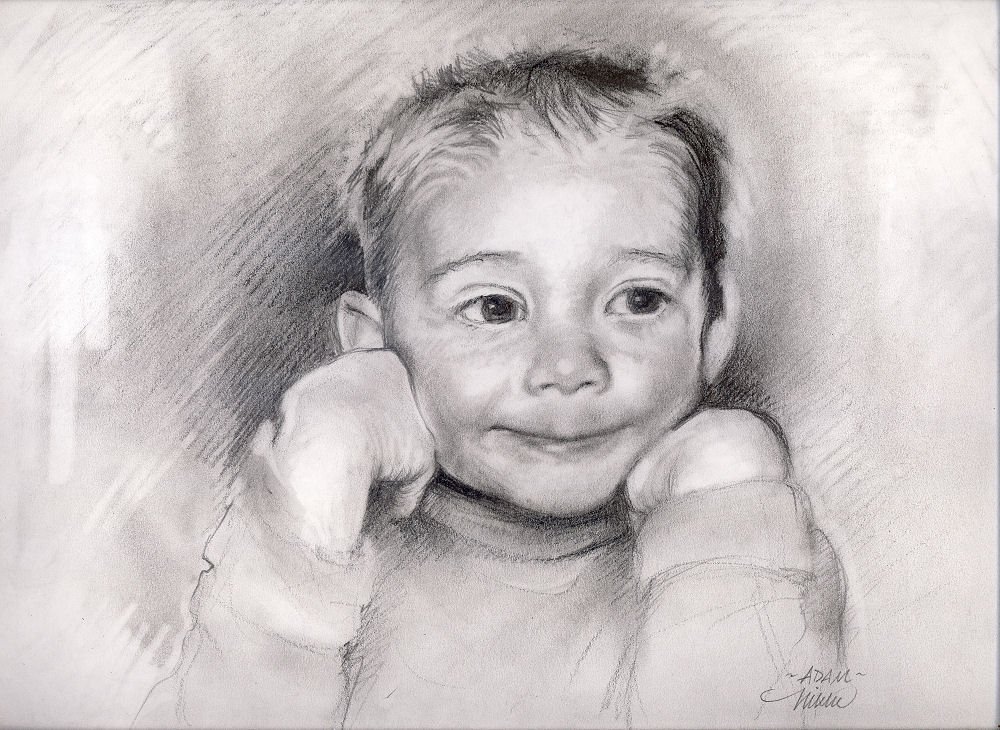 Adam, 11 x 14 inches graphite on paper
Post-dated note: Adam , Merit Award winner, cash prize at the VAST 19th Annual Juried Exhibition held in Denton, Texas July 29 – August 23, 2007
Monday, June 4th, 2007
---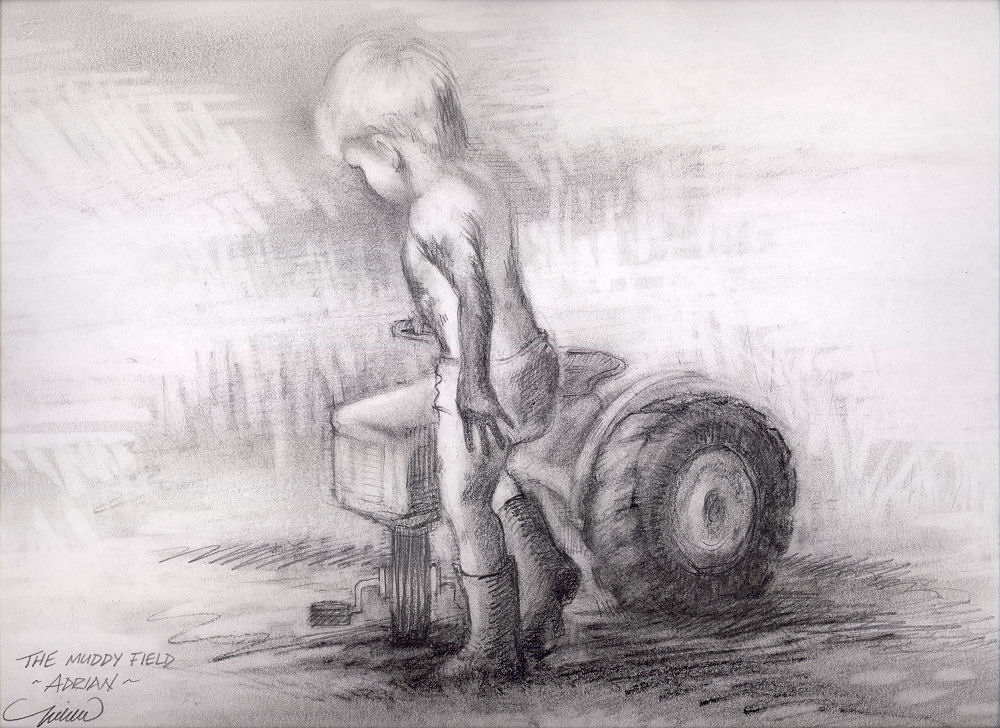 Adrian, The Muddy Field, 11 x 14 inches graphite on paper
Friday, June 1st, 2007
---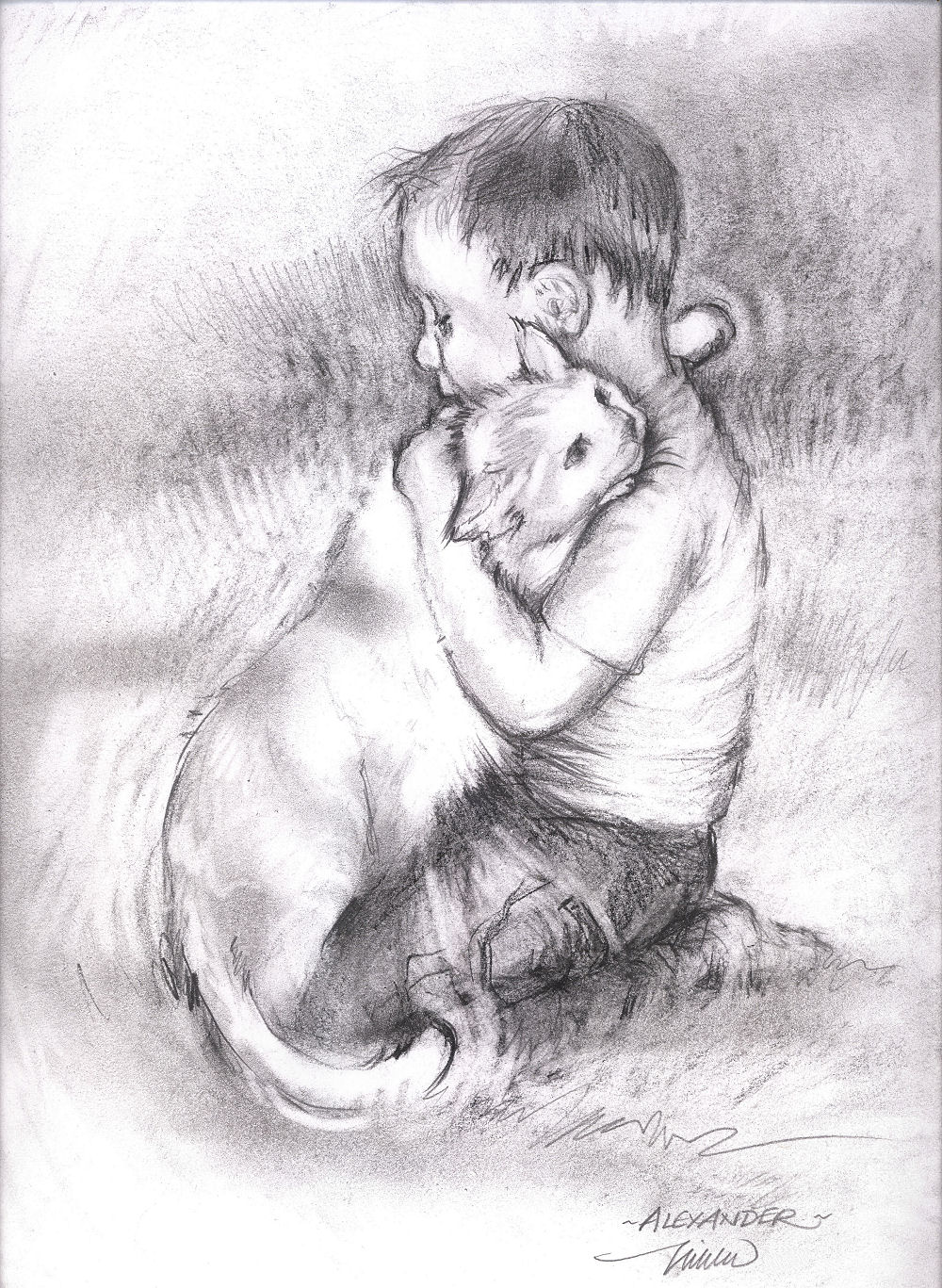 Alexander's Cat, 11 x 14 inches graphite on paper
Thanks to all for your responses to the recent group of pencil portraits. The portraits are practice using tones and values, something that needs more attention as a foundation to color.
Thursday, May 31st, 2007
---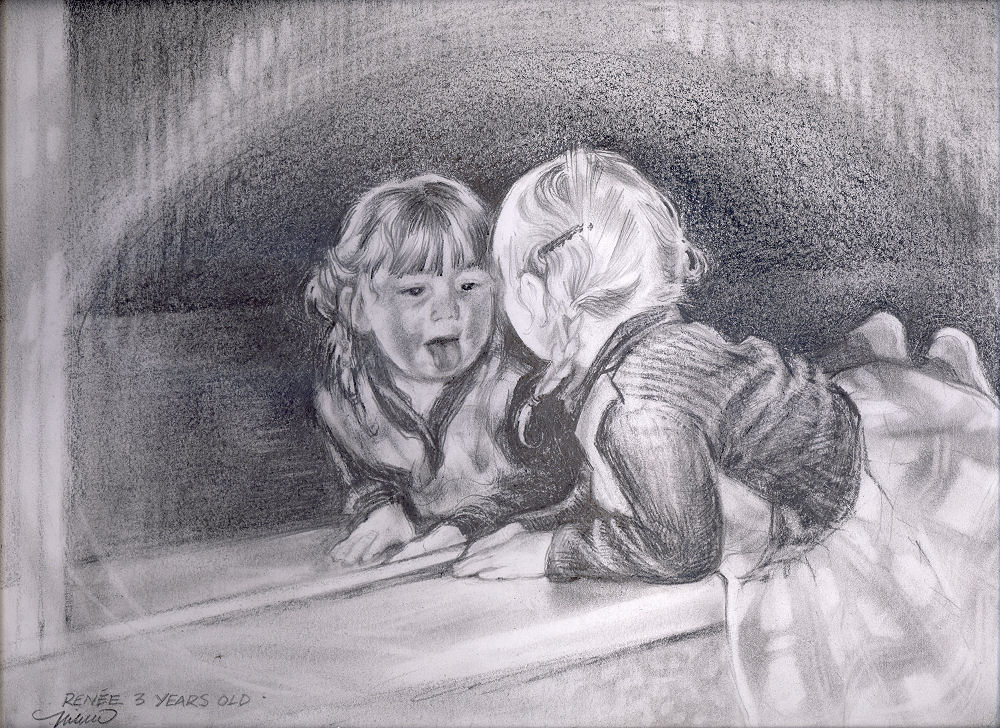 Renee at Dance Class, 11 x 14 inches graphite on paper
« Previous Entries