Other Artists
« Previous Entries
Thursday, February 10th, 2011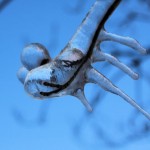 There are days when a falling leaf is just a falling leaf, but today one caught my eye as it floated down then caught an updraft, then flipping sideways and rolling over a few times, it seemed to be avoiding its final destination as long as it could. It was five seconds of beauty I will never forget!
I'm sure my friend and mentor, Jo Williams will not mind me passing along her note of a quote by Judith Hanson Lasater: "As many times a day as you can, find something to be grateful for because that will connect you with yourself, with others, and with the wider world. And we need to do this MOST when things are their most difficult in our lives. "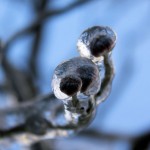 Maybe the leaves have fallen like that all season, but I was too busy grumbling about raking half of them from our neighbour's yard. I've been too busy detailing the house inside and out, trying to get it listed as soon as possible. There have been issues this winter of solid ice in the evestroughing, and having to chip away and melt trails with boiling water so the roof run-off would flow properly. I was too annoyed to notice the incredible phenomena on the other side of the house that were created by the very same problem. Left and above: alien-like forms were created when slow-melting ice dripped from the eavestroughs onto shaded Dogwood branches.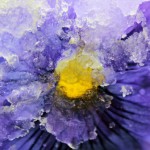 Before the snow and frigid temperatures last week, the pansies were finally filling in and gorgeous alongside the back yard fence. When winter came with a vengeance and would not let go, so did my view that, "Aww! The pansies are frozen!", but yesterday,it changed to: "Awe! The pansies are frozen!"
Thanks for sharing, Jo!
Monday, November 29th, 2010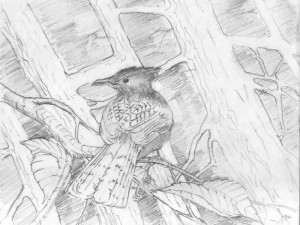 "Some of us loved to draw when we were very young and many didn't, but we are all capable. There is something to be said for innate abilities, but talent alone will not help us to advance. You might inherit Grandpa's artistic genes, but every talent needs continual development to become skill no matter what it is, and drawing is no different than learning to play an instrument or climbing a mountain in that respect…" (excerpt from the article "Extreme Drawing").
My father was a wood carver for most of  his life, and  his love for drawing was crucial to designing all the different things people ordered. Any time he taught woodcarving, he first insisted on lessons in drawing.
As it provided the funds necessary to build a house after a career the Canadian Armed Forces, there was almost nothing he wouldn't carve; an entire range of subjects from detailed Armed Forces crests, modern abstract pieces, as well as birds and animals. My favorites were the custom designed doors, cupboards and headboards made  for clients in Canada and the U.S. before retiring in 2002. Well, artists never really retire, they just keep moving on to try new things!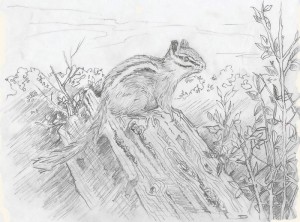 Photography has always been one of his passions, and he's the "real" die-hard kind that will sit in mosquito-infested forests waiting forever for the right shot. One time he climbed a tree to capture photos of a porcupine, then fell out and sprained both his ankles. I was about nine years old, and I remember my Mom, my brother and me holding him up while he hobbled back to the car! Here is some of his recent photography, and lately he's been taking the time to enjoy drawing again.
My Mom was an equal and supporting partner in the creating and finishing details of all the wood work they sold. Though my mother claims to not know how to draw, they have both been, and continue to be, huge influences as far as my being an artist. When I was quite young I would ask my Mom to draw anything so I could color it. I did care what it was. It was not refined and professional, but I would coax her, "Yes, you do so know how to draw! Pleeeeeaaaase!". Children don't seem to have the same hang-ups we adults do about drawing.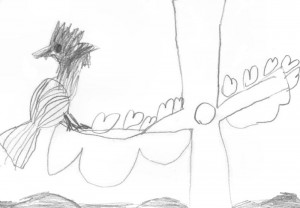 Now they see my two young neices often, one of whom drew her own interpretation of "Stellar's Jay" after watching her Grandpa. Andra is 5 years old. Don't you just love love the addition of hearts on the branches?! I feel so inspired by childrens' work. It is pure and staight from the heart. In fact, she is so nonchalant about her abilities and unaware of how keen she is, she did not even show it — my Dad found it after she left.
If Andra chooses to be an artist, it's due to Nature and Nurture, and also not so much about what she's been given, but what she does with it.
Thursday, May 6th, 2010
Artwork: Waiting For The Sun by Virginia Wieringa, 24 x 36 inches acrylics on canvas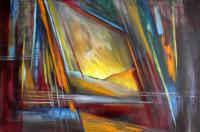 Fortune? sure, of course. Fame? mmeh! I could manage happily without. The pop group Pearl Jam has a recent song with a beautiful title, "Just Breathe" with a couple of lines that state, "I'm a lucky man to count on both hands the ones I love". While I'm not a man, I feel likewise as fortunate.
However, an extra hand is now required because I just met an artist-pen-pal whom I never expected to meet, and she's as intelligent and enthusiastic in person as she has been online for the past four years. Virginia is adventurous and open-minded, yet soundly rooted in her spiritual faith – and therefore so is her art . I especially enjoyed the little 4 x 6″ sketchbook that she shared with me, where a number of ideas for paintings originate as she draws in it during church sermons. I think it's really funny that she doesn't listen in church, and she doesn't preach, she works… and her work speaks volumes. I've mentioned Virginia in previous posts – she's been so supportive, even promoting my work on her own website. Thanks "VA"!
Wednesday, February 10th, 2010
Cycad Fossil Chair, Salish NW Pacific culture wooden whorl replica Chair, and Ancient Mayan bowl replica refurbished vintage chair, 29 x 29 x 29 inches mixed media. Read the feature article.
On exhibit and available for purchase February 11th – 27th at Visual Image Fine Art Puiblishing and Gallery Juried Show, 14320 Midway Road, Suite 300, Dallas, Texas.  Come and meet all the Artists at the Opening Reception this coming Saturday, Feb. 13th, 3 – 9 p.m.
~
Good Artist Pals also come in threes
Some friendships will last forever, and how fortunate that three of mine also happen to be artists! Listed in no particular order of favoritism, each are miles apart geographically speaking and personality-wise, but they all have one thing in common: they'll tell it like it is if you ever need a good critique, and on the flip side of the coin: a smile, a boost of energy; encouragement. I've posted my favorite works created by each, and highly recommend browsing each of their websites..
a) Chris Bolmeier: Happy Pigs, Oil on canvas  I met Chris on the internet three years ago through Robert Genn's Painter's Keys newsletters. Formerly an actress and professional singer, she's not through yet with entertaining you through humour, song and paint. She often posts mini-videos of herself singing, and her artwork is pure, straight from the gut, and some of the funniest, most original material ever. I chose this piece to share as an absolute favorite, portraying fanatically goofy pigs because it makes me laugh…not just smile, but laugh Christerically every time I look at it. In my opinion her best work is of childhood memories, and some of the baffling stuff that originates from who knows where in the infinite canvas of her mind!
b) Karen Xarchos: Restaurant mural in Ottawa, Ontario, Canada  Karen and I were neighbors many years ago. We designed and painted murals together in the Ottawa area for a couple of years. Thank goodness for the internet, we're able to keep in touch when either of us needs a good eye and some honest advice. Karen's style and mine are vastly different; our pace, the style, the manner and we continue to learn so much from each other. She reminds me to slow down and smell the paint; her blending techniques are amazing.
Karen accepts commissions for canvas pieces like wall borders painted at home, then cleverly installs them with wallpaper paste so home owners can remove the work and take it with them when they relocate. My favorite work of Karen's are the murals depicting work of the Masters, which are enjoyed by customers dining in many of the Greek and Italian restaurants in the Ottawa area.
c) Virginia Wieringa: Prayer, mixed media collage  Virginia and I met about four years ago on an Artists' interactive website, wetcanvas.com, and I think she still participates there under the avatar name "Veedubya". I'm positive she'd love to meet you there too. Virginia has well-developed drawing and painting abilities and currently experiments intuitively with mixed media collage. Her work, no matter what the media, reflects her open-mindedness and strong sense of spirituality. Formerly an Art teacher, she's fun to write to because she puts up with my inner-most silly self and doesn't hold back her own. My favorite work of Virginia's are the subtly symbolic collages, and some of the more vivid, energetic paintings that are about two phases pre-Realism.
Tuesday, November 3rd, 2009
The title of a work of art can help sell it, and captions can complete our understanding of a picture, but the most successful works of Art manage well without an explanation. Our visual senses – sight and insight – have a language of their own. Upon viewing anything, multitudes of information are presented and understood simultaneously, almost instantly. With or without color, images are powerful, possibly even more than words, because with the development of human communication, pictures came first. It's now widely accepted that symbols marked the origins of written language across the world.
It takes much less time to perceive than it does to write about it. For a hands-on illustration of this, draw a simple Smiley Face, and note the time that it takes to draw it. Afterward write down everything that comes to mind about that icon; what it means, other general impressions and associations. Although this is a familiar icon with clear connotations, possibly something we see every day now, plus almost all of us have drawn it at some point, within seconds of describing it you will realize how much longer it takes to interpret as quickly into words. Harvey Ball, the original artist of the Smiley Face icon must be flabbergasted that succeeding generations would come to coin the term, "emoticons", based on an indefinite number of facial expressions that spawned from the first, including animated ones that wink and cry, and more.
Saturday, February 14th, 2009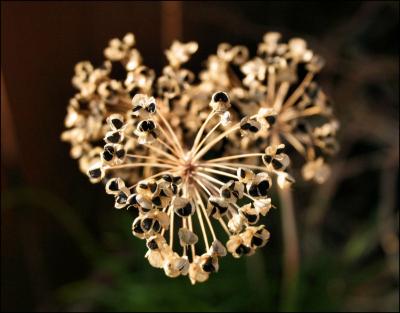 Garlic Chive seeds
..and click here for some joy that has just come my way from Virginia Wieringa.  This video emanates true human spirit, where there are no barriers of language or land or any of the other superficial stuff we create around us that we think will make us happy;  joy is simple. It's right there in a goofy dance.
..and click here (and scroll down a bit on that page) for some laughter that just came my way from Chris Bolmeier. Regarding Art, love and laughter:  we need to be no more or less than ourselves to inspire one another. One person inspires so many.
Saturday, January 3rd, 2009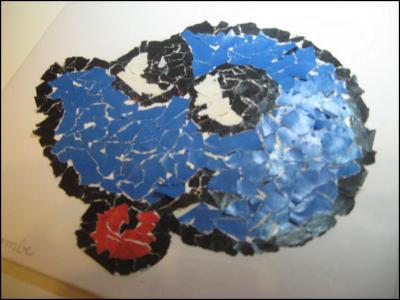 Post-dated January 11th, my niece Camille created this.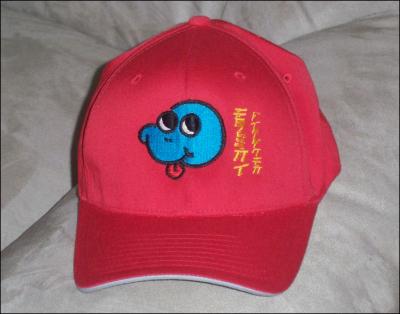 Post-dated January 28th, my son Adrian created this with his new industrial emboidery machine…good luck with your new biz Adrian!

Who or what is Monte?  ("Mon-tee")
Borne out of inattentiveness in a grade six science class, I drew Monte everywhere on my friends' notebooks, on everything I owned, even painted him on the back window of a friend's car during the late '70′s, which I have no photo of, unfortunately. 

Monte has managed to come back to life every few years since then in some form or another. The cartoon head is originally blue and drawn along with different hand gestures, but the basic shape can morph into any figure simply by changing the eyes, shape of the head, adding ears or a nose or a suitable body.

The Monte Files were listed on my very first website (2003) with the invitation for you, whoever and wherever you are, despite your age or drawing capabilites, to send in your version of Monte or a character inspired by him, and add it to the collection.The Monte Files are back, listed as a permanent page on this website and the invitation stands. 

Your character doesn't even have to resemble Monte at all, and can be created using whatever media you wish.  Scan him, trace him, shred him to bits then reassemble him, make a collage with magazine clippings, write a quip or add hand gestures…no rules except be kind and have fun with it; Monte's up for anything….

Children, adults, artists or not, or if you have a website of your own that you'd like to promote in The Monte Files then send a jpeg image of your version of Monte, or a character inspired by him, along with any information you wish to share to nikki_coulombe@hotmail.com. I have no knowledge of how to, nor a desire to use your information in an unethical way, so you have no worries about that.
When we were in California recently we met some ladies at a rest stop who were driving to New York City from Alaska in a beat up old car. Friends, and people they met along the way signed their car. Monte travels!
Back to serious work tomorrow…
Tuesday, November 4th, 2008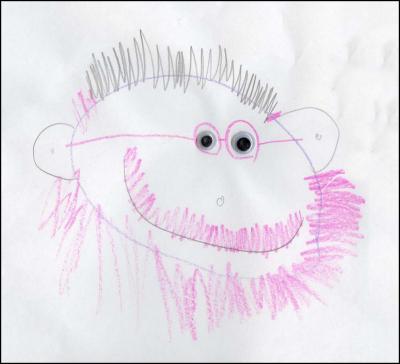 Googly-eyed Grandpa by Evelyn Drury, colored pencils and googly eyes from the $1 store. Says Grandpa: "Even my socks are looking back at me now!"

Evelyn has inherited the relentless Artist's gene. Hooray, this world can use all the creative people it can get. There are so many choices available for her future as an Artist should she choose to make it her career. Creative minds are appreciated as an asset wherever a person chooses to work. Even though she's only 4 1/2 years old, if I have any influence it will be to help guide my neice to #1 have fun learning. Her attention is so sharp, she is capable being an engineer or architect, or she may wish to start her own business. Wherever it leads you, Evelyn, sweetie, I'm there for ya!
Sunday, September 28th, 2008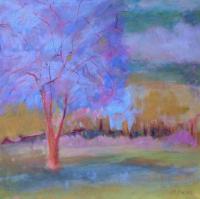 Besides being a place to share creative processes and sell and promote my own Art, if this blog can help a fellow Artist in any way, then it serves the best possible purpose.
There's a commercial on TV – I think it's for life insurance – where the generosity of one stranger is seen by another, then that person helps someone else who in turn passes kindness along, and on it goes. Artist Chris Bolmeier is one of those rare people who inspires exactly that sort of automatic generosity. Chris features interviews promoting other Artists and offers her award-winning blog entitled Christerical in a sensitive, light-hearted manner.
One of her recent paintings, Blue Tree is about the most intelligent painting I've ever seen done by a modern Artist. I truly mean that. First of all, she has the audacity to paint a blue-leaved tree with all the sincerity of a Realist. That alone reflects her bold, fun and quirky nature. Beyond that, the genius of the painting is in those branches. On the left a branch juts out and gives the impression that it's connected to the trunk while it is also conveniently part of the forest in the background. The centrally located, furthest branches also recede into and are the establishing focal point of distant trees.
These seem like such simple solutions, but this is the kind of thing that makes Artists envious that they had not come up with it themselves…like me for example! The envy is short-lived however, because it melts away in her light-hearted responses to her "million friends". Unfortunately Blue Tree is not for sale, but at least prints are. I highly recommend that you become Friend million-and-one!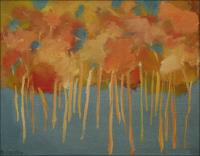 A while back Chris came up with a brainy idea and created the Artists' affiliate program. Gallery owners and Art groups charge Artists at least 20% of profits if work sells, and it's not surprising to be asked to share an unreasonable 50% with others who sell our work or provide the venue. To participate in the AAP, an Artist only needs the permission of fellow Artists to earn 20% of profits from the sale of any work if they are linked to promoting it. This requires some honesty and trust from all parties involved, but this is part of the intrigue I think.
I have just learned that October 25th is International Artist Day. Looks like the event has been celebrated in Chicago for twelve years already. What a great idea to publically celebrate our vocation by positioning an offical day for it annually! In that spirit I acknowledge a few other Artist friends I really appreciate: Patricia Gay Stonehouse, Karen Xarchos, and Virginia Wieringa, listed in the order we met.
Patricia Gay (Gay for short) and I became fast friends during a Canadian government Small Business program in 1989.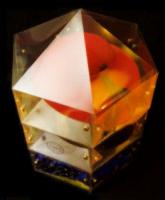 As an extremely creative person she also offered vital strength and support, helping me organize the legal end and official side of my business. At the time I was swamped with all the start-up details, manufacturing and selling faster than I could produce. Her straightforward manner and high ideals were and are invaluable. With full-time priorities as a grade school teacher in Ottawa, Ms. Stonehouse sells her Millinery Vaults, pictured right: cleverly designed, stackable transparent hat boxes, mainly wholesale in quantities through the internet.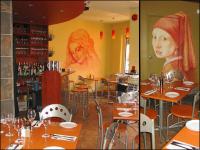 I worked with Karen Xarchos during the late '90s/early 2000′s back in Canada. At the time demand was extremely high for in-home and model home custom-designed wall murals. Karen was a neighbor whom I knew was an Artist, but we did not meet until I finally walked across the street and suggested we take on the backlog of work orders together. Although our styles are very different we designed and painted together for about two years. It was such a nice change collaborating with someone else. We also did faux finishing, all the rage at the time, with or without accompanying murals. Some of those jobs could only be managed by two people or they would have taken too long to complete.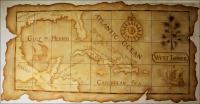 Mural Artists are under a lot of pressure to produce work quickly; it's pretty brutal work, and physically, mentally, creatively exhausting. It's also everything opposite to that – the challenges are always rewarding somehow, and an Artist has the opportunity to do what they love and learn many skills within a short period of time. Cheers! to Karen because she is still doing murals. Desiring to stretch in new directions, she has started to paint assignments on canvas in her home studio rather than work on-site so much, then installs the pieces like wallpaper when done. The best things I've learned from Karen are to slow down, evaluate, and give more attention to finishing details. She does the most amazing writing with brushes and a steady hand!
Virginia Weiringa and I met on wetcanvas.com, an Artists' interactive website.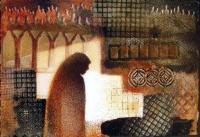 Though our views and missions differ superficially, basically our hearts and Arts are in the same place, and we create with the fundamental inspiration that most Artists do: expressing, learning and hoping to encourage others through our work. It's a beautiful thing to watch other Artists as they stretch and grow and to witness their work evolve. In the two short years since I've known Virginia, it's been exciting to watch her Art career sky-rocket to fame in Michegan, U.S.A., with one exhibition after another in churches, hospitals and local galleries. She is probably the most gracious person I know, and that over-rides any aversion to organized religion I may have, a topic so personal and elusive to define I would not normally bring it up on my website, but since meeting Virginia she has given me pause to consider the larger, universal aspects of life in general. Life is large, we can be sober-minded and hard-working but still have a lot of fun, and Life is beautiful; that we agree on, and these are the messages that come through all of Virginia's Artwork.
I strongly encourage other Artists to sign up on Chris Bolmeier's "Sell my Art" list. It makes so much sense to support a fellow Artist rather than give money to someone who has invested nothing toward creating it. If you're interested in adding your name, listing your work and reciprocating, or purchasing any of it please contact me or Chris…or hey, start your own AAP network.
Sunday, May 11th, 2008
| | | |
| --- | --- | --- |
| | Grackles, Dallas Texas, 9 x 11 inches graphite and colored pencils, white mat | |
| | | |
| $250.00 with white mat | | |
In her Wed. April 30th blog post, my friend Chris Bolmeier writes about an older painting she revitalized, and in this case it improved dramatically.  Surprise 2 supports what I wrote in yesterday's post: many paintings need a period of rest before we know how to solve them. In any Artist's home/studio there are at least ten or so paintings hanging around or put away in unfinished states. If it isn't sold immediately, chances are 50/50 it will continue to change as we attempt to improve it until we know it's truly finished.
Chris is trying new marketing strategies, and offering anyone who sells her work a 20% cut. A little out of the ordinary to show and offer another Artist's work for sale on my own website, but this is a brilliant idea she has, and I don't mind trying to help promote her work. Inspired Splatter can be purchased here via PayPal, (she and I will work out the details) or if you deal directly with her and saw it here first, please mention that. Good Luck with your sales, Chris!
« Previous Entries