oil pastels
« Previous Entries
Sunday, November 6th, 2016

Dahlias, 22H x 28W inches, modeling paste and oil pastel on canvas board
Saturday, February 7th, 2015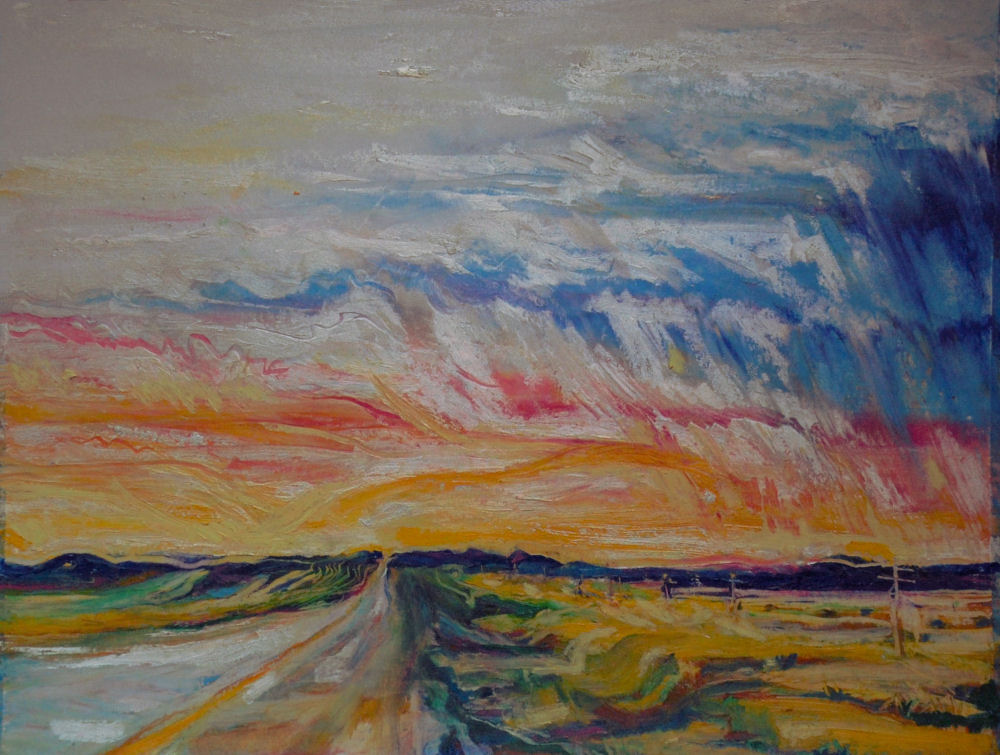 New Mexico Sunset, 11 x 14 inches oil pastels on paper
Thursday, May 9th, 2013
---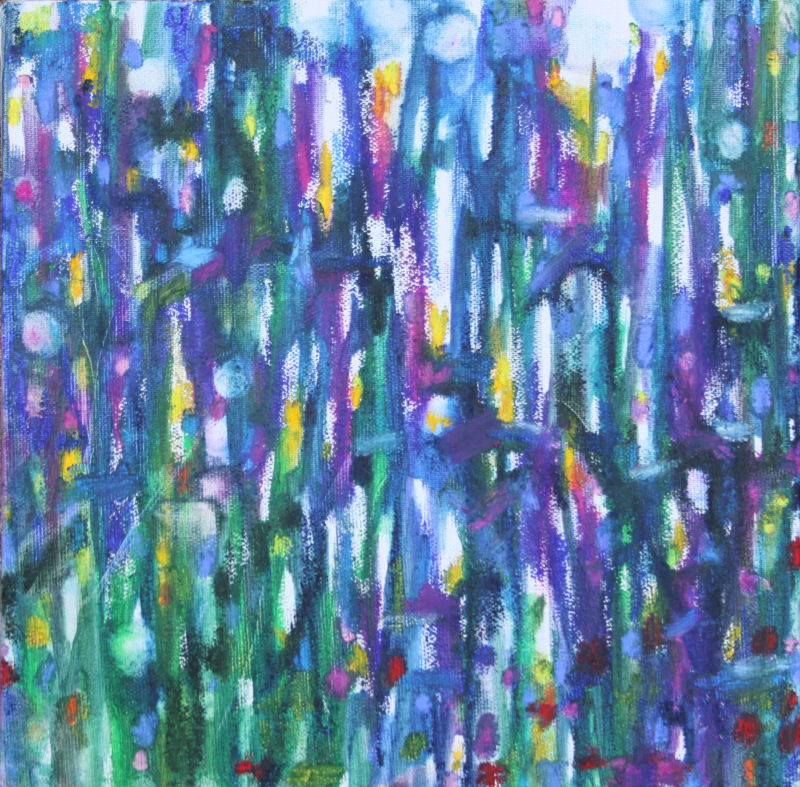 Blue Flag Iris, 10 x 10 x 1 inches  oil stick on canvas
Saturday, April 27th, 2013
---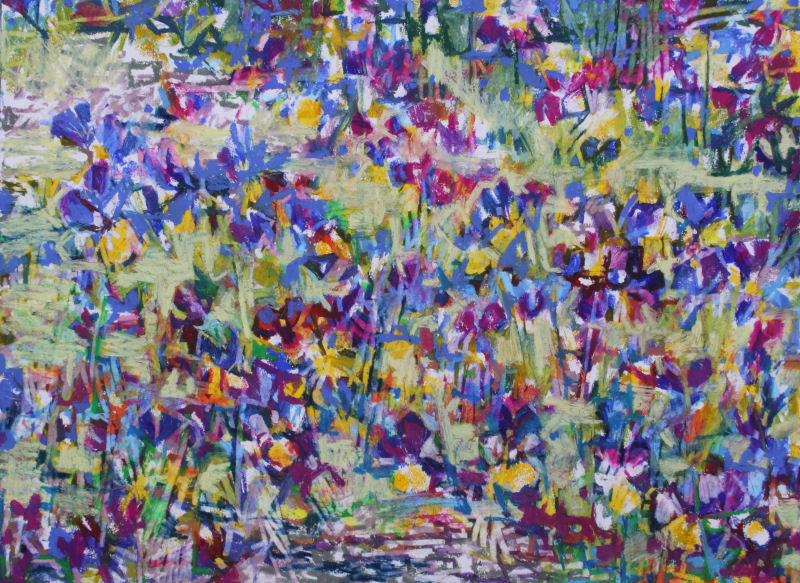 Spring Garden Mix, 18H x 24 inches oil pastels on 80 lb acid free premium
---
$350.00 with white mat       

$750.00 framed                    

---
Thursday, April 25th, 2013
---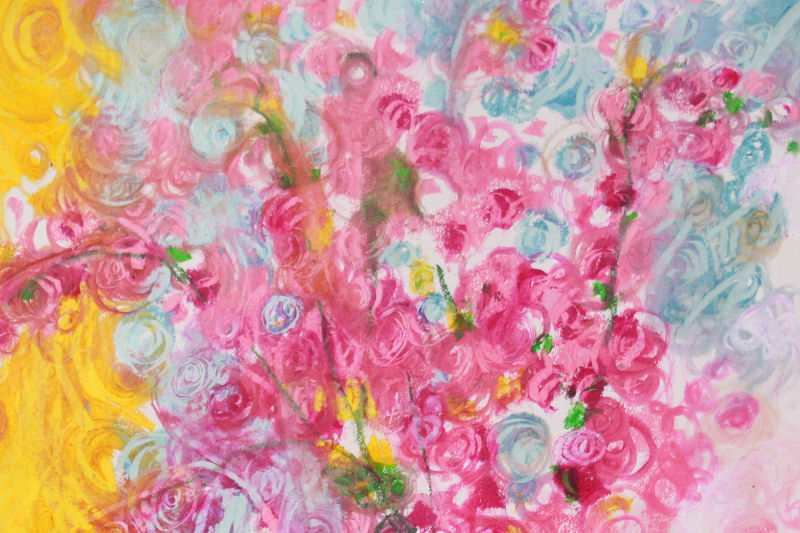 Blossomania, 12H x 16W inches oil pastels painted with oil blending and glazing medium on 80 lb acid free premium, white mat
I've been admiring the round masses clumped on the Plum tree branches in our neighbor's back yard for a week or so now. Yesterday and today, pink swirls in the wind…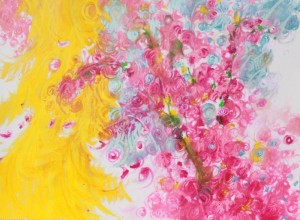 Petals are falling, the sky is blue
They cover everything, old and new
If I sit too long, I'll be covered too!
Larger image shows the finished piece, 12H x 16W inches, which was cropped from the original size, left thumbnail, 18H x 24 inches. Blogging always reveals a different perspective. If I had not re-sized the original  in order to post, I might never have recognized that the cropped portion has a more balanced composition…benefits of blogging!
---
$200.00          

---
Thursday, April 18th, 2013
---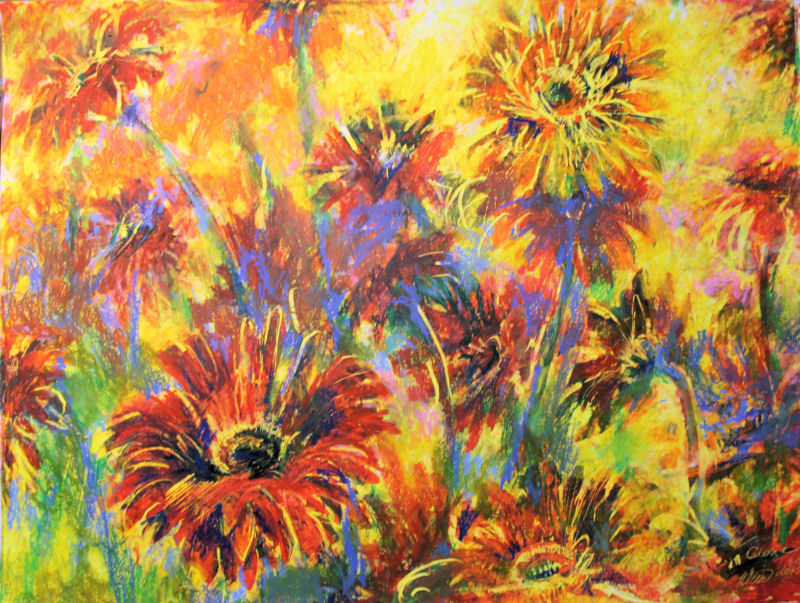 Celosia, work still in progress, 18H x 24W inches 0il pastels on 100% cotton paper
This piece was tucked away a month ago, planning to continue work in future with new eyes, so with nothing to lose, I jumped back in today and threw more color around. I splurged today and bought about 40 new oil sticks, the "Sennelier" brand. Wow, they are so intensely colorful and creamy-beautiful to work with! There is no contest as far as quality compared to any of the other brands I've been using, but they do have a lot of oil content which makes them muddy easily. Looks like it needs to be stored away again to re-work and refineanother day. I don't like giving up on a piece until it feels absolutely done, or without a doubt done to death!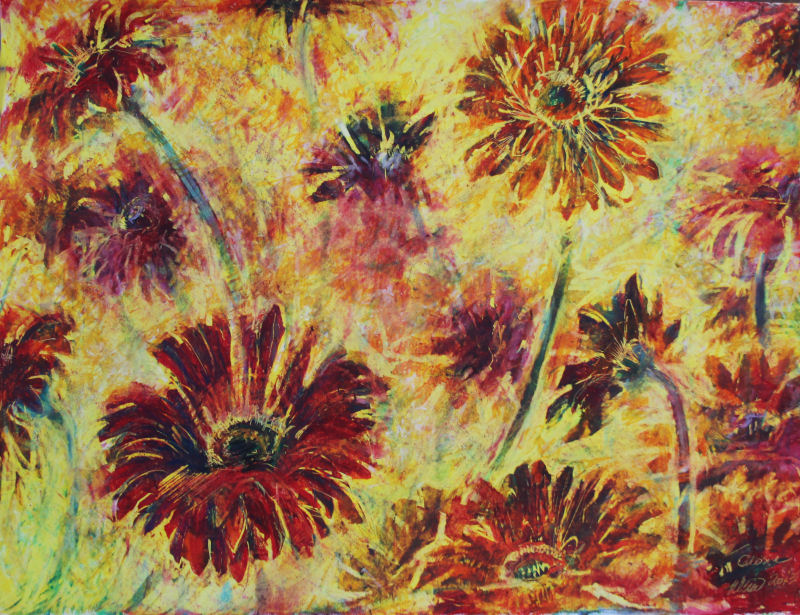 Left, March 22nd, 2013, Day 4 in progress
Reminiscent of retro sofa fabric, now that I see it on-screen! Usually leaving page space showing through to create light and brightness, this time I colored the entire page yellow before starting. Adding white did not help brighten areas much, but did muddle colors, helping some flowers recede. Much of the pure color as seen in the early versions has been covered up or removed, but will be re-added cautiously. The style has also gradually changed to more of a Representational/Impressionistic one. To finish, there will be more scrutiny, and fewer emotional responses before adding or removing anything else.
March 20th through 22nd; Days 1, 2, and 3
Wednesday, February 13th, 2013
---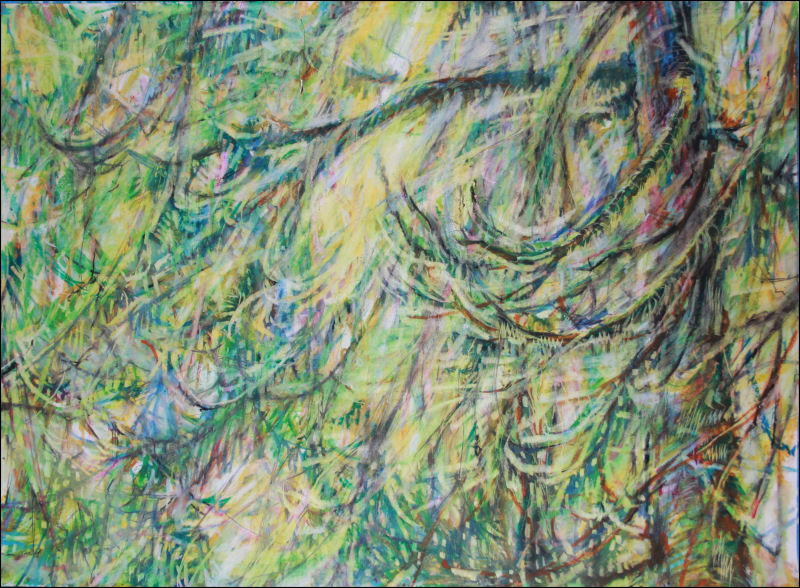 Multnomah Falls
, Hwy 84 East, Oregon 18H x 24W inches oil pastels on 100% cotton paper, white mat. Work in progress details:
---
$250.00                          

---
Thursday, December 6th, 2012
---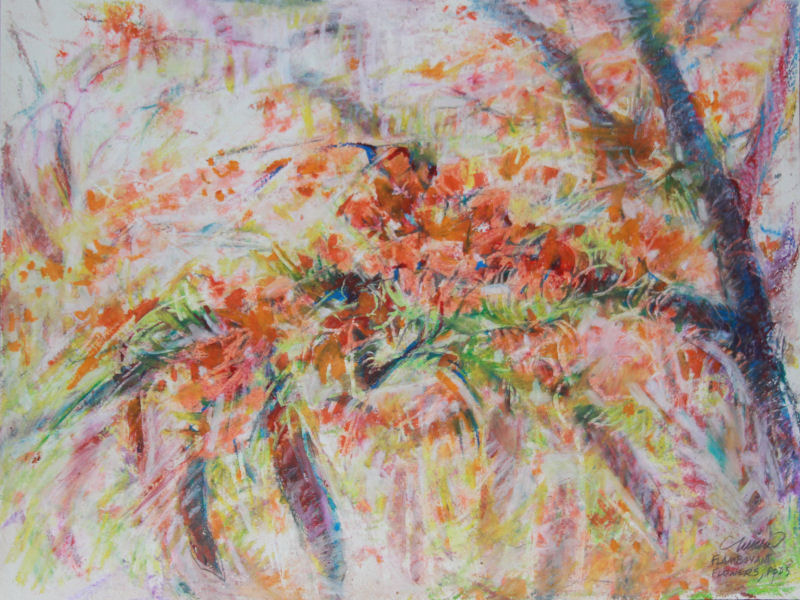 Flamboyant Tree Flowers and Seed Pods – Chapala, Mexico –  9H x 12W inches oil pastels on paper, white mat
---
$200.00          

---
Tuesday, November 13th, 2012
---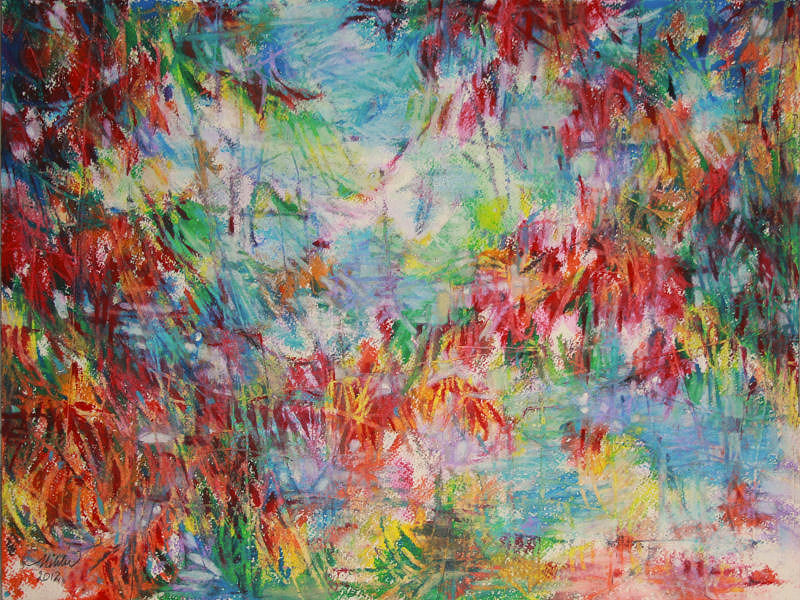 Sumac Bushes 12H x 16W inches oil pastels on 140 lb W/C paper
This piece has a base of watercolor crayons, which I hadn't heard of before and was excited to try. With expectations to complete a piece today, I wasn't too impressed that the rough crayon color marks remain on the page, and the colors and solubility are weak. With more experience, those properties might be used to advantage, but not without an open frame of mind toward experimenting. Because of this, oil pastels are layered on top, then scratched away using fingernails and pottery tools.
---
$250.00 mat               

$550.00 framed          

---
Friday, July 9th, 2010
---
On exhibit at Oxide Gallery, Denton, TX
Dandelions among the Tulips, 16 x 20 acrylics on canvas, dark brown wood frame with red trim design. Total size 22 x 28 inches, Bonsai Garden, Chinese Gardens, Singapore  9 x 12 inches graphite on paper  Milkweed Melody, 27H x 33W inches framed Oil Pastels on 140 lb cold pressed premium watercolor paper, Seasonal, 36 x 24 x 2 inches acrylics on canvas, gallery wrapped sides painted, narrow frame
« Previous Entries