oil pastels
« Previous Entries
Thursday, May 9th, 2013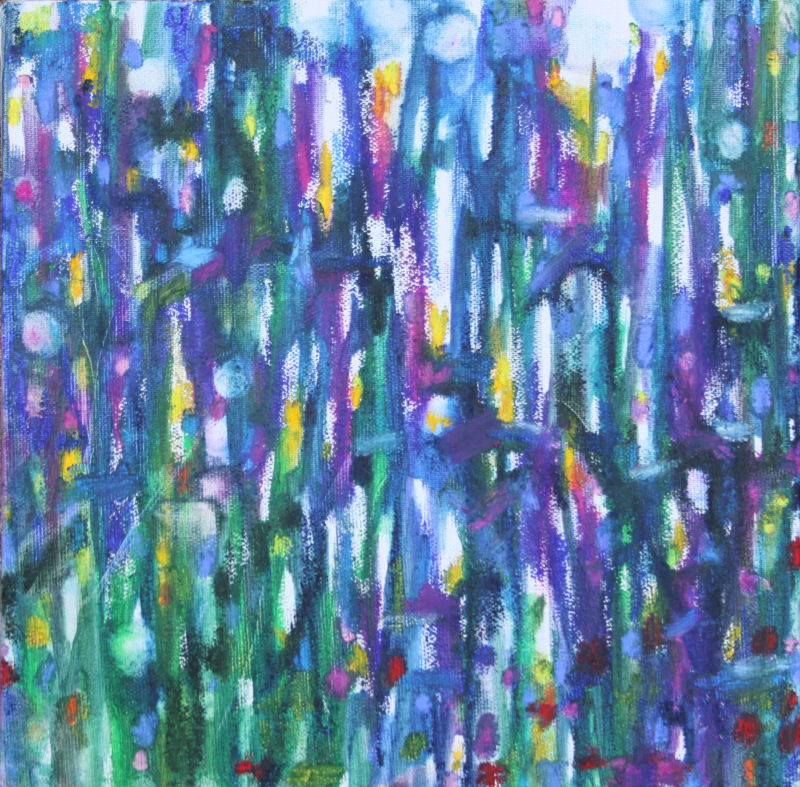 Blue Flag Iris, 10 x 10 x 1 inches  oil stick on canvas
Saturday, April 27th, 2013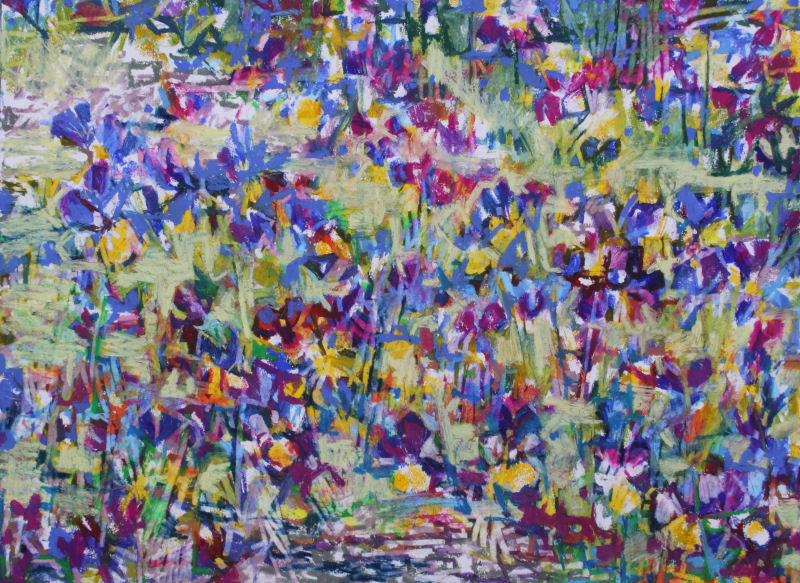 Spring Garden Mix, 18H x 24 inches Oil Pastels on 80 lb acid free
Thursday, April 25th, 2013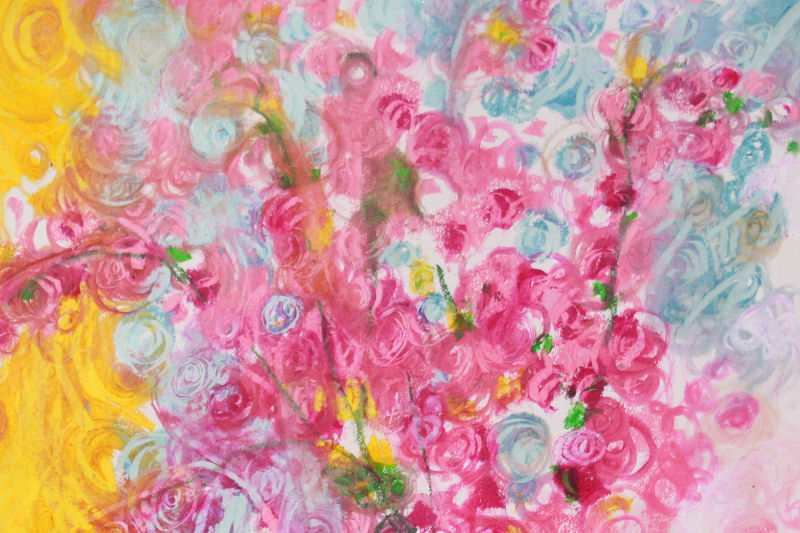 BlossoMania, 12H x 16W inches Oil Pastels on 80 lb acid free, painted with Oil Blending and Glazing Medium.
I've been admiring the round masses clumped on the Plum tree branches in our neighbor's back yard for a week or so now. Yesterday and today, pink swirls in the wind…
Petals are falling, the sky is blue
They cover everything, old and new
If I sit too long, I'll be covered too!
~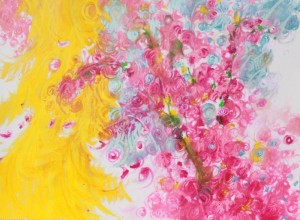 Above: the finished piece, which was cropped from the original size (left), 18H x 24 inches. Blogging always reveals a different perspective. If I had not cropped the original (left image)  in order to post details here, I might never have recognized that the cropped portion is quite complete, and I'm satisfied with it after only a few hours of work.
I still recommend taking work past  its prime once in a while, a decision best made when there's a lingering sense dissatisfaction with it. In order to  push a painting's boundaries and your own to see what's possible, honesty is key, and making the call is different each and every time. Have a look at work from afar or from photos or blogging, and take breaks often!
Thursday, April 18th, 2013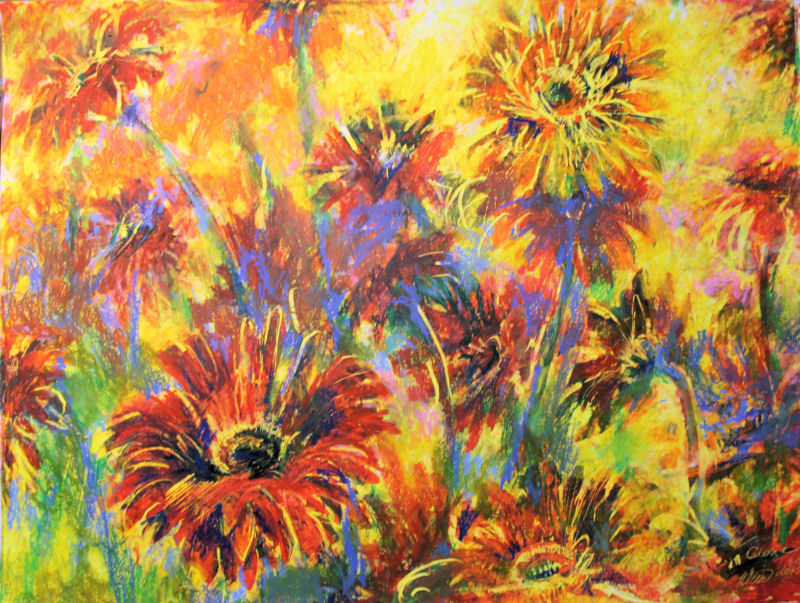 Celosia, April 19th in progress, 18H x 24W inches Oil pastels on 100% cotton paper
I felt as dissatisfied with this piece today as when it was tucked away a month ago, so with nothing to lose, I jumped back in and threw more color around. I splurged today and bought about 40 new oil sticks, and highly recommend the "Sennelier" brand. Wow, they are so intensely colorful and creamy-beautiful to work with! There is no contest as far as quality, compared to any of the other brands I've been using. Tomorrow: the plan is to continue building and removing colors, but not so much that they become muddled. I'm loving the colors – an unusual palette for me.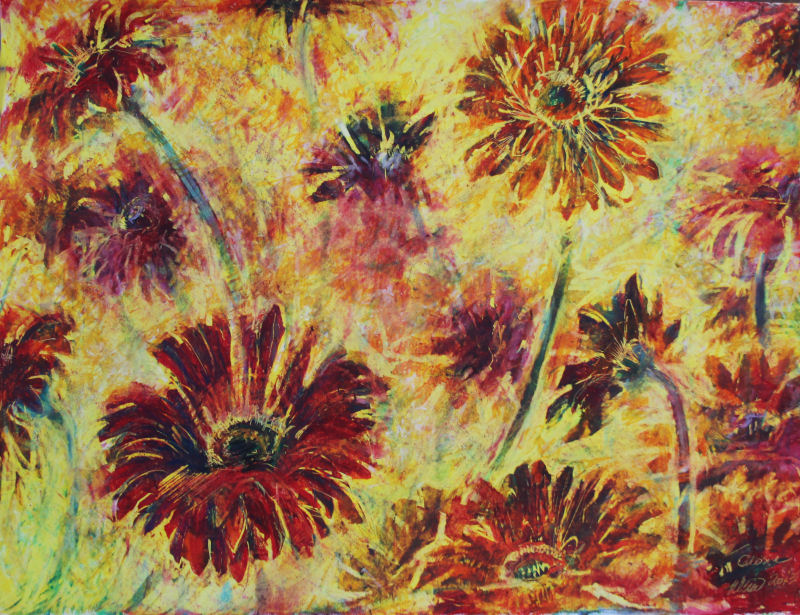 Left, March 22nd, 2013, Day 4 in progress
Reminiscent of retro sofa fabric, now that I see it on-screen! Usually leaving page space showing through to create light and brightness, this time I colored the entire page yellow before starting. Adding white did not help brighten areas much, but did muddle colors, helping some flowers recede. Much of the pure color as seen in the early versions has been covered up or removed, but will be re-added cautiously. The style has also gradually changed to more of a Representational/Impressionistic one. To finish, there will be more scrutiny, and fewer emotional responses before adding or removing anything else.
March 20th through 22nd; Days 1, 2, and 3
Wednesday, February 13th, 2013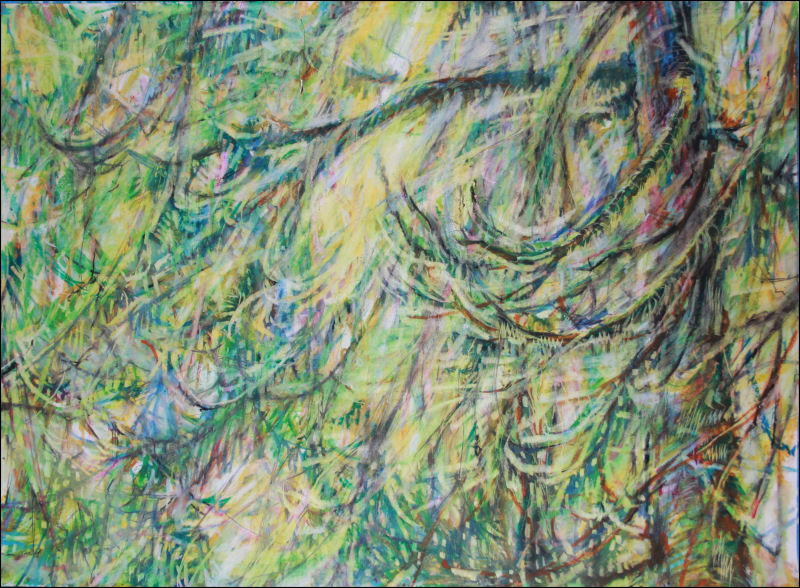 Multnomah Falls, Hwy 84 East, Oregon 18H x 24W inches Oil pastels on 100% cotton paper, almost finished, work in progress details below
Thursday, December 6th, 2012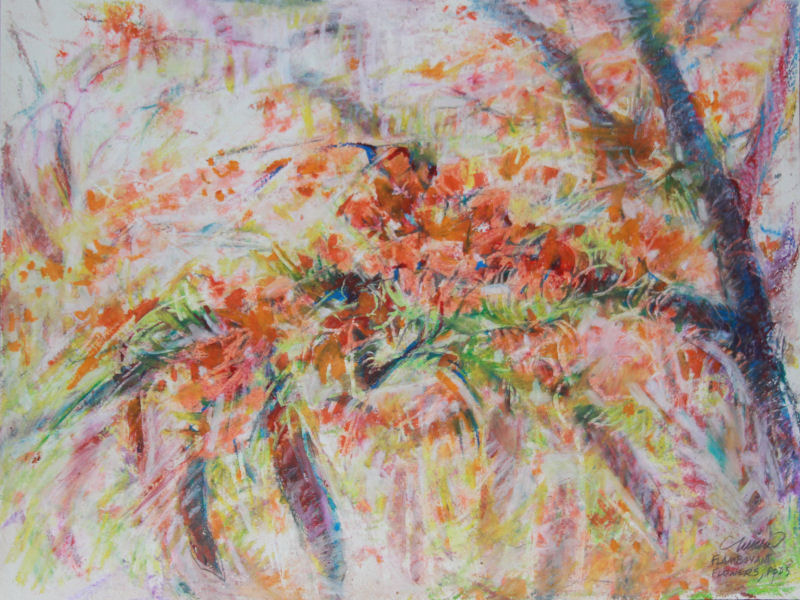 Flamboyant Tree flowers and seed pods (Chapala, Mexico), 9H x 12W inches oil pastels on paper. 

Tuesday, November 13th, 2012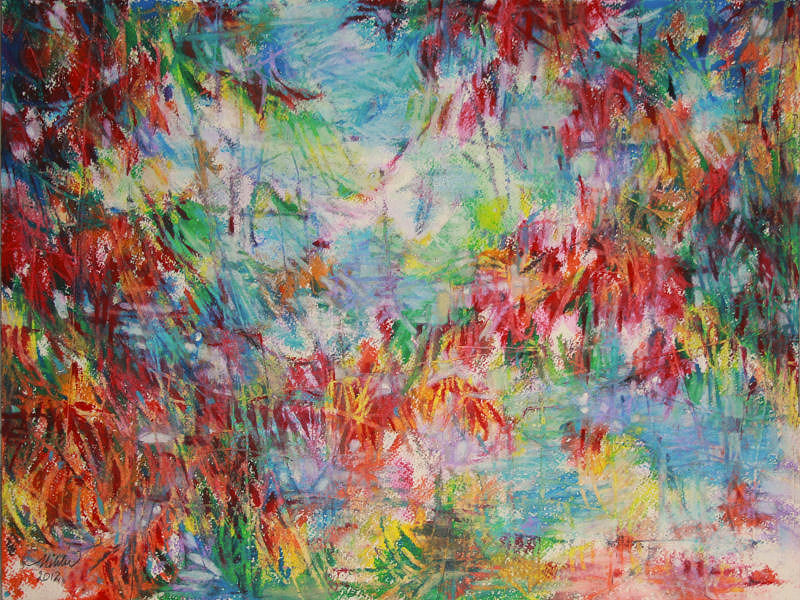 Sumac 12 x 16 inches oil pastels on 140 lb W/C paper
I'm so tempted to go back into this and make it bolder, but am going to quit while I'm ahead. This piece has a base of watercolor crayons, which I hadn't heard of before and was excited to try. With expectations to complete a piece today, I wasn't too impressed that the rough crayon color marks remain on the page, and the colors are weak. With more experience, those properties can be used to advantage, but not without an open frame of mind toward experimenting….so oil pastels are layered, then scratched away using fingernails.
Friday, July 9th, 2010
On exhibit at Oxide Gallery, Denton, TX
Dandelions, 16 x 20 acrylics on canvas, dark brown wood frame with red trim design. Total size 22 x 28 inches, Bonsai Garden, Chinese Gardens, Singapore  9 x 12 inches graphite on paper  Milkweed Melody, 27H x 33W inches framed Oil Pastels on 140 lb cold pressed premium watercolor paper, Seasonal, 36 x 24 x 2 inches acrylics on canvas, gallery wrapped sides painted, narrow frame
Monday, April 26th, 2010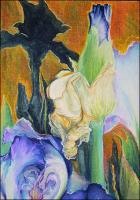 Iris, 24 x 18 inches Oil Pastels on paper
____________________________________________________
Basic Drawing and Color Play
Workshops 
Dates:
1) Saturday, May 15th 10:30 a.m. – 4:00 p.m.
2) Saturday, May 22nd 10:30 a.m. – 4:00 p.m.
Ages: Young adult (16) – Adult – Seniors
Experience Level:
Beginners to Experienced Artists, maximum number of participants: 6
The Workshop:
We will sketch simple objects using a variety of loosening-up techniques, graduating to a more complex still-life arrangement, fun with color, then a longer study period in the afternoon.
Supplies:
Bring favorite reference photos or items that you'd like to study, sketchpad and supplies that you usually work with. A variety of papers and drawing supplies will be on hand to experiment with during class. Also bring beverage and lunch.
Fees:
Registration (pre-paid) – $50.00 Oxide Gallery 501 West Hickory St., Denton, Texas 940-483-8900
Registration Deadlines:
March 12th and March 19th – Maximum Students per Class 6
Tuesday, April 6th, 2010
Milkweed Melody, 27H x 33W inches framed Oil Pastels on 140 lb cold pressed premium watercolor paper 
Partnering with poet Christina Smith and her poem, Earth's Love Song Milkweed Melody is showing April 1st – 30th at the VAST (Visual Arts Society of Texas) and Denton Poets Assembly collaborative event, Merging Visions Exhibition, with art and poetry at both the Emily Fowler and North Branch Libraries, Denton, Texas. Opening Receptions Saturday, April 17th 10 a.m. – 12 p.m. at Emily Fowler and 1 – 3 p.m. at North Branch
« Previous Entries