not for sale
« Previous Entries
Wednesday, October 20th, 2010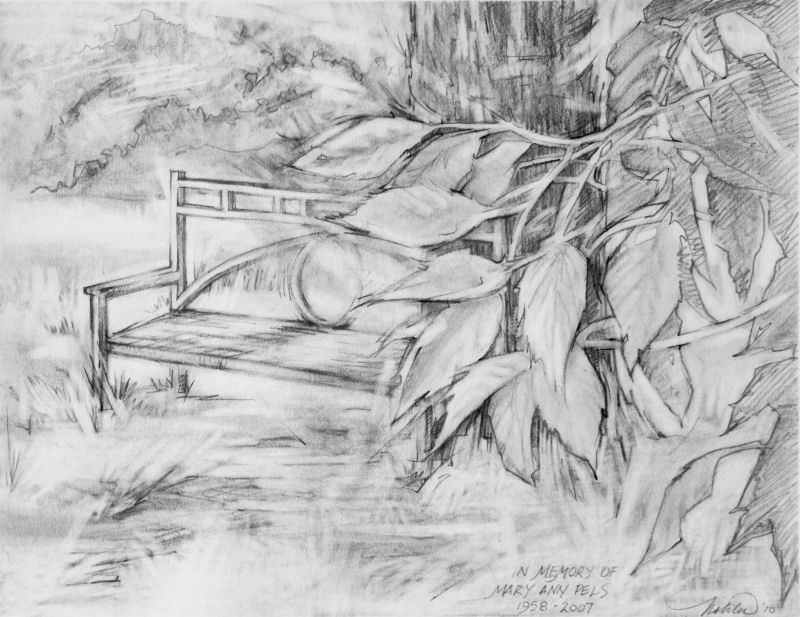 Mary Ann's Bench 11 x 14 inches graphite on paper
Illustration of a bench dedicated to a client's sister by the staff at the University Arboretum, Madison, Wisconsin 
Wednesday, September 8th, 2010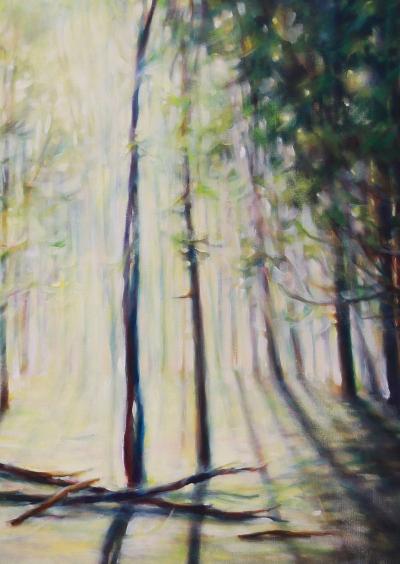 Above: Sept. 12th detail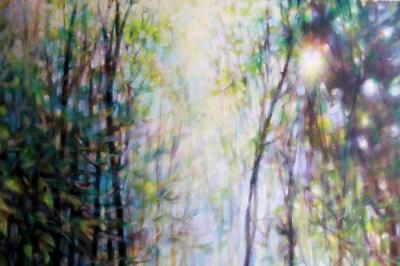 Morning Light 02, above: upper detail of 60 x 40 x 3 inches acrylics on canvas in progress, comissioned work (NFS)  
Phase 01, 03 and 07 show various changes and adjustments made as I attempt to paint Morning Light 02 as close as possible to the original version. As this is a unique individual painting in its own right, copying is not the goal. As work progresses, the most important thing is to find the same light and etherial qualities as in the first version.
Saturday, October 18th, 2008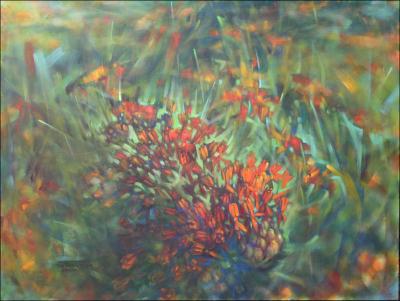 The Fourth of July, 36 x 48 x 2 inches, Acrylics on wrapped canvas $2,200.00
The Oxide Gallery in Denton had an open call today for Artists to bring in three paintings that best represented current work, to be judged for upcoming space openings.  Even though I didn't think The Fourth of July was finished, I brought it in because it has the cheerful colors and bold marks that I'd like to start injecting more into future work. Usually there are lots of colors used, but they get layered over each other on the canvas and become muted. The gallery owners informed me that it is finished! OK, great, I'll take their advice…I'm quite happy to move on to another painting and decide at a later date if this is truly finished.
Especially toward the final stages when so much time and study has been invested, we can be so involved in the work we don't see it with a fresh perspective the way others do. Other people's eyes and opinions are so valuable.
Oh, and my apologies to whoever posted a comment that never got published. In my haste to delete 24 spams I was too quick with the click. In that split second I noticed that it was not a spam, but it was too late. I don't even know which post the was comment was on, so whoever it was, please try again – I appreciate all feedback, negative or positive..it's always helpful.
Saturday, January 12th, 2008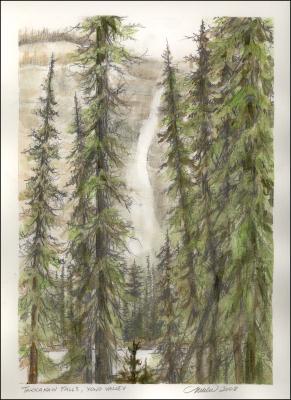 Takkakaw Falls, Yoho Valley, B.C.  830 feet high, said to be the most impressive waterfalls in North America.
12 x 9 inches pencil, watercolors, based on antique Vandyck photos of the Canadian Rockies.
Friday, January 11th, 2008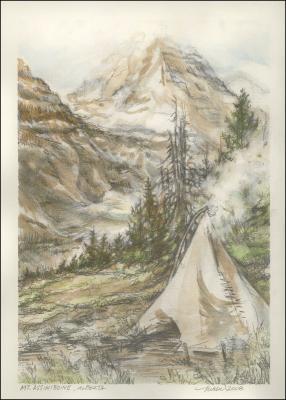 Mt. Assiniboine, about forty miles southwest of Banff, Alberta. 12 x 9 inch watercolor/pencil study.
I inherited some charming antique books of hand-colored Vandyck Photogravures of Canadian Rocky Mountains scenery as it was at the turn of the twentieth century.
The montone sepia and few other pale colors add such a warmth to the already beautiful scenery in the 1910 photographs, and since I haven't tried watercolors for years I thought they would make perfect studies.
Sunday, May 27th, 2007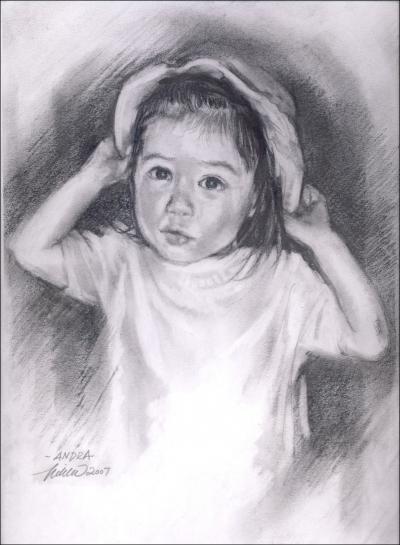 Andra (Evelyn's sister) ~ 14 x 11 inches Graphite, eraser on paper
Saturday, May 26th, 2007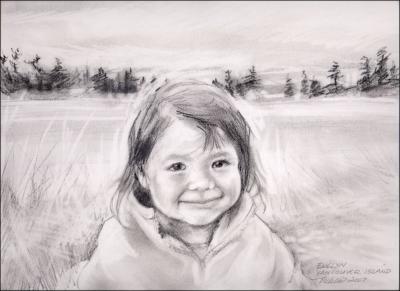 Evelyn, Andra's older sister (next) 11 x 14 inches Graphite, eraser on paper.
When drawing I use the eraser as much as the pencil. Taking advantage of smudges that build up gradually is a good way to keep adjusting the placement of things  and clarify details. This is especially effective with portraits.
Thursday, February 1st, 2007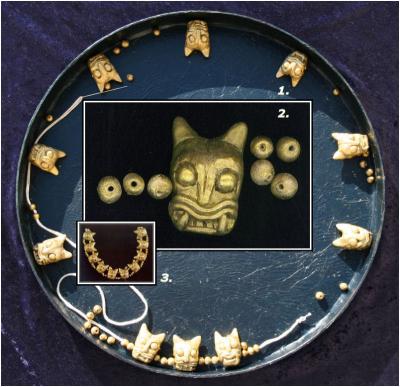 1. The tray  2. The beads  3. A picture of the orginal necklace. 
The beads  are made of Polymer clay, a permanent material once baked, acrylic paints, varnish, tray refurbished and paper-mached, painted and varnished for durability.
I was drawn immediately to this Pre-columbian Mayan necklace upon seeing a photo of it, and would love to own it, so tried to make one. The original necklace of gold jaguar head-shaped beads, made over 500 years ago, was discovered in a lord's tomb in Guatemala.
Like much of the pre-historic and tribal Art that looks crude or seems like it should be easy to recreate, there is a lot more here than meets the eye. One of the things that's so enjoyable about a project like this is experiencing the same design dilemmas that the original Artist must have encountered. There is a lot of engineering in that simple-looking necklace. I think the goldsmith who created the orginal might have used a mold, because each individual jaguar head-shaped bead needs to be identical, and so do the small round ones in order to string the beads together and obtain the uniform semi-circle shape. Mine were indivudually shaped, less than perfect, and did not fit together well unfortunately. 
The jaguar beads are glued onto a useful tray (recycled film case with paper mache over top), and it's as if a moment in time is recaptured: the moment when this necklace was being created by the original Artist. The refurbished tray is covered with paper-mache, painted and varnished. Durable, useful, hand wash gently to clean.
Tuesday, April 11th, 2006
Eneggma – Set of 4 x 4 Dry Pastels – part of sketches for The Perfection of Small Birds, by American Poet Hannah Gerber. Dry pastels, frames use crackle glaze and off-white over robin-egg blue.
Sunday, April 9th, 2006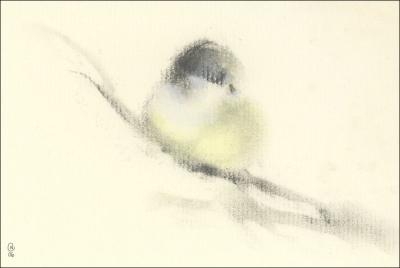 4 x 6 Dry pastels on charcoal paper
Another sketch for Hannah Gerber's The Perfection of Small Birds.
http://www.buy.com/search/q/loc/106/search_store/3/querytype/books/hannah+gerber.html
« Previous Entries