murals
Thursday, July 30th, 2009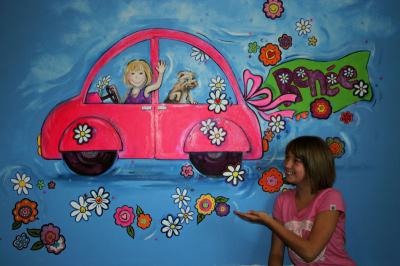 Every year when I go home to Alberta it's someone's turn to get their walls made over however they choose; kids or adults. Their wish is my command. Renee's favorite things are "punch buggies" and Jeff, a dog  she babysits so much she might as well say it's hers. Here's Camille's done last July.
Tuesday, July 31st, 2007
While in Alberta I painted my neice Camille's room then a mural based on her ideas, the bedding design, and colors.  I love that creativity is portable, and if staying somewhere for two weeks or longer I usually do a favor for my hosts. I tell them "Use me!".