moon
« Previous Entries
Thursday, June 28th, 2012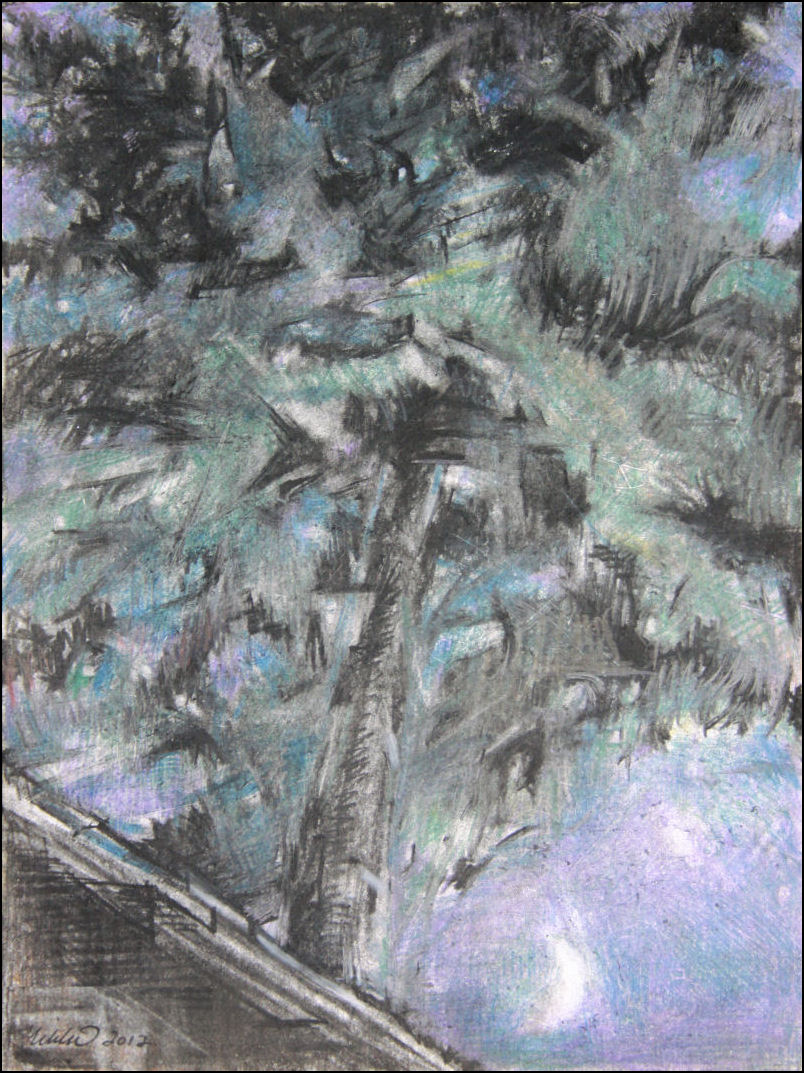 Stars in the Sweetgum,9 x 12 inches charcoal and colored pencils on paper, preliminary sketch of the extremely large Sweetgum tree in our side yard.
Portraying darkness offers an excellent color study. Inspired by travels on clear nights when speeding by tree silhouettes, there's an illusion that horizon is absent, and stars are in the sky as well as the trees. I often marvel how dark skies can still be so intensely colorful and vibrant…ranging across the spectrum from rich teals, purples, to shades of red and orange.
Tuesday, March 3rd, 2009
Jone's Falls,  near Thousand Islands, Southern Ontario 11 x 11 x 3 inches acrylics on canvas, finished. April 11, finished: I scratched some barely noticable lines here and there, and they break up the space  into sections now, if you compare the 3rd thumbnail and the finished piece. This is exactly why paintings need to sit off to the side for a while. With new eyes a few weeks or months later the finishing touches will suddenly be obvious, or there will at least be renewed confidence about what else to try that might work..
Left, February 28: mapping out composition by washing off damp paint with a wet cloth. Central and right, March 1: experimenting with limited palette, work in progress.
Sunday, August 3rd, 2008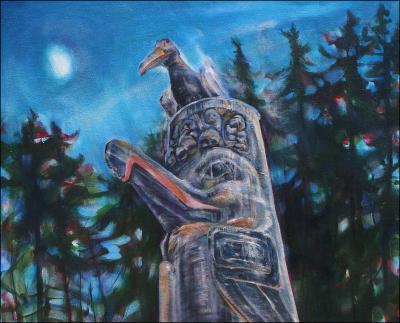 Magic Hour detail image, top half of 60 x 40 x 3 inches Acrylics on canvas. I decided not to lighten the background after all — am leaving the background as is with loose brushwork in contrast to the totem pole which will be much clearer. To achieve the weathered look I'm using a dishwashing scratch pad to remove some of the paint. Work in progress.
Thursday, July 24th, 2008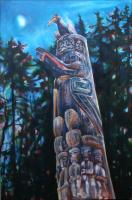 Art history is human history. What we call Art is the expression of individuals finding connection with our humanity; who are we? How do we respond to our surroundings and who are we in relation the things we depend on for survival? Standing in front of the Totems I realized that the answers we sought long, long ago are the same, and the things we love now are the same things people have always loved. As Artists and Art Viewers we'll never  Museumventure far from subjects that speak to the heart.   
The originals of all the totem poles erected in Thunderbird Park on the grounds of the Royal BC Museum in Victoria, Canada are now protected from the effects of weather inside the museum. The totem portrayed in this painting is a replica of the Gitxsan Pole that was moved in 1958 from Kitwankool, BC. This version of the pole is named Skim-sim and Will-a-daugh, belonging to Chief Wiha (Wee-kha, Ernest Smith), the chief of the Wolf Clan: only the top 3/4 of the totem is portrayed. Due to deterioration caused by weather, the originals of all the totems in Thunderbird Park are now erected inside the museum and are replaced with replicas carved by Mungo Martin, chief carver, Henry, Tony and Richard Hunt (this one 1960).
Symbols/crests: The bird at the crown is a giant woodpecker (wee-get-welku). Legend reads that a female ancestor kept a pet woodpecker, feeding it so much it grew to be a giant monster that ate everything made of wood until it was killed. It sits atop 5 human figures who stand on the head of the Mountain Eagle (Skim-sim),  who kidnapped and mated with a woman then devoured their offspring. The eleven small figures are humans fishing through holes in the ice. Under them and not pictured in the painting is Will-a-daugh, also known as "Person With a Large Nose", holding her child who was conceived from a wood grub.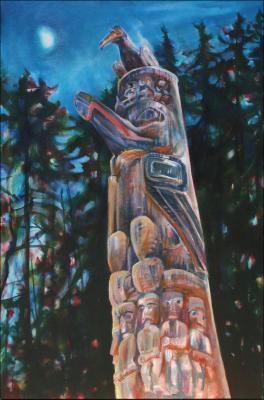 July 19th: Magic Hour –  60 x 40 x 3 inches Acrylics on wrapped canvas. Phase 3, work in progress.
Thursday, July 17th, 2008
Magic Hour, the top half of the magnificent Gitxsan Totem pole in Thunderbird Park near the Inner Harbor downtown Victoria, B.C. 60 x 40 x 3 Acrylics on wrapped canvas. Phase 2, work in progress.
The drawing is sketched with Alizarine Crimson and Red Oxide base. We were there a week ago just as the sun set, shining light on the right side of the totems and rising moon light lit the left side. I changed the tree silhouette to a typical B.C. horizon of tall Red Cedar, whereas the trees in that park are Maples.
Sunday, October 7th, 2007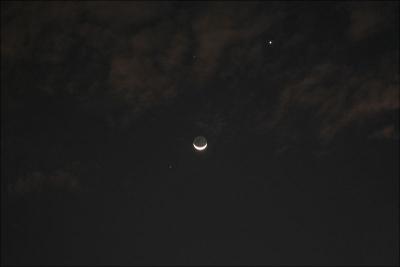 Morning moon, Lewisville, TX
Friday, August 31st, 2007
Beauty – the moon, the sun, and a routine of daily painting!
Friday, August 24th, 2007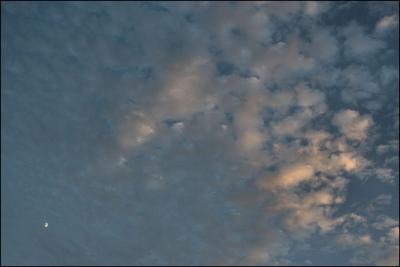 Moonlight, the sky at sunset last night
Tuesday, December 12th, 2006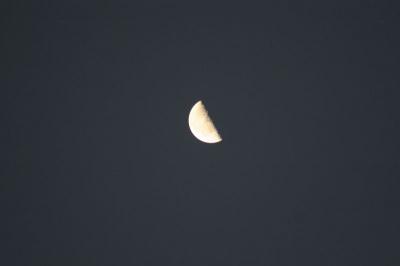 Alain just bought me a telephoto lens and a desperately needed tripod.
Wednesday, December 6th, 2006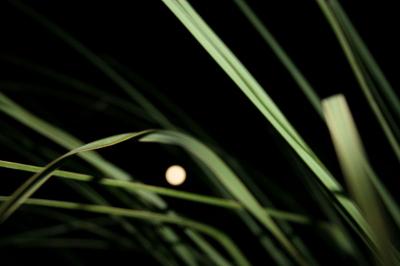 « Previous Entries