leaves
« Previous Entries
Monday, June 12th, 2017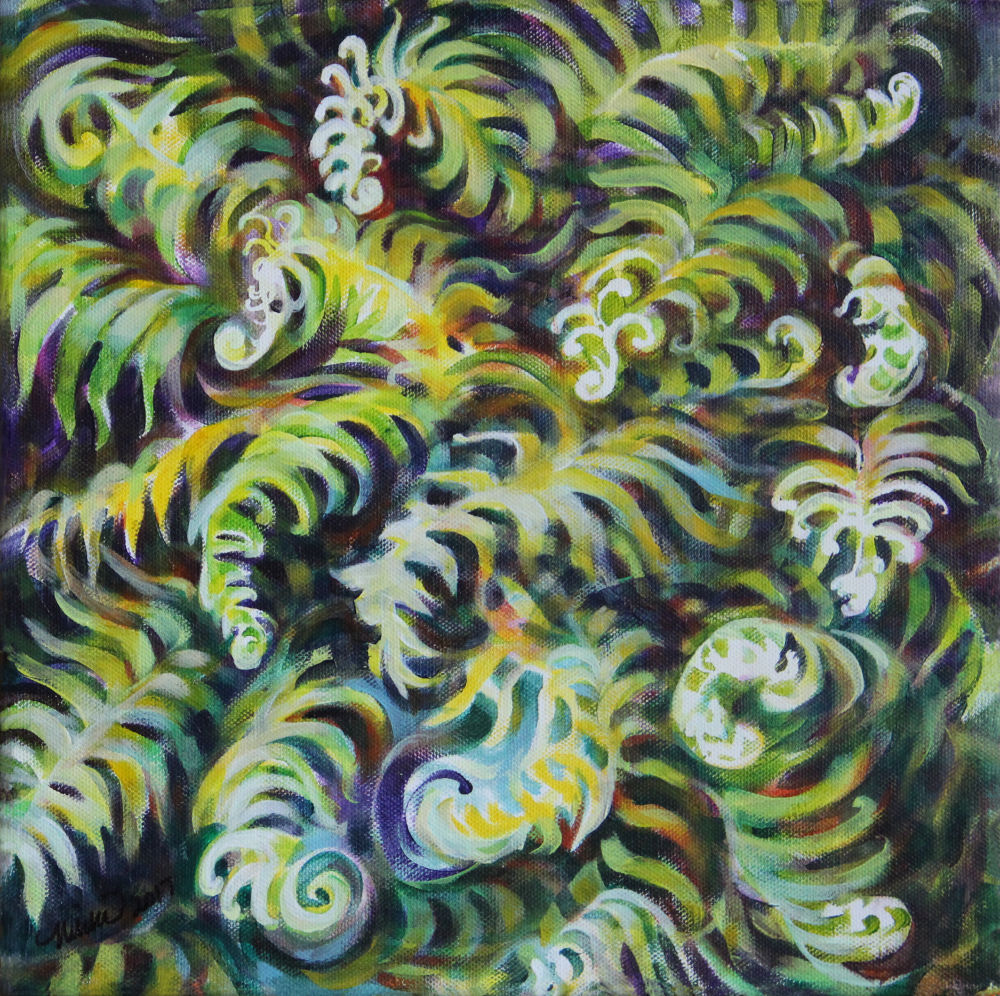 Fern Song, 12 x 12 inches acrylics on canvas
Entry for The Square Foot Show in Bismark, ND on August 1st – 25th, 2017
Saturday, June 3rd, 2017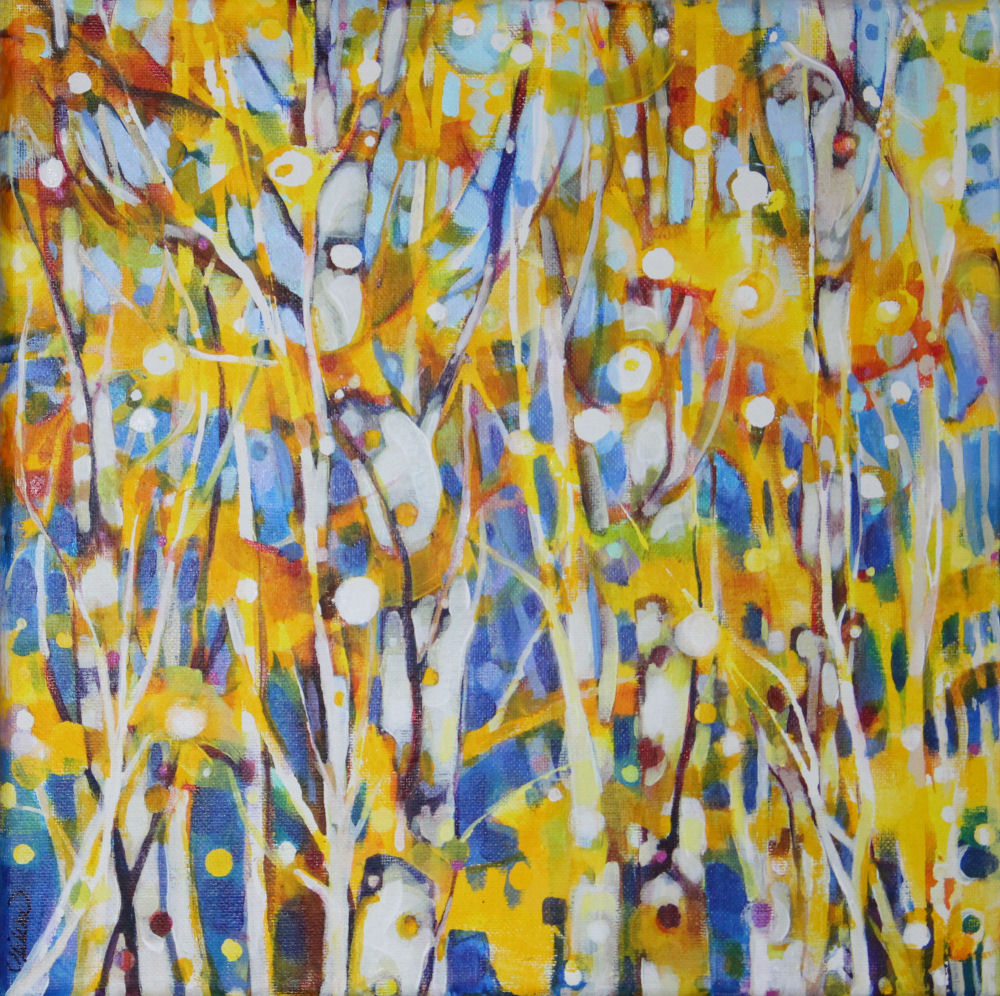 First Snow 02, 12 x 12 inches acrylics on canvas
Entry for The Square Foot Show in Bismark, ND on August 1st – 25th, 2017
~ Sold ~
Wednesday, March 1st, 2017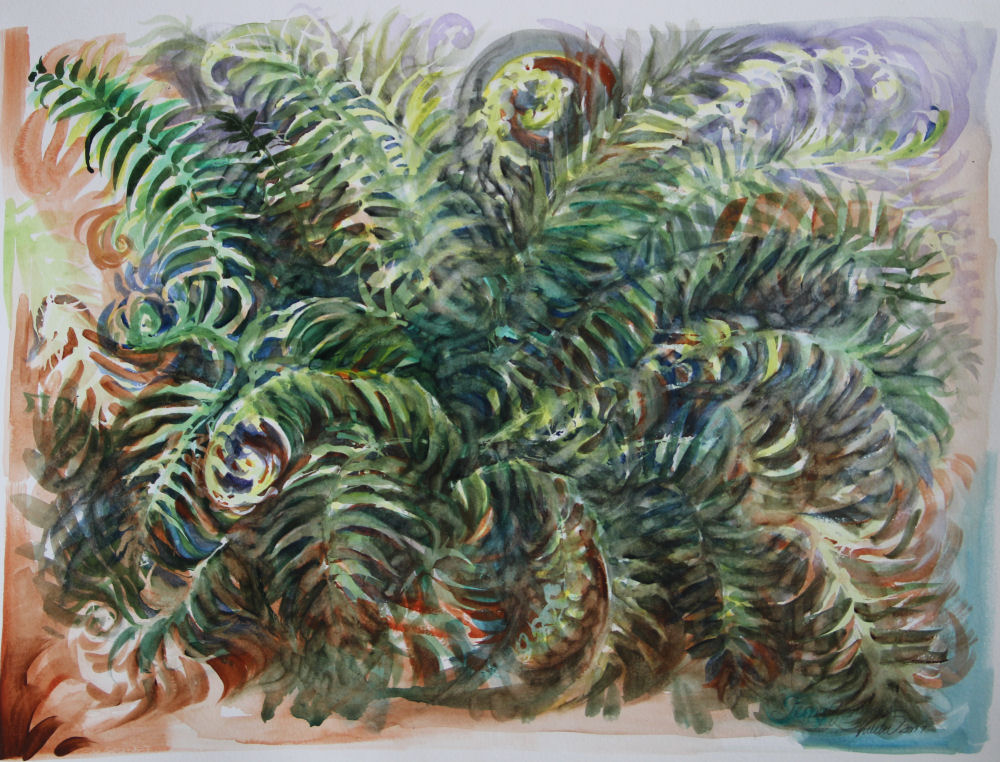 Ferny Gestures, 14 x 20 inches watercolors on 140 lb. cold pressed
Sunday, October 18th, 2015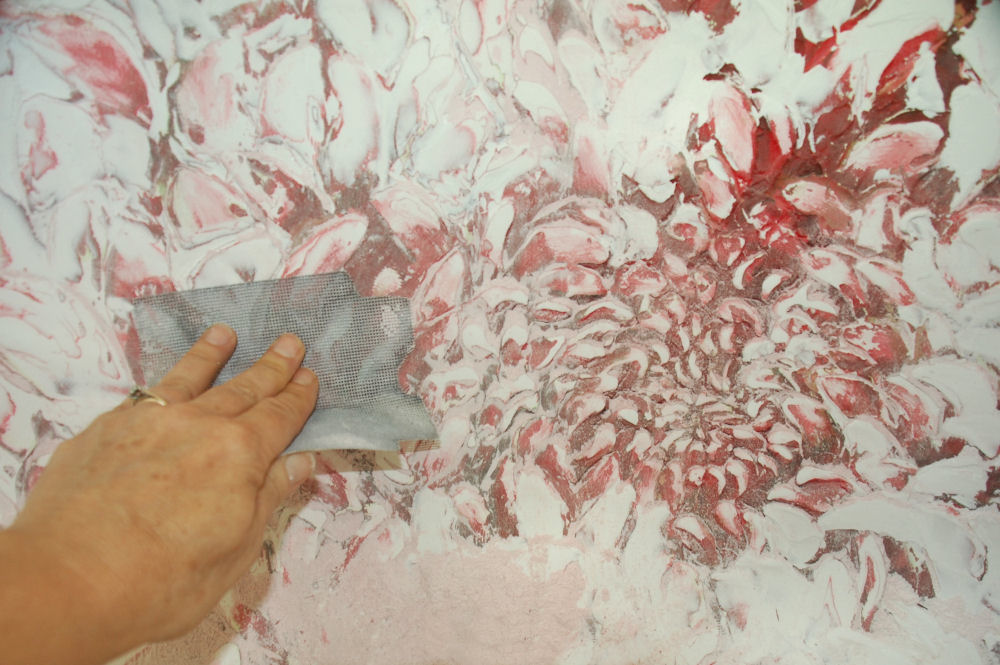 Chrysanthemums Chair front and back: plaster layering, sanding and painting in progress
Saturday, January 19th, 2013
---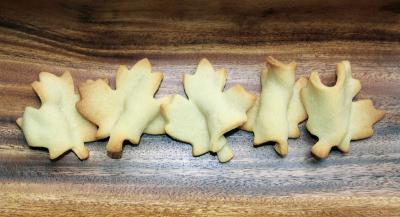 …well, just a twist of waxed paper actually. The leaf-shaped cookie dough was laid gently over twisted pieces of waxed paper. After the cookies baked and cooled the waxed paper was removed, so they're a little more interesting than flat cookies.  The Sugar Cookies recipe is the same as used for Culture Cookies, which is listed at the end of the article. While you're munching on the cookies you bake, browse back to the top, and read the article!
Tuesday, November 13th, 2012
---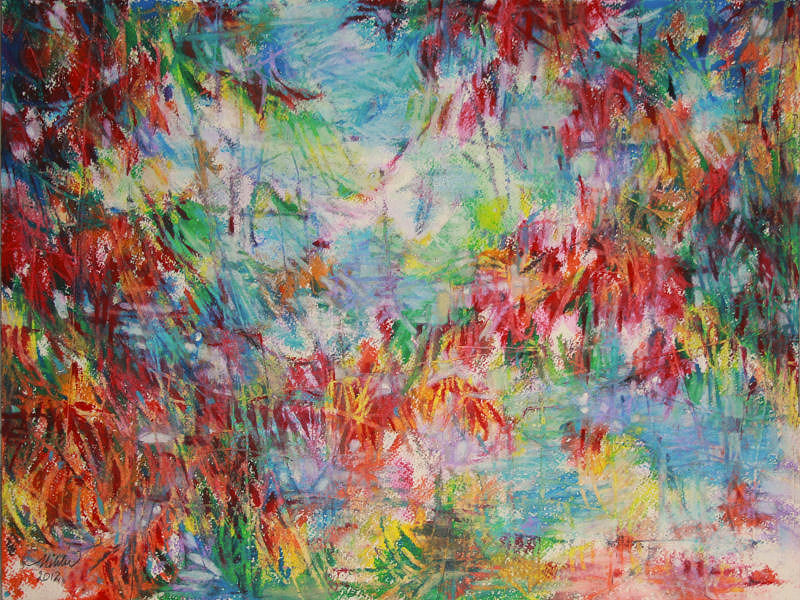 Sumac Bushes 12H x 16W inches oil pastels on 140 lb W/C paper
This piece has a base of watercolor crayons, which I hadn't heard of before and was excited to try. With expectations to complete a piece today, I wasn't too impressed that the rough crayon color marks remain on the page, and the colors and solubility are weak. With more experience, those properties might be used to advantage, but not without an open frame of mind toward experimenting. Because of this, oil pastels are layered on top, then scratched away using fingernails and pottery tools.
---
$250.00 mat               

$550.00 framed          

---
Sunday, November 4th, 2012
---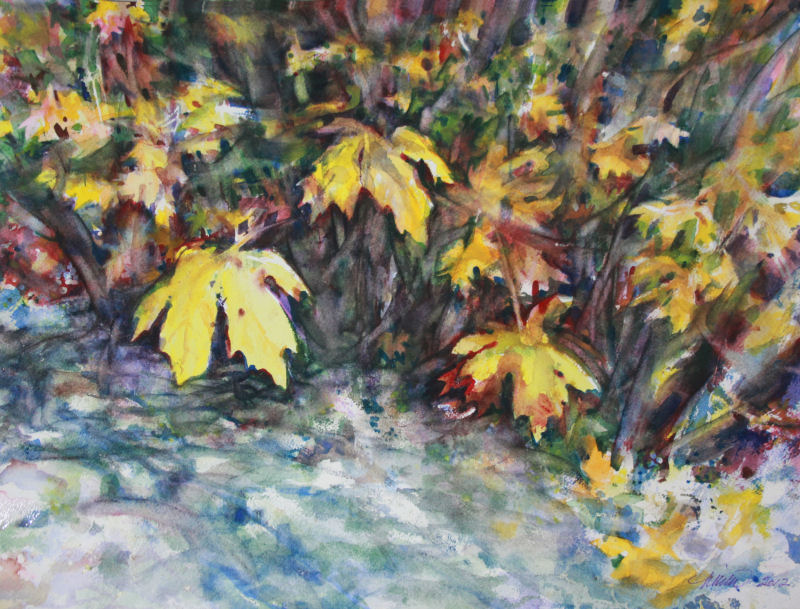 Big Leaf Maple near Port Renfrew, Vancouver Island, BC Canada, 12H x 16W inches watercolors on 140 lb 100% cotton paper
---
$250.00 mat             

$550.00 framed        

---
Thursday, May 26th, 2011
---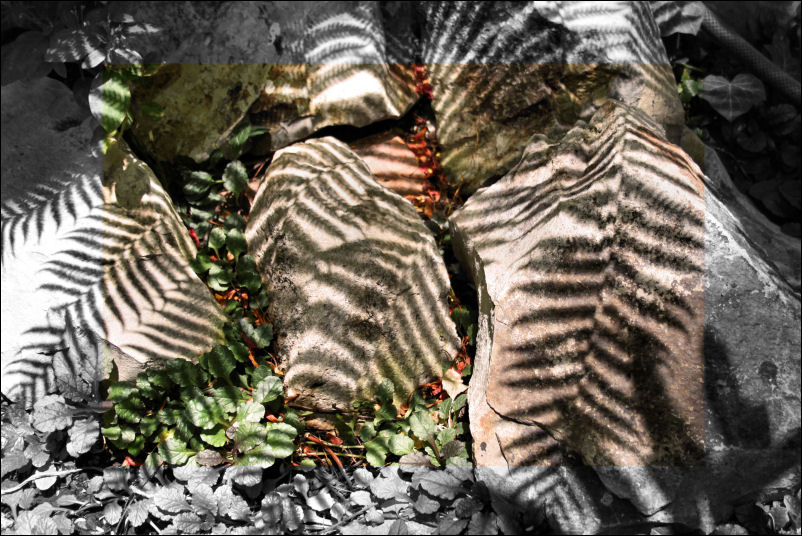 Tree fern shadows cast across garden rocks in Chapala, Mexico
"Your true colors are beautiful" – Cindy Lauper
I've been in Mexico for the past two weeks, so I'll be contributing more images to the True Colors website, created in 2007 as tribute to the colorful landscapes and cultures here. Developed separately from the other chapters of nikkiartwork.com, trucolors.info is considered as one complete and independent project. I've posted a few more of the recent pieces in this series on nikkiphotography.com
Tuesday, December 21st, 2010
---
"Necessity is the mother of invention."
Aesop's Fables
Oak Leaf bedside tables, 24H x 12W inches with a 20 inch glass top, crinkled paper mache over heavy cardboard tubes. The tubes are available in a variety of dimensions, sold in hardware stores as use for cement pouring re: fence building.
I've had this idea to make bedside tables for a few years now, and selling the house, prepping it for viewing has motivated me to finally make them. Faux suede effects were the intention here, and I'm pleased with the results. A brown circular woven mat covers the glass and hides the space looking into the tube.
---
$250.00          

---
Friday, April 9th, 2010
---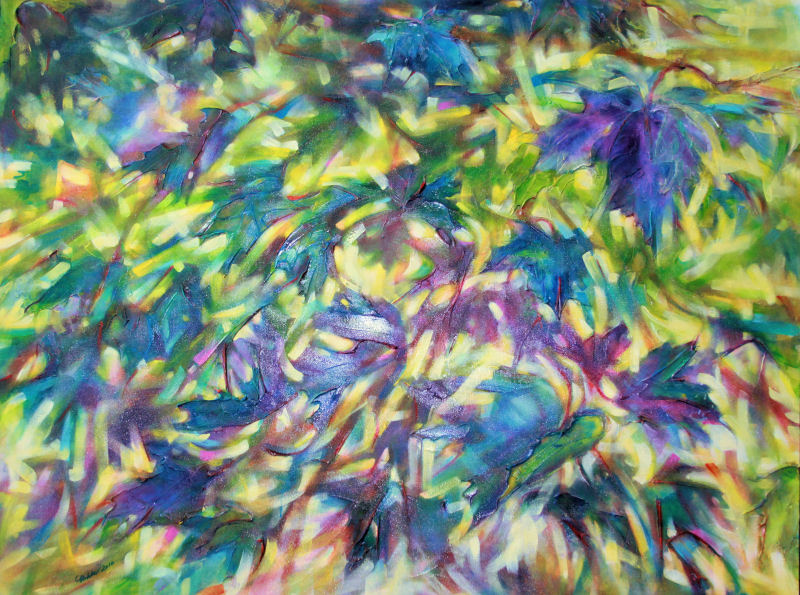 Norway Maple in Madison, Wisconsin, 36H x 48W x 2D inches acrylics and modeling gel on canvas, wrapped sides painted, narrow frame

March 9th: Subtle changes since last post…have been working more on tones in the background, which weren't planned initially; I had hoped to use only pure colors without the usual layering, but it's otherwise too hard to look at. Also am connecting a few shapes horizontally, and it's almost "there", but '2D Pinecone' was started in the meantime to avoid overworking this.
March 6th: Thanks, Virginia for taking the time to write and digitize a detailed, objective critique. I sure appreciate your opinion about what might improve this. Spotted Cow Syndrome eh? Yes, you're absolutely right. There needs to be one focus somewhere; left thumbnail shows another day of work..still in progress.
Feb. 28th, above right: detail of above, left Adding a solid patch of turquoise to lower left and some tiny details like that may ground the whole thing, but that's about it; am leaving it out of sight for a while. This really is a carnival of color, I love it!
Thumbnails: Combined, edited posts of progression between Dec. 8th, 2009 – Feb. 27th, 2010. Started December 8th, 2009: modeling gel is available in varied textures, finishes and viscosity. Acrylics paint can be mixed with the medium or when dry paint can be applied over top. 3) January 18th, 2010: applying modeling paste to the base painting, and sculpting with a small trowel. February 27th: lighter background colors were added in order to open up the space.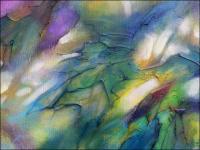 Left: Jan 28th, detail image – used  a dry brush so paint would catch mostly on the textures, and kept the feeling soft. Intentions are to maintain the fresh pure colors. Studied from a distance for about a week after this stage to contemplate what the next move will be.
All paintings and Art forms created from now until the end of April will be specifically toward the Dancing With Trees Exhibition to be held at the Steinhaur Trust Gallery, Wisconsin-Madison University Arboretum, scheduled May through June 2010.
---
$750.00          

---
« Previous Entries