Issues
« Previous Entries
Wednesday, July 7th, 2010
---
"Art is a human activity having for its purpose the transmission to others of the highest and best feelings to which [humanity has] risen."
Leo Tolstoy
---
Creating art is always a personal endeavour, and every so often I'm drawn to study only for the deeper experience of it; for the kind of education and understanding that can't come through reading or any other means. Here is a painting I started in May, along with links and information about a unique part of Canadian history that many Canadians are not even aware of, a group of Russian immigrants who made significant contributions to, and the development of, the Canadian prairies. Next week I'll be driving up to Alberta through Blaine Lake, Saskatchewan where some of the Doukhobors, whom I've just recently learned are part of my own heritage, settled during the 19th century. Upon returning from this final leg of summer travel there is another painting commission to complete, so I'll be blogging regularly again and finishing this painting in about two months.
---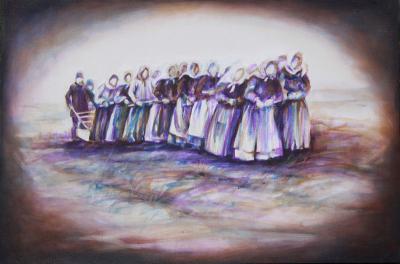 "Toil and Peaceful Life" (quote, Peter V. Verigin), 24 x 36 x 2 inches acrylics on canvas. Study only, NFS, work in progress: There are harsh contrasts and colors at this stage, so am planning to paint over the whole surface with my friend Virginia's white wash formula (1/2 guesso, 1/4 matte medium and 1/4 water), then will gradually bring out details again by scrubbing areas away with a wet cloth and repainting as well. Further layers of siennas, umbers, pale yellows, unbleached titanium washes etc. will be treated the same way.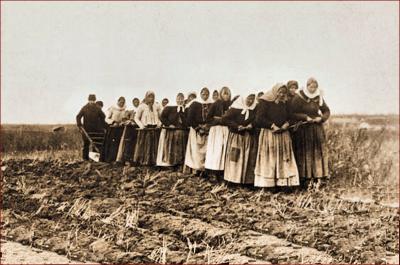 When the light bulb on my sewing machine burnt out – it won't work without one – I could have hopped in the car and driven three blocks to go buy another, but instead made due hemming a garment by manually spinning the wheel on the machine. I had already started the above painting referring to an old photo of 16 Doukhobor women pulling and two men directing a plow as they tilled the land in southern Manitoba, Canada's eastern-most prairie province, during the late 1800's. This is one of the more powerful images portraying the character of the Doukhobors, who left their homeland in Russia because of religious persecution, never allowed to return, becoming the largest mass immigration in Canadian history.
I've often wondered how it must have been for women in the past, considering all of the chores that raising a family and taking care of the home must have entailed. On top of that, there was little relief from extreme weather conditions as, for example, during the heat of summer all of these responsibilities were done wearing long dresses, petticoats and bonnets. I guess it was with this in mind that I endured impatiently sewing my jeans without electricity.
The small amount of soil I turn over in the garden is planted mostly with flowers. The few veggies that  are novel to watch grow from seed to fruition are not crucual to the survival of my family. While I'm purchasing ready-wound thread on a plastic bobbin, I can select from a number of  food choices and shop during any time of day, 24 hours a day in a 7 day week. Todays' lifestyles are so far removed from the realities that pioneers in any land must have faced. Living in small communities where all could share the work as well as morally support each other made complete sense. So it was for the Doukhobors, living a philosophy very similar to the Hutterites, the Mennonites, and the Amish.
Photos are photos and paintings are paintings, but as traditional artists we can take advantage of the art of photography as inspiration to trigger motivation and memories, recreate impressions, and refer to for details. If photos are used as reference, very soon after painting begins I rely on and respond more to what's happening on the canvas. For some time before putting brush to canvas, every detail of a subject adds to an internal mental picture, one that gradually envisions the painting finished to a certain degree. In some cases I'll work from pictures of historic art or artifacts as educational studies, or from a client's photo if they commission the reproduction of a favorite scene. Always though, the resulting art is an emotional translation.
The first thing that strikes me in the enlarged re-re-reproduced print I'm working from is how little the quality of the image matters. The shadows on the faces of each individual say it all. Some appear curious about having their photo taken, and most are more concerned about the task at hand. Though the image is crude by modern standards, and maybe even partly due to it, we are able to share the raw truth of a moment in one of an uncountable number of cultures throughout human history who worked so physically this way. For most of our time here on earth, we, like all of nature, knew we depended on the land, and it truly was survival of the fittest.  I can only hope to capture the calibre of this story as well as the photo does.
Sometimes a painting can never be as effective as a photo, particularly when it comes to human portraits. In intances like this, there is so much value in "the journey" of your efforts. Painting such a scene, it really is like being transported. Of course the goal is to make the work successful, and artists all hope and plan for sales, but we also need to make time for creating work that feeds our soul and brings us back to the inner sources that pulled us into this not-always-externally-fulfilling vocation in the first place. When I recommend forgetting the rules and listening to your own, that's what I mean. Even if you have never tried to paint or draw before, or you think you don't have enough skill, you are as capable as anyone if you are spurred on by your emotions toward subjects you love, using whatever methods you enjoy.
---
Facebook – group intro:
 "Toil and Peaceful Life"
The name Doukhobor  means "spirit wrestler". Although many of their beliefs descended from Christianity, being a Doukhobor is more of a way of life than a religion. Doukhobors are a group of pacifists that came to Canada from Russia to escape persecution for their beliefs at the end of the 19th century. The most well known leader of the Doukhobors was Peter 'Lordly' Verigin. The Doukhobors established communites across Western Canada, many times cultivating land that was not seen as desirable. There are still reminants of Doukhobor villages primarily in British Columbia and Saskatchewan.
 "…The settlers found Saskatchewan winters much harsher than those in Transcaucasia, and were particularly disappointed that the climate was not as suitable for growing fruits and vegetables. Many of the men found it necessary to take non-farm jobs, especially in railway construction, while the women stayed behind to till the land…"
Susan Wiley Hardwick, "Russian Refuge: Religion, Migration, and Settlement on the North American Pacific Rim". University of Chicago Press, 1993. ISBN 0-226-31610-6. 1993. Section "The Doukhobors"
 http://en.wikipedia.org/wiki/Doukhobor
The Doukhobors: 16th Century Russia to Canada, 2010 
The origin of the Doukhobors is fairly dubious, but some information dates the culture back to 16th and 17th century Russia. Deeply spiritual, the "Doukho-borets", which literally means "spirit wrestlers", rejected common orthodox practices of organized religions and society, including the worship of icons and individual land ownership. As pacifists, their motto was "Toil and Peaceful Life".
After refusing allegiance to Tsar Nicholas and military service, in 1895, they burnt all of their weapons in response to this. (The date, June 28th, has become a day of celebration of their humble roots.) Facing persecution for their beliefs, over 7,000 Doukhobors sought refuge in Canada starting in 1899.
The Doukhobors' passage across the Atlantic Ocean was largely paid for by Quakers and Tolstoyans, who sympathized with their plight, and by the writer Leo Tolstoy, who arranged for the royalties from his novel Resurrection, his story Father Sergei, and some others, to go to the migration fund. He also raised money from wealthy friends. In the end, his efforts provided half of the immigration fund, about 30,000 rubles.
* Multicultural Canada http://multiculturalcanada.ca/node/48207
With sympathy from the Canadian government, for a $10 fee each adult male was intitially provided with 160 acres of "free land" on the prairies of central Canada; present day Saskatchewan and Manitoba. They were expected to live on and break the land, plant crops, and eventually apply for a patent to own it.
During 1906, a new Parliamentary Minister revised their previous agreement to laws that commanded a pledge of allegiance to the Crown or else lose their homesteads. In 1907, 2,500 homesteads were cancelled, causing communal splits into three distinct groups. The largest group of Doukhobors, incuding  Peter Verigin, the man who had re-documented and defined their Orthodox faith,  moved to British Columbia.  The "Sons of Freedom" also went to B.C., but were radically different than the Community Doukhobors. They actively protested (sometimes nude!) issues arising from Canadian governmental control over their way of life, creating misunderstandings and negativity toward Doukhobors in general that remain to this day. The "Independents" maintained their homesteads in Saskatchewan in compliance with the new  Canadian laws.
1908 to 1912: Peter Veregin's group purchased land in the West Kootenays, B.C. and developed large communal enterprises. The Doukhobors now call themselves the Christian Community of Universal Brotherhood (CCUB), situated in Brilliant, B.C..
Video http://www.youtube.com/watch?v=Kp5umD3HA8k
Sunday, January 17th, 2010
---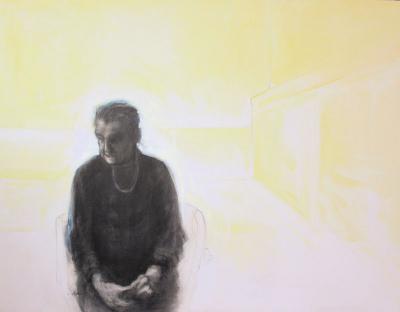 A Heart Filled to the Brim, 36H x 48W x 2D inches, water soluble graphite, acrylics on canvas. On exhibit along with Polypore Fungi February through May at the Oxide Gallery, Denton, Texas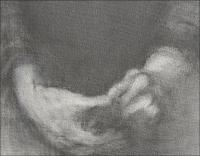 An excerpt from the song, I Don't Believe by Paul Simon on the CD, Surprise:
I don't believe a heart can be filled to the brim
then vanish like mist as though life were a whim.
Maybe the heart is part of the mist
And that's all that there is and could ever exist.
A portrait of Alzheimer's honoring my Grandmother, my Mother-in-law (whose portrait this is, and whose 80th birthday is in two days), and now recently my own Mother who is in the earliest stages; and with empathy for all those afflicted, including the families dealing with the awful emotional reverberations caused by this disease.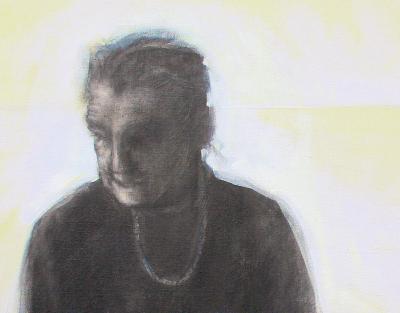 Here are a few websites providing information about Alzheimer's Disease
http://www.alz.org/index.asp
http://www.alzheimersrxtreatment.com/learnaboutalz.html
http://www.alzheimers.org/
Thursday, September 17th, 2009
---
How do artists price their work? How do artists price their work honestly, consider themselves as legitimate business persons, still with equal regard to the buyer looking for quality and a fair deal? How do artists price their work reasonably while acknowledging the responsibility we have to our trade; that is, respecting that we, in many cases, base our prices on each other's? How do artists price their work while competing other artists, when for some, savvy marketing skills yield profits far higher than the quality of their art? (Subjective as art is, we all recognize quality…or do we?). How do artists price their work to sell in a dicey economy? How do artists price their work to sell in a dicey economy that's dependent on the moral and ethical whims of public spending, and the consequential extremes of society?

I have just reluctantly slashed the prices on my artwork. I'm not going to soften the announcement with a less violent description, because compromising what I feel are well-earned wages, whether adapting to economic conditions or sharing a percentage of it for any reason, is brutal. My canvases are not the only ones feeling the brush of reality these days though; I see, hear and read that a lot of artists are reevaluating how much they ask for their work. Still, I applaud those artists who continue to stand up for the principles of the unspoken "Artist's Code", as Homer Simpson might put it. I'm not fond of unsold art accumulating and spilling out into every room of my home though. The hope is that it will resonate with someone else besides me. It must be seen and it must be shared.
Andy Warhol said: "Art is what sells".
Maybe the average art enthusiast doesn't know how we derive prices for our work. Maybe many artists don't stop to dissect their decisions either. The prices of art in galleries worldwide are inconsistent, confusing and often irrational, and who is authorized to price artwork like that anyway? (Ideally it should be the artist). There are so many variables. I'm probably going to miss naming a few here because methods for pricing vary from artist to artist, hobby or career, and if their art is in the form of products or services. Costs of materials and time spent are considered, and price differences with regard those two factors have everything to do with the quality of time spent and quality of materials. Skill levels, concepts, originality, to some extent size, (ie. sculptures, murals), and if it's for sale in a home studio in Rocky Mount, North Carolina or a high-end gallery in New York City…and most artists will tell you that above all, the final price has to "feel" right. For some strictly structural Art-minds, feelings in art don't have a leg to stand on – but in actual fact they have two legs (the human thing). The most unpredictable, nonsensical thing is that even if the artist makes an impact while alive, their older work may be worth much less than the most recent, but when the artist dies, prices of their earliest works may increase.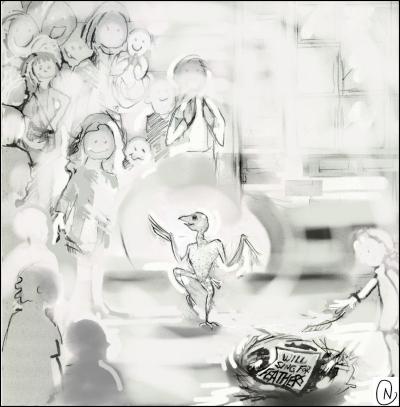 Will Sing For Feathers, 8 x 10 inches, traditional graphite drawing scanned, drawn digitally, printed, process repeated
As we gain experience, confidence toward change and experimentation, and progressively improve our development as Artists, theoretically we should be able to charge more, which is why "mature" artists naturally feel they deserve to be paid more. Case in point: me. The price I initially wanted to charge for "Dancing With Trees" was $7,500.
It seems like a lot to be asking for those unfamiliar with all that painting or other forms of artwork involves. Time seems to be the most accountable factor in producing it. After viewing the artwork and the price, the most common question is: How long did that take you? It's a fair question, because for most jobs, time input equals amount charged; a predictable amount of money is paid in exchange for a certain amount of labor within a set amount of time. If only it were that simple.
Using that system to price then, Dancing With Trees is my very best work to date, and it took almost 50 years to learn how to paint it. The price was reduced from $7,500.00 to $5,500.00. Assuming I don't have to share a percentage of that figure with a gallery, and assuming it sells in the next year, that works out to approximately .7638888888888889 cents per hour. I feel confident that it's worth that much. That's a wage about as kookoo as a bird dancing for its own feathers. One day someone will come along who has an extremely large wall and agrees that the painting is worth .7638888888888889 cents per hour, and they will buy it. Each year work hangs around with me though, I decrease the asking price as new pieces are created.
Sometimes I wish I was just a bird!
The vocation of Artist is a calling, and a journey of personal growth. Who doesn't want to do what they love, learn all the time, contribute the best they have to offer to the world, and earn a living as well? Creativity is not only what we love to do; it is a deeply-rooted habit, a compulsion and an addiction of the very best kind. Art is connected intimately with our lives so we continue to make "stuff" no matter what, and preferably, the artists' judgment of its' value will be trusted. In my revised Price List I've made a good effort to be fair to the buyer while at the same time remaining true to myself.
Post script, 2016: Well, such is life — due to the economy, and a taste of humble pie, I have since lowered the price of Dancing With Trees 03 to $1,100. It's still substantial enough to pay for my time and material costs, and perhaps more in tune with the reality of art sales expectations these days.
Thursday, September 10th, 2009
---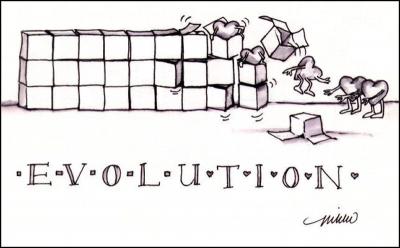 "If we could eradicate poverty and give people a sense of worth,
a great deal of conflict would end. It would not even begin.
Why are we so stupid for so long?"
Bishop Desmond Tutu
Thursday, March 26th, 2009
---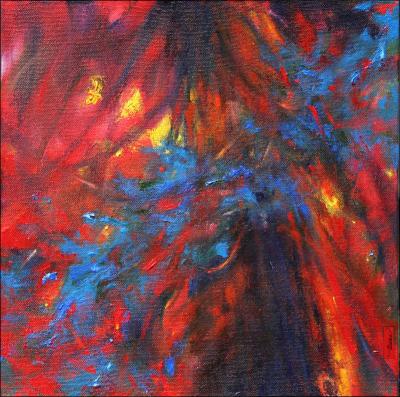 Paint Arson, 11H x 11W x 3D inches acrylics on canvas, wrapped sides painted: finished, and phases 1 and 2 images.  Most of the Magic Square series are signed on the side, so the signature seen here is superimposed.
Buying a new jar of Cadmium Red medium hue was just the thing to reboot, then re-route some old habits I was falling back into, like over-working paintings. Here I began with a lush Redwood forest in mind, thinking I could safely stir up some inspiration with the hot scarlet under my usual cool green palette… I did not intend to start a fire!
A new color invigorates the work process like nothing else can, and adds renewed life to your results as well. Incorporated as a base, straight out of the tube or mixed with your usual palette, a new color changes everything. Here now, as the painting is seen in the second thumbnail, there's nothing I can do except follow it and see where it leads. The strength and intensity of this color as a base is dictating a whole other unintended but interesting direction, and it's in charge for a while. I hope I can manage it.
Painting, whatever the subject may be, is a journey through all kinds of unanticipated thoughts and associations; some are short and sweet, ending within 1 – 6 hours and not much more than a visual, but some are packed full of adventure that isn't even realized until surfacing from a few hours of work.
The forest fires were still-smoldering when we walked through the Californian Redwood and Sequoia forests last November, and my memory lapses into romanticized imagery of smoky rays of light in the sunset. It's perplexing that the effects of forest devastation could be so pretty when the fact is that just the week before, a raging fire was the cause of all that beauty, and not just the smoky sunset, but fire enables the entire forest to flourish. As I'm painting this I'm thinking about all kinds of  how fire is a naturally occurring event like rain and snow, and is an essential part of forest cycles…and of how fire is destructive but supports renewal and re-creation as well.
Fire opens pine cones to disperse their seeds, controls pests and disease. By burning weeds and weaker trees that rob sunlight and nutrients from healthier trees and plants, it also clears the way for new seeds to sprout. Ash aerates, and contains properties that determine the quality of soil and what is able to grow there. Realizing that certain trees only regenerate with the aid of fire, like the giant Sequoia cones only release seeds through fire, today's standard fire management practice is to allow naturally occurring forest fires to burn, still with a mind to sensibly control it.
So what element does it take to spark motivation, opening  a painter's eyes to new possibilities? A jar of Cadmium Red medium hue!
---
$350.00           

---
Thursday, July 31st, 2008
---
Post-dated not February 2009: Thanks to individuals rallying together and signing the petition, we are reassured that even small efforts do make a difference on this planet. The land surrounding the Angel Oak is no longer in jeopardy.  http://www.savetheangeloak.org/
~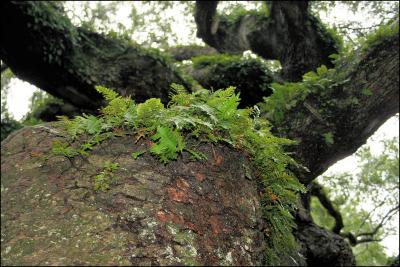 This set of photos honors the efforts of a petition to halt construction on John's Island, South Carolina that would encroach on an area of land boasting an Oak tree estimated to be between 1,400 and 1,500 years old.
Charleston, SC is proud of its heritage and respected for its commitment to preserving history in the area, so residents hope that plans will not proceed to cut down nearby trees and forest in favor of land development.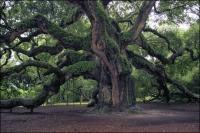 On the petition website, even if you don't sign you will be able to read pages of interesting comments and pleas from residents who have fond memories of climbing the immense branches as children, how a nearby elementary school carries its name, and exclamations by tourists who have visited the area specifically to see the Angel Oak.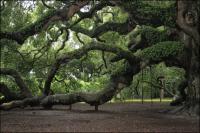 This summer my husband and I drove through South Carolina and took a short detour to John's Island. We drove through wicked rains at the edge of Tropical storm Faye, so when we arrived at Angel Oak park no one else was there. The tree trunk and lower branches are so immense, they have been propped up with stakes and heavy cables here and there, which is a little intrusive but obviously necessary. Growth is spread outward more than upward, occupying an enormous space at least 150 feet wide.
It occurred to me that this tree has lived through one serious chunk of history, and wondered what was happening on our planet when The Angel Oak was knee-high to an acorn? 1400 years ago it was the year 608 A.D., Common Era. Almost everything we are familiar with; our collective modern identity has been shaped by many of the events and people who lived and died since the Angel Tree established its first roots in the earth.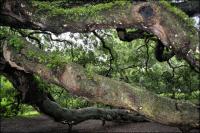 Angel Oak's parent-tree was undoubtedly alive for centuries before and during the year 476 A.D. when the last of the Roman emperors died, bringing about the Fall of Rome. Around the 7th Century A.D. an acorn falls from one of the magnificent Oaks on the southeastern shores of a land only known to the indigenous peoples; a land we now refer to as North America.
The acorn sprouts along with many others…but this one will outlive the rest, seasoning hurricanes, wars, and countless generations of playful children climbing it's branches; it sprouts in conjunction with the collapse of Teotihuacan, one of the major cities in Mesoamerica with widespread influence in central Mexico. The Toltec civilization was unheard of, and would not flourish for another 500 years (1100-1521). Aztecs did not seize power until the 13th century.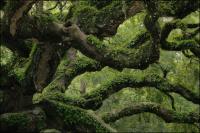 When this tree was 300 years old during 901 A.D., the Vikings discovered Greenland. In 1066 William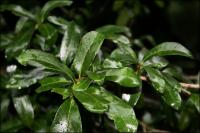 the Conqueror and the Norman troops conquered England altering the English culture forever by bringing French rule and rivalry with France until the The French Revolution occuring from 1789 – 1799. Circa 1100 A.D. the famous Buddhist temple, Angkor Wat in Cambodia is constructed to house the Hindu faith, then around 1275 A.D. Marco Polo, the Venetian explorer and trader visits China via the The Silk Road, returning to Europe with new foods and goods from the Orient which impact modern culture, medicine and dietary habits today.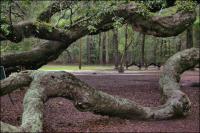 The Black Death devastates Europe around 1348 A.D., while the 740 year old Angel Oak thrives. Columbus and other adventurers would not claim to discover America for another 144 years (C. 1592). Leonardo da Vinci, a man light-years ahead of his time in the field of science and medicine through his various studies. By the time he would paint the Mona Lisa and Michelangelo would paint the Sistine Chapel, the Angel Oak has lived for 900 years. The Tree continues growth beyond the life of Galileo, mathemetician and father of modern Astronomy, and through the life of Shakespeare, who established some of the most famous English literature in our era (c. 1564 – 1616).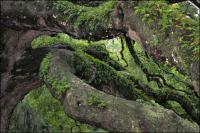 Year 1776 – Angel Oak is 1,166 years old when the U.S. breaks free from British rule and establishes the first Independence Day In 1895, and by the time the Angel Oak had already survived for 1,287 winters Sigmund Freud would bring modern medicine and humanity into a new open-minded age by announcing his theories of dream psychoanalysis and studies of the human psyche. The First World War between 1914-1918 was followed by WWII, 1939 -45/51.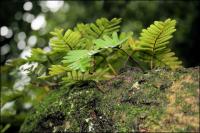 According to the Angel Oak website, after the Category 5 Hurricane Hugo hit the coast of in 1989, Governor Carroll Campbell is reported to say that the storm destroyed enough timber in South Carolina to frame a home for every family in the state of West Virginia. All those trees and forests obliterated, yet The Angel Oak survived. It has since healed injuries inflicted by Hurricane Hugo.
Aren't there enough people who empathize with those who live on John's Island, whose sentiment toward the tree that symbolically links them to family – present and past? Aren't there at least 20,000 people in the world who care about the sensitivity of every single Coastal ecosystem? The petition is looking for only 20,000 signatures, and has over 900 as I write this post. Here is the petition link.
To view more photos of the Angel Oak click here, and to view more photos of trees click here.
Wednesday, June 11th, 2008
---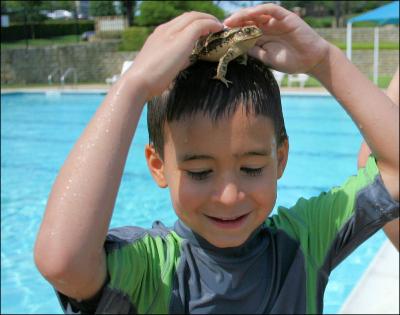 Who would save a drowning rat? These two little boys, Haydon and Noel would.
When I arrived at the neighborhood pool this morning they had just scooped a helpless rat out of the water with a little pail. It was still alive but barely, and the oldest boy who was six years old, explained to me about the circle of life – he used this term, not me. He explained that if rats died then snakes could not live, and so that's why he saved it. I was impressed, but their other new pool playmate, a toad also discovered in the water… not so much!
Tuesday, April 22nd, 2008
---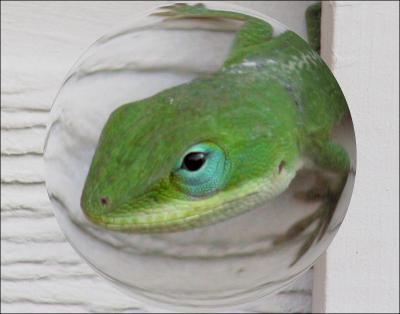 Caring. It's that simple.
For facts about Green Anoles and other reptile care and conservation: http://nationalzoo.si.edu/Animals/ReptilesAmphibians/Facts/FactSheets/Anole.cfm
Tuesday, April 15th, 2008
---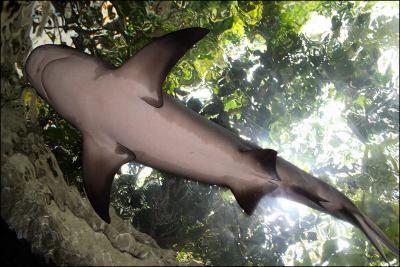 Bull Sharks swim overhead in a 40 foot long tunnel in the main floor Mundo Maya exhibit at the Dallas World Aquarium.
Environmental issues are emotional issues. Groups like Greenpeace work aggressively to protect the future of our planet. It's one way to get the point across, but if we're talking about changing the habits of the masses, I believe a more gentle approach is more effective. As one who was most assertively involved promoting care for the planet about 20 years ago when developing and selling Original Earthbags, first-hand public reactions and feedback demonstrated that negativity toward the human species does not inspire or motivate some of us to take action; in fact it can even be detrimental to the cause.
There are small things each of us can contribute at any level, habit and practices which, by now most of us are aware of.  Zoos, major city aquariums, botanical gardens and similar public spaces  naturally affect an awareness of ourselves in relation to Earth and her creatures in a way that permanently affects our perception of life in general. We start incorporating more mindful habits because we want to, not because we are being told we should.
For information about the changing state of the oceans, here is a link to a petition gathering support to increase marine reserves.
Tuesday, December 11th, 2007
---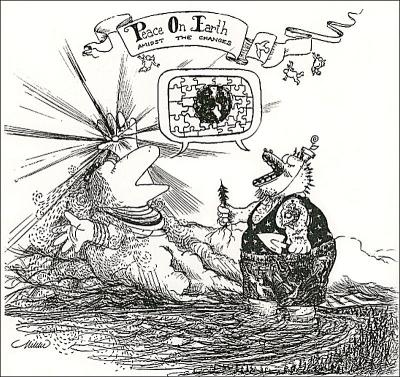 Peace On Earth, pen on paper.
« Previous Entries