impressionistic
« Previous Entries
Friday, November 24th, 2017

Waterfall Fantasy 01, 6H x 2W inches watercolors
Wednesday, November 22nd, 2017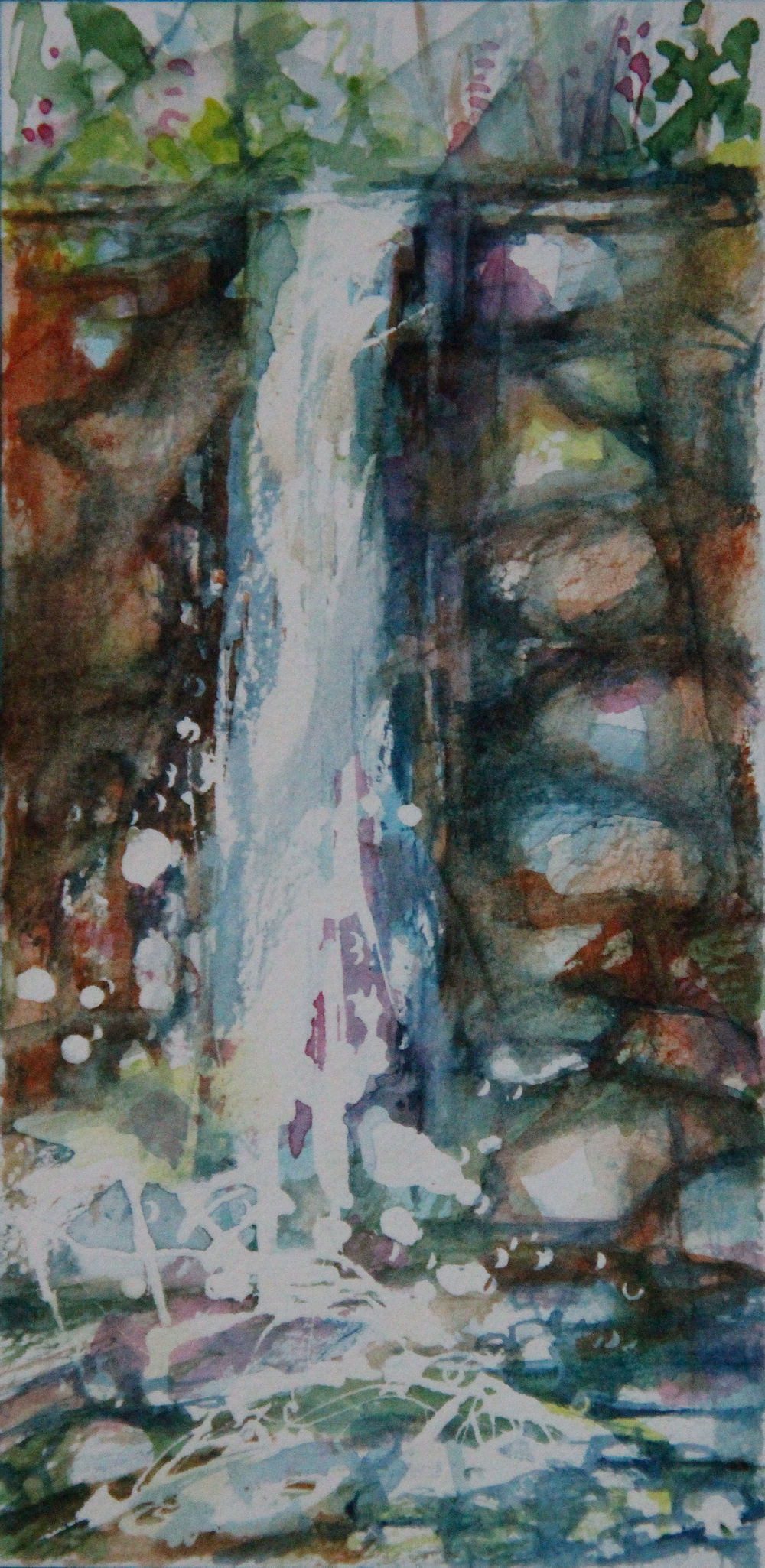 Waterfall Fantasy 03, 6H x 3W inches watercolors
Saturday, November 18th, 2017

Autumn Forest Scene 06, about 6H x 2W inches watercolors on 140 lb cold pressed

Autumn Forest Scene 05, about 6H x 2W inches watercolors on 140 lb cold pressed. This one is my favorite.

Autumn Forest Scene 04, about 6H x 2W inches watercolors on 140 lb cold pressed
Saturday, April 27th, 2013
---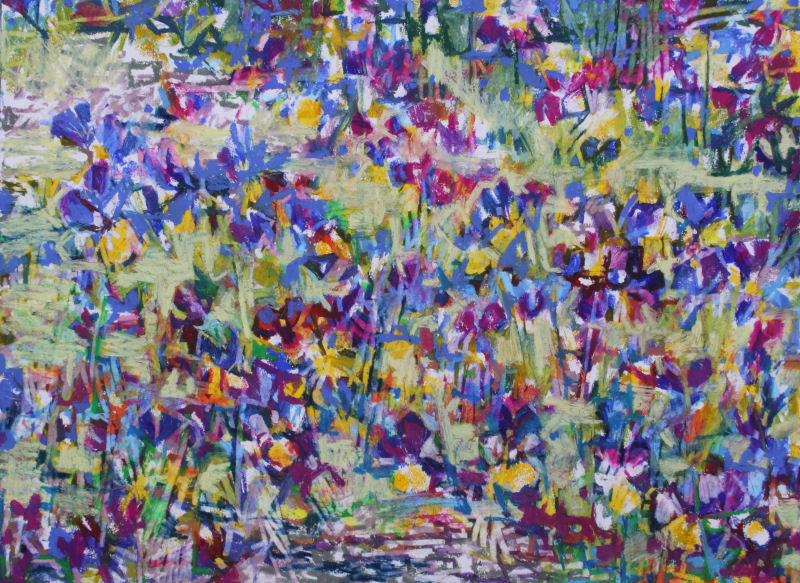 Spring Garden Mix, 18H x 24 inches oil pastels on 80 lb acid free premium
---
$350.00 with white mat       

$750.00 framed                    

---
Thursday, April 18th, 2013
---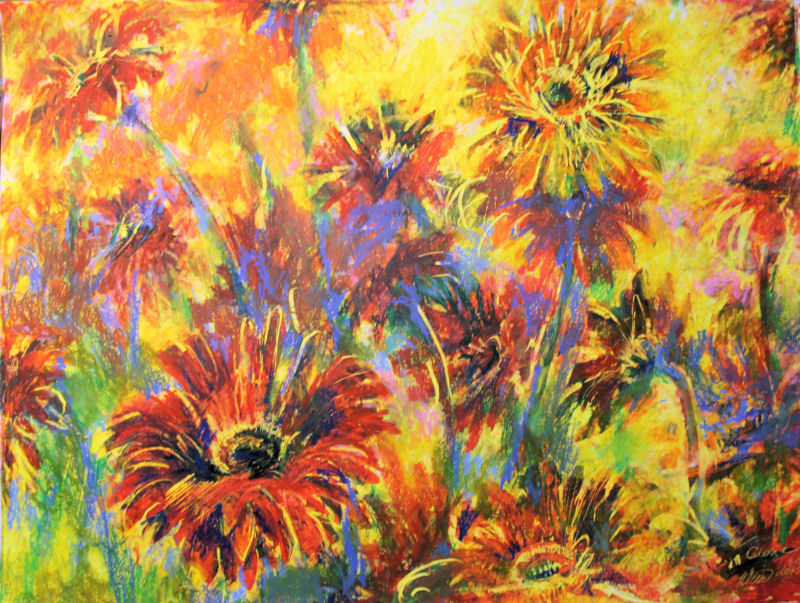 Celosia, work still in progress, 18H x 24W inches 0il pastels on 100% cotton paper
This piece was tucked away a month ago, planning to continue work in future with new eyes, so with nothing to lose, I jumped back in today and threw more color around. I splurged today and bought about 40 new oil sticks, the "Sennelier" brand. Wow, they are so intensely colorful and creamy-beautiful to work with! There is no contest as far as quality compared to any of the other brands I've been using, but they do have a lot of oil content which makes them muddy easily. Looks like it needs to be stored away again to re-work and refineanother day. I don't like giving up on a piece until it feels absolutely done, or without a doubt done to death!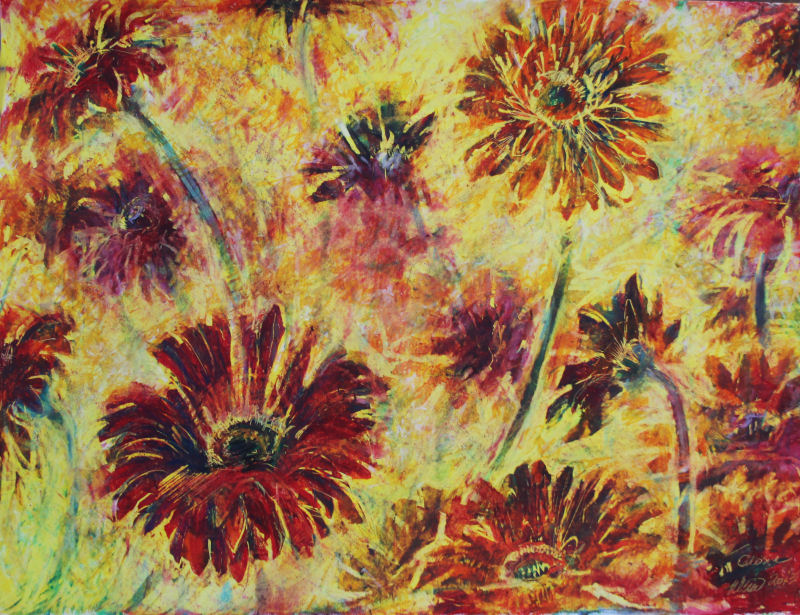 Left, March 22nd, 2013, Day 4 in progress
Reminiscent of retro sofa fabric, now that I see it on-screen! Usually leaving page space showing through to create light and brightness, this time I colored the entire page yellow before starting. Adding white did not help brighten areas much, but did muddle colors, helping some flowers recede. Much of the pure color as seen in the early versions has been covered up or removed, but will be re-added cautiously. The style has also gradually changed to more of a Representational/Impressionistic one. To finish, there will be more scrutiny, and fewer emotional responses before adding or removing anything else.
March 20th through 22nd; Days 1, 2, and 3
Friday, March 20th, 2009
---
Branching Out and Conifer, each 6H x 6W x 2D inches Encaustic, side surfaces also done.
Encaustic is designing/painting with beeswax. I'm not usually intimidated by trying any new medium, but wax is so unique and there are so many possibilities for it, I was a little overwhelmed when I took an introductory course with Deanna Wood. She offers her students workshop days where they can use her supplies to continue experimenting with the medium. Although I'd love to have my own supplies to work at home, the encaustic process is so messy, not to mention expensive to get started, so that is a generous offer.  Today's studio work produced 4 small encaustic paintings, and 2 are successful. Compared to other media, wax is so versatile it can be scraped off to whatever degree, reworked, layered, carved and manipulated as much or as long as you wish. It's a lot of fun!
---
$100.00 each           

---
Friday, January 16th, 2009
---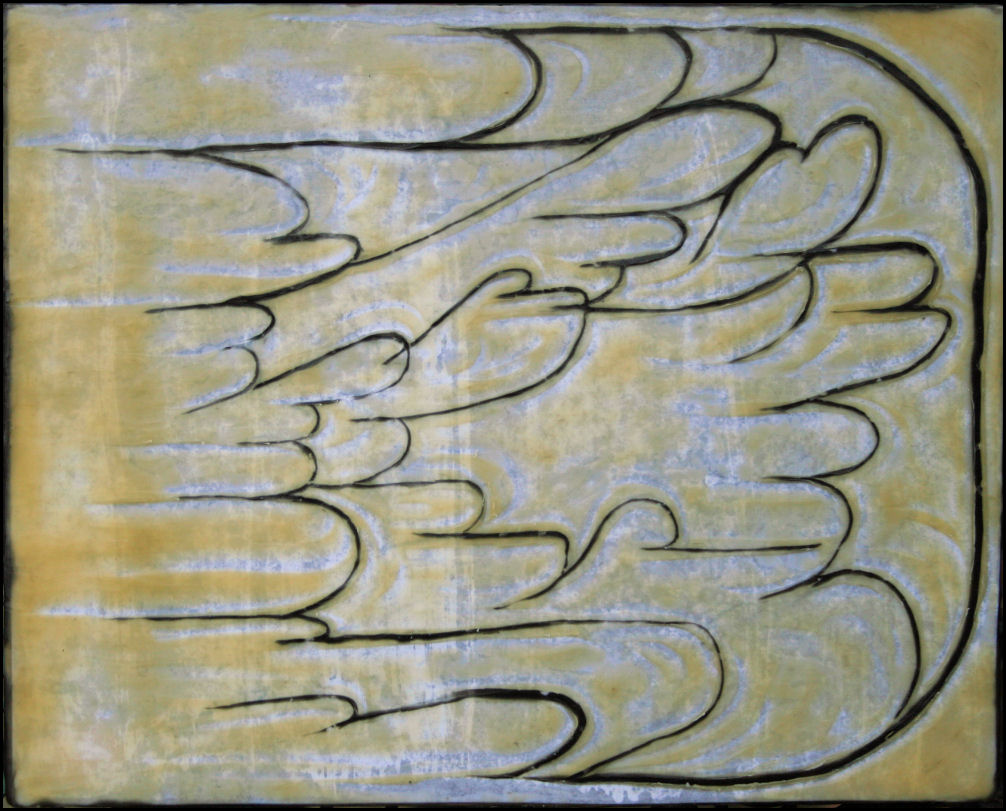 Windy Maple Leaves, 8H x 10W x 2D inches encaustics
1) design inspired by Flamboyant Tree Seed Pods, white beeswax inlay on black, and 2) using a print of an old painting Dahlias as a base, techniques were more spontaneous, each 10H x 8W x 2D inches encaustics
---
$100.00 each            

---
Encaustic Artist Deanna Wood offers her studio space and supplies to her students on days when she'll be there working. It's a bargain for $30 per day so I went yesterday and finished the two pieces above.  Painting with wax is a messy process, and Deanna's studio is all set up for it, so it's a perfect arrangement for artists who work primarily in other mediums, who don't yet have their own supplies and wish to continue exploring encaustics. BYOS – Bring your own surface!
With a FAQ page on her website, Deanna outlines a brief history about encaustics and herself.  Her most recent solo exhibition displays a portion of the extensive amount of encaustic works created around the theme of tornadoes. Including a few multi-media pieces as well, the show runs January 10th – February 29th, 2009 at the Leslie Powell Foundation and Gallery in Lawton, Oklahoma.
Saturday, September 27th, 2008
---
The Fourth of July, central detail of 36H x 48W x 2D inches acrylics on canvas
Yesterday as I added a few final brushstrokes a blue streak showed up unintentionally from some color left in the center of the brush. It was one of those rare details that happen accidentally to change the course of the entire painting. There are similar angular strokes that were starting to build up from color washes, but that tiny spark of blue brought all the others to attention, so today I added a few more in different colors. It was exactly what I was searching for. Over the course of time I may see areas where more tiny streaks need to be added to balance out the composition, but it's otherwise finished. I am so excited about the sparks of color idea!
Sunday, June 22nd, 2008
---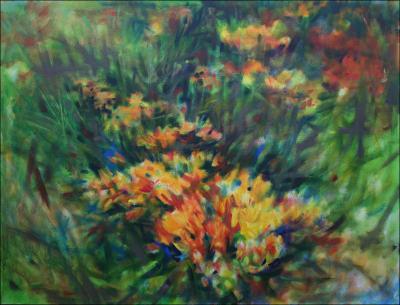 Added darkest values, mapping out the composition more clearly, now will define a few blossoms in the foreground by washing off dark areas and paint with pure colors from the tube and bring back to the cheery lights and brights that were present at the start.
Friday, April 18th, 2008
---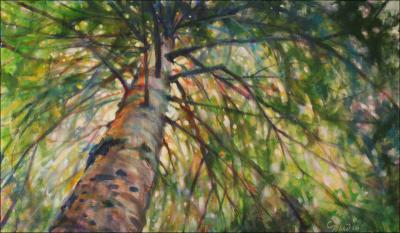 White Pine Bows, 20H x 34W x 2D inches acrylics on canvas, wrapped sides painted. Some paintings take a long time and change dramatically from start to finish. Others have a clear direction and seem to flow out in a day, as this one did.
Post-dated note: accepted in Visual Arts Society of Texas' 125 Show July 24th – August 15, 2008.
Also January 2009: A poem inspired by White Pine Bows by Debby Davis, Oct. 2008
Fragile notes fracture light into rainbow,
Bouncing branch to bough within stiff white pines,
finding my eyes uplifted; what a show!
Violinist gently pulls; taut bow whines.
Bouncing branch to bough within stiff white pines,
like the beat of an orchestra playing.
Violinist gently pulls; taut bow whines
raining harmonies; colors displaying.
Like the beat of an orchestra playing,
my thumping heart strings tug me into now!
raining harmonies; colors displaying,
I am an audience of one somehow.
My thumping heart strings tug me into now!
It is the secret that only I shall know.
I am an audience of one somehow.
Fragile notes fracture light into rainbow.
« Previous Entries