illustration
« Previous Entries
Wednesday, September 6th, 2017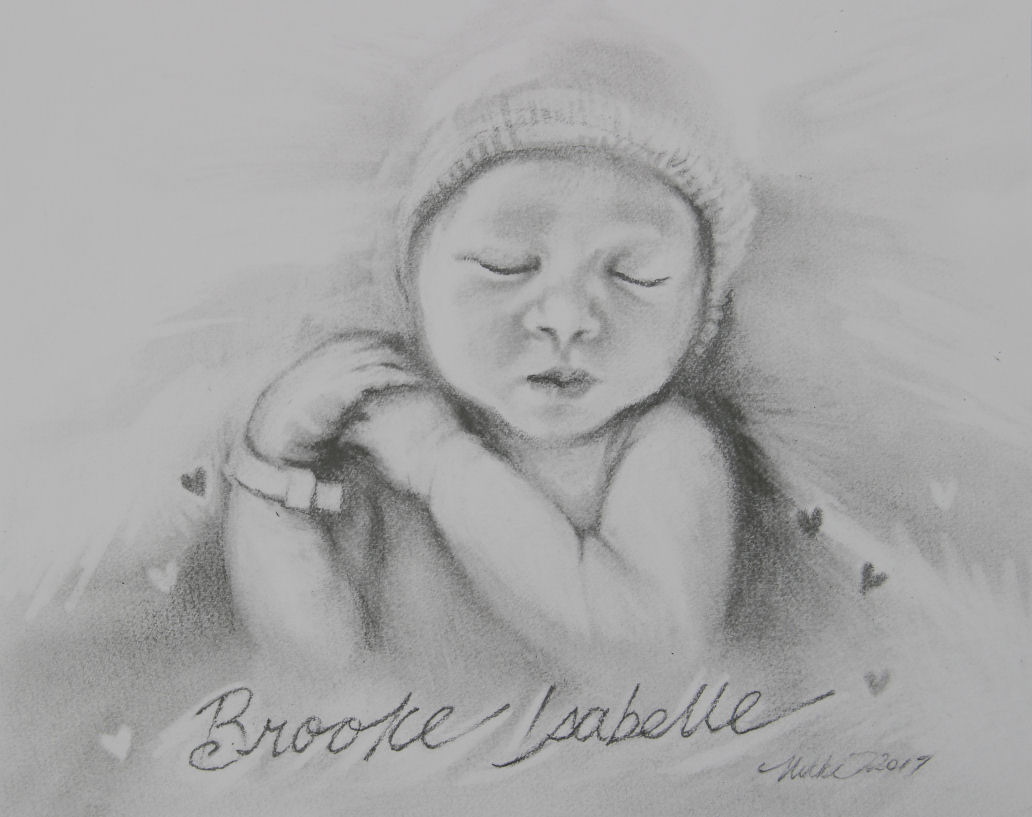 Brooke Isabelle, my neice's daughter born last week, 11 x 14 inches graphite on paper. She looks like a cherub in the photo used as reference, so I subtly impled wings in the background.
Thursday, June 1st, 2017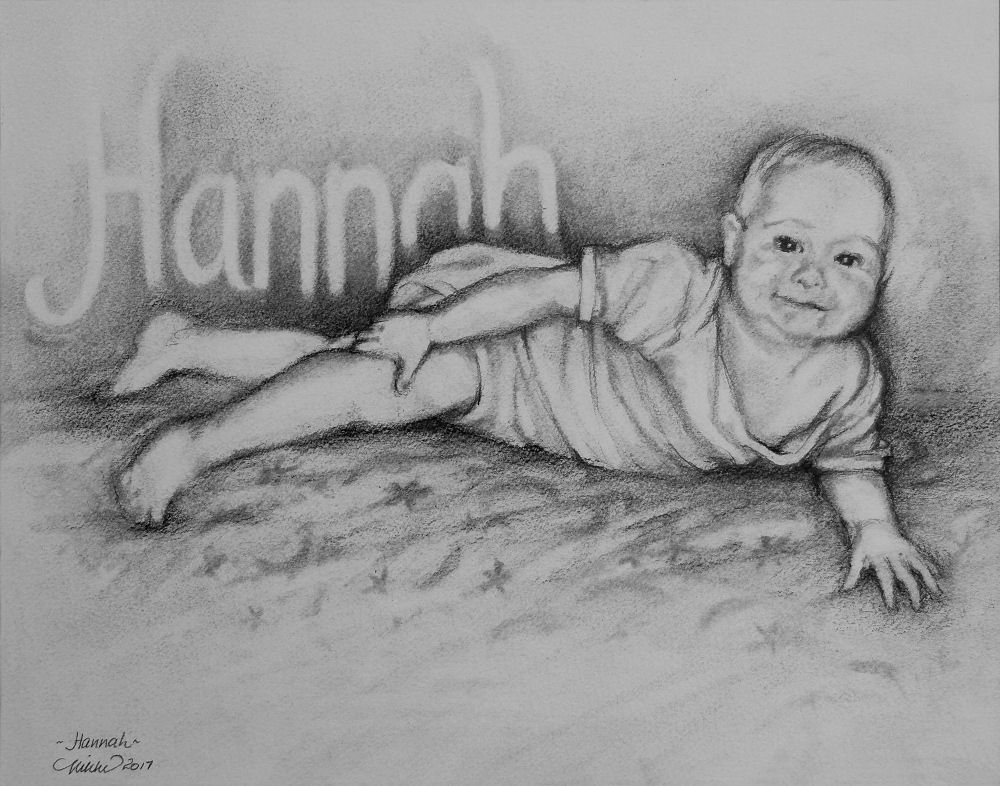 Hannah, 11 x 14 inches graphite on paper. This was a special commission for a good friend. I no longer offer to do portraits – pets, absolutely – but while I love drawing people, the work and long periods of in-between study I require take too long to warrant what I'd need to charge. There are other artists who specialize in only portraits and do nothing else.
The photo was a very small file, only 500 pixels wide, plus the feet were not in the frame, so initially I thought it impossible to work from, but started anyway. All works on paper begin with taped edges, leaving an inch of border which helps when it comes to framing, especially if composition is off a bit. I scribble in the main shapes lightly, gradually building up areas with lines and then shading as confidence grows. As marks, once placed, are difficult to erase, the face details are drawn in more gradually than the rest of the composition.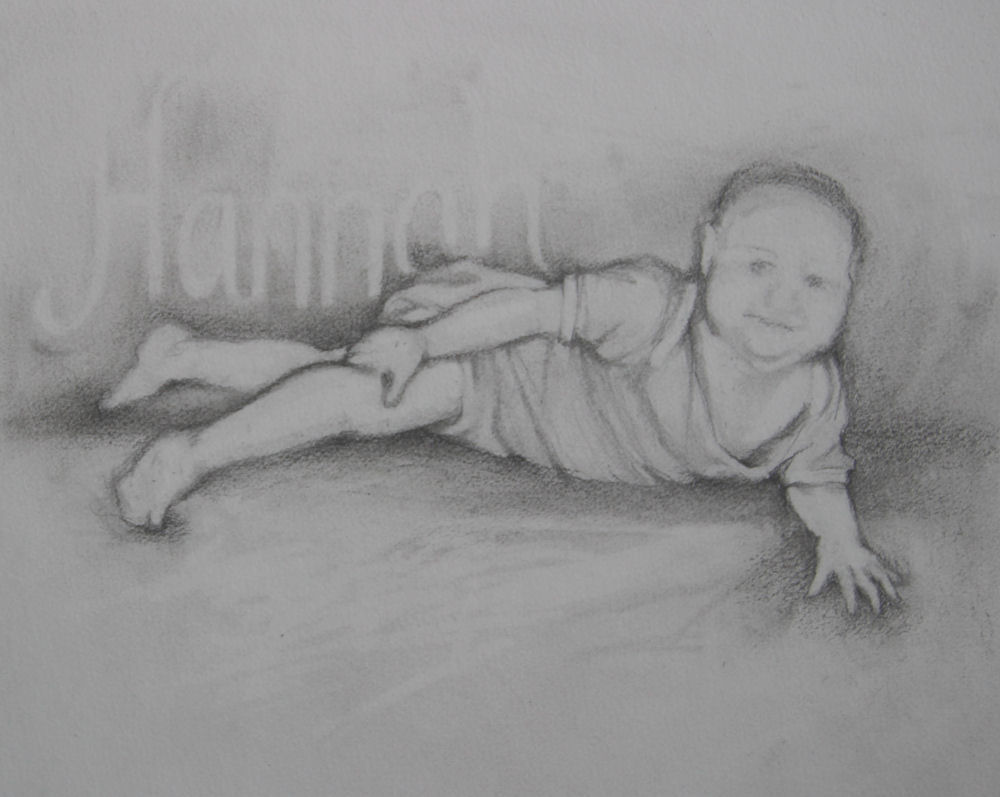 I remember that my friend used to call her grand-daughter Hannah Banana, so I snuck some banana shapes onto the blanket  – that will be a surprise for her when she sees this. I smudge the graphite and use erasers quite a bit, a good technique for subtler details like the background and blanket pattern.  Eraser sticks, 2 different sizes, are perfect because they are held and used like a pencil.
Tuesday, August 6th, 2013
---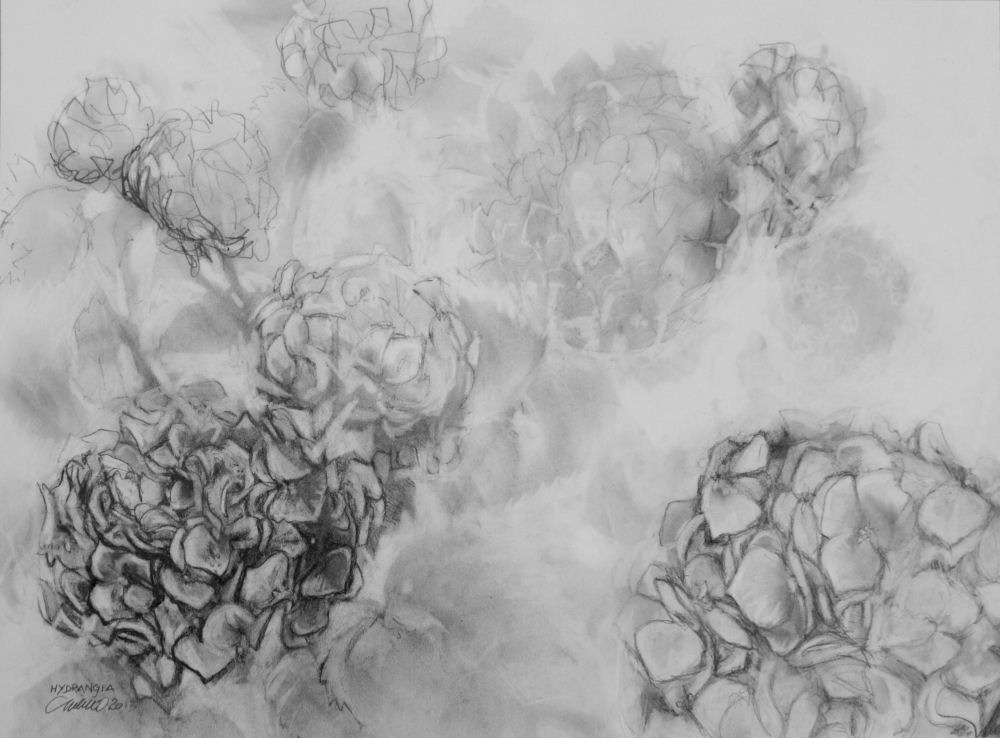 Blue Hydrangea, 18H x 24W inches graphite on 80 lb premium, white mat
---
$250.00         

---
Tuesday, July 30th, 2013
---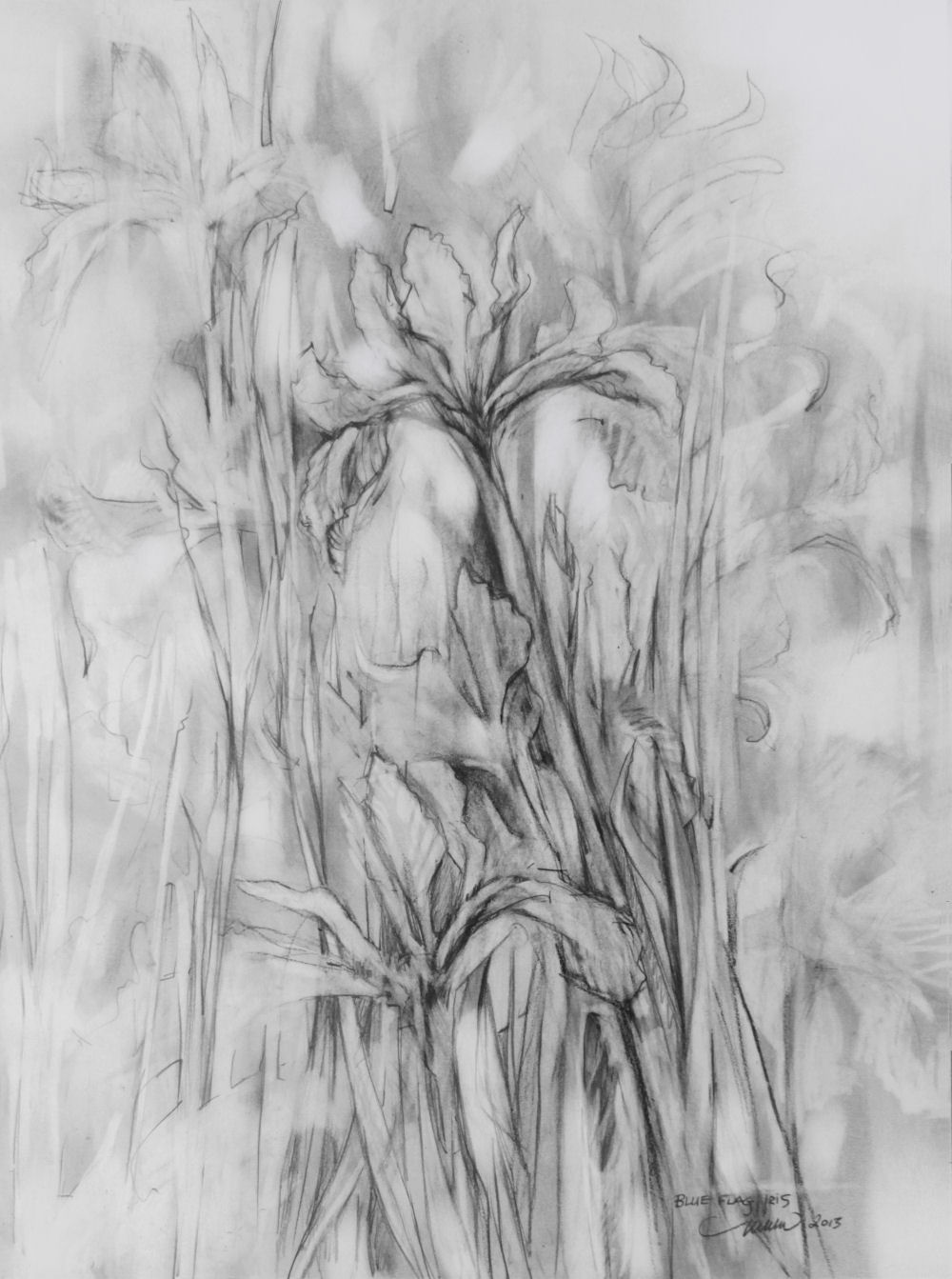 Blue Flag Iris, 24H x 18W inches graphite on paper, white mat
---
$250.00      

---
Tuesday, July 2nd, 2013
---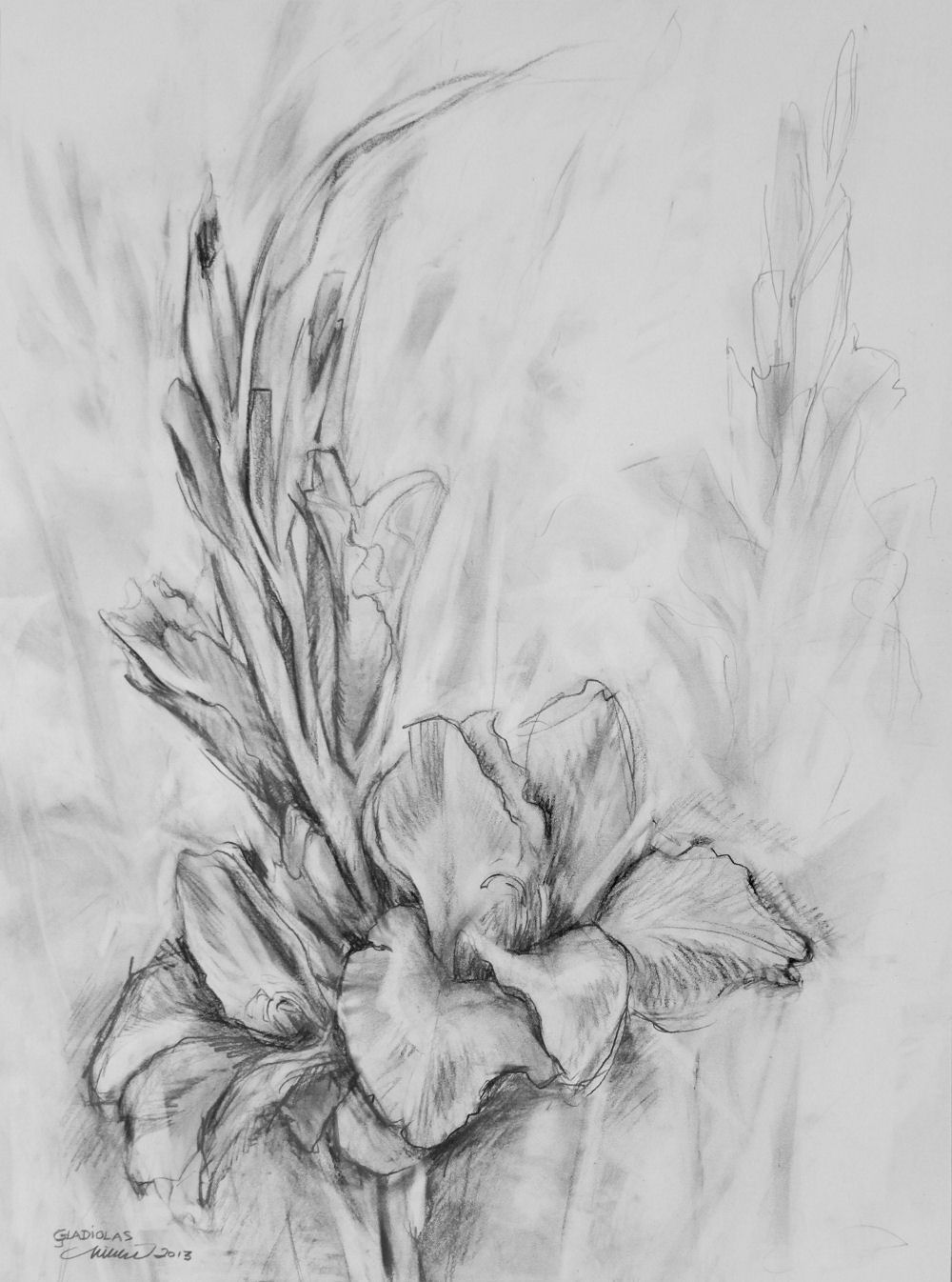 Gladiolas, 24H x 18W inches graphite on paper, white mat
---
$200.00          

---
Thursday, December 20th, 2012
---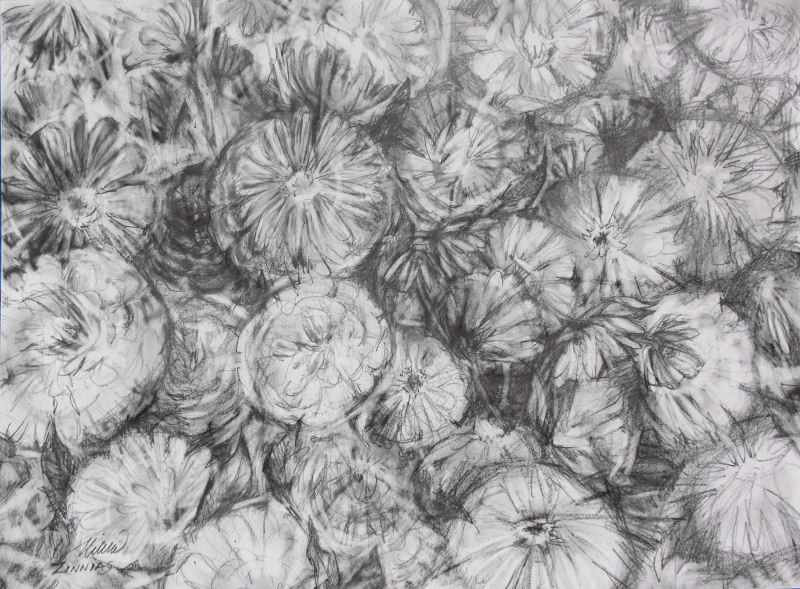 Zinnias
, 24 x 36 inches graphite on paper. Using an eraser just as much as the graphite, marks are roughed in to fill the page with enough smudges and dark tones to work with some removed, some detailed. Initial plans were to create a drawing with about 4 inches of grey tones bleeding into a colorful central square to be drawn and painted with watercolor pencils, similar to
Chrysanthemums
, with borders more defined. However, I got lost in the fun of drawing, and too much graphite would muddle colors, so this one is best without colors. Plans always need to change according to what the results are dictating.
---
$200.00          

---
Wednesday, October 20th, 2010
---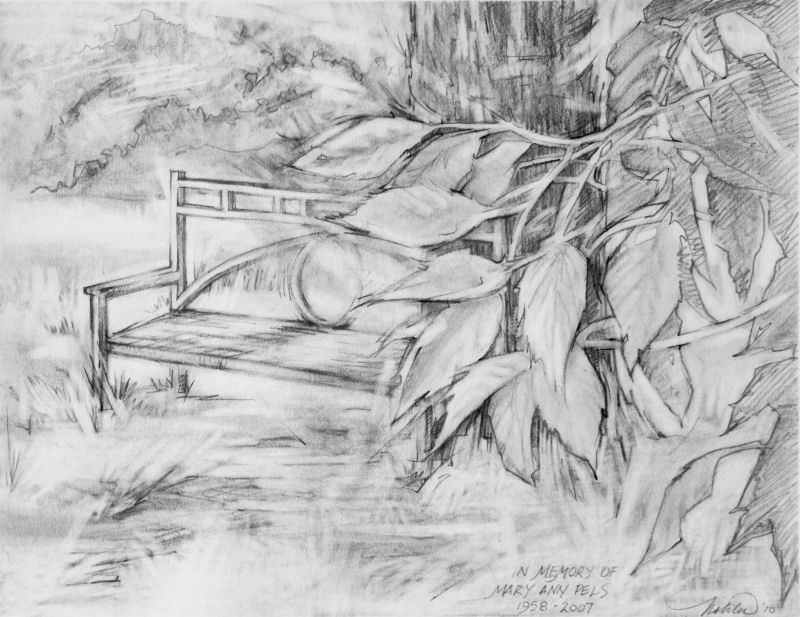 Mary Ann's Bench, 11 x 14 inches graphite on paper
Illustration of a bench dedicated to a client's sister by the staff at the University Arboretum, Madison, Wisconsin
Friday, July 9th, 2010
---
On exhibit at Oxide Gallery, Denton, TX
Dandelions among the Tulips, 16 x 20 acrylics on canvas, dark brown wood frame with red trim design. Total size 22 x 28 inches, Bonsai Garden, Chinese Gardens, Singapore  9 x 12 inches graphite on paper  Milkweed Melody, 27H x 33W inches framed Oil Pastels on 140 lb cold pressed premium watercolor paper, Seasonal, 36 x 24 x 2 inches acrylics on canvas, gallery wrapped sides painted, narrow frame
Thursday, June 10th, 2010
---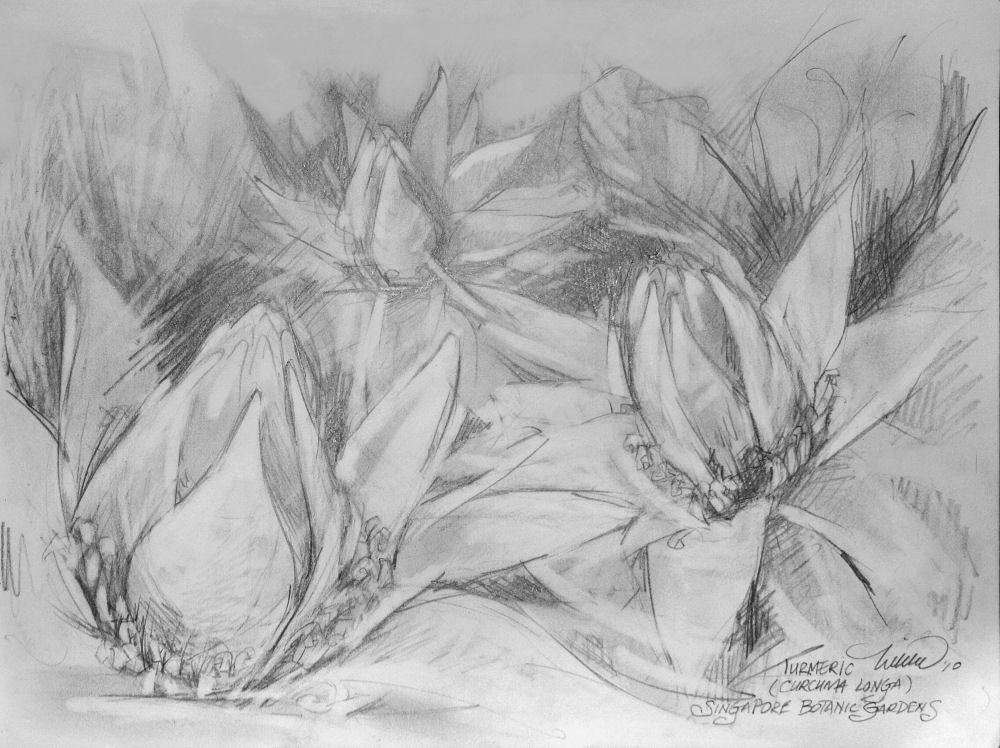 Turmeric Blossoms, 9H x 12W inches graphite on paper
Turmeric is a member of the ginger family. The rhizomes are a rich golden yellow, and the plant is used as a food coloring and flavoring agent, in dyes and traditional eastern cosmetics, and is an important ingredient in curry powder. Native to India, it is grown widely in the tropical areas of Asia. The blossoms are about 14 inches across, seen at the Botanic Gardens in Singapore.
Saturday, June 5th, 2010
---
Treasures 03: Time, 9 x 12 inches graphite on paper
Just for fun, find the clocks and watches set to these times 10:40, 8:05, 7:10, 8:20, 9:00, 2:25, 1:25, and 7:50!
« Previous Entries