experimental
« Previous Entries
Thursday, March 19th, 2015
---
---
---
July 2014 – March 2015: Cameron Can Count Backwards from 10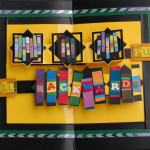 When Cameron was still two years old and I asked him what kind of book he'd like next, he answered "Cameron Can Count". To fulfill his wishes, and my own for a clearer direction since that was the book he got last year, the compromise is a 'backwards edition' in the form of an interactive pop-up book. Searching the internet, there are a whole spectrum of paper-oriented art forms, from the craftiest, stamp-iest, cutsey Kricut machine-cut pop up cards to stunning, intricately engineered paper sculptures. The best website sharing easy-to-learn pop-up basics is Extreme Cards and Papercrafting.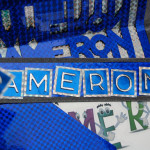 Starting with research and experimentation, I spent a couple of weeks making prototypes out of plain card stock. There are fantastic selections of decorative paper, tapes and trim designs available in craft stores now, and purchasing these things helped spark imagination and theme visualization. Supplies can be pricey, but less so if using coupons and waiting for sales. There were plenty of miscellaneous materials already on-hand, and the dollar store is always a good resource for finding things like the magnetic car game which was pulled apart and reassembled into a name-spelling activity.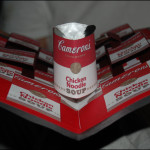 After the initial creative buzz, somewhere along the way a certain amount of restraint is called for, not just in shopping, but in choosing which pop-up tricks to put where. For me, this stalled the process quite a bit. I was fairly overwhelmed by wanting to include all the bells and whistles, but it's just not feasible to do every idea that "pops up". Not only will the pages seem muddled by too many ideas, but increasing the mass presents a super challenge when binding the whole thing together. Mechanisms also need space to work properly, and a book like this needs to be comfortable to read. These were things that only experience could teach. Admittedly, there are a few clunky pages with things falling out of this book. Perhaps with the next book I'll be able to exercise more of that restraint. Ah, realistically, probably not!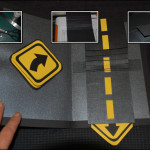 Balanced with the fun, more ornate facets of book-making, particularly with a pop-up / interactive book, learning and perfecting the basic structural elements cannot be overemphasized. The mathematics of paper mechanisms are unforgiving, and a millimeter off at the start can add up if things are not corrected as much as possible before going forward. Some of the folds are tricky, especially with pop-out lettering. Clean hands and work surfaces are extra important. Some papers show finger marks or buckle too easily, not practical for pop-ups or for children's books. It becomes necessary to slow down, simplify, think ahead, see how things work, take extra care, and find the kind of patience you didn't even think was obtainable.

Translating the 2 dimensional into 3 dimensional can be frustrating, but as is repeated so often in my blog articles about creating anything, mistakes are a beneficial part of the learning process. It's definitely hard to have faith in that when pages have to be redone several times though, and some papers are pretty expensive or hard to find again. Well, experience and confidence are earned, and it ain't cheap!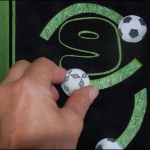 Each year my books for Cameron will be age-appropriate. He and his little visitor-friends are likely to turn pages harshly and press books open beyond stress points, that's to be expected. These pages are made primarily with card stock and paper, and some have delicate parts far from durable or practical in a three-year-old's hands, but young children already know about special things, and if they don't, it's the best age to guide them to treat things respectfully. Books are not like toy cars, and Cameron knows the difference. This will be more fun to read with an adult anyway, and it will be given a safe spot on a shelf until it's time to read.
'Cameron Can Count Backwards' was started in July 2014 and just needs finishing touches. It's March 2015 as this is written, and the book has been bound, but fairly ineffectively. The spine is not wide enough to open pages effectively. It could pass, but why do all this work to have it not open adequately? This setback offers a chance to sew the cover in soft faux leather and improve the overall quality. I'd like it to look like a very old, important, expensive book.
 

There is a title cover page, then a page is made for each separate word in the title, 'Cameron', Can', and 'Count Backwards'… three extra pages because I absolutely had to make that can! Throughout there are interactive components, and on each page a mouse is hidden somewhere. It took so long to perfect each page, by the time the last pages were under construction the first ones already seemed amateur and needed to be re-done, either by disassembling parts or completely starting over. A person could forever be perfecting one book, but it's time to finish this one and start the next for Cameron's fourth birthday.

---
---
---
Saturday, April 19th, 2014
---
---
---
 April 2014: Cameron Can Count to 30
8 x 8 inches markers, watercolors and fixative on canvas. Thinking that acrylics paint would make pages stick together even when dry, I chose watercolors on primed canvas instead, barely diluting the paint so the colors are dense. Krylon workable fixative works best to protect the work, as it brings out the colors very nicely and it doesn't hold the caustic smell that regular varnish does.


Each page has a hole peeking through to the next page and the one before, where colors match up in such a way that the hole may only be noticed when the page is turned. The holes were filled in for the sake of aesthetics in the images shown here. This peek-hole detail was an afterthought, and since I had already painted most of the pages I was committed to using certain colors, which made the process take longer than it had to. When using this idea next time, the peek-holes will be larger and be the main focus of the book. Large binder rings through grommets on each page hold the book together, so the pages are fairly easy to turn and the book can start anywhere.

---
---
---
Thursday, April 25th, 2013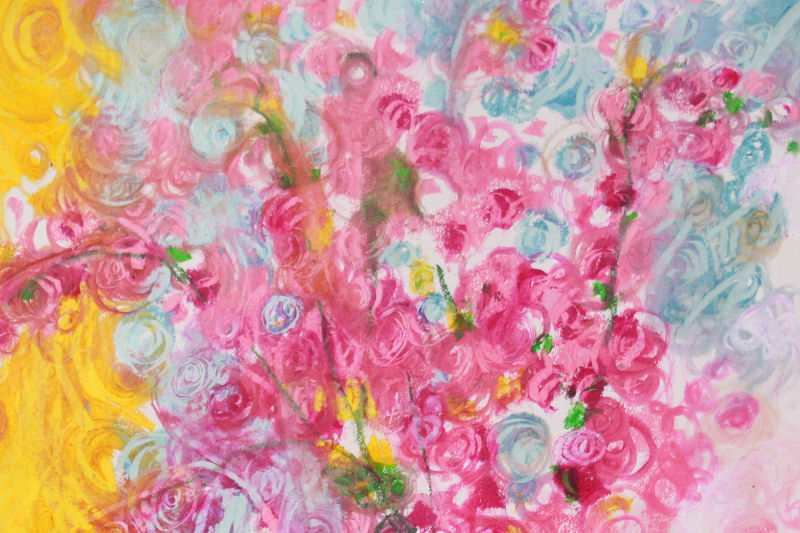 BlossoMania, 12H x 16W inches Oil Pastels on 80 lb acid free, painted with Oil Blending and Glazing Medium.
I've been admiring the round masses clumped on the Plum tree branches in our neighbor's back yard for a week or so now. Yesterday and today, pink swirls in the wind…
Petals are falling, the sky is blue
They cover everything, old and new
If I sit too long, I'll be covered too!
~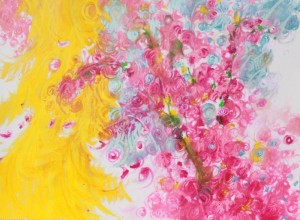 Above: the finished piece, which was cropped from the original size (left), 18H x 24 inches. Blogging always reveals a different perspective. If I had not cropped the original (left image)  in order to post details here, I might never have recognized that the cropped portion is quite complete, and I'm satisfied with it after only a few hours of work.
I still recommend taking work past  its prime once in a while, a decision best made when there's a lingering sense dissatisfaction with it. In order to  push a painting's boundaries and your own to see what's possible, honesty is key, and making the call is different each and every time. Have a look at work from afar or from photos or blogging, and take breaks often!
Thursday, April 18th, 2013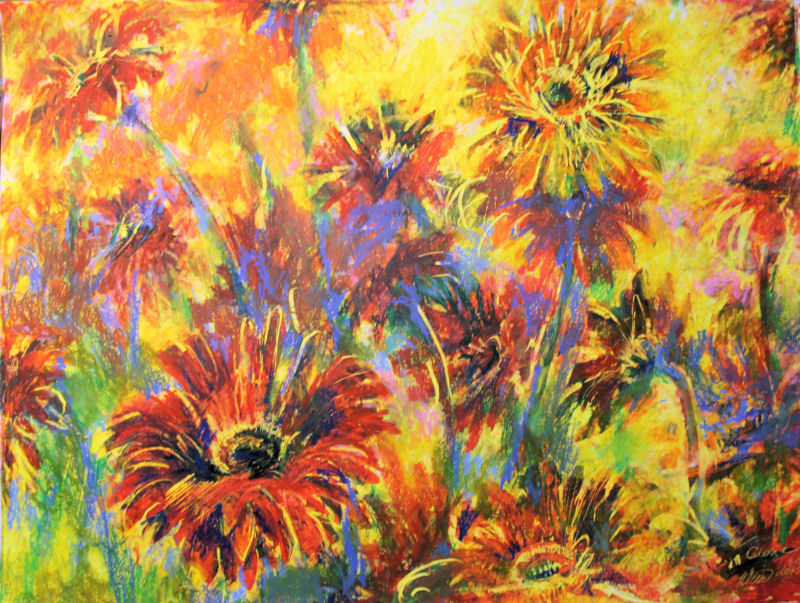 Celosia, April 19th in progress, 18H x 24W inches Oil pastels on 100% cotton paper
I felt as dissatisfied with this piece today as when it was tucked away a month ago, so with nothing to lose, I jumped back in and threw more color around. I splurged today and bought about 40 new oil sticks, and highly recommend the "Sennelier" brand. Wow, they are so intensely colorful and creamy-beautiful to work with! There is no contest as far as quality, compared to any of the other brands I've been using. Tomorrow: the plan is to continue building and removing colors, but not so much that they become muddled. I'm loving the colors – an unusual palette for me.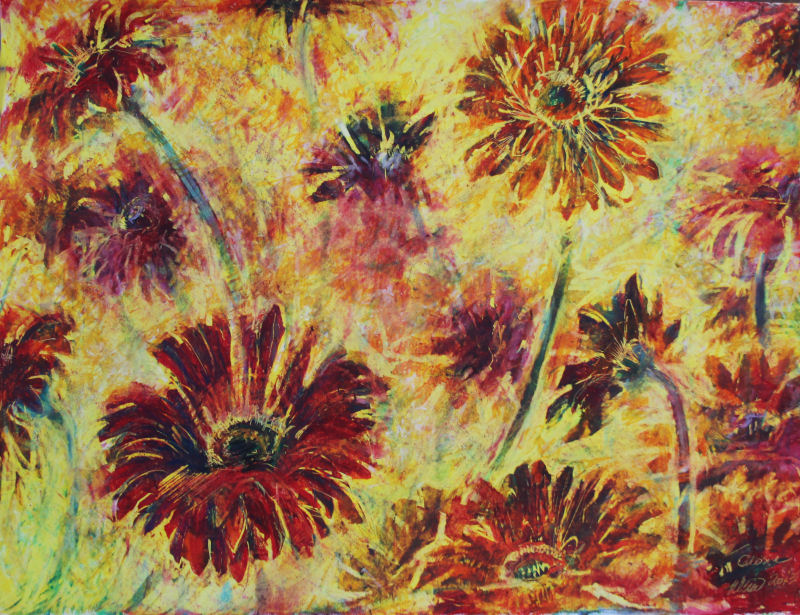 Left, March 22nd, 2013, Day 4 in progress
Reminiscent of retro sofa fabric, now that I see it on-screen! Usually leaving page space showing through to create light and brightness, this time I colored the entire page yellow before starting. Adding white did not help brighten areas much, but did muddle colors, helping some flowers recede. Much of the pure color as seen in the early versions has been covered up or removed, but will be re-added cautiously. The style has also gradually changed to more of a Representational/Impressionistic one. To finish, there will be more scrutiny, and fewer emotional responses before adding or removing anything else.
March 20th through 22nd; Days 1, 2, and 3
Friday, October 12th, 2012
Colours For Cameron, 24L x 8H x 6D inches, mixed media on quilted muslin over cardboard pages
"Colours For Cameron" (Canadian spelling!) is composed over five deconstructed heavy-duty cardboard children's books bought at a dollar store. The Monte head-templates were covered with inexpensive everyday items, so I splurged on unique notions like the $10 monkey button sewn on the 'Brown' page, and the cute little cars and tractors that Cameron loves. Some of the fabrics were fairly expensive, but there are enough remnants to make other similar-style projects in the future.
Each page is a quilted muslin sleeve pulled over the cardboard, and colored fabrics divide each page at the base, where they are all sewn and glued together. Rubber letters were covered with various fabrics, and each page has stuffed colored pockets on the outer edge, inviting chubby little fingers to open them..
Wednesday, May 30th, 2012
Chrysanthemums, work in progress; see previous post. Above: color details of 85W x 45L inches graphite, colored charcoal / dry pastels on white 100% cotton
When working with a large format, it's easy to overwork the smaller areas. They're like little compositions on their own. The trouble is, they may seem successful close up, but may not contribute to the overall balance and flow of the larger piece. Above are some examples, where I'm now reluctant to change what needs to be changed…but I will. Back to Art 101: It's absolutely necessary to stand back often and study the entire composition from afar.
When you throw in a factor like color, there's no turning back. I had a specific purpose for this drawing though; to fill a wall space in an otherwise fairly monotone, contemporary room. After much deliberation I kept with the original plan, which was to create a look similar to a black and white photo where one color highlights the main subject only. It was time to dive into the unknown.
It's obvious that introducing color has compromised some of the original spontaneity, so to recapture some of that energy, I carefully try not to disturb what's left of those livelier marks, and enhance some with little sparks of color. Isolating red, and only red to the central main flower sapped all the attention, so I've added more colors to it and the surrounding elements than initially planned. To continue risks ruining what is working, but there is no satisfaction in quitting, especially when the leaves on each side of the main flower look like wings! Back to the drawing board…(but not for much longer).
June 26th update: Hopefully those leaf-wings are no longer dominant! Now, after a period of study,  just a few more strokes of primer in the right places may bring out more depth around the main flower.
Friday, May 18th, 2012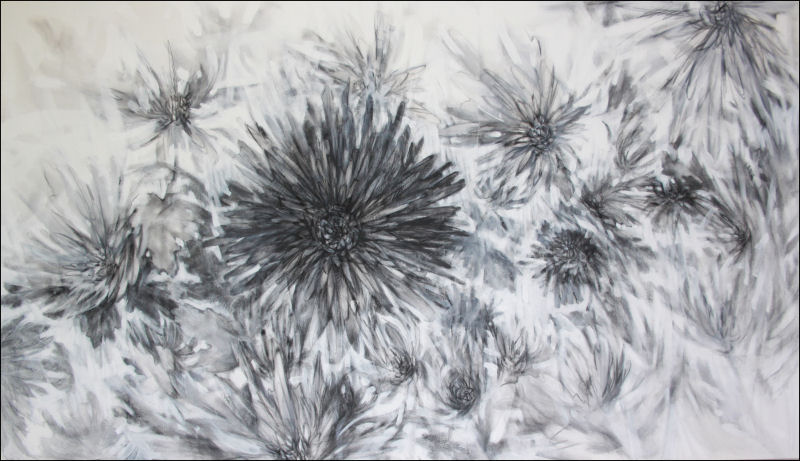 Chrysanthemums, 45L x 85W x 3D inches, graphite, charcoal and primer on 100% cotton, work in progress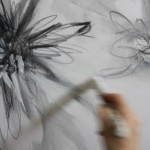 Rather than priming the fabric first as usual, water and primer are painted to enhance the graphite while the composition works itself out. It's been all about getting lost in the improvisation and surprise! Grass blades are implied by the buildup of thin streaks throughout, which also serve to balance and energize the work, plus add slight cubist effects.
This is will hang in a contemporary-style room. If color is used at all it will be limited to red, yellow and green areas near the large main flower. Parts of the surface may be left raw, so to set the finished piece, the entire back will be primed and the front will be sprayed with fixative.
~
The chaos of this past year, moving to Oregon from Texas, has truly put my artsy artist's statement to the test; that 'creativity is an attitude toward life'. I'm accustomed to creating chaos in my artwork, then resolving it. With too many move-related priorities and unfinished renovations, no wonder I've felt increasingly disoriented. The good thing is that observations never stop, even if the focus on art-work has to.
Friday, March 25th, 2011
While I was in Portland two weeks ago, starting the Texas-Oregon relocation process, I completed five new Zen Gardens, filling a request for one. All five are smaller, slightly different versions of ones made previously. Four are shown in thumbnail images below.
The very first Zen Garden was created in 2000 as part of a four-painting commission. The ideas established in that set foreshadowed new routes to trying methods I hadn't before, like enhancing my paintings with 3D elements. That set is also the origins of the "box frame" design that I've used on several other paintings since then, where each main canvas is mounted on a wood platform, framing the work with about four inches of extra play-space.
Whereas some frames have the effect of abruptly ending a composition, this type of frame enables space for the subject to continue, softens the edges and adds an interesting twist to the overall impression. When items related to the main subject are placed in that area it adds dimension, not just in the physical sense, but also in the conveying of any abstract or symbolic stories beyond the presentation of the main painting inside.
Because of the challenges acheived in those paintings, 1) a series was born that I'll continue with for the rest of my days. In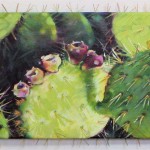 2) Prickly Pear Cactus, pins were applied around the main central frame, then painted. The smaller canvas done during 2005 (left) borrowed this technique, and the same principle of attaching things to the main frame can be used with any number of objects.
In 3) Alpine Meadows, I learned to use all the qualities acrylic paints offer by watering down the consistency for the distant mountains, then sculpted the flowers and grasses with a palette knife on the lower portion. Finally, the theme of 4), The Evolution of Communication has intrigued me ever since, but I still haven't fully pursued the possibilities. This is the perfect means to learn about Art History hands-on by attempting to recreate it in some form, then to share that adventure and ideally, inspire interest in the topic at the same time. Two old keyboards have been collecting dust in my studio closet for a number of years, yet to be disassembled and incorporated into a new series of work with similar associations.
~
Some of our peers advocate that if we don't concentrate our efforts to learn one medium well, we will never excel in any. They are right of course, in many respects, but scores of artists are not content with singing just one note. Some simply cannot. To be fair, what works for one does not work for another. Each of the above paintings are examples where a combination of skills and different media in one piece can be very effective. I'm here to say that integration is possible! It's a longer, meandering road..but it is possible.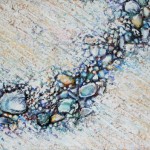 There are so many different paths artists can take, long and short term; opportunities every day. There are endless kinds of subjects, ready-made and unconventional materials, always something to start or finish, new methods to explore, and an overabundance of ideas to attempt in one lifetime. Self discipline is the order of every day, either to start working or know when to stop.
My philosophy is that doing something, unless naturally in need of rest, is better than doing nothing. However, being overly ambitious in too many areas is also how I, along with millions of other artists end up with a variety of different kinds of art (or just stuff!), and the arguements endorsing one type of study come into play. Should we restrain ourselves when it comes to making "stuff"? Why is consistency given more support than variety when it comes to showing and selling art?
Whatever choices we make; whichever direction we take depends mostly on the intention for the finished products. Who is it for, do you want it to sell it, where, how, and how quickly? Was work done as a personally cathartic process, as a lot of art is? …or is it just a thing with no emotional attachments or brainy messages? Artists who support themselves by offering a range of services, satisfied and busy enough by word-of-mouth sales, do well jumping from medium to medium. If the hope is selling work through galleries and art dealers though, what some call "too many voices" are apt to be a disadvantage.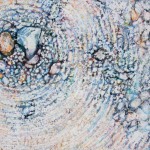 In one of his recent articles, Robert Genn writes sensitively about multi-media artists. While he supports that "for artists, exploration is like oxygen" and that "the nature of our game is to be distracted by our muse", he also recommends that artists must present consistency in our approach if gallery exhibition/sales is what we pursue.
When a gallery represents an artist, they expect an overall consistent look and a clear statement. Where venues sell a number of artists' work, the ambiance cannot be one that resembles a yard sale. If potential buyers view too many styles, subjects or media in one place or by one artist, they tend to lose interest, resort to window shopping, and walk away empty-handed.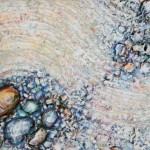 I can relate to that: the effect is like standing in the toothpaste isle at the pharmacy, where the senses are bombarded with colorful packaging, alluring titles and fine-print promises. Assuming beforehand that the choice would not be anything but simple, there have been times when I've said 'forget it' and gone back another day. With art sales though, you don't want buyers to come back another day, because it may not be your art they choose then.
Gallery owners and dealers do not do us any favor if they display too much variety in typically limited spaces, so Mr. Genn has an excellent suggestion: bring art done in different medias to different galleries.
He also says to keep working no matter what.
Artists have a strong sense of mission. Periodically it needs reevaluation, and with that bigger picture clear, we create the way as it unfolds before us. If we are serious about selling, we first need to become familiar with what we are best at, what we love, what works and what doesn't. We need experience in order to learn – that takes time – and there's no getting around it. Experimentation is fundamental to this profession, but if it's intended to be sold to others and by others, simplifying the look and clarifying the purpose of our art is crucial.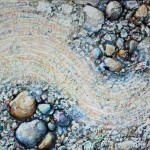 A viewer at one of my exhibitions commented, "You're all over the place, arentcha?!" As disturbing as that was, it's true and I needed to hear it, eventually concluding that I do need to clean up my act, but at the same time this is how I work. This is how my stuff works. Every so often there are paintings or a series of works that encompass all that's been learned and all that I'm capable of; breakthroughs that define a solid new direction or validate the existing one. The commissioned set of paintings described above were like that, and their significance is still an influence on today's work and will be on tomorrows' too. They verified that I'm on the right path even though much of the time is spent off of it, experimenting. I call it serious play and paying attention… "playing attention"! Once in a while the bits and pieces come together in one big rewarding "Eureka!".
Wednesday, November 10th, 2010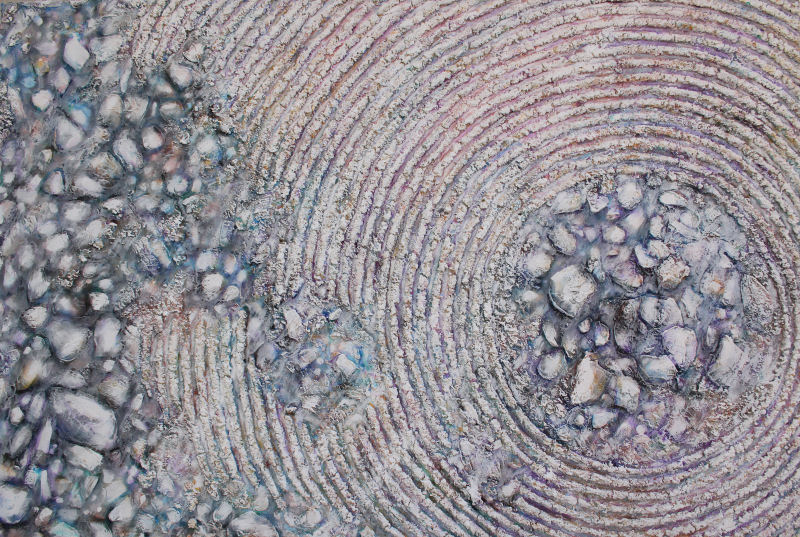 Zen Garden 10, 40 x 60 x 3 inches mixed media on canvas.
The final stages of paintings are often finished as they hang on a wall. As seen  in a realistic room setting,  it will be easier to spot whatever might make the composition more interesting. Some colors need to be re-enhanced to add more depth and definition.  The texture continues around all 3″D edges. All paintings in the Zen garden series are wired to hang in any of 4 orientations; vertically or horizontally. Below: details of left central portion as seen in the above .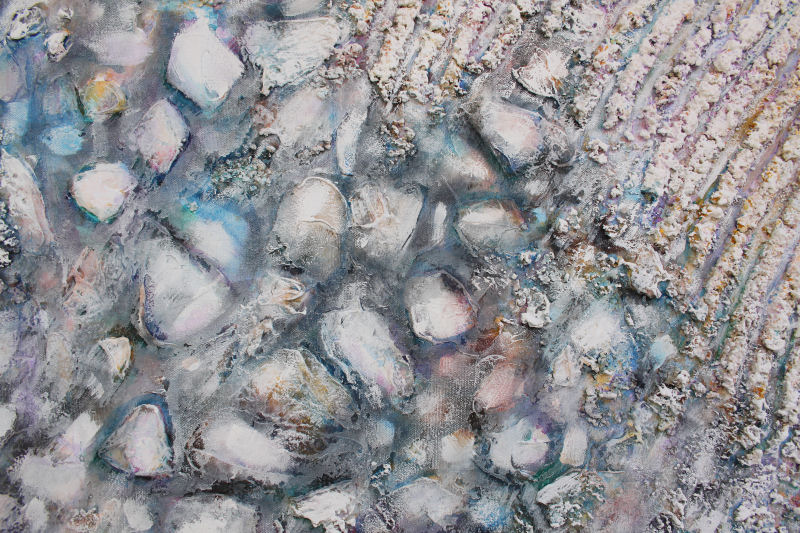 Tuesday, November 2nd, 2010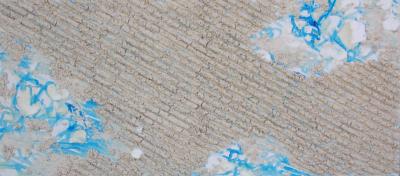 Zen Garden 09 work in progress, 48 x 21 x 2 inches Mixed Media on canvas
The perfect painting in a room can elevate the atmosphere of the whole floor, and sets the tone for showing off the entire house. With selling the house in mind, I'm trying to choose a decent painting for our living room, but the only one that really looked good there was Zen Garden #2. It sold, so I decided it's worthwhile to make two more for the series - even though painting walls is the order of the day.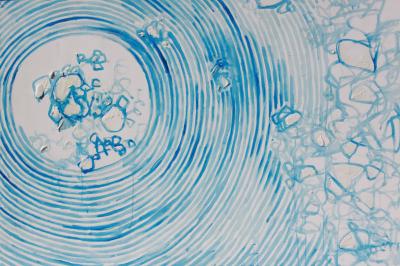 Zen Garden 10 outline, 40 x 60 x 3 inches Mixed Media on canvas
Painting is always meditative, but I find it especially so when creating pieces in the Zen Garden series. This kind of work does not present the same kind of emotional concentration or intellectual challenges that other paintings do. There are few struggles and hardly any decisions to make, except to find cooperative materials. Once the outline is accomplished it's pretty straightforward compared to other forms of painting. The outstanding difference is that each stage in these 3D paintings requires time and patience to allow areas to dry before proceeding. The Zen Gardens can be drying in stages while other work gets done too, and the multi-tasker in me is quite happy to be accomplishing many things at once!  

Art supplies are expensive. Most will last long enough to justify purchases, and much of the time you get what you pay for, but some items are ridiculously overpriced. Keeping material costs down is essential so they aren't reflected in the final price, but quality should never be compromised. Still, there are ways to get around any dilemma, and there are alternatives for everything.
When I started the Zen Garden series ten years ago using modeling paste and textured gels, jars were about $15 for 250 ml. Since then I've experimented with various unusual materials, and shopped everywhere to compare prices. It's still more economical to purchase brand-name products in larger quantities – if you can find them. There are some fun mediums available now too, like gel with tiny glass beads in it. Prices for art supplies do not seem to waver over time in either Canada or the U.S., so I reserve the brand-name mediums to sculpt the rocks and highest quality paints do the finishing touches. Here I'll share a few of the trade secrets I've discovered over the years, and you can create your own Zen garden painting.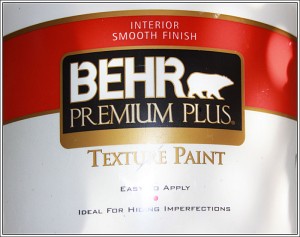 As a base for the raked sand mixture, it's worth purchasing a large 2 gallon (7.58 L) pail of textured paint. I purchased Behrs at Home Depot in Canada, and it looks like Ralph Loren has the market cornered in the States. Watered-down drywall plaster can be used also, but I recommend attention to how heavy the piece may be when it's finished. Mix in copious quantities of white glue, large containers of white or light-colored acrylic craft paints, and anything water-based that will extend the liquid mixture and bind well with the dry ingredients. Sand, even popcorn kernals and/or rice can be added for texture. Other objects can be incorporated too…just use your imagination. For example, and this is my most valuable secret, unscented kitty litter from the dollar store, the non-absorbant kind, looks exactly like tiny stones and is light in weight.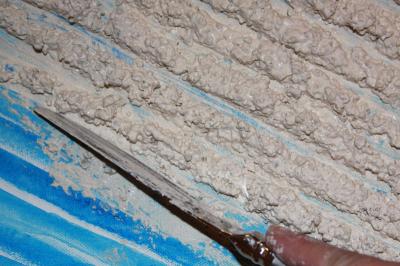 Zen Garden 09 details: applying mixture with a knife, sculpting rows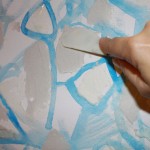 The mixture can be put in a ziplock bag with one corner cut out, but I discovered that it's more efficient – however messy – to spread small portions out onto the surface with a knife and hand-mold it. Keep a wet cloth handy to wipe your hands and the utensil often.
Drywall plaster makes nice-looking rocks, plus it cracks well for a parched-earth look, use sparingly because of added weight. Wood filler is a lighter alternative, much less expensive than professional brand gels and mediums. Modeling pastes do not lend well to sanding or carving when dry, but wood filler can be sanded and re-shaped.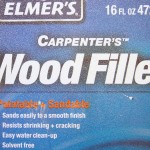 Also, if it dries out completely, chop it up, add water then seal the container for a day or so. This is where you can experiment with whatever helps acheive 3D effects. Art, craft, hardware, department stores and dollar stores carry generic brand basics, so it's worth researching and shopping around.
When it's all dry, rocks and other details are outlined and painted with pure colors, then all covered with a coat of primer. The colors are all reapplied to further enhance rocks, then brushed white, skimming across the entire surface. This process is repeated until you are pleased with the results by a final coat of white with remnants of the layers of colors poking through underneath. As far as acrylic paints, you do get what you pay for, but price differences are mostly due to pigment quality and viscosity, which, until final stages is not really an issue. Inexpensive acrylic craft paints are perfect as a filler (only).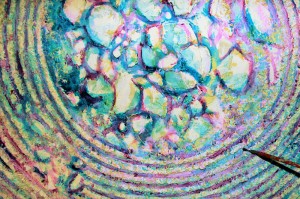 Zen Garden #10 (above and left) is already quite heavy, so about 1/4 of it will be painted rocks, keeping the sand patterns to a minimum. There is enough mixture that could dry out if it's not used right away, plus it's great to make multiples while all the mess, materials and utensils and are out, so I'm doing two simultaneously. There may even be enough for 3!
The neccessity of work, especially if it's at home, seems less like a chore if you dangle some kind of carrot for yourself every day. Sometimes having too much to do is more exhillerating than exhausting. Each day, though work as an artist can be considered by others as play, the energy, motivation and circumstances are unpredictable..  It takes self-discipline  to find a way to go with the flow and still get work done. The good thing about this occupation is that it is flexible in every way. The creative compulsion seeps into every other activity, and there is almost no way to not add a little something extra.
« Previous Entries