Encaustic
Monday, May 25th, 2009
What Big-Leaf Maples Do At Night, 20 x 57 x 4 inches muslin, glue, acrylics on  canvas  wrapped over custom-built stretcher frame LED light system in back.
Alain (my husband) signed his name on this also, because he spent the entire week designing, soldering and wiring a system of 30 LED lights for the back. He was not impressed with the eight inadequate push-lights I was initially going to use to create this Day- Night  Art. The electric source is a rechargeable 12 volt battery placed neatly in the back, with an easily accessible on-off switch in the lower left corner. He's not thrilled to ever create another, so it looks like I'll be learning a little about soldering and electronics, because there are plans to transform the other two canvases exactly the same size as this one. Originally l hoped it could hang in any of four orientations, but that was revised due the battery pack in the back. Thank you Alain for making this piece what it is!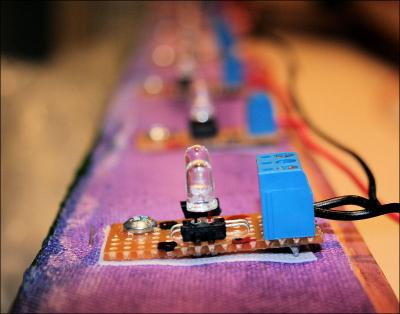 ______________________The original blog posts; process:___________________
Friday, March 20th, 2009
Branching Out and Conifer, each 6 x 6 x 2 Inches Encaustic, sides continue with the same work.
Branching Out also indicates my recent venture into Encaustic (painting with beeswax). I'm not usually intimidated by trying any new medium, but wax is so unique and there are so many possibilities for it, I was a little overwhelmed when I took an introductory course with Deanna Wood. She offers her students workshop days where they can use her supplies to continue experimenting with the medium. Although I'd love to have my own supplies to work at home, the encaustic process is so messy I may just continue taking her up on that offer.  Today's studio work produced 4 small encaustic paintings, and 2 are successful. Compared to other media, wax is so verstile it can be scraped off to whatever degree, reworked, layered, carved and manipulated as much or as long as you wish.
Friday, January 16th, 2009
10 x 8 x 2 inches encaustics 1) design inspired by Flambouyant Tree seed pods, white beeswax inlay on black 2) using a print of an old painting 'Dahlias' as a base, techniques were more spontaneous and experimental than in the previous piece. Below: Windy Maples, same size but still in progress. Looking more like a batman symbol more than a design of leaves, the beeswax has black inlay, next the plan is to build and remove layers of greens and blues.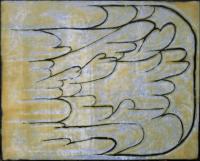 Encaustic Artist Deanna Wood offers her studio space and supplies to her students on days when she'll be there working. It's a bargain for $30 per day so I went yesterday and finished the two pieces above.  Painting with wax is a messy process, and Deanna's studio is all set up for it, so it's a perfect arrangement for artists who work primarily in other mediums, who don't yet have their own supplies and wish to continue exploring encaustics. BYOS – Bring your own surface!
With a FAQ page on her website, Deanna outlines a brief history about encaustics and herself.  Her most recent solo exhibition displays a portion of the extensive amount of encaustic works created around the theme of tornadoes. Including a few multi-media pieces as well, the show runs January 10th - February 29th, 2009 at the Leslie Powell Foundation and Gallery in Lawton, Oklahoma.