elements
« Previous Entries
Thursday, June 22nd, 2017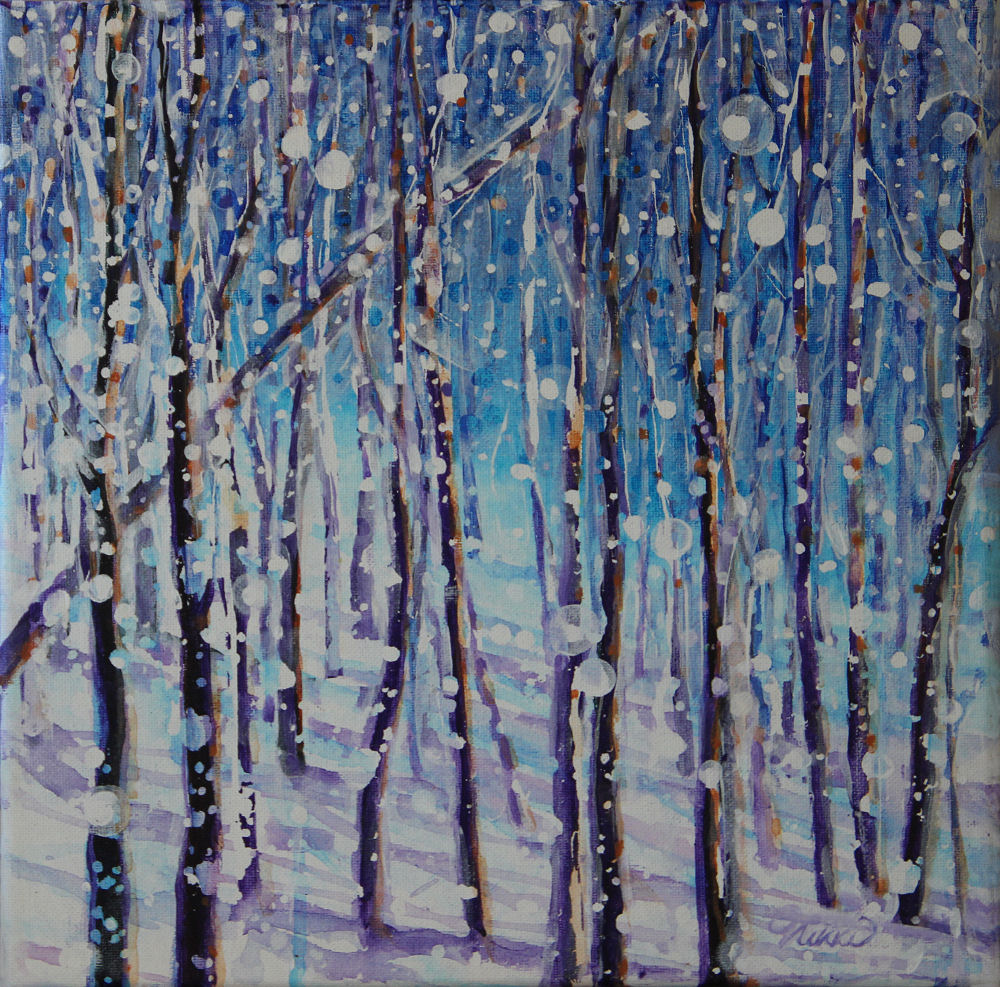 Hypnoflakes, 12 x 12 inches acrylics on canvas
Thursday, October 11th, 2012
---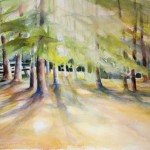 The Campsite, 24 x 30 inches watercolors on 140 lb cold pressed premium
I finally brought my watercolor paints back from my son's place in Canada, where I left them so they wouldn't freeze on the 5-day drive back west last November. Driving again, I've just returned from this year's visit, when I gave my grandson a one-of-a-kind fabric book hand-made for his first birthday, Colors for Cameron. I plan to make him something special every year.
So, with a couple of new brushes and 12 x 16″ paper block, and now with the rainy season upon us back in Oregon, I look forward to establishing a routine of painting again. Invigorated by a summer full of gardening and flowers, the stunning scenery across America this time of year, plus reviewing archives of work I haven't seen for ages, I'm all set to splash out some new watercolors. Our Portland house is a renovator's dream/nightmare!, and we're not out of the woods yet. Attempting to focus more on art than house, smaller paintings are more manageable and less of a production than my typically large canvas paintings…however, I'm curious to experiment and see how watercolors behave on primed canvas at some point!
Thursday, February 10th, 2011
---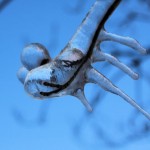 There are days when a falling leaf is just a falling leaf, but today one caught my eye as it floated down then caught an updraft, then flipping sideways and rolling over a few times, it seemed to be avoiding its final destination as long as it could. It was five seconds of beauty I will never forget!
I'm sure my friend and mentor, Jo Williams will not mind me passing along her note of a quote by Judith Hanson Lasater: "As many times a day as you can, find something to be grateful for because that will connect you with yourself, with others, and with the wider world. And we need to do this MOST when things are their most difficult in our lives. "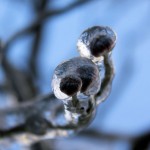 Maybe the leaves have fallen like that all season, but I was too busy grumbling about raking half of them from our neighbour's yard. I've been too busy detailing the house inside and out, trying to get it listed as soon as possible. There have been issues this winter of solid ice in the eves-troughs, and having to chip away and melt trails with boiling water so the roof run-off would flow properly. I was too annoyed to notice the incredible phenomena on the other side of the house that were created by the very same problem.
Left and above: alien-like forms were created when slow-melting ice dripped from the eaves-troughs onto shaded Dogwood branches.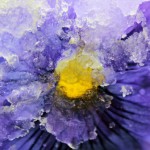 Before the snow and frigid temperatures last week, the pansies were finally filling in and gorgeous alongside the back yard fence. When winter came with a vengeance and would not let go, so did my view that, "Aww, the pansies are frozen!", but yesterday,it changed to: "Awe! The pansies are frozen!"
Thanks for sharing, Jo!
Wednesday, November 10th, 2010
---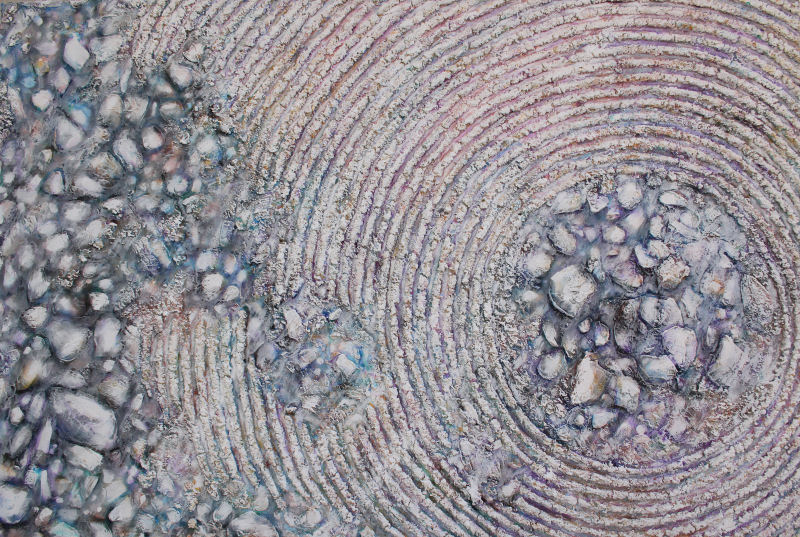 Zen Garden 10, 40 x 60 x 3 inches mixed media on canvas.
The final stages of this paintings will be finished as it hangs on a wall. As seen  in a realistic room setting,  it will be easier to spot whatever might make the composition more interesting. Some colors may need to be re-enhanced to add more depth and definition, but I also like the overall faded look, so we'll see. The texture continues around all 3D edges. All paintings in the Zen garden series are wired to hang in any of 4 orientations; vertically or horizontally. Below: details of left central portion as seen in the above .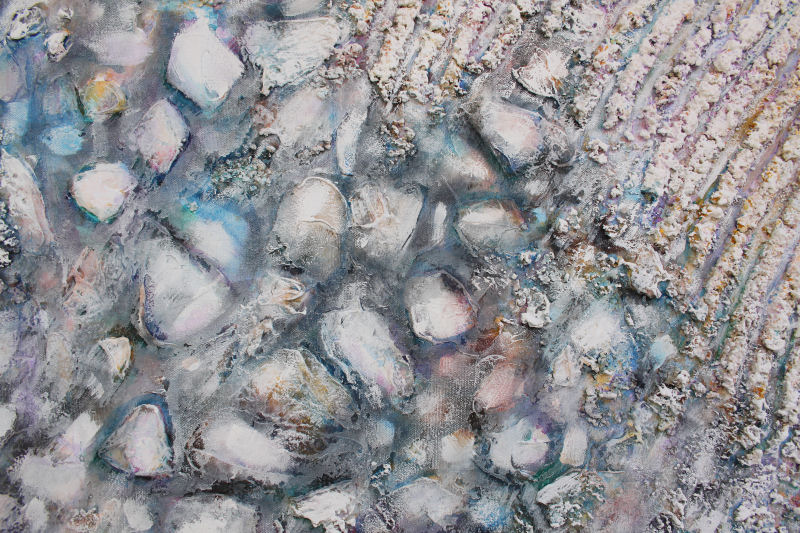 ---
$750.00          

---
Tuesday, November 2nd, 2010
---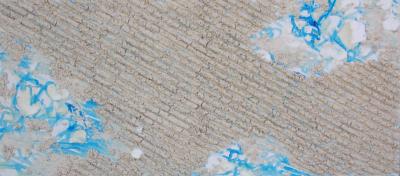 Zen Garden 09 work in progress, 48 x 21 x 2 inches mixed media on canvas
The perfect painting in a room can elevate the atmosphere of the whole floor, and sets the tone for showing off the entire house. With selling the house in mind, I'm trying to choose a decent painting for our living room, because  Zen Garden 02 sold, so I decided it's worthwhile to make two more for the series.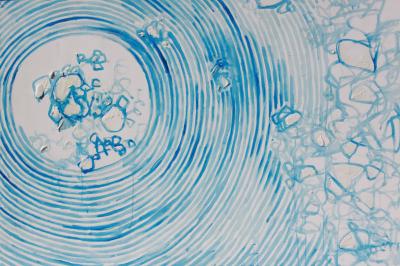 Zen Garden 10 outline, 40 x 60 x 3 inches Mixed Media on canvas
Painting is always meditative, but I find it especially so when creating pieces in the Zen Garden series. This kind of work does not present the same kind of emotional concentration or intellectual challenges that other paintings do. There are few struggles and hardly any decisions to make, except to find cooperative materials. Once the outline is accomplished it's pretty straightforward compared to other forms of painting. The outstanding difference is that each stage in these 3D paintings requires time and patience to allow areas to dry before proceeding. The Zen Gardens can be drying in stages while other work gets done too, and the multi-tasker in me is quite happy to be accomplishing many things at once!

Art supplies are expensive. Most will last long enough to justify purchases, and much of the time you get what you pay for, but some items are ridiculously overpriced. Keeping material costs down is essential so they aren't reflected in the final price, but quality should never be compromised. Still, there are ways to get around any dilemma, and there are alternatives for everything.
When I started the Zen Garden series ten years ago using modeling paste and textured gels, jars were about $15 for 250 ml. Since then I've experimented with various unusual materials, and shopped everywhere to compare prices. It's still more economical to purchase brand-name products in larger quantities – if you can find them. There are some fun mediums available now too, like gel with tiny glass beads in it. Prices for art supplies do not seem to waver over time in either Canada or the U.S., so I reserve the brand-name mediums to sculpt the rocks and highest quality paints do the finishing touches. Here I'll share a few of the trade secrets I've discovered over the years, and you can create your own Zen garden painting.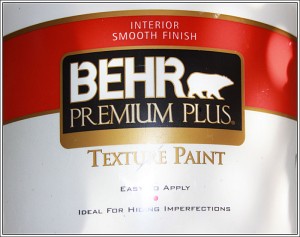 As a base for the raked sand mixture, it's worth purchasing a large 2 gallon (7.58 L) pail of textured paint. I purchased Behrs at Home Depot in Canada, and it looks like Ralph Loren has the market cornered in the States. Watered-down drywall plaster can be used also, but I recommend attention to how heavy the piece may be when it's finished. Mix in copious quantities of white glue, large containers of white or light-colored acrylic craft paints, and anything water-based that will extend the liquid mixture and bind well with the dry ingredients. Sand, even popcorn kernals and/or rice can be added for texture. Other objects can be incorporated too…just use your imagination. For example, and this is my most valuable secret, unscented kitty litter from the dollar store, the non-absorbant kind, looks exactly like tiny stones and is light in weight.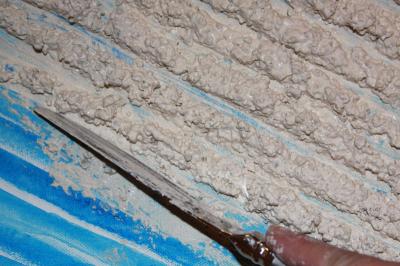 Zen Garden 09 details: applying mixture with a knife, sculpting rows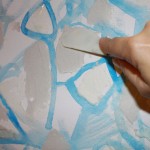 The mixture can be put in a ziplock bag with one corner cut out, but I discovered that it's more efficient – however messy – to spread small portions out onto the surface with a knife and hand-mold it. Keep a wet cloth handy to wipe your hands and the utensil often.
Drywall plaster makes nice-looking rocks, plus it cracks well for a parched-earth look, use sparingly because of added weight. Wood filler is a lighter alternative, much less expensive than professional brand gels and mediums. Modeling pastes do not lend well to sanding or carving when dry, but wood filler can be sanded and re-shaped.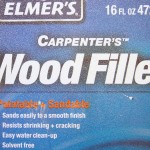 Also, if it dries out completely, chop it up, add water then seal the container for a day or so. This is where you can experiment with whatever helps acheive 3D effects. Art, craft, hardware, department stores and dollar stores carry generic brand basics, so it's worth researching and shopping around.
When it's all dry, rocks and other details are outlined and painted with pure colors, then all covered with a coat of primer. The colors are all reapplied to further enhance rocks, then brushed white, skimming across the entire surface. This process is repeated until you are pleased with the results by a final coat of white with remnants of the layers of colors poking through underneath. As far as acrylic paints, you do get what you pay for, but price differences are mostly due to pigment quality and viscosity, which, until final stages is not really an issue. Inexpensive acrylic craft paints are perfect as a filler (only).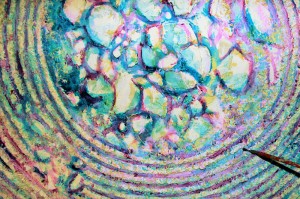 Zen Garden #10, above and left is already quite heavy, so about 1/4 of it will be painted rocks, keeping the sand patterns to a minimum. There is enough mixture that could dry out if it's not used right away, plus it's great to make multiples while all the mess, materials and utensils and are out, so I'm doing two simultaneously. There may even be enough for 3!
The necessity of work, especially if it's at home, seems less like a chore if you dangle some kind of carrot for yourself every day. Sometimes having too much to do is more exhilarating than exhausting. Each day, though work as an artist can be considered by others as play, the energy, motivation and circumstances are unpredictable..  It takes self-discipline  to find a way to go with the flow and still get work done. The good thing about this occupation is that it is flexible in every way. The creative compulsion seeps into every other activity, and there is almost no way to not add a little something extra.
Friday, August 13th, 2010
When I'm back in Dallas blogging regularly again, these photos will be posted on the photography website. An unplanned extra trip from Alberta to Ottawa; in Ontario a second time, means I won't be back until the first week of Sept. Here are a few photos I took on the shores of Lake Superior just east of Wawa, ON.
Thursday, February 11th, 2010
---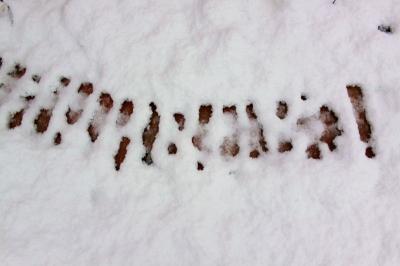 Translation: It's snowing in Dallas today!
It snowed all day, huge Texas-sized flakes. Here, the snow melts on the warmth of the brick-work in the garden.
Wednesday, December 9th, 2009
---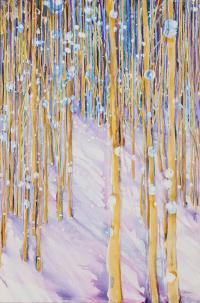 Creating Art and talking about are truly two different ways of seeing; the theory of right and left brain thinking is matter-of-fact. As an Artist it takes some effort to "switch brains" and reflect on the processes and progress of work in order to accompany my Art with writing on this blog, so I'm really impressed with the mature quality of the critiques given by students at  Olive Stevens Elementary School of paintings on their school Art blog every month.
In collaboration with Oxide Gallery, the Denton school has started a blog where students – or anyone else actually – can give a critique of a different work of Art each month. This month the comments regard the recently finished Sounds of Silence, which is also at the gallery.
Thursday, March 26th, 2009
---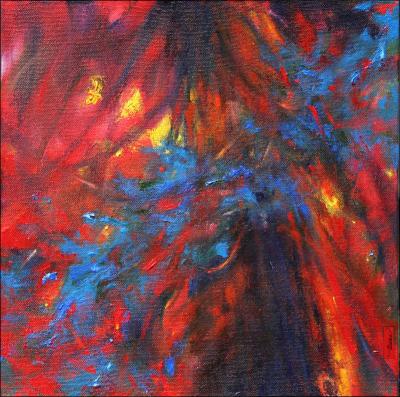 Paint Arson, 11H x 11W x 3D inches acrylics on canvas, wrapped sides painted: finished, and phases 1 and 2 images.  Most of the Magic Square series are signed on the side, so the signature seen here is superimposed.
Buying a new jar of Cadmium Red medium hue was just the thing to reboot, then re-route some old habits I was falling back into, like over-working paintings. Here I began with a lush Redwood forest in mind, thinking I could safely stir up some inspiration with the hot scarlet under my usual cool green palette… I did not intend to start a fire!
A new color invigorates the work process like nothing else can, and adds renewed life to your results as well. Incorporated as a base, straight out of the tube or mixed with your usual palette, a new color changes everything. Here now, as the painting is seen in the second thumbnail, there's nothing I can do except follow it and see where it leads. The strength and intensity of this color as a base is dictating a whole other unintended but interesting direction, and it's in charge for a while. I hope I can manage it.
Painting, whatever the subject may be, is a journey through all kinds of unanticipated thoughts and associations; some are short and sweet, ending within 1 – 6 hours and not much more than a visual, but some are packed full of adventure that isn't even realized until surfacing from a few hours of work.
The forest fires were still-smoldering when we walked through the Californian Redwood and Sequoia forests last November, and my memory lapses into romanticized imagery of smoky rays of light in the sunset. It's perplexing that the effects of forest devastation could be so pretty when the fact is that just the week before, a raging fire was the cause of all that beauty, and not just the smoky sunset, but fire enables the entire forest to flourish. As I'm painting this I'm thinking about all kinds of  how fire is a naturally occurring event like rain and snow, and is an essential part of forest cycles…and of how fire is destructive but supports renewal and re-creation as well.
Fire opens pine cones to disperse their seeds, controls pests and disease. By burning weeds and weaker trees that rob sunlight and nutrients from healthier trees and plants, it also clears the way for new seeds to sprout. Ash aerates, and contains properties that determine the quality of soil and what is able to grow there. Realizing that certain trees only regenerate with the aid of fire, like the giant Sequoia cones only release seeds through fire, today's standard fire management practice is to allow naturally occurring forest fires to burn, still with a mind to sensibly control it.
So what element does it take to spark motivation, opening  a painter's eyes to new possibilities? A jar of Cadmium Red medium hue!
---
$350.00           

---
Thursday, February 26th, 2009
---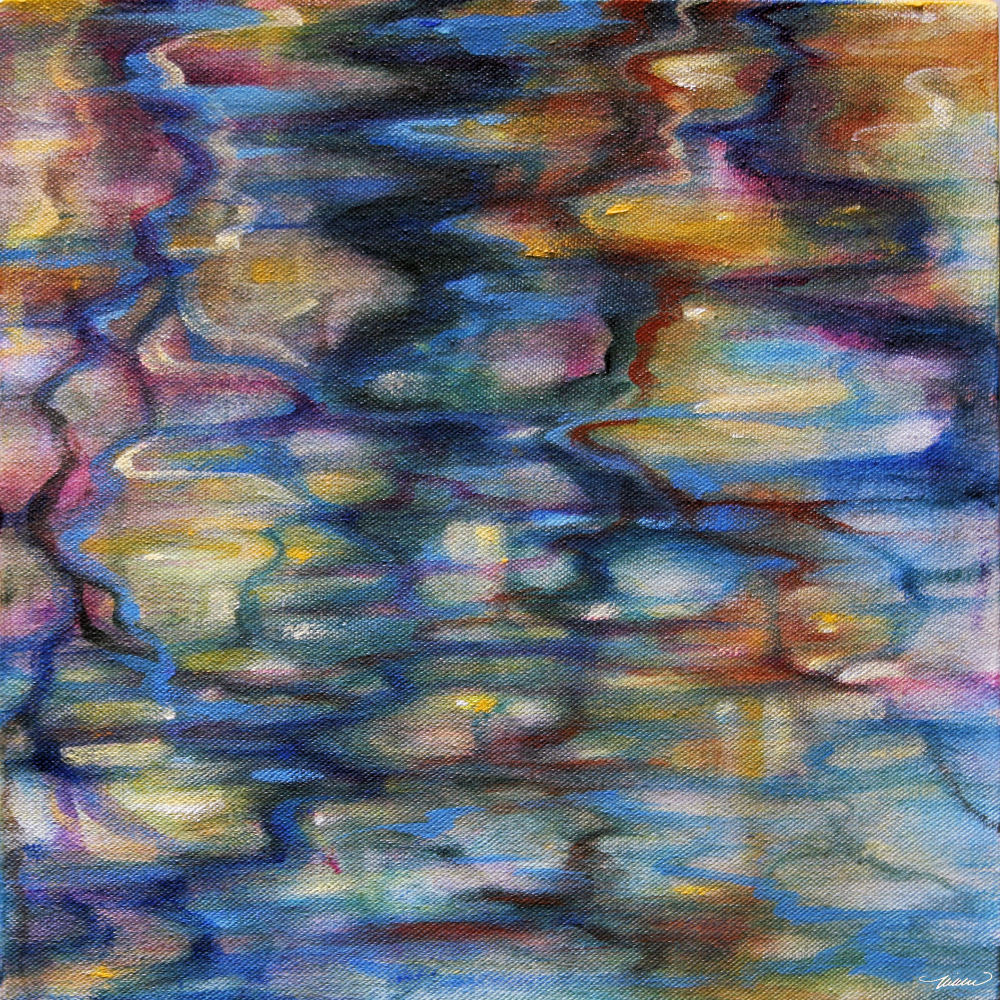 Winter Reflections, winter in Coppell, TX, 11 x 11 x 3 inches, acrylics on canvas, wrapped sides painted.  Most of the Magic Square series paintings are signed on the side, so the images on the blog show a superimposed signature.
---
$350.00           

---
« Previous Entries