children
« Previous Entries
Friday, October 12th, 2012
Colours For Cameron, 24L x 8H x 6D inches, mixed media on quilted muslin over cardboard pages
"Colours For Cameron" (Canadian spelling!) is composed over five deconstructed heavy-duty cardboard children's books bought at a dollar store. The Monte head-templates were covered with inexpensive everyday items, so I splurged on unique notions like the $10 monkey button sewn on the 'Brown' page, and the cute little cars and tractors that Cameron loves. Some of the fabrics were fairly expensive, but there are enough remnants to make other similar-style projects in the future.
Each page is a quilted muslin sleeve pulled over the cardboard, and colored fabrics divide each page at the base, where they are all sewn and glued together. Rubber letters were covered with various fabrics, and each page has stuffed colored pockets on the outer edge, inviting chubby little fingers to open them..
Thursday, July 30th, 2009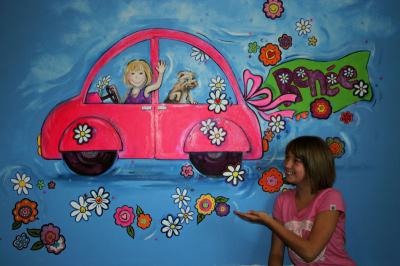 Every year when I go home to Alberta it's someone's turn to get their walls made over however they choose; kids or adults. Their wish is my command. Renee's favorite things are "punch buggies" and Jeff, a dog  she babysits so much she might as well say it's hers. Here's Camille's done last July.
Tuesday, November 4th, 2008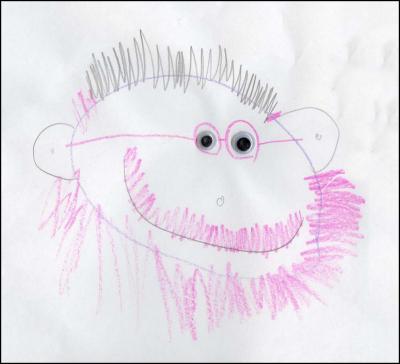 Googly-eyed Grandpa by Evelyn Drury, colored pencils and googly eyes from the $1 store. Says Grandpa: "Even my socks are looking back at me now!"

Evelyn has inherited the relentless Artist's gene. Hooray, this world can use all the creative people it can get. There are so many choices available for her future as an Artist should she choose to make it her career. Creative minds are appreciated as an asset wherever a person chooses to work. Even though she's only 4 1/2 years old, if I have any influence it will be to help guide my neice to #1 have fun learning. Her attention is so sharp, she is capable being an engineer or architect, or she may wish to start her own business. Wherever it leads you, Evelyn, sweetie, I'm there for ya!
Wednesday, October 1st, 2008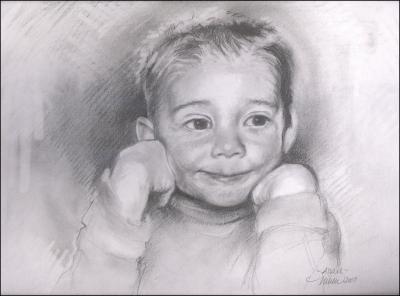 Merit Award winning Adam 11 x 14 inches graphite on paper, 21 x 25 framed will be on exhibit as part of VAST Connections running from October 3rd through November 1st. Sponsored by the Visual Arts Society of Texas (VAST) and the Visual Arts Coalition of Dallas (VACD), the exhibition will be held at the VACD Gallery in the Thompson Fine Arts, Inc. Building, 2902 Maple Avenue, Suite A , Dallas, TX. Gallery hours: Fri, Sat: 11a.m. – 5 p.m.
Sunday, June 29th, 2008
Josee, a portrait of my neice. Gift, work in progress, 11 x 14 inches Graphite on paper.
Drawing portraits is like brain surgery - one millimeter off, more or less, in any direction makes a difference. 
Wednesday, June 11th, 2008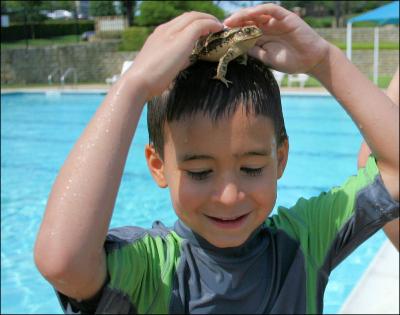 Who would save a drowning rat? These two little boys, Haydon and Noel would. 
When I arrived at the neighborhood pool this morning they had just scooped a helpless rat out of the water with a little pail. It was still alive but barely, and the oldest boy who was six years old, explained to me about the circle of life - he used this term, not me. He explained that if rats died then snakes could not live, and so that's why he saved it. I was impressed, but their other new pool playmate, a toad also discovered in the water… not so much!
Wednesday, September 19th, 2007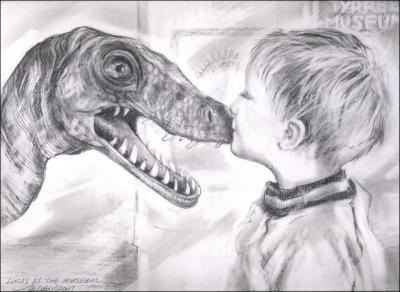 Lucas at the Museum, 11 x 14 Pencil and eraser on paper, originally posted March 23, 2007 - today notified as part of the exhibition Growing Up and Looking Back – Reflecting on Childhood, Parenting, and Home at Gallery RFD in Swainsboro, GA October 12th – November 3rd, 2007.
Tuesday, July 31st, 2007
While in Alberta I painted my neice Camille's room then a mural based on her ideas, the bedding design, and colors.  I love that creativity is portable, and if staying somewhere for two weeks or longer I usually do a favor for my hosts. I tell them "Use me!".  
Friday, June 8th, 2007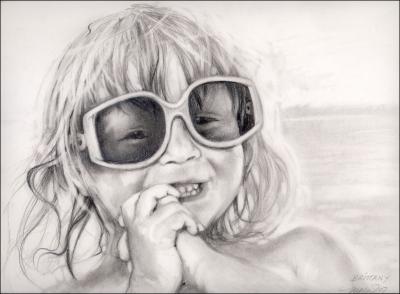 11 x 14 pencil, eraser on paper
Thursday, June 7th, 2007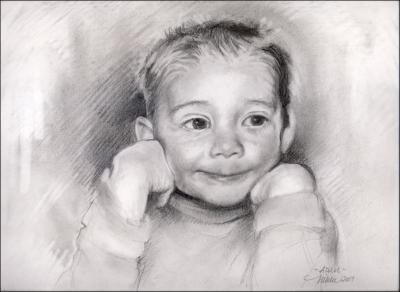 11 x 14 pencil and eraser on paper   
Post-dated entry: Adam ,Merit Award winner, cash prize at the VAST 19th Annual Juried Exhibition held in Denton, Texas July 29 – August 23, 2007
« Previous Entries