Canada
« Previous Entries
Next Entries »
Tuesday, October 6th, 2009
October 10 – 31st, 2009   500X Gallery  Open Show: Landscape, 500 Exposition Ave. Dallas, TX
Opening Reception Saturday, October 10th, 7:00 p.m. - 10:00 p.m. 
| | | |
| --- | --- | --- |
| | Saint Catherine's Sunset, 11 x 11 x 3 acrylics on canvas, gallery wrapped sides painted | |
| $350.00 | | |
______________________________  more news: ________________________________
Oxide Gallery 1st Year Anniversary celebration today, Tuesday October 6th,  6:00 p.m. – 9:00 p.m. Happy Anniversary Oxide Gallery!
I'll be giving a demo on the use of Masking Fluid in acrylics paintings, so come and reveal one painting by helping to peel off the rubberized mask – I don't even know what it looks like underneath, so it will be a surprise for all of us. Techniques on applying the fluid will be demonstrated on another painting already in progress. Three pieces accepted in the current show at Oxide Gallery are:
To purchase these and of this work please visit the Exhibitions Page.
Monday, May 25th, 2009
What Big-Leaf Maples Do At Night, 20 x 57 x 4 inches muslin, glue, acrylics on  canvas  wrapped over custom-built stretcher frame LED light system in back.
Alain (my husband) signed his name on this also, because he spent the entire week designing, soldering and wiring a system of 30 LED lights for the back. He was not impressed with the eight inadequate push-lights I was initially going to use to create this Day- Night  Art. The electric source is a rechargeable 12 volt battery placed neatly in the back, with an easily accessible on-off switch in the lower left corner. He's not thrilled to ever create another, so it looks like I'll be learning a little about soldering and electronics, because there are plans to transform the other two canvases exactly the same size as this one. Originally l hoped it could hang in any of four orientations, but that was revised due the battery pack in the back. Thank you Alain for making this piece what it is!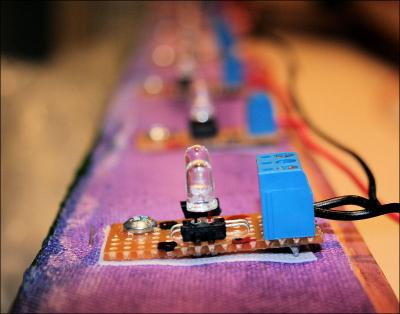 ______________________The original blog posts; process:___________________
Thursday, March 5th, 2009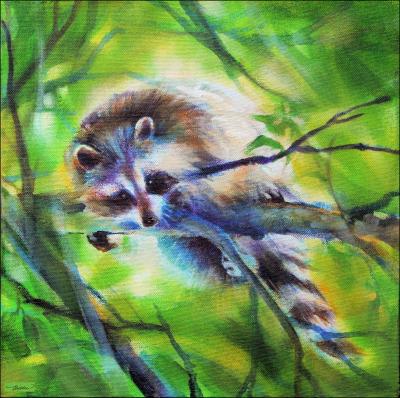 Raccoon, 11 x 11 x 3 inches acrylics on canvas, sides painted. I think I'll quit while I'm ahead on this one..it has a watercolor airiness to it.
Tuesday, March 3rd, 2009
Jone's Falls,  near Thousand Islands, Southern Ontario 11 x 11 x 3 inches acrylics on canvas, finished. April 11, finished: I scratched some barely noticable lines here and there, and they break up the space  into sections now, if you compare the 3rd thumbnail and the finished piece. This is exactly why paintings need to sit off to the side for a while. With new eyes a few weeks or months later the finishing touches will suddenly be obvious, or there will at least be renewed confidence about what else to try that might work..
Left, February 28: mapping out composition by washing off damp paint with a wet cloth. Central and right, March 1: experimenting with limited palette, work in progress.
Saturday, February 28th, 2009
Above: Bird's Eye, 12 x 12 x 3 inches acrylics on canvas, gallery wrapped sides painted, finished Oct.13th, 2009
Bird's Eye, 11 x 11 x 3 inches acrylics on canvas. Signed on the side, so a signature iss superimposed on the front. March 3rd: above,  February 28:  thumbnails below
Friday, February 27th, 2009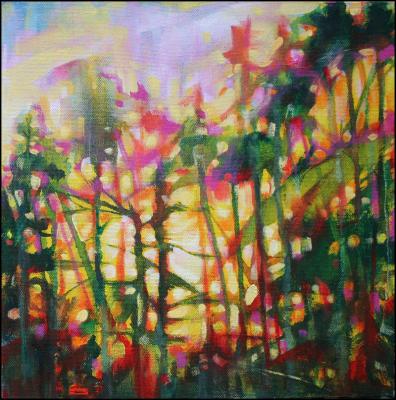 St. Catherine's Sunset Ontario, Canada just north of Niagara Falls, 11H x 11W x 3D inches acrylics on canvas, sides painted. The signature is on the side, so one has been superimposed here on the front.
There is no one method for starting a painting.  When faced with a blank white surface, sometimes our mind can go blank too. When that happens I use a base color that inspires energy. Here, water and paint were dripped down a wet surface of Hansa Yellow Deep. Painting intuitively with a wide raggedy old brush, the fraying bristles are used to advantage, and those marks direct how the painting proceeds.
This painting is dedicated to my Mom, born in St. Catherine's, Ontario, Canada whose birthday was two days ago.
Wednesday, February 25th, 2009
Jack Pine, 11 x 11 x 3 inches acrylics on canvas and detail of right side; all sides painted. Signature is on the side, so one is superimposed on the front.
Thursday, February 19th, 2009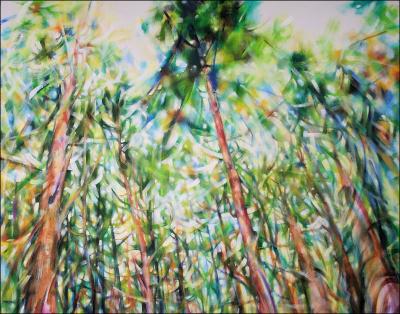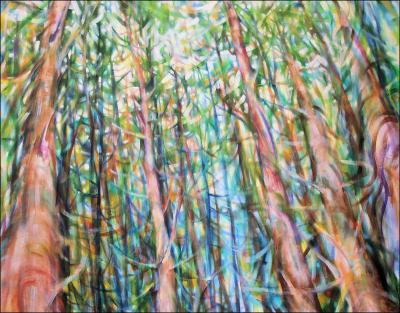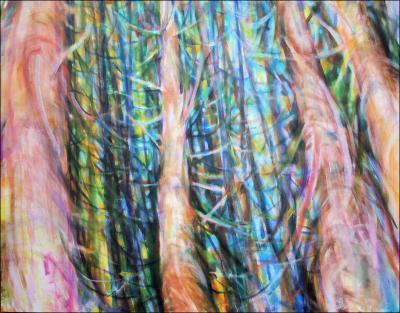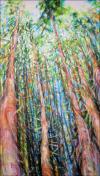 Dancing With Trees 03, 85 x 45 x 3 inches acrylics on canvas, wrapped sides painted, framed. Signature piece for the Dancing With Trees (formerly 'The Majesty of Trees') solo exhibition.  There is no black in this painting; the darkest areas are dioxazine purple. Aside from a couple of areas that are still questionable this painting is now finished. Specifically: I'm not sure about adding shadows and contrast on the bark of the main trees because it may take away from the cheerful expression of colors.
Progress in previous posts:  January 19th and 30th
I'd also like to change the name of the exhibition to Dancing With Trees because I discovered there is a book with the title 'Majesty of Trees'; I don't want it to seem plagiarized, but also the new  title seems overall more suitable for the collection. All the proposals from now on will be entitled Dancing With Trees , but the show still opens under the original one.
* Thanks Karen for your perspective, I really do appreciate it *
Wednesday, February 18th, 2009
1) 2006    2) 2009 in progress    3)  finished today
Finished today: added some life to Tulip Season, 14 x 11 Oil Pastels on paper. Except for the fact that paper has a limit to how much it can be reworked before it starts stretching, I could keep revising these drawings  in the Paper Places series continually.  Some of them are finished in a day, and truly finished. Some drawings seem OK when they are finished, but have areas that are not quite "there" yet, so I'll leave them for a month or a year or two then take them out and rework the whole piece. It's great exercise playing with color and composition. Some are taken too far, which is kind of a shame as far as not having a result for the labor, but with regard to learning: effort is never wasted. Change characterizes this series; change of place, change of time, change of styles, changing what's already been changed…
Friday, January 30th, 2009

Left: Hemlocks, Queen Charlotte Island, 1980 – 4 x 4 x 2 inches

Acrylics on canvas, painted plein air. Right: Birch, 1993 - 6 x 4 Watercolors. I have been trying to return to the same carefree approach I painted with during the earlier years. While some of my first paintings were a little on the sloppy side, the look and feeling of life in the work comes through the first reactive sloppy-looking brushstrokes. Too much refining tones down that energy.  It has taken about six years to rid myself of  a lot of habits that developed by painting murals, like tidying up too much and mixing colors on the palette as opposed to just throwing the color onto the canvas. Not that mural painting is valued as  less than canvas paintings, but they require entirely different methods, and because their intended purpose is slightly different, so is the approach to painting them. Switching back to canvas now, even if the surface is large it's taken six years to readapt to the process of painting on canvas. All that I think I know can get in the way sometimes. In Your Majesty I'm rediscovering some of the joy that pushed everything forward in the first place.  Virginia, you say that this sings and dances…well, that's exactly how I feel while painting this one.
January 23rd work in progress:
Dancing With Trees, 85 x 45 x 3 inches Acrylics, wrapped canvas. Today more definition was added to the trees beyond and the skyline about a third of the way down. Working on the overall movement in the composition as a whole is a really important thing to establish right from the start and keep in check all the way through until it's finished. I think it's more important than anything else. The values are not yet accurate, but they may not need to be completely so when finished either, because I don't really want to tone down the colors much. Hoping I can imply tones by placing color beside color instead, the way the Impressionists did.
« Previous Entries
Next Entries »