birds
« Previous Entries
Next Entries »
Thursday, March 19th, 2009
---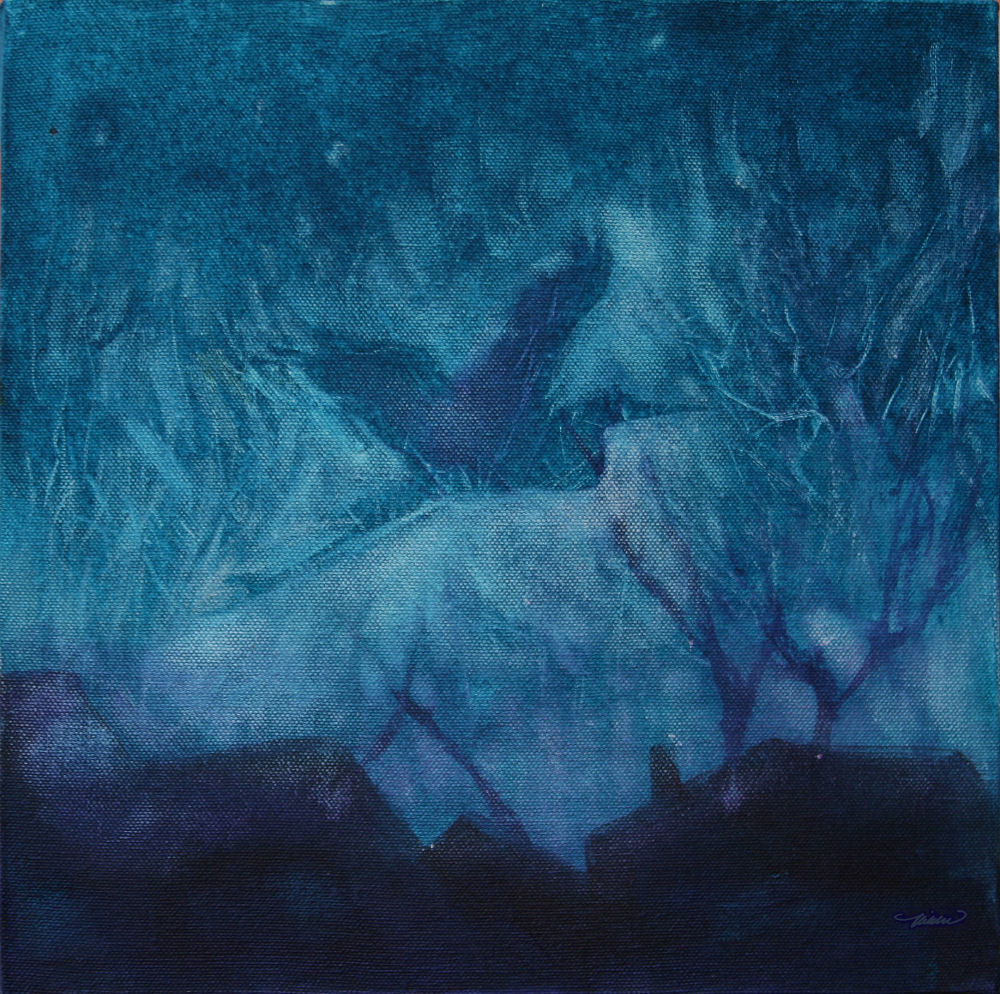 Neighborhood Heron, 11H x 11W x 3D inches acrylics on canvas started with a base coat of very watered down translucent pthalos green mixed with cerulean blue. Spraying rubbing alcohol over a damp painted water-based surface then allowing it to dry without moving it will create starry, spotty textures. Salt shaken over wet paint allowed to dry, then wiped off with a dry cloth will produce similar effects.
Alcohol loosened up the entire surface of paint, so using fingernails under a damp smooth t-shirt cloth, I rubbed off areas to shape the heron and winter trees. This represents a super argument for the wingin' it methods!
In college I took a pottery course for one semester, and the thing I remember most is the instructor saying how it's a good idea to allow some of the raw characters of the materials we work with to remain and "speak" without trying to smooth over and perfect everything. She was of course referring to clay, but over the years I've found that it applies to many other mediums also. In Heron, the branches extend into the body of the bird, connecting it to its environment. The effect also does a subtle play on the motion of its flight too.
---
$350.00           

---
Saturday, August 2nd, 2008
---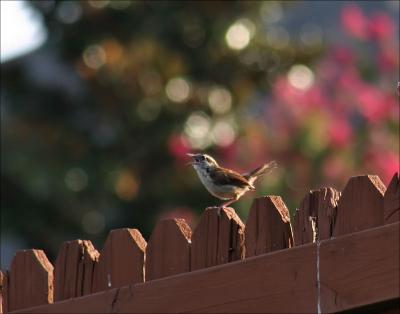 Alain built a birdhouse during Spring hoping to start a bird-cam, but no luck until today when these little wrens moved in. We're really excited to get the bird-cam working and hopefully watch them raise their family. According to the Peterson Field Guide they look like Carolina Wrens.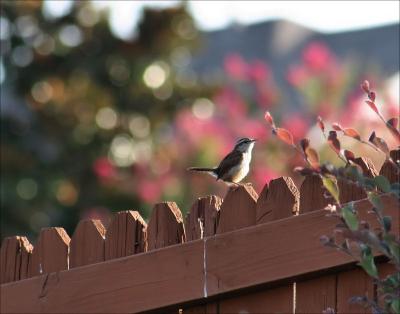 Saturday, May 31st, 2008
---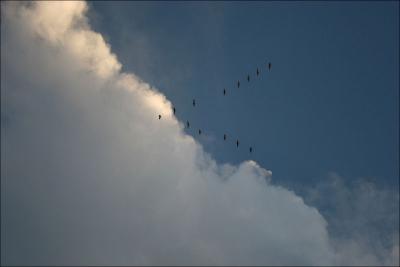 Three nights ago, I was out taking photos of storm clouds in the setting sun, and flock of herons crossed by.
Saturday, May 17th, 2008
---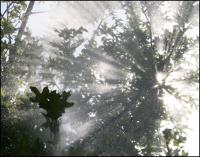 I inadvertently leaned the large painting of Maple Leaves  near the framed photo of Sun Shower 03 that hasn't made its way to storage yet after a show.
Ever since I took that photo, left, last summer I have wanted to use the idea of dramatic light rays in a painting, but not until this morning did I think to use it in Maple Leaves. One idea leads to another; I'm also going to use some tricks I learned during the painting of Sun Shower  01 (2007) where Watercolor masking medium was dotted on the canvas with a toothpick in areas where I wanted water droplets to remain white or lighter in color.
The thumbnails here are details of that work. It worked great but I removed it too soon before finishing and the results weren't as obvious as I had hoped, so this is another chance to try again. This time it will be creating small streaks, left it on much longer so the vibrancy of all the colors will show through when the medium is pulled off.
The painting could be left as 'Maple Leaves' which is how it started out, but it has that bright glare acrylics are notorious for and I see a lot of potential in trying something fantastic with this painting. It's one of those huge decisions made at key moments in the life of a painting – to risk or not? The 84 x 45 x 3 inch Maple Leaves title is now changed to Sun Shower 04.
Sunday, May 11th, 2008
---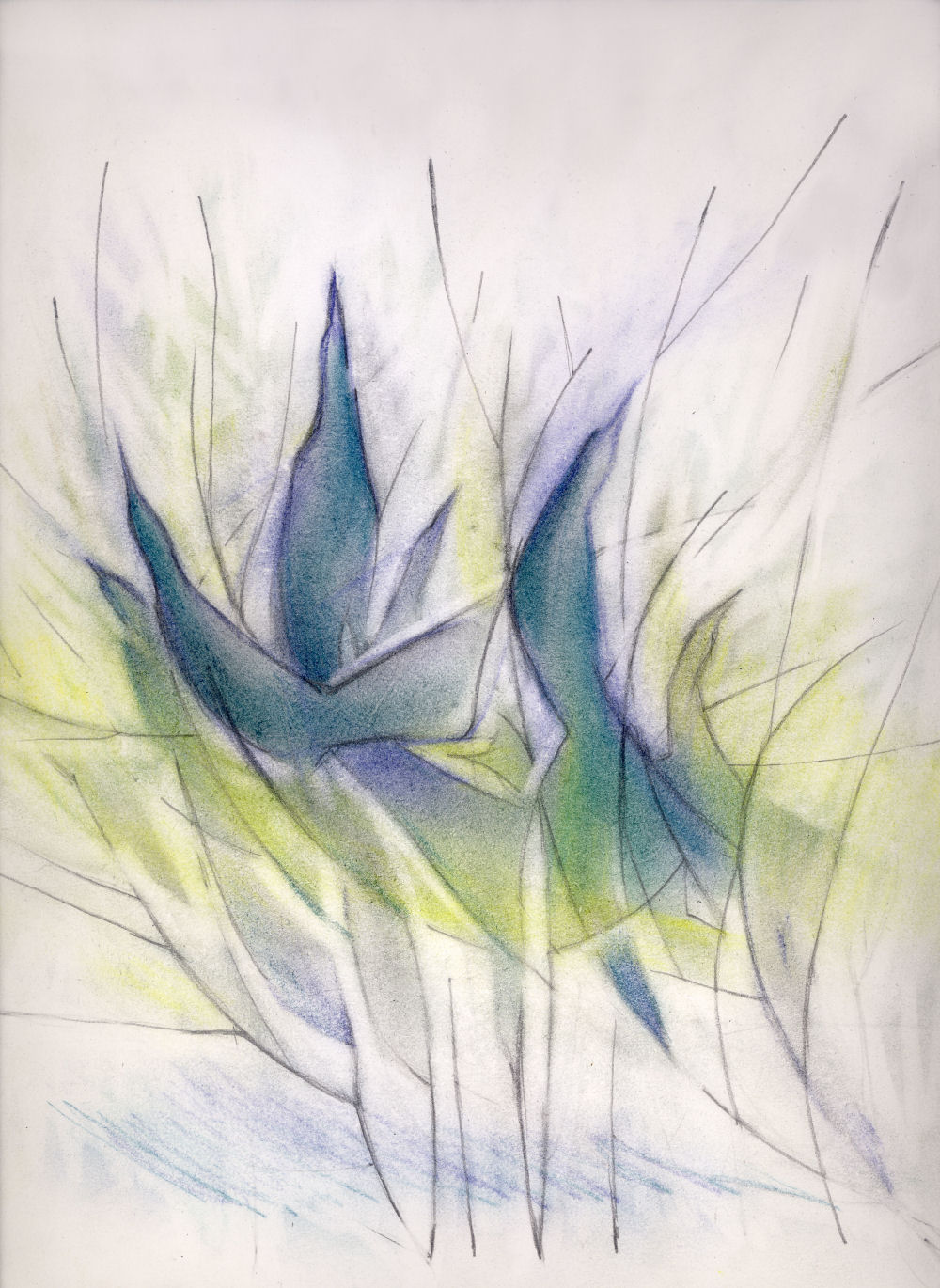 Grackle Party, Dallas Texas, 11H x 9W inches graphite and colored pencils, white double mat, white frame with crackle finish
In her Wed. April 30th blog post, my friend Chris Bolmeier writes about an older painting she revitalized, and in this case it improved dramatically.  Surprise 2 supports what I wrote in yesterday's post: many paintings need a period of rest before we know how to solve them. In any Artist's home/studio there are at least ten or so paintings hanging around or put away in unfinished states. If it isn't sold immediately, chances are 50/50 it will continue to change as we attempt to improve it until we know it's truly finished.
Chris is trying new marketing strategies, and offering anyone who sells her work a 20% cut. A little out of the ordinary to show and offer another artist's work for sale on my own website, but this is a brilliant idea she has, and I don't mind trying to help promote her work. Good Luck with your sales, Chris!
Thursday, March 6th, 2008
---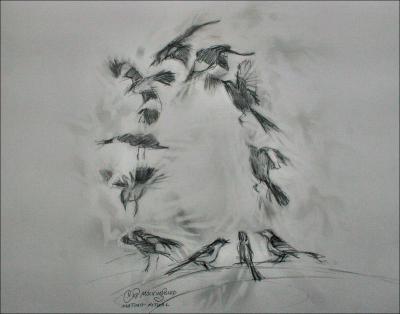 Mockingbird mating flight ritual – 10 x 10 inches study in graphite, eraser, paper
Last night it was especially noticeable that the Mockingbirds have started their mating season. Pronouncing himself at the highest peak on a rooftop, the male mocks other birds' calls, repeating each 3-4 times before changing to another call. Then in a ritual flight dance he flies up a short distance and does graceful flip in the air, flashing the white wing stripes, back to the perch and repeats the pattern over and over.
After listening to them quite a bit, there are some that have a larger repertoire of calls and a louder, determined, clearer song…I'm guessing that those are the most mature and attractive.
Saturday, March 1st, 2008
---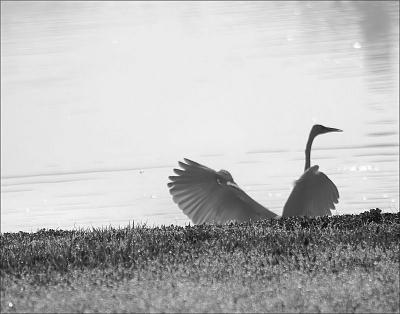 Great White Egret at Andy Brown Jr. Park, Coppell, Texas. Early morning melting frost, still slightly foggy, enough sun to make the water and dew in the grass sparkle, with a Mayfly appearing at exactly the right moment!
The photo was digitally changed to black and white and the contrast was clarified.
Wednesday, February 27th, 2008
---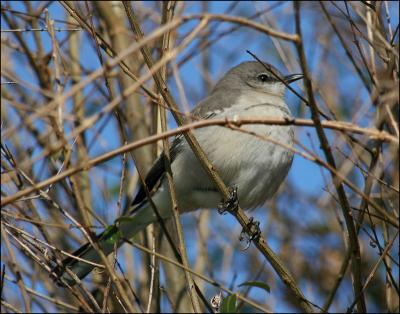 This week mating season has started for Mockingbirds in northeast Texas. Mockingbirds mimic over 120 bird calls, and I'm guessing there are a couple of frog calls in the mix too.
Friday, February 8th, 2008
---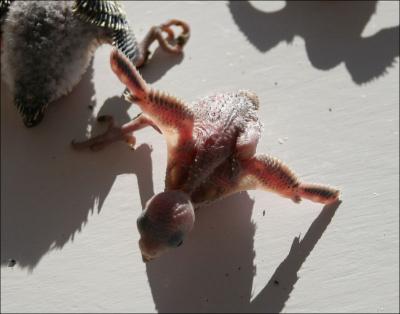 While sorting through and attempting to downsize the maze of photos on my desktop and in 'documents' folders, I could easily spend months on the computer doing just that. My sister-in-law in Mexico has a prolific female Budgie. Here, her chicks about seven days old – April 2007.
Tuesday, December 4th, 2007
---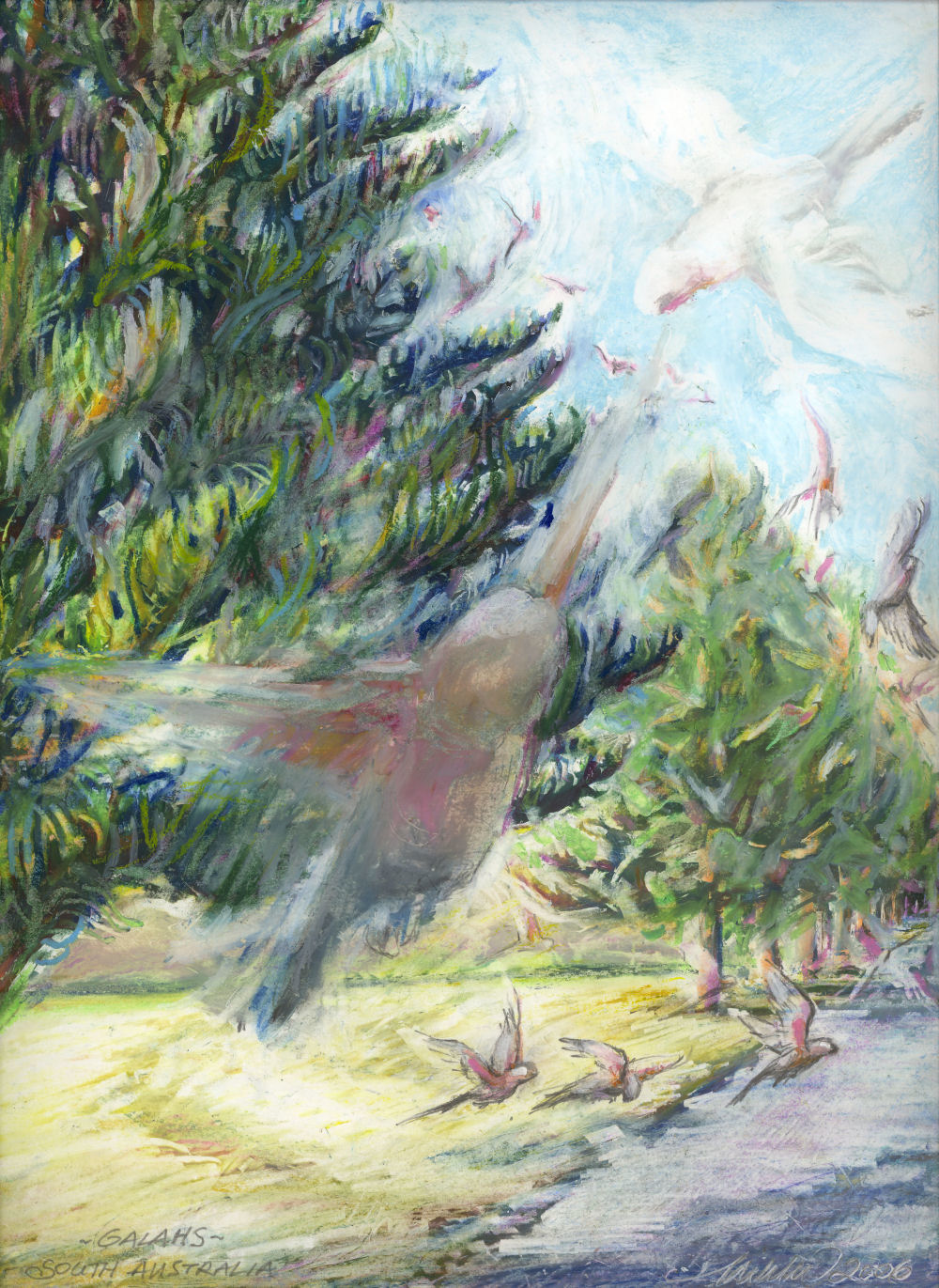 Galahs in Traffic, Australia, 14 x 11 oil pastels, 26 x 22 inches framed. Flocks of Galahs fly in front of cars… unfortunate fatalities along the highway to the Kangaroo Island ferry, South Australia. The trees illustrated are Norfolk Island Pines. One of the pieces accepted into the AJAS Fall/Winter Online Gallery.
For Artists interested in juried competitions and online gallery exhibitions, the American Juried Art Salon (AJAS) gives helpful feedback and critique whether your work is accepted or not. For information about their Spring/Summer 2008 competition visit http://www.artjury.com/art.html  Artists whose work has been accepted twice in a row receive a website page for one year.
---
$350.00 framed            

---
« Previous Entries
Next Entries »